The 9 Best Parenting Apps For Raising Kids In The Digital Age
Photo via Unsplash, Emily Wade
Tech
Lists
Parenting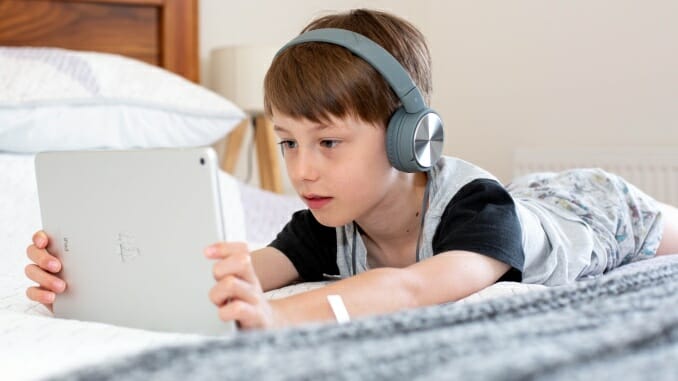 There are plenty of ways technology can make it harder to parent in the modern era, but there are also a few handy apps that can help tech work for you when it comes to raising your kiddos.
From keeping track of your kids when they're away from home, providing a safety net for monitoring on social media and messaging apps, helping keep tabs on the key milestones as they grow from babies to toddlers and even just trying to get a bit of help with homework, there are a handful of killer apps that can make parenting a lot easier if you know where to look and know how to use them.
Keeping track: Life 360/Find My Kids
If your kid is in middle school or high school, there are decent odds they probably have a smartphone already. That creates its own set of challenges, but when it comes to keeping up with your kid while they're away from home, it also makes things a lot easier. There are a few apps that do a great job of helping parents keep track of where their kids have gone and are going while out in the world. Life 360 and Find My Kids are among the most popular, and both have their own perks depending on what you need.
Life 360 comes in a few subscription tiers, and most notably has a free option that allows families to add members (i.e. mom, dad, kids) so everyone can see where everyone is at a given time, as well as where they've recently been. It also estimates travel speed, so parents can keep tabs on if the 16-year-old really is following the speed limit. Paid tiers offer more features, from more detailed location history to crash detection notification.
Find My Kids is a similar service, with prices starting at $2.99 per month. It allows parents to set "safe" zones for their kids and track both phones and GPS watches for young ones who might not be old enough for a smartphone just yet. There's also an emergency SOS function and basic messaging with digital sticker notes as well.
Growing day by day: The Wonder Weeks
The Wonder Weeks baby development tracker app is one of the most successful new parent apps out there, and for good reason. Parents can plug in their child's birth date and follow along with the key milestones they reach as they grow through the early years. Parents can also track and log those milestones for their child and access a bevy of resources for first-time parents. There's even a music player with lullabies and white noise in case you need an extra nudge to get them counting sheep at nap time.
It costs $4.99 but is well worth it for parents looking for answers about their newborn and toddler and can help problem solve why children might suddenly be fussy or not sleeping by matching up with expected growth milestones like teething and awareness changes.
Keeping tabs on devices: Qustodio / Bark
Apple and Google already offer some parental controls for parents, but a few robust services go above and beyond for parents looking to keep a closer eye on what their kids are reading, doing and saying on their smartphone.
Qustodio is among the most feature-filled options, with multiple plans starting at $54.95 a year. The service allows parents to filter content, set alerts for certain activities and interactions and limit screen time. Qustodio can also track messages and calls and help detect suspicious contacts, and alerts whenever the phone is used to access an adult or suspicious website. Qustodio also has a tracking option, if you're in the market for an all-in-one solution even if it does run a bit more expensive.
Bark takes a bit of a different approach, passing monitoring duties off to algorithms and AI aimed at detecting when a child might be dealing with problems (i.e. suicidal tendencies, cyber-bullying, sexting) and alerting parents when issues arise. Essentially, parents don't directly review all of their child's activities in a spreadsheet, but Bark is monitoring for any problems and will alert parents if there are any suspicious or worrisome developments. Bark describes the service as a digital "safety net" for children, helping make sense of their online interactions and letting parents know if something goes awry. Bark has price tiers ranging from $5 to $14 per month.
Homework help: Brainly
Whether its kids having trouble with homework or parents having trouble helping them with it, we can all use a little homework assistance from time to time. That's where Brainly comes in. Billed as a homework help app, Brainly is basically a big, crowdsourced study hall with parents and students alike working together to solve everything from math problems to history lesson stumpers. With this being a help tool, there's of course an honor code, which makes clear the app is designed to help students (and parents) figure out how to answer the question themselves, and not just find the answer and pass it off as their own.
Play time: PBS KIDS Games / Khan Academy Kids
Kids are smart, and though phones can do a lot of useful things, they almost instinctually know they can also play games. Lots and lots of games. But as anyone who has ever perused the App Store can confirm, there's a lot of junk games out there — so if you're going to let your kid play a few on your phone (or their phone) — there are some great learning apps that provide some education to go along with the fun.
PBS has its own free PBS Kids Games app, which is loaded with fun and creative learning games for kids 2-8 years of age. The games run the gamut with focuses like math and science and feature some of the fan favorite characters from PBS children's show hits, including the Wild Kratts and Daniel Tiger. Even better? It's free, has no in-app purchases and is ad-free.
Much like PBS's offering, the Khan Academy Kids app is also loaded with learning games for kids 2-8 years of age. It goes a bit deeper though, providing lesson plans, printable worksheets, and an adaptive learning path you can adjust around your child's age, interests and skill set. It's also completely free with no subscription required.
Reading time: Epic – Kids' Books & Reading
For kids who are old enough, a smartphone or tablet also means the potential for nigh unlimited access to tons of reading materials. To make sure it's all at your kids fingertips, the Epic reading app is an excellent option. A free account provides access to one book per day, while a paid account starts at $6.67 and allows unlimited access to more than 40,000 books, audiobooks and videos. It's basically Netflix for kid's books.
The line-up is incredibly robust, featuring kid-friendly hits like the Diary of a Wimpy Kid series, Clifford the Big Red Dog, Goosebumps, the Big Nate series, and plenty of acclaimed classics as well.