Samsung, Designer Sean Wotherspoon Collaborate On Sustainable Mobile Accessory Line For Earth Day
Images via Samsung
Tech
Features
Samsung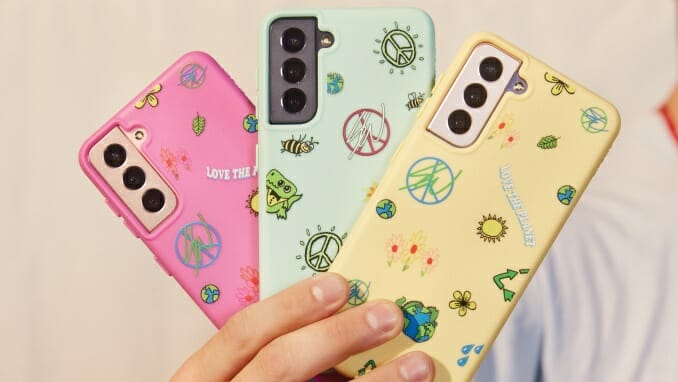 Earth Day is here and mobile tech giant Samsung is marking the environmental holiday by releasing a new line of phone and watch accessories with a focus on sustainability.
The company partnered with sustainable streetwear designer Sean Wotherspoon to produce a line of Galaxy S21 cases and Galaxy Watch4 straps that carry Wotherspoon's eco-friendly ideals and fit keenly into Samsung's push into sustainably sourced development. The new accessories are made from biodegradable TPC plastic and boast pro-planet designs that reflect Wotherspoon's ethos while paying homage to his family.
The limited-edition line is the latest entry in Samsung's Galaxy For The Planet initiative, which the company calls its continuing efforts to decrease its environmental footprint. Samsung previously announced plans to use recycled material in all mobile devices by 2025 and touted its Samsung Certified Re-Newed program as part of the initiative.
Paste sat down with Wotherspoon to talk about the collection and the push for sustainable sourcing in his work and the tech sector:
What were your initial thoughts when Samsung approached you with the idea for the accessory line and having it tie into this commitment toward sustainability?
Off the bat, it's always exciting to see an email or call come through to design a product you haven't designed before. Once I started digging, I was talking to a few friends about how my morals within design or things that I believe and Samsung believe the same. I think we're super aligned on where we see the future going within the tech space and how our worlds mix.
It was exciting to have that opportunity to apply some of my sneaker techniques to these phone cases and watch bands. Honestly, it's just fun to work with a brand that believes in what you believe.
What experiences from your work with other brands like Nike and Adidas did you pull into the process of designing these accessories?
Every time I get a new project, I'm learning more and more. I realized right off the bat when I held the sample case in my hand that this was the same TPU that we use on sneakers for midsoles, outsoles and stuff like that. I immediately saw this common thread. I always wanted to print on the midsole of a sneaker, but there isn't enough space. You only have a little bit of room to deal with, but here I am holding the same material in my hand and it's the size of my hand.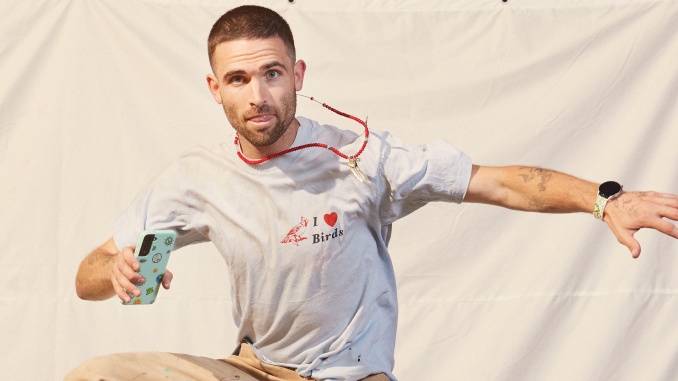 It sounds like you really enjoyed having the freedom of having more space to work with.
It was really cool having that canvas. It meant a lot to be able to use the dinosaurs. I'm really into dinosaurs because of my son, Nash. My son is a huge inspiration for me. I'm super obsessed with the solar system for some odd reason, so I wanted to have planets on there. You'll see some flowers on there that you might notice a lot from my Adidas projects. There are these carryover themes, but essentially I wanted to represent my world.
Samsung already had such great products already developed that really it was just my job to throw some cool colors on there, throw on some cool artwork and make it so when you pull that phone out of your pocket, you smile. It's like a contrast to life.
How important was it for you to embrace sharing part of yourself and your family in that way?
I started eating vegan when I was 10 years old. Our son and daughter are vegan. Our dog is vegan. It's a huge part of our family and that's why it's transcended into my projects. I feel like sustainability, or even vegan, is a really intimidating word. Having the opportunity to make it more approachable is really cool. It means a lot to me.
Why do you believe that words like "sustainability" can feel intimidating to others?
I feel no one has truly defined it yet, so it's really tough working with a word that we don't even know what it really looks like. What does fully sustainable look like? That's so hard for anybody to imagine, and I think that's why it's a really hard topic to approach. You also don't want to get blasted for greenwashing and you don't want this to look like a money grab, you know?
It has to mean it. There has to be depth. It's not just something you can grab and use freely. I think there is a lot of pressure there to where, if you're using the word sustainability, it has to truly be a sustainable project.
Do you feel like your work with Samsung and other major brands spreading your message is destigmatizing the word somewhat?
Yeah, I hope so. I think that there is a mold that we need to break around sustainable, vegan or eco-conscious products. Kind of like beating those old-time stigmas of who a vegan is and who can be earth-friendly. It's not just a hippie thing. Breaking those molds means a lot to me and I like to believe I represent that cause.
Earth Day seems like the perfect date for you to have this collection released. Is there any personal significance there?
Exactly. I mean, Earth Day is like my 4th of July. It's a really dope holiday where we get to celebrate the earth, and I feel like there is not one day out of the entire year that people are really considering the earth more. I want as many people as possible to see that they can be a part of the story of sustainable projects. I think the product is actually really cool and really felt like it had a purpose.