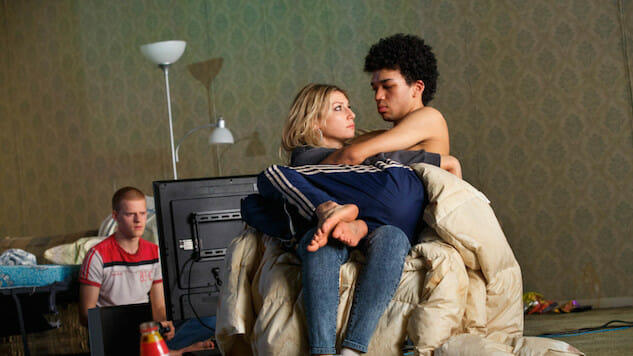 Hench (Lucas Hedges) and Bobby's (Jack DeFalco) world is very small. They live in their mother's one-bedroom public housing apartment, but she is scarcely there. Her bedroom has been turned into a cage for their bloodthirsty dog, Taliban, and the two brothers share a pull out couch in the living room. A TV sits on the floor and acts as their main portal to the outside world. Mark Wendland's beautifully confined set illustrates the vast material and emotional emptiness. Through porn, videogames and reality TV, Hench and Bobby build a distorted and isolated view of humanity, but playwright Anna Jordan isn't writing a screed about the damaging effects of any of these. Rather, she focuses her gaze and ours on what fills the vacuum left by absentee parenting.
Maggie (Ari Graynor), the boys' mother, is an alcoholic too weak to shoulder the burdens of any kind of responsibility. She's chosen her boyfriend over her children and lives with him. She occasionally visits but is always intoxicated, making it easier to keep up the illusion that they are okay. When we meet the boys, they are shirtless and this turns out not to be by choice. Their grandmother, who was taking care of them, ran away with a lover before returning their laundry.
Bobby is fourteen and pure Id, flailing about the apartment in fits of excitement propelled by a naivety. His favorite bedtime story is the lie about how his father died a hero while rescuing a drowning girl instead of as a junkie. Hench is a couple years older and lives with the weight of knowing the truth. Hedges plays him with an internal fury that starkly contrasts DeFalco's visceral abandon, but even though Hench can see all the cracks in their lives, he is unable to fix them. Taliban's howling and scratching at an outside window draws the gaze of Jennifer (Stefania Lavie Owen) a brave teenager reeling from her own loss and displacement. She's not put off by the stench but drawn to tend to wounded animals. "Why do you call him Taliban?" she asks with gentle inquisition. "Because he's vicious and brown," Bobby replies not out of a desire to shock but because blunt is the only way he knows how to be. The dog has bitten someone before, but Jennifer only sees his sweetness.
For a brief moment, they become a makeshift family and Jennifer falls into the caregiver role. They're eating fishsticks and soup one night when we learn that her parents used to call her Yen, which besides currency translates into "longing." Owen delivers a mesmerizing heartfelt performance that paints pain and beauty within an inch of each other. Jordan's dialogue is incisive, heartfelt and tightly constructed. She crafts stark realism with tiny shards of beauty that reveal themselves in unlikely places.
When he's finally able to articulate a feeling at the end of the play after a series of brutal events, Hench describes Jennifer as a "light," and she is for us as well. Her presence from the middle of the first act to the middle of the second ignites a spark of hope that drives the breakneck pacing helmed by the deft touch of director Trip Cullman. Hip-hop and video projections punctuate scene changes as the light dims, and we are hurtled towards an abyss.
Starring: Lucas Hedges, Justice Smith, Ari Graynor, Stefania LaVie Owen and Jack DiFalco
Written by: Anna Jordan
Directed by: Trip Cullman
Through: March 4, presented by the MCC Theater.