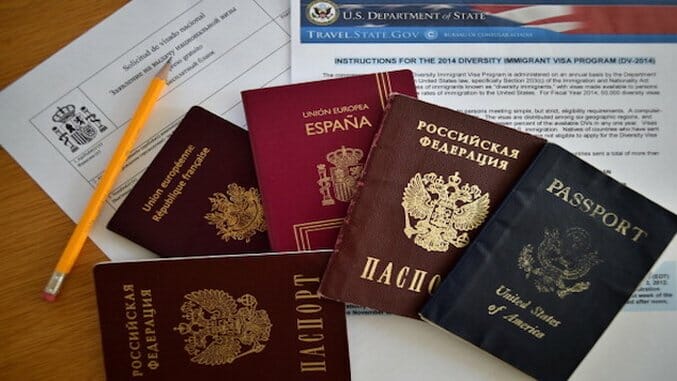 The European Union is considering making Canadians and Americans apply for visas, even if they want to visit for a short time. The EU is insisting that the United States add more
European countries to the list of those whose citizens can travel without a visa, and if the United States doesn't comply, American travelers may need a visa to visit Europe.
While Canadians and Americans only need a passport when visiting the EU, visitors to the U.S. from Croatia, Poland, Cyprus, Bulgaria and Romania need a visa. Bulgarians and Romanians also need a visa to visit Canada.
"The objective here is to achieve full visa waiver reciprocity for citizens of all member states, and this is a priority for the European Union," said Mina Andreeva, a spokesperson for the European Commission.
The countries in questions have not met the requirements for its Visa Waiver Program just yet, according to the U.S. government.
A State Department official said, "We maintain an open dialogue with each of these countries about the program's requirements and how each of the five countries is progressing."
Canada's visa policy is not established on reciprocity either. The European Commons must introduce reciprocal visa requirements for countries that do not allow visa-free travel for EU citizens two years after being advised of the situation, under EU rules.
Only two member states have opted out of the EU's common visa policy, the U.K. and Ireland. Americans will still be able to travel to these two States visa-free. Citizens from 38 countries can travel to the U.S. visa-free. The countries include Andorra, Australia, Brunei, Chile, Iceland, Japan, Liechtenstein, Monaco, New Zealand, San Marino, Singapore, South Korea, Switzerland, Taiwan and 23 European Union countries.
The European Union authorities discussed the proposal Tuesday and decided to delay the matter until the summer. The European Commission and the European Union's executive have set the deadline for July 12 for the bloc's 28 member government and the European Parliament to offer advice on what should be done next in reference to the gentle nature of the topic for transatlantic relations.
After the deadline, the commission could start the process of enforcing visa requirements for
Canadians and Americans, but the change would not be effective immediately because the
European Parliament, and the majorly of governments, would have six months to stop the move.
Lauren Spiler is a freelance journalist based in Athens, Georgia, but most call her Spiler.