8 Spooky Bars to Indulge in a Witches' Brew
Main photo: The Seance Room at Muriel's. Photo by Nicolas Henderson, under Creative Commons license.
Travel
Lists
Bars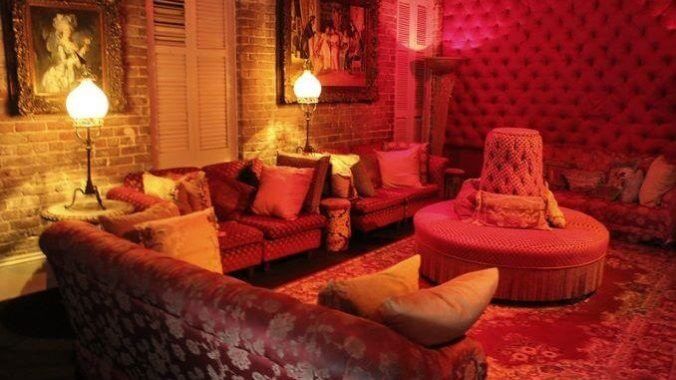 It doesn't take a lot to make a bar worth visiting—friendly hosts, great cocktails and a solid jukebox are just the bare essentials, but they're sometimes all you need. But some of us like our dives a little darker, their nightcaps just a little more bewitching. While most major cities in the U.S. will play up the kitsch of the spooky season come Halloween, some establishments prefer to keep the haunting going year round. Some are by choice, like Brooklyn's House of Wax or Buena Park's The Cauldron—spots where their menu creations are served with a morbid garnish. And some aren't, like The Seance Room, which continues to be visited by its long-deceased former owner. If you're looking for a spooky place to let your hair down, here are eight recommended places to start a creepy pub crawl.
The Dungeon (New Orleans, Louisiana)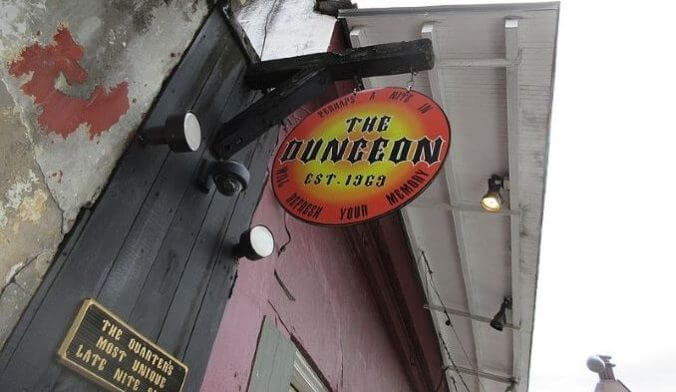 Photo by Infrogmation of New Orleans, under Creative Commons license
Eerie attractions abound in New Orleans—you'll find no city in the U.S. with as many mythic cemeteries—but The Dungeon stands out among the more tourist-friendly bars in the bustling French Quarter. A rock 'n' roll hangout where members of Queen, Kiss and ZZ Top have rung up tabs, it looks like a very literal dungeon, wherein a gate with bars will grant patrons access to its dimly lit chamber of skulls, shackles, taxidermy, caskets and a caged mannequin in bondage. It's a necessary destination for those unsure of whether to give into their dark side or pure hedonism.
---
Whiskey Bar at The Stanley Hotel (Estes Park, Colorado)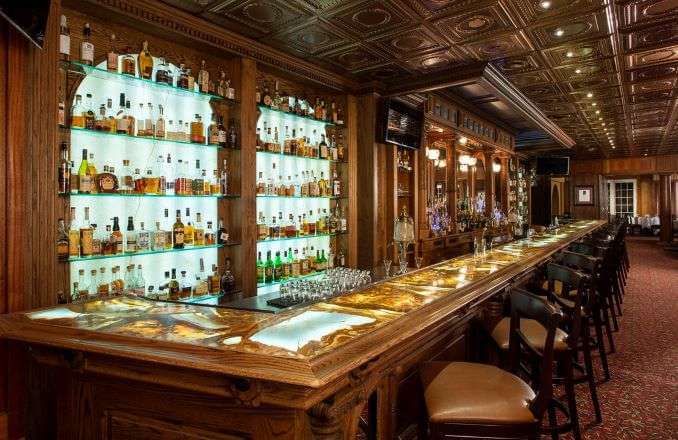 Photo courtesy of The Stanley Hotel
At first glance, there's nothing particularly eerie about the bar at The Stanley, but that all changes with two significant pieces of knowledge: 1. The hotel is reportedly haunted, and even offers ghost tours; and 2. It served as the inspiration for Stephen King's The Shining. Entering the whiskey bar with that in mind, it takes on a slightly more spectral air, even though it's often a popular and animated tourist attraction. But settle in, have a round or two, and find yourself pondering whether you've always been the caretaker.
---
The Cauldron (Buena Park, California)
There's nothing particularly witchy about Orange County, California, home to Disneyland and year-round sunshine. But just across the street from Knott's Berry Farm, curiously enough, is The Cauldron, a witch-themed pub where toil and trouble are on the menu. The bar is decked with antique furniture, skulls and, naturally, a bubbling cauldron. And its cocktail list features signature drinks such as the Wizard's Cup and Chthulu's Revenge. For special events, check out their private room, a haunted library accessible via secret passage.
---
Earnestine and Hazel's (Memphis, Tennessee)
Memphis is no stranger to the occult, like for instance the strange conspiracy theories surrounding the Bass Pro Shops inside the giant pyramid. But it also features one of the more uniquely haunted watering holes in the south. A historic tavern and live music venue that originally opened as a pharmacy in the 1930s, Earnestine and Hazel's has seen visits from the likes of Tina Turner, Ray Charles and Chuck Berry after performing at nearby Club Paradise. You're still likely to hear music there today, regardless of whether anyone's playing it—their jukebox has been known to start up on its own, and people have often mentioned hearing a piano being played. There are stories of as many as 13 ghosts occupying its space, and if that's not enough, bones were found in its walls during renovations in 2019.
---
Raven's Manor (Portland, Oregon)
Considering Portland is the kind of city that would host a pirate-themed strip club inside of a jug-shaped building, it's not so surprising that it would also have a haunted-manor-themed bar. Raven's Manor has a backstory about a mad doctor who threw lavish parties and held questionable experiments. Inside the elaborately decorated sanctum (including the laboratory), you can have an eyeball martini or a green, steaming concoction in an Erlenmeyer flask. It's a mad house, a mad…you get the idea.
---
The Seance Room at Muriel's (New Orleans, Louisiana)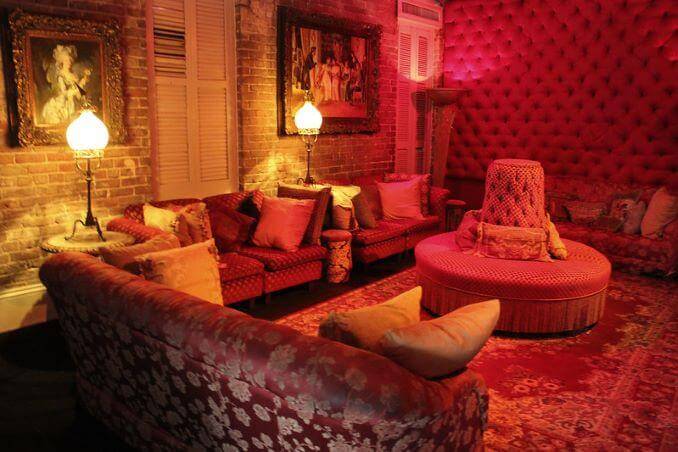 Photo by Nicolas Henderson, under Creative Commons license
Muriel's Jackson Square in New Orleans is a fine choice for creole cuisine while you're in the Crescent City, but their upstairs lounge carries a considerably eerier vibe. The Seance Room is decked in red curtains, red lights and sarcophagi, with art deco lamps and paintings you'd swear were morphing in front of you—Haunted Mansion style. It's an aesthetic experience in old-school spiritualism, with an apparition to match; the former owner of the property is said to still reappear. In fact, at the bottom of the staircase leading up to Muriel's (which features some pretty haunting choral music), the restaurant sets a table each night for their resident spirit.
---
House of Wax (Brooklyn, New York)
For those who seek a double feature of cinematic horror with macabre mixology, House of Wax—located inside Brooklyn's Alamo Drafthouse—provides just that. Like a cross between Madame Tussaud's and the Mütter Museum, but with alcohol(!), House of Wax is lined with countless wax specimens, including death masks and anatomical models, a collection that originally belonged to a museum in Berlin in the 1920s. You don't need a ticket to enter, even though it's movie theater adjacent, so enjoy a spirit among the faces of the dead at your leisure.
---
Patrick Henry Pub & Grille (Richmond, Virginia)
From the front door of Patrick Henry Pub & Grille, in the Church Hill neighborhood of Richmond, you can see the graveyard surrounding St. John's Church, where Patrick Henry famously delivered his "Give Me Liberty or Give Me Death" speech. But that's by no means the only spooky thing about the neighborhood bar. Formerly a brothel and a speakeasy, the pub is one of the most haunted watering holes in the city, where spiritual sightings are a common occurrence. Make yourself comfortable at the bar, but just keep in mind that whoever's sitting next to you might not be there at all…
---
Jeff Terich is a Richmond, Virginia-based freelance writer whose work has appeared in SPIN, Bandcamp Daily, uDiscover Music, Grammy.com and San Diego Magazine. His Twitter is @1000TimesJeff.