Medieval town walls dramatically rise above the Adriatic's blue waters, earning the old town of Budva the nickname, "little Dubrovnik." Less touristy and expensive than its neighbor to the north, Budva exudes a laid-back, cosmopolitan vibe even in summer party mode.
During July and August, beaches are packed with Eastern European and Russian sun-seekers, so plan to visit in early fall or late spring to enjoy mild weather, wide open beaches, and diverse cultural events.
Adding to the allure, this 2,500-year-old gem—one of the oldest settlements on the Adriatic—wears a long line of influences from Greek and Roman to Yugoslavian with ease, while proudly representing modern Montenegro.
1. Paragliding
Get a bird's eye view of the Adriatic's stunning coastline with a tandem paragliding session from Paragliding Montenegro.
Adventure-seekers—secured safely to a licensed guide—take the leap in nearby Braji?i from nearly 2,500 feet above sea level. The black-hued mountains provide a dramatic backdrop for 30 minutes of soaring high above Budva.
2. Budva Riviera Beaches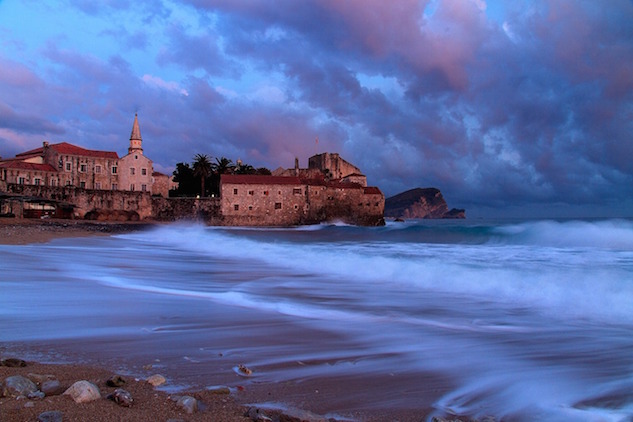 From the popular town beach Jaz to the hideaway coves of Mogren to see-and-be-seen Be?i?i, Budva's Riviera boasts over 20 distinctive beaches interspersed along a rugged eight-mile stretch of coastline. Partiers, nature lovers, and families are equally rewarded with a beach for every inclination.
Strolling along the town's seaside promenade, be sure not to miss the mountain tunnel connecting Sveti Nikola and Be?i?i for arresting graffiti. Venture further along the coast via water taxi or buses that frequently depart from the town's main drag.
3. Konoba Feral
Locals pack into Feral, a traditional eatery whose name refers to a ship's lantern, not a wild animal. Nestle into a table and indulge in Adriatic specialties like squid stuffed with prawns and crispy sardines, washed down with a carafe of the local white wine, Krsta?.
From art openings to live folk music, the cozy dining room and romantically lit courtyard serve as havens for artists, musicians, and writers, thanks to Društva Feral, a nonprofit founded by the owner to promote Budva's rich culture and heritage.
4. Stari Grad (Old Town)
For an orientation with a view, pay the small fee to walk atop the town's medieval walls towering above the sea. Follow with a visit to the town's tiny museum, atmospherically-housed in Budva's 15th century citadel, to gain a full appreciation for the Stari Grad's preservation and restoration after a destructive earthquake in 1979.
As you wander the old town's charming cobblestone streets keep your eyes open for the winged-lion, a beloved symbol of the city's Venetian heritage.
5. Sunday Hash Run
Every week, a fun-loving group sets off to secret locations between Budva and nearby Tivat to discover trails and paths up mountains, along the coastline, and through the countryside. The well-organized events are open to all and attract runners and walkers of all fitness levels.
Like hashers everywhere, this group enjoys drinking and eating post-run as much as the exertion itself. Pop into Mojo Budva Hostel for details.
6. Bar-hopping in Old Town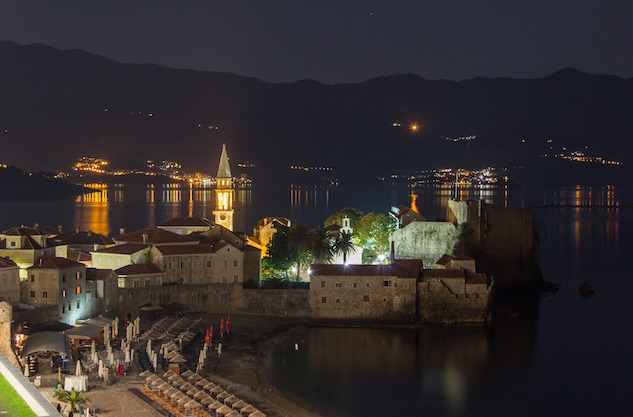 Budva may be famous for dance clubs, but the best way to meet an enthusiastic brew of locals and ex-pats is by crawling through the pubs and bars of Old Town.
Start with a whiskey in back alley gem, The Prince English Pub, then catch live music or a DJ in the courtyard of jazz-centric Casper. Squeeze into rowdy, closet-sized Chest O'Sheas Irish Pub anytime after 11 p.m. to see it alive before picking up a slice around the corner at late-night favorite, Pizza 10 Maradona.
7. Sveti Stefan
In the 1950s, renovation began transforming the historic village of Sveti Stefan into the Adriatic's most prestigious resort. Guests soon included Marilyn Monroe, Kirk Douglas, and Sophia Loren and today, a glamorous set continues to make the journey.
While only guests of the luxury resort are allowed on the island, the view of red-tile roofs floating on a sea of blue from the mainland beach is almost better than actually being on it. For the biggest wow factor, take the woodland beach path from Kraljicina Plaza.
8. Diving
With warm blue waters year-round and good visibility, this is diving in comfort and a good choice for first-timers.
Get up close and personal with the Adriatic's abundant sea residents including conger eels, sea urchin, and rays. Extensive cave networks, important archeological sites, and numerous shipwrecks ensure the intrigue hits a high note for all diving levels. Accredited dive centers line the coastal promenade.
9. Slovenska Obala
No visit to Budva is complete without dancing into the wee hours at the clubs along Slovenska Obala, a pulsating seaside stretch with music blaring from neon-illuminated discos including local favorite, Trocadero. For the ultimate party, join 5,000 of your closest friends in motion at the peak of town in open-air dance mecca, Top Hill.
Jess is a writer chasing a dream of slow travel through a fast world. Her work has appeared in Paste, Mental Floss, Bustle, aGypsyGene, and Birmingham magazine.