If you're a food lover making the trek to Toronto, Canada, more than likely the St. Lawrence Market is on your list of go-to places. Known for its vibrant vendors and cultural history, it's a one-stop shop for all things food. However, hidden in the shadows of it's foodie kingdom is Market Street, a redeveloped side-street kitty corner to St. Lawrence Market's lower floor.
Unlike any other street in Toronto, Market Street is paved with cobblestone and is one of Toronto's few pedestrian-only roads. With so many ways to enjoy the street and its offerings without ever having to sit down for a traditional meal, this street is one of Toronto's best-kept culinary secrets. From specialty shops to a juice bar, chow down at any of these five spots while visiting Market Street for a memorable meal.
1. Balzac's Coffee Roasters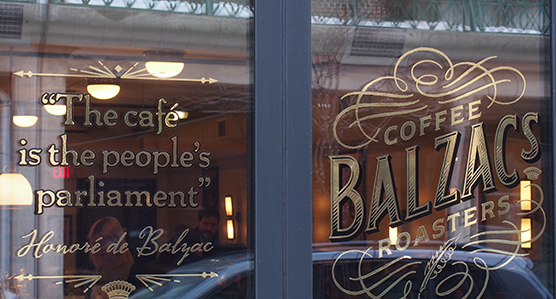 Nestled in a beautifully restored heritage building, Balzac's Coffee Roasters is an artisanal, fair trade coffee chain. Balzac's began business in 1993 in the small theatre town of Ontario, Stratford. With the chain's newest location (its ninth), you don't need a ticket to Paris to feel as if you're being whisked into one of the cafes and boulangeries for which the city is famous. Inside you will find beautiful tiled floors, hardwood, marble and free Wi-Fi. Enjoy assorted baked goods from Circles and Squares, like brownies, biscotti and muffins (ranging from $2-$4 in price), whilst catching up on some reading or people watching. For coffee, this micro-roaster offers a selection of stout, amber and pale roast blends using all fair trade, organic Arabica beans. Just recently, they teamed up with beloved Canadian author Margaret Atwood to create an amber roast organic "bird-friendly" blend supporting the Pelee Island Bird Observatory.
2. Evolution Food Co.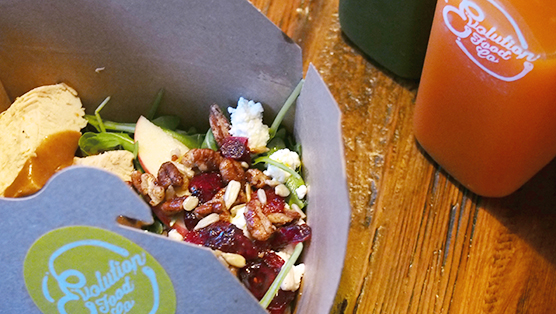 If you're on a health kick, look no further than Evolution Food Co. Tucked beside Balzac's Coffee, the airy venue features seating for 20 people. The space, designed by local creative firm, Solid Design & Build, features bold colors like yellow lighting fixtures, reclaimed wood tables, marble countertops and a quick grab n' go counter. Using wholesome, high-quality ingredients sourced from the St. Lawrence Market whenever possible, the quality of their assorted beverage offerings goes uncompromised. With a rainbow array of cold-pressed juices ($6-8) like the Tropikale (pineapple, spinach, cucumber, kale and lemon) or Pure Gold (carrot, orange, pineapple and lemon), all taste preferences will be satisfied. If smoothies are more of your jam ($6.50-7), then try the Cookies and Cream, blended with dates, banana, raw pecans and Evolution Food Co.'s house-made almond milk.
3. Bindia Indian Bistro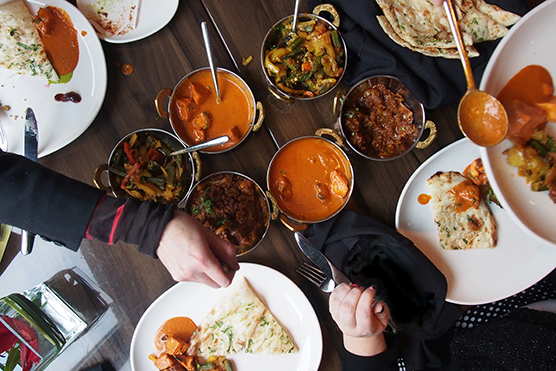 Bindia Indian Bistro is the only sit-down Indian restaurant located in the downtown core of Toronto (south of Front Street, from Bathurst to Parliament streets) and it's located directly on Market Street. This family-run business uses northern Indian cuisine-inspired recipes passed down through generations to a feast of house-made curries, tandoori and breads. One of the first established restaurants on Market Street (in 2013), Bindia was recently awarded the Ontario Culinary Tourism Alliance's FeastON restaurant accreditation for championing and celebrating local, seasonal ingredients. For those looking for curry in a hurry, the lunch express menu ($12.95-14.95) offers favorites like butter chicken, chana masala or tandoori chicken alongside salad, rice and naan, and the restaurant offers the same lunch dishes to go for as little as $8.95.
4. Barsa Taberna
For those unable to get away to Spain, a trip to Market Street's Barsa Taberna will satisfy your Spanish food craving. The restaurant, which opened in May 2014, restored the original stone brickwork and heavy wooden beams of this 170-year-old heritage building to create a grotto-style dining room. With lots of original stone throughout, a lovely mosaic of wine bottles and an open kitchen, the atmosphere is classic yet romantic. Specializing in tapas-styled dining, the menu is split into three definitive sections: cold, hot and fried. For the best value, go for the Chef's Tasting Menu, which gives you 6 plates for $60 or 12 plates for $120 decided upon by you or the chef (your choice). Should it just be cocktails you're after, Barsa Taberna prides itself on its in-house sangria (in red, white and sparkling cava) or one of their seasonal varieties ($20/half, $38/full).
5. Market Street Catch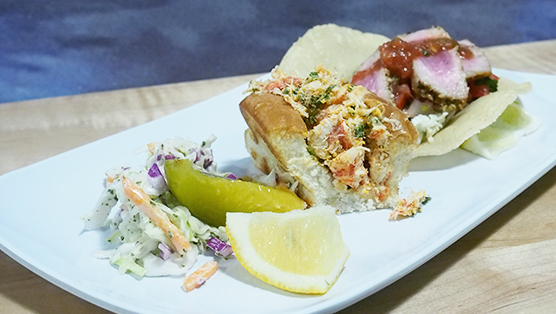 Nothing is worse than splurging on seafood at the counter and coming home to find it tastes … fishy, and not in the good way. At Market Street Catch, you can try your seafood before you buy it. Inside the sister-shop to St. Lawrence Market's famous Buster's Sea Cove, nautical themed murals adorn the walls with lots of black and metal finishes. The 26-seat space, designed by local firm Squarefoot Designs, includes front facing windows that open out to a patio. In the front display case, the raw and fresh catches of the day are offered up on ice.
Amanda (Ama) Scriver is a freelance writer based out of Toronto, Canada who has serious feels for pizza, Doritos and reality television.