PaleyFest, an annual TV fan festival in Los Angeles, brings show runners and cast members together before a live audience—this year at the Dolby Theater, home of the Oscars—to talk about shows, and sometimes, spoilers.
How I Met Your Mother (HIMYM) continued its long goodbye at the PaleyFest in Hollywood on Saturday night. The atmosphere was bittersweet and thick with nostalgia as cast members Josh Radnor (Ted), Colbie Smulders (Robin), Alyson Hannigan (Lily) and Cristin Milioti (The Mother) were joined onstage by show runners Craig Thomas and Carter Bays and director Pam Fryman.
While Jason Segel (Marshall) was unable to attend, Neil Patrick Harris (Barney) surprised the packed house by briefly videoconferencing in from New York, where he's currently in rehearsal for his Broadway stint in Hedwig and the Angry Inch. Harris hammed it up for the crowd, even tearing off his shirt exclaiming, "Now I gotta be a rock star!" before heading out to perform with Hedwig's cast members for a late-night surprise show in NYC. The exit was a bit anti-climactic however, as he raced back on camera a minute later because he forgot to thank HIMYM's longtime director Pam Fryman. It was sweet, hilarious and pure NPH.
Moderator Wayne Brady (Whose Line Is It Anyway, Let's Make a Deal) was a perfect choice to serve as the night's moderator since he played Barney's gay Black brother on the show. His familiarity with the cast and creators made for an entertaining evening.
Here are 10 of our favorite moments/lines/insights from the How I Met Your Mother panel:
1. Gary Blauman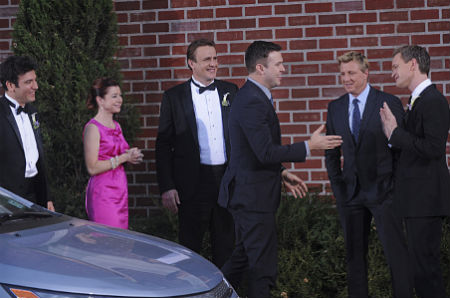 The PaleyFest audience was treated to an advanced screening of Monday's How I Met Your Mother episode: "Gary Blauman." In the episode, Blauman (Taran Killam of Saturday Night Live and Smulders' husband) returns as a lynchpin for moving the wedding storyline along. We won't spoil it here, but there's a great, long take at the end of the episode that contains a few surprises and familiar faces.
2. La Vie En Rose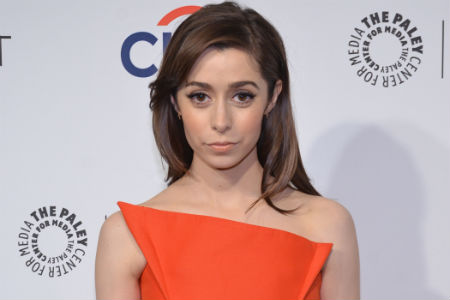 Photo by Kevin Parry courtesy of Paley Center
In the episode, "How Your Mother Met Me," Milioti as The Mother channels her best Zooey Deschanel and sings "La Vie En Rose." She accompanies herself on ukulele as Ted listens from a nearby balcony. It turns out that this song has special meaning for Bays, who often played and sang the song for his own daughters when they were younger. Milioti said that the song also has a special meaning for her own family; so she surprised them all by not telling them about singing "La Vie En Rose" until they were all watching it on TV.
3. On "Pinch Me" Moments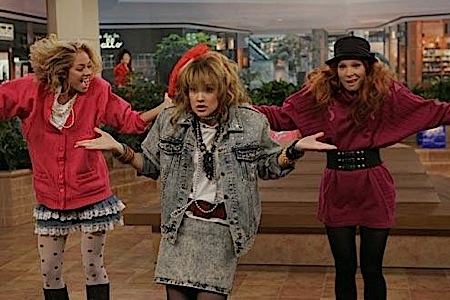 Brady asked the cast about "pinch me" moments during their nine seasons. Smulders' moment got the best crowd reaction: "Let's Go to Mall" (the song/video performed by Smulders' alter ego, Robin Sparkles). "I don't know what I did to deserve it … playing a character who's playing a character." (The crowd asked for her to sing, too, but she declined.)
4. On their favorite running gags…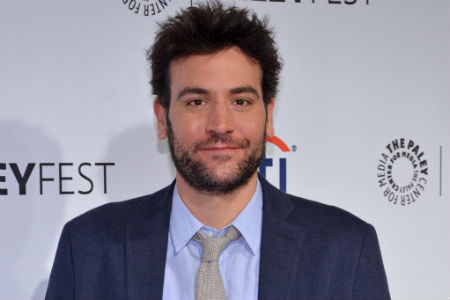 Photo by Kevin Parry courtesy of Paley Center
Radnor is a "huge fan of the interventions." He told the crowd, "They clearly got a professional banner made for them." He also said he was a fan of the telepathic talking scenes, at which point Hannigan chimed in agreement: "We don't have to memorize anything!"
5. A dead Mother?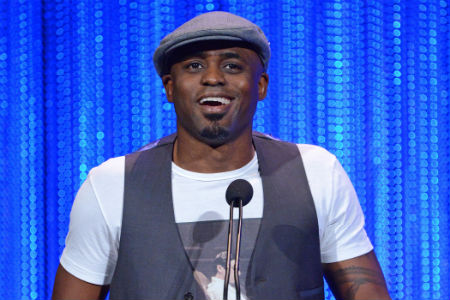 Photo by Kevin Parry courtesy of Paley Center
Brady didn't mince words asking everyone on stage whether there was any credence to whether The Mother character is dead/dying. The answer was exactly what was expected: "We're wildly excited about the finale, but of course we can't say anything," Bays said.
6. On the cast's final season highlights…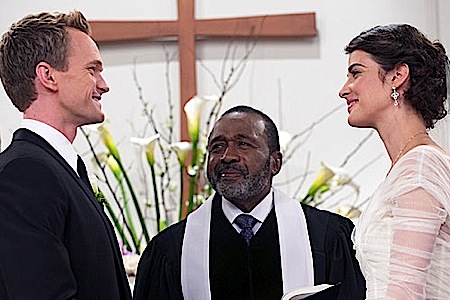 Neil Patrick Harris gave the crowd an "awwww" moment when he said, "Getting to say my vows to Ms. Robin Scherbatsky was a highlight."
7. On taping the final episode…
The final episode took two weeks to shoot. Radnor said, "I'll never forget the final table read we had … that's when it hit me." He talked about the cast's tradition of walking in together from the hallway to the reading and how that last time was "hilarious, lovely and bittersweet." They even had specially ordered tissues on hand with "Let it all out … no questions asked" on the packaging.
8. Hannigan's early rejection stories…

Photo by Kevin Parry courtesy of Paley Center
During the Q&A, a young actor (this is L.A., remember) asked the cast members for any advice as she started her career. "I was told I wasn't funny enough, when I was a kid, to be on television," said Hannigan. "I couldn't get a callback for Saved by the Bell to save my life." She also mentioned that she'd tried out for Blossom, too.
9. That USC student film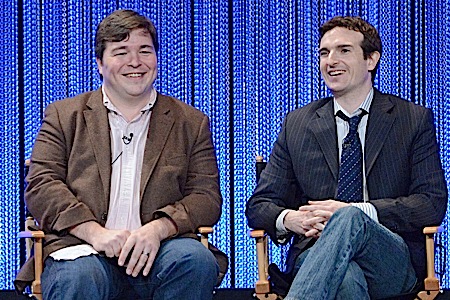 Photo by Kevin Parry courtesy of Paley Center
To keep the final episode under wraps, Thomas and Bays labeled the script a "USC student film" and changed the characters' names "in case it got lost on a bus…" The final scene that Milioti and Radnor filmed was the same scene that she had auditioned with last year.
10. On that final slap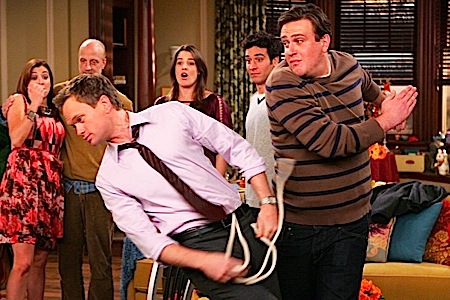 Someone shouted a question from the balcony during the Q&A, asking about the final slap. (A bet that Barney lost results in him getting slapped several times throughout the series as punishment by Marshall.) Thomas said, "We haven't forgotten."
PaleyFest 2014 runs through March 28.