As many people have stated, we are currently in the television Renaissance. Television shows are becoming truly great art, and with this evolution, we're seeing shows reinventing themselves with great frequency and reinventing our viewpoints of stories we've already seen, the ways we can watch television and even how we should watch these shows.
Thanks to streaming services like Netflix and Hulu, Wet Hot American Summer can become a miniseries or shows like Full House or The Killing can return once more. We're on the cusp of seeing The X-Files, Twin Peaks and The Muppets in ways we've never seen them before. Teen Wolf can become a moody teen drama instead of being about Michael J. Fox becoming a basketball-playing werewolf. Entourage can actually be seen on a big screen (just not for very long).
With so many shows reinventing themselves and defying expectations in every way possible, it's only fitting that we look at eight of the best current TV reinventions that have recently changing the television landscape and switching things up for the better.
Few shows from the '90s are still as beloved as Boy Meets World, so the idea of Girl Meets World understandably left people skeptical. Instead of being a retread of the adventures of Cory Matthews from a female perspective, Girl Meets World gives us the characters of Boy Meets World decades later, while also introducing a younger cast of equally compelling characters. Riley Matthews shares many of the awkward personality traits of her father, while her best friend and love interest only hint at similarities to the original show, before diverting expectations and going in their own direction. Girl Meets World skews slightly younger than Boy Meets World ever did, yet the spirit of the original still lives strong, albeit through a different generation.
After the incredible success of the Veronica Mars movie Kickstarter, it's no wonder that we've seen such a rise in popularity of reviving older TV shows. For three seasons, Veronica Mars told intriguing, season-long mysteries with a clever noir edge and turned the crime-of-the-week formula into a way to create a strong supporting cast and do some fantastic world-building. Last year's film adaptation of the series was mostly fan service, just on the big screen, yet the show was able to cram an entire interesting story into the length of a film and set up the potential for future Mars mysteries. Creator Rob Thomas has recently hinted that Veronica Mars could come back as a limited series, which makes sense since Veronica Mars has proved the flexibility of its model more than almost any other show.
For many people, Norman Bates was the first horror villain they ever encountered, both surprisingly likable but also extremely unpredictable. Bates Motel started off shaky, yet in the past three seasons, the show has built a wonderful origin story for one of film's most iconic characters and the mother we all know has the worst coming to her. Bates Motel has turned Norman into a product of his environment, while Norma has become a mother just trying to do her best with her psychotic son. Bates Motel reinvents the Bates family and thanks to great performances by Freddie Highmore and Vera Farmiga, makes their formerly terrifying home into a place of motherly love gone horribly wrong.
5. The Greatest Event In Television History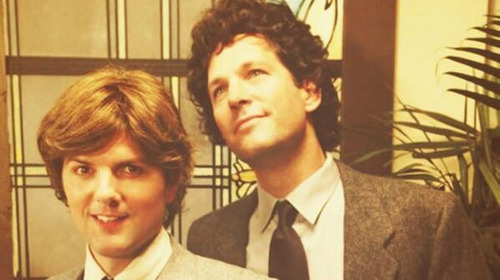 With only four episodes, Adam Scott's The Greatest Event In Television History creates a premise mostly about the complete reinvention of '80s opening TV credits and also about disappointing expectations. The brilliance of TGEITH came from the hype surrounding the mysterious project, only for it to be revealed that the show was little more than Adam Scott and Jon Hamm recreating the opening to Simon & Simon. The show went on to remake the opening credits of Hart to Hart, Too Close for Comfort and Bosom Buddies, with each episode increasing in just how ridiculous the concept was. TGEITH didn't just succeed by reinventing older television shows, it reveled in just how much fun can be created by reinventing something so stupid.
Much like Bates Motel reinvents who Norman Bates is, Hannibal took one of the most famous film characters of all time—Hannibal Lecter—and brilliantly put him in the hands of Mads Mikkelsen, making many wonder if Anthony Hopkins or Brian Cox's takes on Dr. Lecter had been overtaken by a relatively unknown actor. Even more drastic however is Bryan Fuller's ability to turn the act of cannibalism into something romantic, sexy and borderline appetizing. Television has never seen a show quite as lush and gorgeous as Hannibal, and the fact that it aired on NBC is shocking. A decade ago, it would've been hard to believe anyone else could fill the Lecter shoes or that such atrocities could be presented in equally beautiful and disgusting way—let alone on network television—but Fuller has done the impossible.
When The Comeback premiered a decade ago, it was a parody of the rising popularity of reality television and the insane levels some people would go to achieve superstardom, even if they had already had it once before. In one of the more unlikely returns to television, the second season of The Comeback—which aired nine years after the first—became a parody of a parody, a meta look back at its star Valerie Cherish and the show-within-a-show that was to bring her back to the height of popularity. Most shows that return later simply try to get things back to normal as quick as possible, but The Comeback recreated itself for the better by showing our hero more determined, frustrated and exhausted by her decade-long attempt to climb back to the top.
After the classic Coen brothers' film Fargo, it seemed like the mystery told was pretty open and shut, making the idea of a television adaptation quite an unusual prospect. But by stretching Fargo into a 10-episode miniseries, writer Noah Hawley instead turned Fargo less into a straightforward adaptation and more into a collage of the Coens' films, ideologies and aesthetics. Martin Freeman's Lester Nygaard shares a few of the same characteristics of the film's Jerry Lundegaard, but that's mostly where the similarities end. Hawley throws in elements of No Country For Old Men, A Serious Man and in the show's most shocking episode, directly ties the events of the TV show into the mystery of the film. Hawley defied expectations by using an established name and created a TV show worthy of the film, maybe even exceeding it.
No other modern TV show has had to reinvent its entire show quite the way that Arrested Development had to in its fourth season. With seven years between the third and fourth season, audiences realized the genius of Arrested Development, turning most of its cast into stars and allowing most of them to move on to their own film and television projects. However this popularity led to a complete restructuring of how Arrested Development was made when it returned thanks to Netflix.
Each episode of the fourth season focused on a different character in the show, with some occasional overlap with other characters. Yet it became very clear that the busy schedules of its stars had forced the structure of this show to completely change, leading many to claim the fourth season to be the worst of the show's entire run, questioning whether or not it was a good idea for Arrested Development to even return.
Yes, Arrested Development's fourth season is the most inconsistent of the show and while it does features the series' worst episodes, it also comes with it some of the series' best. For those of us who marathoned through the entire season in a matter of hours, what seemed like clumsy construction became an oddly satisfying and groundbreaking way to watching TV. The fourth season of Arrested Development felt like a first attempt at doing something truly revolutionary with the way we watch TV, almost like watching a seven and a half-hour movie that needed to be watched in one sitting. By reinventing itself, Arrested Development divided audiences, but did something unlike we'd ever seen on television before.
Ross Bonaime is a D.C.-based freelance writer and regular contributor to Paste. You can follow him on Twitter.