Norman Reedus Shines in Atmospheric The Walking Dead spinoff Daryl Dixon
Photo Courtesy of AMC
TV
Reviews
AMC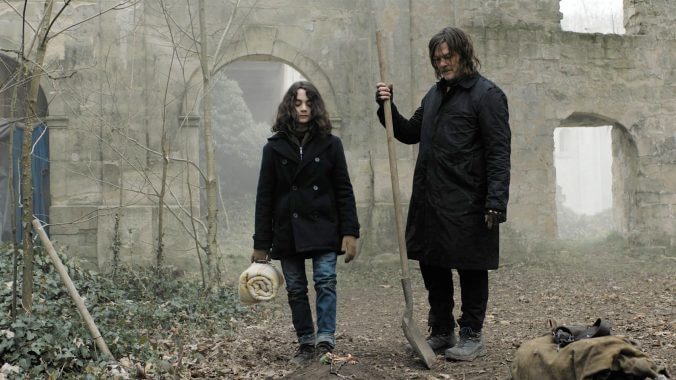 We're getting deeper into The Walking Dead's post break-up era, and now one of the biggest stars from the long-running AMC hit is taking his show (literally) across the pond with The Walking Dead: Daryl Dixon. The title pretty much says it all. Norman Reedus has been a fan-favorite on the flagship series for years, and this six-episode miniseries is his chance to fully take the spotlight with a story all his own.
Thankfully, it works pretty well, largely due to Reedus getting a chance to shine without having to split the story with two dozen other series regulars like in the old Walking Dead days. You have likely never heard Daryl talk as much as you will in this spinoff, but Reedus has the chops to make it work. He's a character fans know and love, and getting to peel a few more layers from his mystery makes for a great concept to build a story around.
As for the story itself? It's a weird one, but Walking Dead mastermind Scott Gimple & Co. knew what they were doing when they decided to set the Daryl spinoff in Europe for a cross-country trip across the zombie-filled remains of France. The recent Negan and Maggie-led spinoff Dead City took the action to Manhattan with interesting results, and it's clear some of the promise of these spinoffs is showing how the end times has changed other parts of the world in creative and interesting ways.
We won't get into the convoluted oceanic contrivances it takes to actually get Daryl to France, because that's not really the point. The point is that he's there, and it's clear from the opening shot why they opted to set this show in Europe and film it on location. It's absolutely gorgeous. Stunning. You could almost just put it on mute and watch all the pretty pictures and still have a good time—but thankfully the story itself is actually a good one, and a great fit for Daryl.
With Daryl soggily washed ashore on the coast of France, he stumbles upon a convent where he finds himself drafted into helping deliver a special young boy to a safe haven on the other side of the country. As expected (this is a Walking Dead show, after all) there are plenty of threats between here and there, from some new twist on the undead, to a few new human enemies that Daryl makes along the way.
He's clearly a fish out of water in a country where he doesn't speak the language (thankfully a whole lot of survivors in France also happen to speak some English), but there are also some clever and creative choices made along the way to give him some connections to the country. This is an interesting situation to drop Daryl into, and it could have gone sideways and been too gimmicky pretty easily, but they mostly manage to pull it off.
The setting and style gives it an almost-timeless feel, from the locations to the costumes and even the weapons (makeshift muskets and crossbows). It's easy to forget European cities have been around a whole lot longer than the cities in the United States we're used to seeing on The Walking Dead. As they cross through iconic locations like the French catacombs and ancient cathedrals, you're seeing a part of the world that's survived a few other catastrophes in the centuries before, and in a way, this is just the latest for a place that's seen everything from the Black Death to political revolutions.
Beyond just Daryl himself, Clémence Poésy's Isabelle is a fantastic addition to the franchise, serving as his travel companion and warrior nun helping protect young Laurent (played by talented newcomer Louis Puech Scigliuzzi). Isabelle's story and arc is a compelling one, and we even get some glimpses through her eyes at Paris' downfall when the virus hit. The choice to cap this story at six brisk episodes works just right. You get to dig into the characters, while still keeping the pace moving forward. It makes it feel more like an event, which is fitting, considering the feel and scope of the series.
If Daryl Dixon is a glimpse at the types of ambitious swings The Walking Dead franchise is looking to take in its new era, I'm all for it. This is a big, weird story that it's exciting to see told. It's easily one of the best Walking Dead things in years (and that's including the last few years of the original series, too). 
You can also enter into this story knowing it's definitely going somewhere, as AMC has already renewed Daryl Dixon for a second season (though of course, who knows when it'll actually come about due to the ongoing writers and actors strikes). AMC is spinning a lot of threads, with Dead City also renewed for a second season, and of course the long-awaited Rick (Andrew Lincoln) and Michonne (Danai Gurira) miniseries The Ones Who Live coming in 2024. 
While the original series had become a bit too bloated and ambling by the end, these new spinoffs are at least willing to take some creative shots at finding some interesting stories, while giving all those fan-favorite stars some space to shine. Will they all be winners? Probably not. But it's great to see the 13-year-old franchise not afraid to still try something new after all these years.
The Walking Dead: Daryl Dixon premieres Sunday, September 10th on AMC and AMC+. 
---
Trent Moore is a recovering print journalist, and freelance editor and writer with bylines at lots of places. He likes to find the sweet spot where pop culture crosses over with everything else. Follow him at @trentlmoore on Twitter.
For all the latest TV news, reviews, lists and features, follow @Paste_TV.