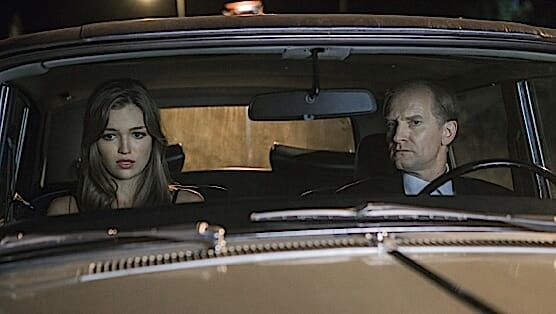 We already know that a third season of Banshee will be upon us before too long. Which is fine and all, but it makes the tension of this penultimate episode of season two seem a little anti-climactic. Sure, I want to know the fate of Hood, Proctor, Rabbit and the whole clubhouse of miscreants and lawmen—if only for a little peace of mind before I leave this show in the rearview mirror. But I already know at least the main characters are going to survive the big showdown that they are leading us towards with this week's installment.
As was revealed last week, Job figured out where Rabbit is hiding and tonight, took it upon himself to try and take him out. It didn't work out as planned (he was caught, escaped, and then hit by a cab), but he finally sought out some help from Hood and Anna to finish the job. Whether that happens or not will be settled in the next episode, but until then, the trio is holed up in a New York hotel gearing up for action.
Back home, the walls are closing in on Hood's long deception of the people of Banshee. Not least of which was Anna's admission to Gordon that Hood is really Deva's father. This coming right after the DA was given another small piece of the puzzle by Brock, who told him of checking out the ecstasy lab just one day before it was blown to smithereens.
Elsewhere, the crisscrossing loyalties of Longshadow, Rebecca, Proctor, and everyone else who has gotten their hands dirty in the criminal enterprises are only become more knotted up. And there's the suspicion that Proctor is going to be released from prison on some kind of technicality. You can almost see show creators Greg Yaitanes and Jonathan Tropper yanking out the Jenga pieces of this plot they have stacked up during the previous eight episodes. The whole thing is about to come toppling down. It's just a matter of figuring out who is going to emerge from the rubble and who will stay buried for good.
Watching this episode made me wish that Banshee's showrunners had the ego of Aaron Sorkin. This was, by far, one of the best episodes of a very rocky season, and I give full credit for that to Yaitanes and Tropper. The script felt streamlined and taut, and the action sequences had a lot more bite to them. As well, the bit of T&A in the show was relatively understated, or at least felt earned in that brief coitus between Anna and Gordon. In the back of my head, I know that they likely have their hands in each episode, but when they've got a firm hold of the reins, Banshee comes together in a way that it can't seem to when they relax their grip.
Robert Ham is a Portland-based freelance writer and regular contributor to Paste. You can follow him on Twitter.