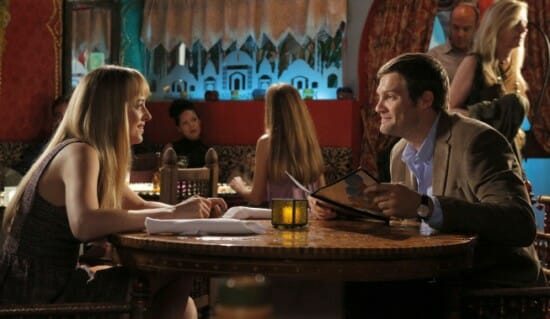 Ben and Kate is always best when it focuses on, obviously, the dynamics between the two title characters. So when the show introduced Will, a new love interest for Kate in their last episode, things could either draw Ben and Kate further away from each other in their stories, or bring them closer together. Thankfully "Career Day" is able to give Kate a fun romance, one where Will is equally as awkward as she is, while also making the relationship between her and Ben even stronger.
Kate is into her plan she is calling 'Operation Crock Pot,' in which she doesn't make too much of an effort towards Will, instead letting things cook for months until everything is just right. She's finding reasons to run into him for weeks, instead of going on a date with him. But when Will finally asks her out, Ben lets Will know that it has been so long for Kate that everything needs to perfect.
Maddie also has a career day coming up, which leads Ben to work on finding an actual career for him to have. Tommy and Ben decide to become a door-to-door wine salesman, since Ben has crates of wine sent to him from a former lover named Veronique. Meanwhile, BJ believes that an employee at the bar hates her and thinks she's sleeping with the boss to get ahead.
At dinner, when Will acts unusually, Kate realizes that Ben talked to him, but even more than that, that Ben was right about everything he told Will. It's a nice realization that Ben just wants the best for Kate, even when he comes into Will's house after finding out at his neighborhood wine tasting that Will left his wife only a few weeks before Christmas. Turns out that Will did in fact do this, but it was because his wife wasn't interested in putting their daughter's needs first.
As distracting as having a short-term relationship in a show can be, Will works his way nicely into the dynamic of Ben and Kate. He's attractive and perfect for Kate, yet can become just as socially awkward as Kate is, arguably even more so. Who knows? Maybe Will could fit in so well, he'll become a permanent fixture on the show. But for right now, let's just assume that he's not long for this show.
But Ben and Kate is always one to defy expectations, making the audience think the show is going one way, but instead throwing a curveball. This episode could have easily been all about Ben's preparing for the career day, but thankfully it instead leaves it for a closing moment, in which Ben is able to give a great speech about trying to find yourself, then almost immediately botches it by telling all the kids in the class to maybe not go to college.
So while it seemed like "Career Day" would get muddled in temporary relationship dynamics, it instead turns into strengthening not only Ben and Kate's relationship, but the one between Kate and her new potential romance. Once again Ben and Kate defies the expectations.