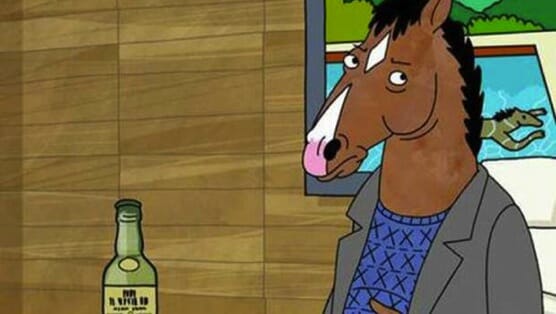 On paper, Netflix's newest original series — the animated BoJack Horseman — has an impressive formula. The half-hour comedy taps into three of today's most adept television actors, with Will Arnett, Aaron Paul and Alison Brie providing voice work. It offers 12 episodes right out of the gate, in binge-friendly fashion, and it comes on the heels of beloved Netflix originals House of Cards and Orange is the New Black. 
But BoJack Horseman's premiere episode is an exercise in squandered potential, with uninspired humor and flat dialogue blotting out a strong cast and pedigree.
The show is set in a Hollywood where humans and anthropomorphized animals live in relative harmony, dating and bickering with one another. The series' eponymous protagonist is a familiar archetype, that washed-up star who can't quite reclaim the éclat of decades past. BoJack—voiced by Arnett —has a posh apartment overlooking the iconic Hollywood sign, but he's far-removed from the industry. Instead, the bipedal horse spends his days guzzling beer and watching reruns of his hit 90s sitcom, Horsin' Around. BoJack's pitiful antics are a vehicle for some of the show's best comedy—he drunkenly flubs an interview with Charlie Rose, and greedily devours cotton candy until he retches it all over the Hollywood Hills.
(In fact, the best joke of the episode comes from a glimpse at Horsin' Around's final episode. BoJack—who raises three human children in the series—meets a premature death, and the three youngsters are blamed for his passing. "He died of a broken heart because you didn't appreciate him enough," a doctor informs the kids in a hospital waiting room. They then become wards of the state.
BoJack's sidekick is the human Todd, voiced by Aaron Paul. Paul's character is eerily similar to Breaking Bad's Jesse in both appearance and disposition. Disheveled and unmotivated, Todd is an inept drug dealer with a propensity to fall in with the wrong crowd. The casting seems less like a coincidence and more like a not-so-sly instance of art imitating art.
Amy Sedaris plays BoJack's on-again, off-again girlfriend, Princess Carolyn, a feline who also serves as BoJack's agent. Here, too, the delivery is lackluster. In part, the series' weakness may lie in animation. A spate of Arnett's lines, if imagined delivered by the uproarious Gob Bluth, seem suddenly clever and alive. But when Gob is replaced by a cartoon stallion, the humor dissipates.
The inaugural episode sets up a number of pins to be knocked down in later installments: BoJack's quest for relevance, a pending autobiography, a rivalry with fellow 90s idol Mr. Peanutbutter, and a budding romance with Alison Brie's awkwardly charming character, Diane. True, BoJack Horseman's first episode houses only one or two guffaw-worthy lines. But rare is the show that begins brilliantly — hopefully, BoJack will find the success its protagonist so dearly desires. 
Kevin Zawacki is a New York City-based writer and reporter. You can find him on his website.