You'll Need a Palate Cleanser After Watching HBO's Insufferable Camping
Photo: Anne Marie Fox/HBO
TV
Reviews
Camping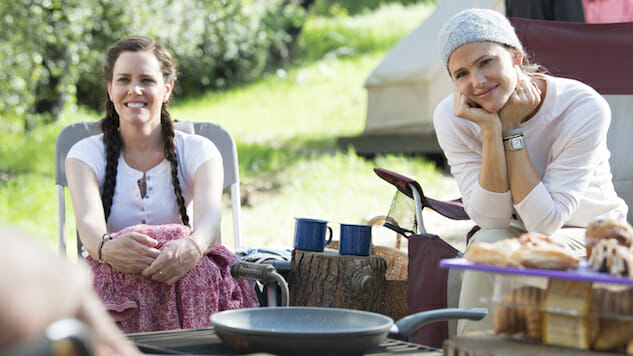 We live in an annoying, frustrating, and enraging time.
These past few weeks have tested all of our patience. So much of what's going on seems out of our control. So we must control the things we can and avoid the things that will annoy, frustrate, or enrage us.
All this is to say: Don't watch the new HBO series Camping. I mean, it must have taken a lot of work to take Jennifer Garner, who created one of the most iconic and beloved TV characters of our time, and place her in a series so insufferable that I needed to re-watch the Super Bowl episode of Alias to cleanse my palate and to make things right in my little TV world.
From executive producers Lena Dunham and Jenni Konner—the same team behind Girls—and based on the British series of the same name, the eight-episode comedy (I'm using that term so loosely) follows Kathryn (Garner), who has planned a trip to Brown Bear Lake to celebrate her husband Walt's (David Tennant) 45th birthday. They're joined by Kathryn's sister, Carleen (Ione Skye), and her problematic boyfriend, Joe (This is Us's Chris Sullivan, whose involvement in the series has not been promoted), Walt's best friend, George (Brett Gelman), and his long-time girlfriend, Nina-Joy (Janicza Bravo), and the newly separated Miguel (Arturo Del Puerto) and his fling, Jandice (Juliette Lewis).
Let's start with the most egregious part of the series. Kathryn suffers from long-term, chronic pelvic pain, the result of complications from delivering her son, Orvis (Duncan Joiner), and her subsequent hysterectomy. The series treats this as a joke, I guess? It certainly has no sympathy for Kathryn's plight and treats Kathryn's pain as something that is infuriating to all the other characters. HBO sent four of the eight episodes for review, and so far there's been no indication that Kathryn's pain is psychosomatic. It is apparently very real, and yet none of her loved ones care about it. So she's turned to her "fairly popular" Instagram account for human connection, validation, and probably just a modicum of kindness. Yes, Kathryn's pain defines her. Yes, people like that can be difficult to deal with. But the coldness and disdain Camping has for Kathryn is hard to take.
Another recurring joke is that Walt and Kathryn haven't had sex in two years. Apparently, this is due to Kathryn's pain, but since the show has no sympathy for that, we are, instead, supposed to feel bad for poor Walt (I think?), whose friends find his plight horrific. "She's built like a bionic fuck leopard," Joe says of Kathryn, in case you were curious about the show's dialogue.
Kathryn is an excruciating character. She's controlling, demanding and self-centered. Maybe the pain has made her like this. Maybe it's because no one around her seems to take care of her. Maybe it's because she's stuck in this godawful HBO series. It's painful to watch her. But you know what? She also planned the trip for all these jokers, so even though she's a pain in the ass, I'm #TeamKathryn.
The rest of the characters don't fare much better. Joe is an addict and an alcoholic who has been to rehab four times. Carleen stays with him of her apparent insecurity. Carleen wants him to talk about his feelings. "My only emotion is I want to drive to a Burger King and use a real toilet," he tells her.
Miguel and Jandice have sex everywhere and anywhere, including the dressing room of a boutique, the outdoors, and (loudly) in their tent. "Your dick felt more like a cock today," Jandice tells Miguel. Jandice seems to be a version of every character Lewis has played, and is perhaps the only character in the series that works. She also offered up the only line that made me laugh: "You need to do something about your eyebrows," she tells Carleen. "They're so Audrey Hepburn, and not in a good way."
No one seems to care that Orvis, who is constantly wearing headphones, or Joe's 15-year-old daughter, Sol (Cheyenne Haynes), are around. Sol is dragged to a bar where every adult around her gets drunk. Watching awful people behave terribly can be fine for a TV show—it worked for The Sopranos—but to fill your series with annoying characters who speak annoying dialogue and behave in annoying ways doesn't seem like the way to go. Although it certainly is the model that made Girls popular, so what do I know?
Both Skye and Lewis appear completely nude. As she did in Girls, it seems like Dunham is trying to prove a point about women's bodies and people being comfortable with the female form. But honestly, it just felt gratuitous.
The series is grating—the TV viewing equivalent of nails on a chalkboard. The worst part of all of this is that it's Garner's first regular TV role since Alias ended. Maybe SD-6 is behind the whole thing.
Camping premieres Sunday, Oct. 14 at 10 p.m. on HBO.
---
Amy Amatangelo, the TV Gal®, is a Boston-based freelance writer, a member of the Television Critics Association and the Assistant TV Editor for
Paste
. She wasn't allowed to watch much TV as a child and now her parents have to live with this as her career. You can follow her on Twitter (@AmyTVGal) or her blog .