Watch Will Smith and James Corden Get Jiggy With It in First Episode of Carpool Karaoke
Image via Apple Music/YouTube
TV
Video
Carpool Karaoke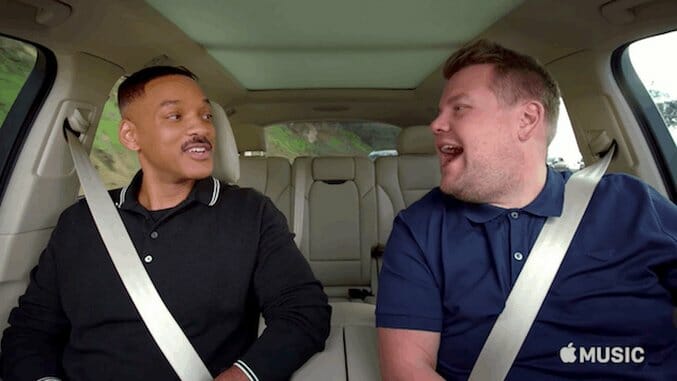 After much praise for the segment on The Late Late Show, James Corden has turned his Carpool Karaoke bit into an Apple Music series. To gear up for the series premiere, Apple Music has released a preview of the first episode, which shows Will Smith and Corden ditching the car for a helicopter and crashing a wedding.
Corden debuted his new surround-sound system—actually a marching band—to assist in providing the instrumental for Smith's track, "Gettin' Jiggy Wit It." Along with playing Smith's hits, Corden asked if he would consider playing Barack Obama in a film. Smith disclosed he has "talked to Barack about it," and the former president told him that he "felt confident that [Smith] had the ears for the role."
Watch Will and James get jiggy with it above. Other Carpool Karaoke: The Series guests will include Ariana Grande, LeBron James, Alicia Keys, Chelsea Handler, Big Sean and Jada Pinkett Smith. Watch the best Late Late Show Carpool Karaoke videos here.