Jason Dohring on a Beautiful, Darker, More Grown-Up Veronica Mars Season Four
Plus, why the Logan/Veronica 'ship has been such a fan-favorite.
Photo Courtesy of JSquared Photography
TV
Features
Jason Dohring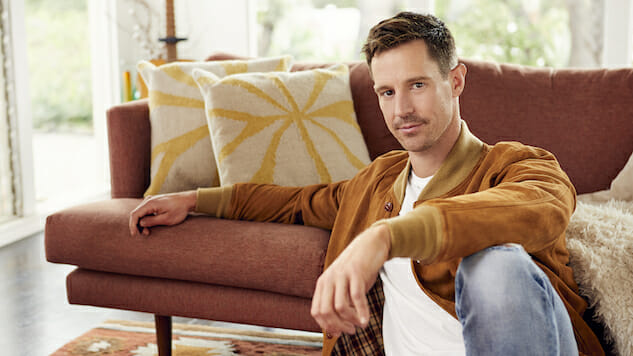 Fifteen years ago, when viewers first met Jason Dohring's Logan Echolls, he was introduced as a "psychotic jackass." Logan has come a long way since then. As Neptune High's resident bad boy, Logan tormented then eventually romanced Veronica Mars (Kristen Bell), launching one of television's most beloved couples.
Three seasons and one fan-based movie later, Dohring returns to play his now iconic character for the long-awaited fourth season of Veronica Mars, which premieres July 26 on Hulu.
About six weeks after he finished filming, Paste had the chance to talk to Dohring about playing Logan as an adult, reuniting with executive producer Rob Thomas as well as Bell, the long-standing appeal of the franchise and what to expect in this darker, more grown-up season.
Paste: Here we are five years after the movie and 15 years after the show first premiered, how surprised were you when you got the call about Hulu greenlighting a Season Four?
Jason Dohring: With the movie, Rob Thomas had an idea of how many fans were out there but I don't think he expected 90,000 fans contributing. We ended up signing 8,000 posters. It took us 22 hours. We left outgoing voice mail messages for people on their phones. We wound up raising six million dollars. That sort of went so well that Rob wanted to bring it to several places. He was always keeping us in the loop saying I think there's a chance this is going to go forward. We are pretty certain of this so please keep your schedule open if you can and then he found a home at Hulu.
Paste: How would you describe the season?
Jason Dohring: They put a lot into it and I think it's going to be really special and dark and more grown-up than when we were all in high school, of course. But I don't think it will just be a bland continuation. I think it will be something new and exciting and we are bringing on new characters. It will be something pretty cool that I don't think people have seen in this world before.
Paste: Where are Veronica and Logan when we first see them again?
Dohring: Logan's life was totally destroyed. He was coming from a really bad place, a broken family and sort of decided to turn his life around and enroll in the military, and that's what he's been doing so he's kind of in a good place. And Veronica is in a different place than we've seen her as the show starts out and that's part of the arc for both of those characters as they come from different places that were flopped in the show originally; I am kind of the stable influence on Veronica and she's kind the oddly adjusted one to her current life.
Paste: How do you reconnect with Logan after all that time has passed? Is it hard to find him again so to speak?
Dohring; It's a pair of shoes you've worn for three years. I think Philip Seymour Hoffman said the light will switch behind your eyes, you can kind of click into that person and you are that person and that's true of this guy. I think Kristen talks about this as well in that she just feels comfortable in that skin. There's the adjustment with that of the five years of military experience that's kind of shaped that underlining guy, but that guy is always there and it's just adding elements to that to become, I guess, a broader character.
Paste: Fans are, shall we say, deeply invested in the Logan/Veronica relationship. Are you surprised by how much this couple has connected with people? When you were playing it did you have any idea they would become one of the great TV romances?
Dohring: No, certainly not. Doing my best work, I'm not worried about what the audience is thinking. I'm just doing what I feel. I think it's real emotions and real relationships. We really gave it our all when we were on the show and I think that's what people respond to and makes it timeless in a sense and when we first started out this character was never supposed to be the romantic interest at all. Kristen was such a great actress and to work with her was so beautiful and igniting. She would respond so beautifully in a scene and it created this situation where this character that was never supposed to be involved with her became involved. Basically, in the writer's room after several episodes, they came to Kristen and I and they pulled us aside and said, "Okay you guys are going to be together." And we both said, "What the fuck? There's no way!"
And they said, "You better start warming up to each other because it's going to happen." And we were both just honestly stunned. And I remember how hard it was in a scene in the third or fourth episode, I had to put my hand on her shoulder and it was so against what I had played the whole time it was impossible as an actor to do this and they were like you have to do it. It took every ounce of strength I had to just put a hand on her shoulder.
Paste: What do you think it is about them that has connected with the audience?
Dohring: Nobody kind of saw it coming. I'm kind of the immoral, but there's always a redeeming aspect and her kind of struggle with that part of the relationship. The violence and unpredictability of Logan is against what she wants, and she also has a strong, opinionated point of view. Sort of that clashing and working together. I think there's great romance potential in relationships like that.
Paste: You've been on UPN, The CW, and a movie set with this character. What was different about filming at Hulu?
Dohring: Maybe it's my lack of perception but a set feels like a set to me. Aside from the craft service food being at a level 10. The one difference I did see as they are setting up the shot I would take a look and be like, "Jesus that's beautiful." The quality of cinematography is at a high level. I think it's just beautifully shot.
Paste: I know you don't want to give too much away about this new season, but is there anything else you can tell me about Season Four?
Dohring: Right from the start you're seeing language and humor at the same time. I think Rob had presented Hulu with a script with a lot of swear words at the start and they did not want to do it in that direction, is the way I remember it. He came up with this great humor and banter and how Veronica would not be using swear words in the show with her dad, and they have this cute game much to my character's dismay, because it's annoying. So you're going to see really great writing and there's just a big mystery. The mystery is a very big part of it, but yet the relationships are still there.
Paste: What can you tell me about the season-long mystery?
Dohring: It will be very interesting. I don't think people are going to figure it out. What was really cool that I thought Rob did is he didn't just want to present a mystery that people would not be able to solve, and if you go back over the show you'll see it the second time you watch it. All the clues are there. Seventy-five to ninety percent of the people might not fully get it, but if you're paying attention … I kind of knew the end, and I could see in the writing the hints and stuff like that. Rob didn't want to make people feel like they were cheated by totally leading someone the wrong way and then solving the mystery at the end. So it's cool for those interested in paying attention, they might be able to figure out some clues early on, and it's obviously going to be a big surprise as Rob Thomas shows often are.
Paste: So you knew how everything worked out before you began filming?
Dohring: Halfway through one of the directors told me the ending and I was like, "Oh my gosh!" I could see from there, in the scripts following, that the hints were all there. It was beautiful. You'll be able to see it. I probably wouldn't but smarter people would.
Paste: Did it make it harder to play knowing the ending?
Dohring: To be honest I don't like to know. It was one of the conversations where it just kind of fell out. But it even had a twist beyond the twist. The Rob Thomas extra step. I think it should be trademarked.
Paste: Can you see the franchise continuing? A Season Five?
Dohring: If it makes sense for Hulu. I think they've done a fantastic job in that way to set themselves up for a great success. Rob turned in the scripts and Kristen was fabulous per usual. So far it looks good to carry on as far as I can tell. I think Rob definitely has intentions and I think Kristen does as well. I've seen some of the final scenes and I think it's just going to be awesome in the way it can set up for a new series.
Paste Another big difference from when you first played Logan is now you are working with Princess Anna of Arendelle.
Dohring: It's cool to see Kristen. She is such a good sport with all that stuff. I'm sure it's pretty intense with the amount of fan love and interest and broad social appeal of a movie like that. My daughter sings all the Frozen songs and has no idea what the words mean but she's word for word. It's just amazing. I would love to sing a duet with Kristen but I can't get over myself to ask her.
Paste: You've now had a decade and a half with the franchise. Plenty of shows have had revivals, plenty of shows have been cult hits, but few have been as popular as Veronica Mars for as long as Veronica Mars. The fanbase has not wavered. Can you put your finger on why?
Dohring: I think to some degree it starts with fantastic writing. I really noticed the sense of care by everybody who was involved in the project initially. Coming right out of acting class, and wanting to try everything I learned in acting class in every single scene, and walking backwards into scenes. Really talking, really listening, having real emotions. There was such care by all the actors. Everybody had a great sense of wanting it to be great.
There was a level of insouciance, a carefree attitude, very light and very witty and then you'll just drop in moments of intense drama and family relationship. For me it basically boiled down to real emotions, and we are all trying to do our very best and create something special. I've had multiple people come up to me and say, "I've named my son Logan." And I'm like, "Why did you do that? I'm not the greatest guy on the show."
Some people come up and say, "This show got me through high school." And for me that was unbelievable sort of idea that it could impact people and actually help them. You have an underdog character who fights no matter what for the right thing and seeing the good and bad in all characters on the show. I think Rob walked that beautifully. When somebody is totally irredeemable, he does something that was heroic. You could never really put your finger on anybody as a straight bad guy or a straight good guy. We walked the line of grey beautifully.
Veronica Mars Season Four premieres Friday, July 26th on Hulu
---
Amy Amatangelo, the TV Gal®, is a Boston-based freelance writer, a member of the Television Critics Association and the Assistant TV Editor for Paste. She wasn't allowed to watch much TV as a child and now her parents have to live with this as her career. You can follow her on Twitter (@AmyTVGal).