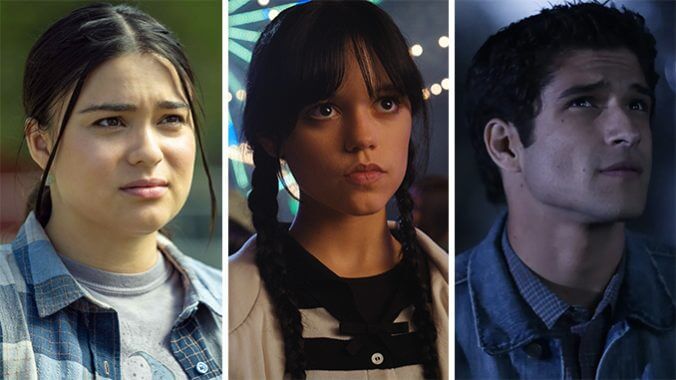 It's no secret Teen TV had a massive glow-up this past decade. Between the rise of the serialized YA adaptation, the excesses of Peak TV, and the onslaught of the streaming era, we've landed at the start of a new decade with more quality teen-centric television fare at our fingertips than even the most discerning fan could hope to get through.
To that end, we've combed all the major streaming services (and even a few niche ones) to point you in the direction of the best teen series currently available to stream. With the complex and mysterious vagaries of licensing deals, the ongoing availability of any one of these series is tenuous at best. But as of publication, we can confirm that the (unranked!) series listed below—and all the teen dramas contained therein—are just waiting for you to queue them up and hit play.
A note: With our ruthless curation, we know we might be missing some of your favorites. But it's much better to have too much excellent teen television out there than too little. Still, we will continue to update and expand the list over time, so keep checking back! Meanwhile, you can also check out our lists of the best Teen TV shows streaming exclusively on Netflix and Hulu.

35. Wednesday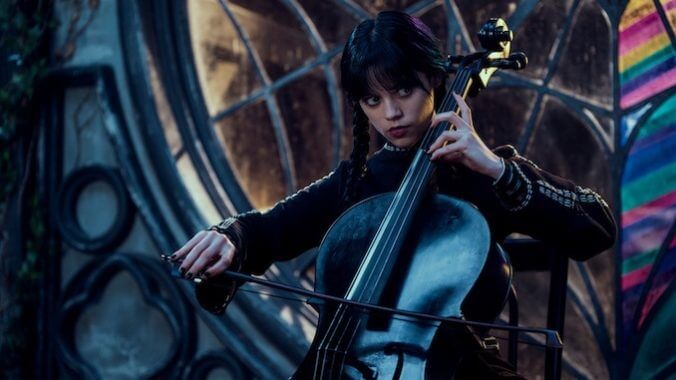 Created by: Alfred Gough, Miles Millar
Stars: Jenna Ortega, Gwendoline Christie, Riki Lindhome, Jamie McShane, Hunter Doohan, Percy Hynes White, Emma Myers, Joy Sunday, Georgie Farmer, Naomi J. Ogawa, Moosa Mostafa, Christina Ricci
Original Network: Netflix
Wednesday is a supernatural horror-comedy series that answers one essential question: What does Wednesday Addams look like as a teenager? After getting expelled from public school, a 16-year-old Wednesday (Jenna Ortega) is shipped off to Nevermore Academy, a preppy boarding school for Outcasts. Though she initially tries to escape, her curiosity leads her to instead take an interest with the monstrous killing spree that's been terrorizing the town. As her emerging psychic abilities point her towards a bizarre set of clues, Wednesday decides to play detective and uncover the shocking mysteries at hand.
Wednesday successfully captures the growing pains of being 16 without taking itself too seriously. The show is a great entry into the "gothic boarding school" subgenre of teen television, matching the likes of popular shows such as Legacies, Vampire Academy, and The Chilling Adventures of Sabrina, to name a few. Ortega's performance is by far the highlight, tackling Wednesday's complexities with an ease that truly cements her status as the new horror It girl. Tim Burton's distinct style provides the show with an air of nostalgia, yet it still feels fresh in its contemporary approach to such an iconic character. No matter the season, the series is sure to offer a great deal of spooky fun for the whole family. —Dianna Shen
---
34. East Los High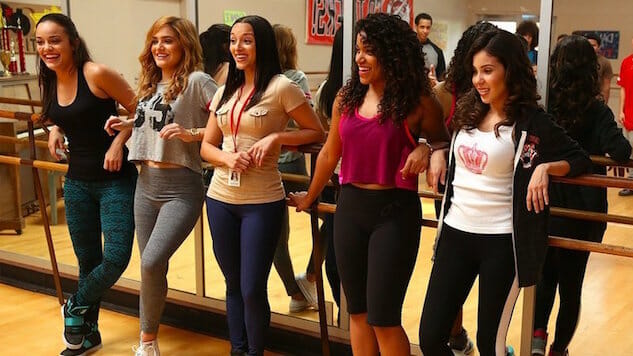 Created by: Carlos Portugal, Kathleen Bedoya
Stars: Vannessa Vasquez, Gabriel Chavarria, Danielle Vega, Alexandra Rodriguez, Carlito Olivero, J. D. Pardo
Original Network: Hulu
In the grand tradition of so many teen dramas that came before, Hulu's own East Los High, whose original run on the streamer lasted four seasons before it was cancelled in 2017, is pure soap. That said, having set itself up as one of Teen TV's most notable groundbreakers of the last decade both by being one of Hulu's first original series (only the miniseries The Confession preceded it) and by being the first to feature an all-Latinx cast and crew (a rarity across the greater television landscape as a whole), it's at least soap of an elite vintage. Featuring a plethora of Very Attractive Teens, a raft of storylines developed in collaboration with public health organizations with the goal of encouraging Latinx teens to make healthy choices, and a lot of dancing, it's a genuine 2010s teen classic. —Alexis Gunderson
---
33. Chilling Adventures of Sabrina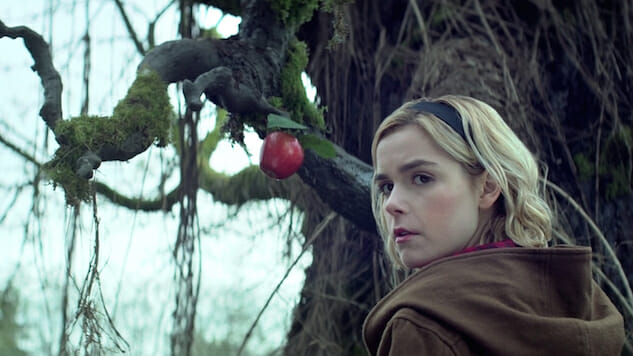 Created by: Roberto Aguirre-Sacasa
Stars: Kiernan Shipka, Ross Lynch, Lucy Davis, Chance Perdomo, Michelle Gomez
Network: Netflix
The Archie-adjacent teenage witch has had a bumpy ride, but Chilling Adventures still manages to scratch a very specific horror itch for fans of demonic magical metaphor. The show's attempts at feminism veer from the brutally satisfying to the lip-service-only frustrating, but weaving that driving principle throughout the show's coming-of-age plots and the underground magical societies within which they take place only binds the show closer into a more cohesive, if imperfect, entity. Shipka, taking all that she earned from Mad Men, dominates the screen while snipping and snapping with each potent line delivery. A plethora of romantic angles supplement the show with its more Riverdale-like elements, but at its heart, Sabrina is a horror show that only gets darker as its reign continues. —Jacob Oller
---
32. Shadow and Bone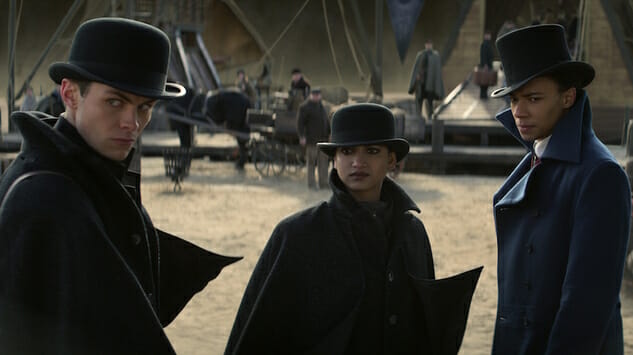 Created by: Eric Heisserer
Stars: Jessie Mei Li, Archie Renaux, Freddy Carter, Amita Suman, Kit Young, Ben Barnes, Zoë Wanamaker
Original Network:: Netflix
Adapted from Leigh Bardugo's popular Grishaverse trilogy and the subsequent Six of Crows duology, Netflix's Shadow and Bone features a familiar Chosen One narrative with broad enough appeal to attract even those who think they don't like fantasy. Set in Ravka, a fictional country based on Russia that is divided by the ominous Shadow Fold—an area of oppressive darkness where hideous creatures feast on human flesh—a teenage orphan named Alina Starkov (Jessie Mei Li) discovers she alone possesses the power to save her country from the forces of darkness that threaten to destroy it when her ability to summon and control light makes itself known.
As Alina contends with those who would like to use her and her unique ability and those who want to snuff it out completely, the show digs into larger themes of destiny and abuses of power without ever shying away from some more difficult topics like racism and oppression. While it isn't going to blaze any new trails in the fantasy genre, the series sets itself apart from other shows with a story that is packed full of emotion and backed by a distinct mythology that makes you forget that a lot of the people involved are still teens. —Kaitlin Thomas
---
31. Euphoria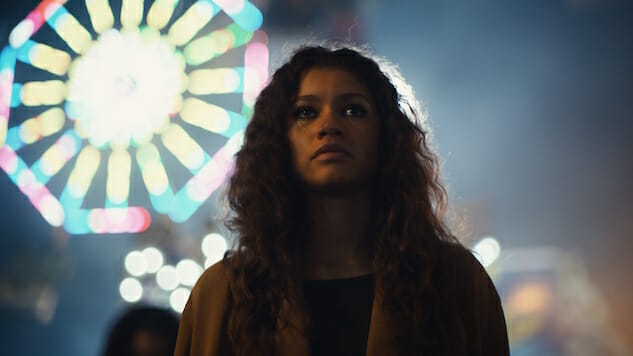 Created by: Sam Levinson
Stars: Zendaya, Maude Apatow, Angus Cloud, Eric Dane, Alexa Demie, Jacob Elordi
Original Network: HBO
HBO's Euphoria is bleak and deliberately provocative, saturated with drugs and sex and maladaptive decadence and rendered in beautifully lurid colors. Our tour guide through this dystopian high school landscape is Rue (Zendaya), a 17-year-old addict with… a nihilist streak? Her diffident attitude toward, like, being alive is understandable in context: she literally doesn't know anyone who isn't a drug-snorting, porn-swilling, lying, violent, self-harming glassy-eyed zombie. That'd get to anyone after a while, even if they didn't have an anxiety disorder.
Euphoria is a confusing show in some ways. It seems like a total provocation, an endless barrage of existential misery and trauma softcore and shock for shock's sake. It's massively voyeuristic, a seeming peek into the veiled world of teen misdeed that's not really intended for a teen audience; this show is for adults, and it's designed to freak them the hell out, presenting a relentless universe of violation and self-destruction. It's got a stochastic, vignette-oriented feel with relatively little in the way of plot deployment, which neatly—and I will add artfully— underscores the feeling of suffocating dread it offers with its misty, neon-light-in-fog tones and mumbling, voyeuristically screen-gazing characters. It's not the first or the only TV show to have a very dark take on what teenagers are really up to and the layer of gauzy, bleary unreality it conveys is at once compelling and a little gross. It's admirably unflinching in its exploration of our darker impulses. It's got a dreary, miserable beauty to it.—Amy Glynn
---
30. The O.C.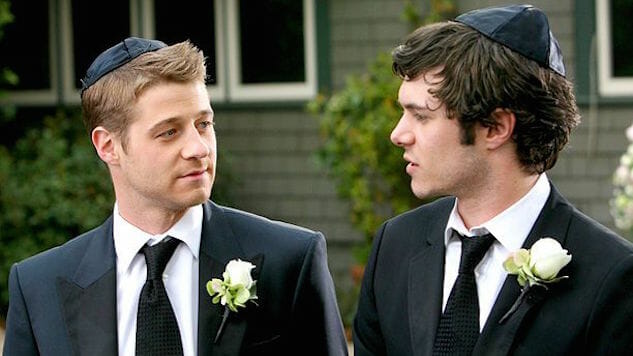 Created by: Josh Schwartz
Stars: Peter Gallagher, Kelly Rowan, Ben McKenzie, Mischa Barton, Adam Brody, Melinda Clarke, Rachel Bilson
Original Network: Fox
Welcome to The O.C., bitch. This Fox teen soap simultaneously celebrated and mocked the genre it brought back to life in the mid-2000s. Full of inside jokes, yet featuring a compulsively watchable story of two boys who become unlikely best friends and the girls who love them, the series quickly became can't-miss television. The show also helped popularize several acts—like Death Cab for Cutie, Modest Mouse, and The Killers—among a whole generation of high-schoolers, thanks to creator Josh Schwartz and music supervisor Alexandra Patsavas, and it remains iconic. —Shaina Pearlman and Amy Amatangelo
---
29. The Vampire Diaries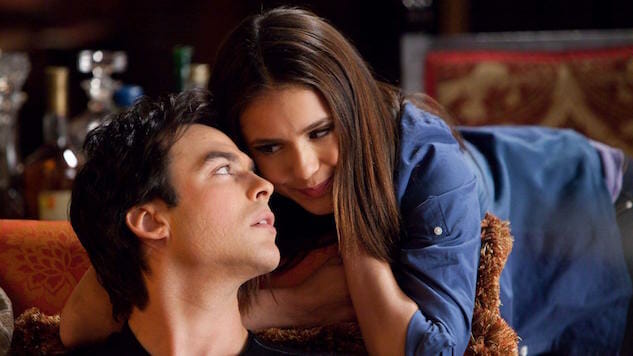 Created by: Julie Plec, Kevin Williamson
Stars: Nina Dobrev, Paul Wesley, Ian Somerhalder, Candice King, Matt Davis, Joseph Morgan
Network: The CW
What began as an angst-filled teenage supernatural drama developed into a compelling and frequently gruesome foray into the world of vampires (and werewolves and witches and hybrids and siphons and …) alongside the men and women who love them. While CW shows are often painted as skewing towards melodramatic teen/YA fare, that's an increasingly unfair assertion and one that The Vampire Diaries did a great job of dispelling, particularly once it grew out of its early "Dawson's Creek with vampires," phase. Season 1, while intermittently strong, was more or less one of those shows people refer to as a guilty pleasure. It was fun, but not really good. Once creators Julie Plec and Kevin Williamson (creator of Dawson's Creek, not a coincidence) really got a feel for where they wanted to take the show, however, it took off, and over eight seasons proved to be a reliably well-acted, creepy, and ethically complicated hour of drama. —Mark Rabinowitz
---
28. grown-ish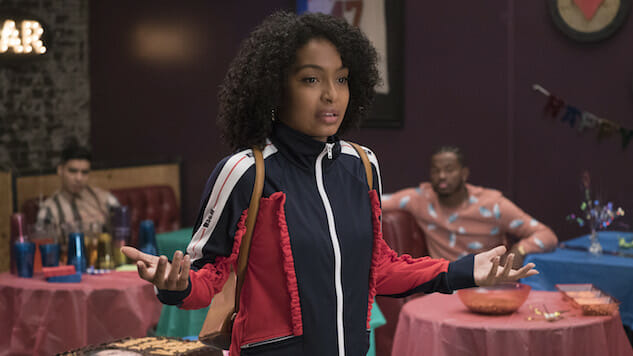 Created by: Kenya Barris
Stars:: Yara Shahidi, Deon Cole, Trevor Jackson, Francia Raisa
Original Network:: Freeform
Even when the process is kept entirely in-house, it's hard to know what to expect when an established series spins fan-favorite characters off to anchor something new. For the resulting spin-off to not only shift its target demographic, but move to a whole other network, like Yara Shahidi's college-focused grown-ish did when it landed on Freeform after breaking away from ABC's black-ish? That was more than unexpected—it was bold. Happily, it also proved to be a savvy play, the spin-off's charming young cast, sharp writing, and fourth-wall-breaking confessional tone combining to give it real legs. As the black-ish-exported lead, Zoey, Shahidi is of course a blast to watch (even as Zoey makes bad decision after bad decision, as young adults alone at college for the first time are wont to do), but truly no more so than the rest of the ensemble cast, any one of whom could be considered a particular standout, depending on the mood you're in. For the purposes of this list, Francia Raisa comes to mind, as her character, Ana Torres, is so diametrically opposite of the one she played for years on ABC Family's The Secret Life of the American Teenager, but pop phenoms Chloe x Halle might be who you're most drawn to, or Luka Sabbat's overly chill Luca, or Emily Arlook's kinda-messy Nomi, whose most recent major arc saw her coming out to herself (and the professor she inadvisably made out with) as bisexual. There's just so much going on on grown-ish, and while much of it is as awkward and painful as the growing pains of real young adulthood can be (especially in the age of social media), it's never not a delight. —Alexis Gunderson
---
27. David Makes Man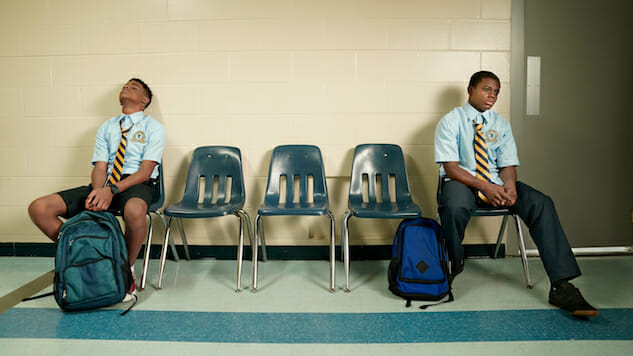 Created by: Tarell Alvin McCraney
Stars: Akili McDowell, Alana Arenas, Isaiah Johnson, Ade Chike Torbert
Original Network: OWN
Expectations are the last thing you should be bringing into OWN's first original teen-centric series. David Makes Man transcends expectations. It transcends genre. It just… transcends. Much of this transcendence is due, of course, to creator Tarell Alvin McCraney's particular line of naturalistic poetic genius. If you've seen Moonlight or High Flying Bird or Choir Boy, the fact that young David Young's story both defies easy description and delivers deeply human realness on every page won't be a surprise. But while David Makes Man would be excellent no matter how it traveled from McCraney's imagination to the screen, the version we get to watch rises to exceptional thanks to the presence of two things: Akili McDowell's astounding work as teen hero David (a.k.a. DJ/Dai), and the textural shimmer of the team's dreamy, innovative visual style.
So much of David Makes Man depends on the inner churn David experiences as he tries to balance the daily struggle to survive life in the Ville without falling into the drug-dealing world that got his father-figure killed, the academic expectations that seem to exist in a vacuum at the magnet school he buses to every day, and the quotidian social pressures to fit in and not be weird (slash, not be embarrassed by his corny-ass mom) that every middle-schooler in human history has had to face. More often than not, McDowell is asked to communicate that tightrope walk with just his eyes, his balled fists, or his quicksilver mask of a school-day grin. It's so much, but McDowell delivers every detail with such heartfelt naturalism that it's hard to remember David isn't real. It's genuinely astounding. —Alexis Gunderson
---
26. Sex Education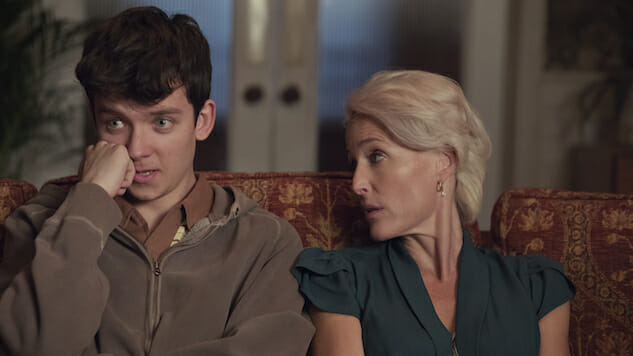 Created by: Laurie Nunn
Stars: Asa Butterfield, Gillian Anderson, Ncuti Gatwa, Emma Mackey, Connor Swindells
Original Network: Netflix
You're an insecure, bright, sensitive teenage boy (Asa Butterfield) with a wildly uninhibited sex-guru mother (Gillian Anderson), an absentee dad (the epically hilarious James Purefoy), a chronically foot-in-mouth bully-magnet best friend, a limited social life and a clinically interesting fear of your own penis. You have a stealth crush on your school's official Way Too Precocious girl, who's hard up for money. So, naturally, you open a sex clinic for high-school students in an out-of-service school lavatory, right?
Of course you do.
Netflix's Sex Education is a decidedly raunchy and thoroughly adorable coming-of-age dramedy. While it's not exactly afraid of well-worn tropes, it also doesn't rely on them to a detrimental degree… and it has Gillian Anderson as a sex therapist, which would be enough for a lot of us even if nothing else about the show worked. Luckily, that isn't the case: A testament to the power of character development, the series is riveting. None of its superbly crafted characters waste a single frame. —Amy Glynn
---
25. Riverdale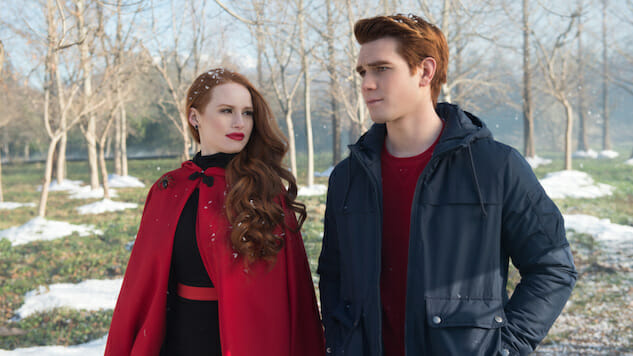 Created by: Roberto Aguirre-Sacasa
Stars:: K.J. Apa, Cole Sprouse, Lili Reinhart, Camila Mendes, Madelaine Petsch, Marisol Nichols, Ashleigh Murray, Mädchen Amick, Luke Perry
Original Network:: The CW
This is the way I've been selling Riverdale to friends who have not yet wised up and started watching it: it's Gossip Girl meets Twin Peaks, but with the characters from Archie Comics. That alone should be enough to suck them in, but if they need more convincing, I add that the late Luke Perry plays Archie's dad, Molly Ringwald plays Archie's mom, Skeet Ulrich plays Jughead's creepy hot dad (who is also the head of the local gang, the Southside Serpents), and for the first third of the first season, Archie is boning his music teacher, Ms. Grundy—who, unlike in the comics—where she's an elderly white-haired lady—goes around wearing heart-eyed sunglasses and picking up teen boys. It's ridiculous and campy in all the right ways (hey, this is a CW teen drama, after all), but there's also a compelling murder mystery driving the plot ("Who killed Jason Blossom?" is Riverdale's "Who killed Laura Palmer?"), with new twists and turns peppered in along the way. —Bonnie Stiernberg
---
24. Stranger Things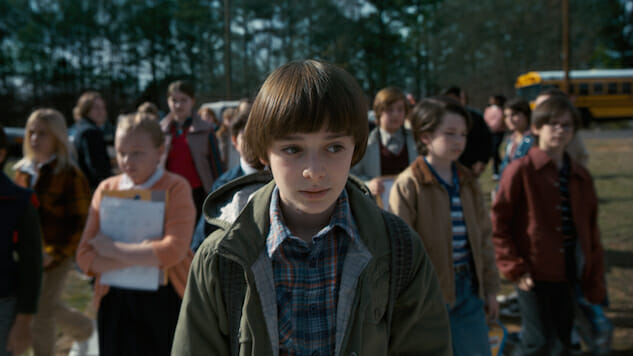 Created by: The Duffer Brothers
Stars: Winona Ryder, David Harbour, Finn Wolfhard, Millie Bobby Brown, Gaten Matarazzo, Caleb McLaughlin, Natalia Dyer, Charlie Heaton, Cara Buono, Matthew Modine
Original Network: Netflix
Say what you will about the finer points of its storytelling, Stranger Things continues to be an unabashed celebration of the 1980s, from its own filmic references regarding style and story to a cavalcade of literal references from the era. Its plucky set of kid and teen characters battle monsters (real or within themselves) and go to the mall. It's a nostalgic dream and a creepfest nightmare. But whether it's set during Halloween or in the throes of a mid-'80s summer, the show's carefully crafted aesthetics always serve to augment the joyful nature of the series' non-monster moments. And that, really, is where Stranger Things shines. The creep factor is important (and occasionally actually scary or super gory), but it acts as an almost funny juxtaposition to the otherwise happy-go-lucky look at suburban life. Mainly, though, it's the friendships and coming-of-age stories, the relationships and family bonding, that really make Stranger Things great. For better or worse, the Netflix horror series is as tasty, messy, and fleeting as an ice cream cone on a hot summer's day. Ahoy!—Allison Keene
---
23. Julie and the Phantoms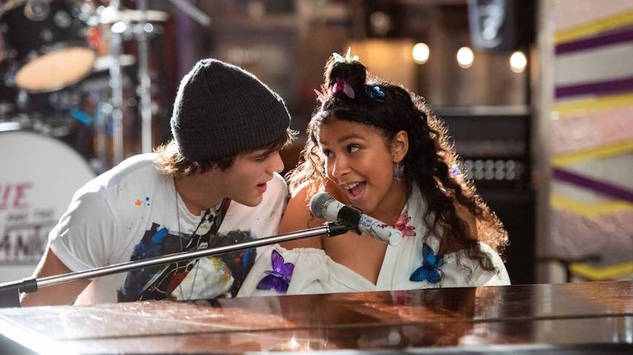 Created by: Dan Cross, David Hoge
Stars: Madison Reyes, Charlie Gillespie, Owen Patrick Joyner, Jeremy Shada
Original Network: Netflix
Between the sparkling charm exuded by newcomer Madison Reyes, the '90s pop-punk bro-ness of the Phantom boys backing her up, and the Descendants/High School Musical/Hocus Pocus bona fides of marquee executive producer/choreographer Kenny Ortega, Netflix's half-hour musical series Julie and the Phantoms was always destined to be the next big family-friendly thing. Add in a pair of showrunners with decades of Nickelodeon experience, a bevy of stadium-ready pop performances, and Descendants's own Booboo Stewart as an adorable skatebro ghost boyfriend (that Disney's never quite gotten around to giving any of its cute and emotionally available rocker dudes), and you've got legit tween catnip on your hands. —Alexis Gunderson
---
22. Betty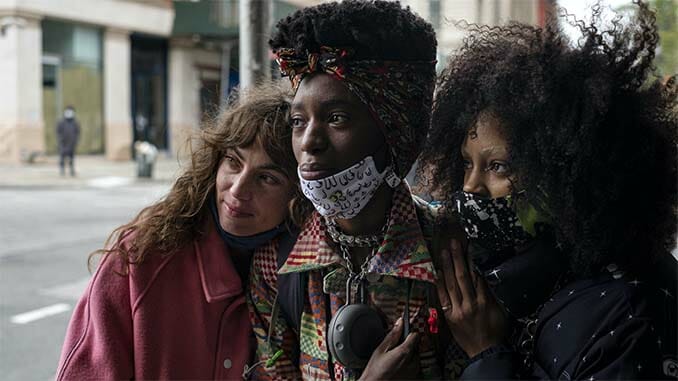 Created by: Crystal Moselle
Stars: Dede Lovelace, Moonbear, Nina Moran, Ajani Russell, Rachelle Vinberg
Original Network: HBO
At once dreamier, bolder, and more effervescently *real* than HBO's other (and much more famous) teen series on this list, Betty is so self-assuredly chill it makes you feel cool by association. The series is spun-off from creator Crystal Moselle's acclaimed docu-fictional 2018 skate flick Skate Kitchen and stars much of the film's original cast. It follows the loose and loopy misadventures of a gang of girl skaters in New York City as they learn tricks, build friendships, stunt on sexists, and just generally find peace (even at the height of the pandemic) in being around their own people. Anchored by goofy, affectionate performances by Dede Lovelace (vlogger Janay), Nina Moran (Kirt, everyone's favorite stoner), Ajani Russell (Indigo, a weed dealer with super-rich parents), Rachelle Vinberg (Camille, an aspiring pro skater), and Moonbear (aka Kabrina Adams, playing shy filmmaker Honeybear), Betty is the punk rock hang so many of us always dreamed of stumbling into as teenagers. That it was canceled after just two seasons is an enormous shame, but in a world full of maximalist Euphorias, even two seasons of something as coolly minimalist as Betty is worth celebrating. —Alexis Gunderson
---
21. My Mad Fat Diary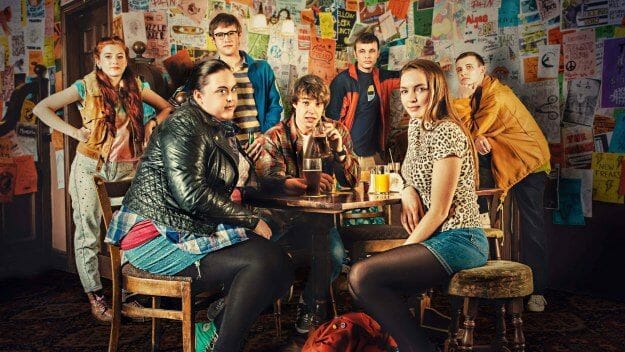 Created by: Tom Bidwell, George Kay
Stars: Sharon Rooney, Ian Hart, Jodie Comer, Nico Mirallegro, Dan Cohen
Original Network: E4
There are so many reasons why everyone needs to watch the U.K.'s excellent My Mad Fat Diary. Rae Earl (Sharon Rooney in her first role) is the fat teenage protagonist of our dreams. She weighs 16 stone (224 pounds) and has a dirty mouth, which she uses to describe all the things she would like to do to her crushes. It's hilarious and riveting, raw and honest. But the emotional tone of the show (set between 1996 and 1998) is defined by the knowledge that Rae's attempted suicide landed her in a mental hospital for four months. Much to her dismay (and luck), she is then reacquainted with her oldest friend, Chloe (Jodie Comer). In the first season, Rae has to straddle between her two worlds: the mental hospital and a new group of friends. The characters deal with abortions, parental abandonment, sex, body issues, and the difficulties of friendships and relationships with an imperfect protagonist who continuously hits rock bottom. But, somehow, hope is felt throughout. Teenagers and their mental health issues are rarely shown, especially with this much realness. But the dark comedy and our desire for Rae to win consistently provide relief. Oh, 90s Brit-pop, we love you so! —Iris Barreto
---
20. Élite (E L I T E)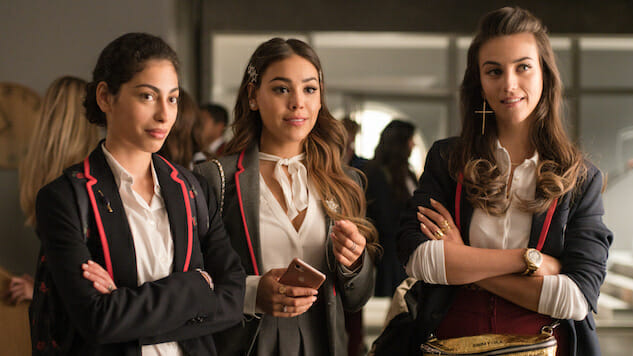 Created by: Carlos Monte, Darío Madrona
Stars: María Pedraza, Itzan Escamilla, Miguel Bernardeau, Ester Expósito, Danna Paola, Miguel Herrán, Jaime Lorente, Álvaro Rico, Arón Piper, Mina El Hammani, Omar Ayuso, Jorge López, Claudia Salas, Georgina Amorós
Original Network: Netflix
A spiritual (though sexier and more diverse) successor to both The O.C. and Gossip Girl, with just a touch of SKAM thrown in for good measure, Netflix's Spanish-language Original Series Élite (most often styled as E L I T E, because of course it is!) is a teenage-class-warfare-lover's dream. Featuring a sprawling ensemble cast of attractive Spanish twentysomethings, Élite follows a trio of working class public school kids—one of them, a hijabi from an immigrant Palestinian family—as they transfer to Las Encinas, an academically elite (and extremely expensive) private school on a kind of "whoops, my bad" scholarship sponsored by some of the rich parents whose cost-cutting construction business was found to have been at fault for their public school literally collapsing. The class tensions and psychosexual dramas this move provokes would be more than enough to fill any sexy, A+ teen series with (Riverdale truly wishes). Élite, however, is nothing if not expert in raising the stakes, each season framing these more quotidian (if highly stylized) teen dramas with a more explosive mystery—a brutal murder of a central member of the ensemble in Season 1, the bloody disappearance of another in Season 2, and the even bloodier death of a third in Season 3. Through it all, alliances are swapped, 'ships are mixed up, and allegiances are pinned in every possible configuration. The only thing we can really be certain of is that nothing at Las Encinas will ever be boring. —Alexis Gunderson
---
19. The Owl House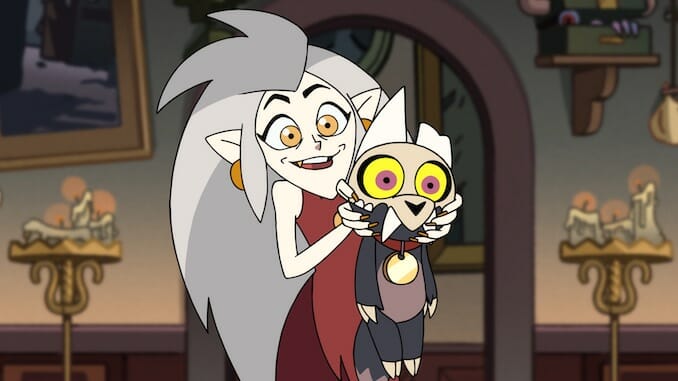 Created by: Dana Terrace
Stars: Sarah-Nicole Robles, Wendie Malick, Alex Hirsch, Tati Gabrielle, Issac Ryan Brown, Mae Whitman
Original Network: Disney Channel
When I say that little more than the bare-bones structure of Dana Terrace's animated coming-of-age series The Owl House makes sense as a Disney Channel property, fans will recognize that for the tongue-in-cheek compliment it is—not because the series features as its protagonist a bisexual, neurodivergent Dominican-American girl so obsessed with magic that she crashes her way into a witchy alternate universe (though that's definitely part of it). Rather, it's because said witchy alternate universe is literally built atop the bare-bones structure of a long-dead, demonic titan. That's right: This newest addition to the atlas of magical Disney kingdoms includes such landmarks as "The Knee," "Forearm Forest," and "Cuticle Valley," throughout which vicious sorcerers and unsettling demons practice a particularly grotesque variety of magic. Honestly, if at some point in its final, truncated season Luz (Sarah-Nicole Robles) ends up on a romantic picnic with her golem-making girlfriend Amity (Mae Whitman) in "Tongue-in-Cheek Park," I wouldn't be surprised. Tickled? Absolutely. But not in the least bit surprised.
It's not just the gruesome landmarks and queer romance that have made The Owl House such a teen fandom mainstay, however. It's how much fun Terrace and the rest of her creative team are clearly having, taking the most tired of Teen TV tropes—high school sports rivalries; warring social cliques; suffocating parental expectations—and turning them (often viscerally) inside out. On the Boiling Isles, competition can be deadly, parents can be killers, and close, intimate friendship can be a literal nightmare. Add in an ancient punk grifter (a delightfully chaotic Wendie Malick) as Luz's cursed would-be mentor, a cuddly skull-capped demon dog as her closest friend (Alex Hirsch, reprising some of his most grating Gravity Falls voices), and a generations-old mystery as to where the demon's bones they all live on even came from, well—Disney branding notwithstanding—you've got a recipe for a true cult teen obsession. —Alexis Gunderson
---
18. Yellowjackets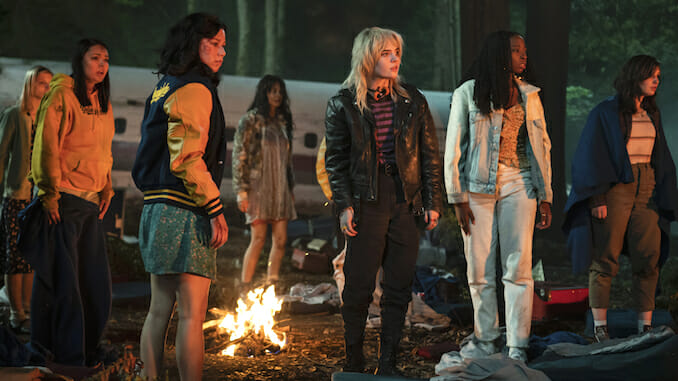 Created by: Ashley Lyle and Bart Nickerson
Stars: Melanie Lynskey, Sophie Nélisse, Tawny Cypress, Jasmin Savoy Brown, Ella Purnell, Juliette Lewis, Sophie Thatcher, Christina Ricci, Sammi Hanratty, Steven Krueger, Warren Kole, and Jack Depew
Original Network: Showtime
Showtime's survival thriller Yellowjackets feels like such a breath of fresh air. The series is an intriguing mix of genres: part 1990s-set horror story and part modern-day mystery, with heaping doses of teenage angst and supernatural weirdness thrown on top. It honestly feels like nothing else on television right now, and though its pace is somewhat more glacial than its trailers might have initially indicated, there are moments where the tension—combined with our knowledge that many of these people aren't going to make it out of this alive—is nigh unbearable.
The story begins in 1996 and follows the titular Yellowjackets, a New Jersey girls high school soccer team on their way to nationals. But when the private plane lent by a rich dad for the trip goes down in the Colorado mountains, they spend the next 19 months fighting to stay alive—a feat not all of them apparently accomplish. We know this because the other half of the show's plot is set 25 years later, as several of the crash survivors (played by Juliette Lewis, Melanie Lynskey, Christina Ricci, and Tawny Cypress) find themselves visited by a nosy reporter aiming to write a book about their stories.
Ultimately, Yellowjackets is a twisty mystery that doesn't easily give up many of its secrets, and grounds its story in a specifically female experience in a way that other series like this have never bothered to try. From awkward crushes and sexual double standards to character revelations driven by the fact that the girls' menstrual cycles sync up… basically what I'm saying is that Lord of the Flies could never. —Lacy Baugher Milas
---
17. Wayne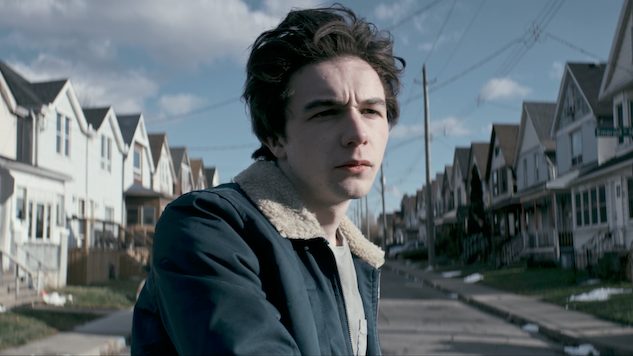 Created by: Shawn Simmons
Stars: Mark McKenna, Ciara Bravo, Joshua J. Williams
Network: YouTube Premium
I have praised Wayne enough in Paste's digital pages that I worry people might start to suspect me of being on the series' payroll, but truly, I just fucking love Wayne. To that end, let me just quote myself real quick:
To get you interested in YouTube's new original comedy, Wayne, all I really need to say is that it's basically John Wick meets John Hughes, with Wayne (Sing Street's Mark McKenna) as a kind of magnetically angsty cross between Ferris Bueller and Cameron Frye—you know, if instead of middle-class Chicago affluence and deep wells of self-interest, Ferris and Cameron had grown up in Brockton, Massachusetts with shit luck, no money, and a violent desire to make bad people pay, and if instead of a day playing hooky with cool girl Sloane in Cameron's dad's borrowed sports car, they'd helped a no-shit-taking neighbor girl (Del, played with deadpan genius by Ciara Bravo) kidnap herself away from an oppressively scary home situation by whisking her off on the back of a dinky motorcycle to Florida to steal a stolen sports car back.
I mean, seriously! How can you not be shelling out for a free 30-day trial of Premium THIS INSTANT! Fucking do it, man. Wayne is great. —Alexis Gunderson
---
16. Derry Girls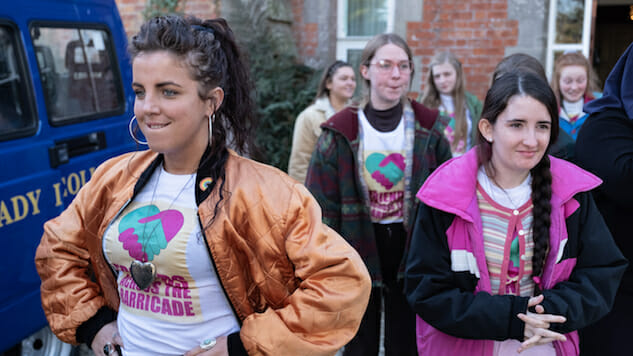 Created by: Lisa McGee
Stars: Saoirse-Monica Jackson, Louisa Harland, Nicola Coughlan, Jamie-Lee O'Donnell, Dylan Llewellyn
Original Network: Channel 4
The lovely, silly, funny and emotional Derry Girls is a brief series (its three seasons total just 19 episodes) focusing on a group of schoolgirls in Northern Ireland in the '90s, during the last days of the Troubles. But in Lisa McGee's series, that darkness is relegated to the background. Instead, the more traditional teen conflicts of school life and being boy crazy take center stage, along with lots of incredibly specific language and jokes about both that region and that time (you will definitely want to watch with subtitles on). Derry Girls is a warm and funny time hop carried by a dreamy '90s playlist and the gigantic charisma of its wee leads. —Allison Keene
---
15. PEN15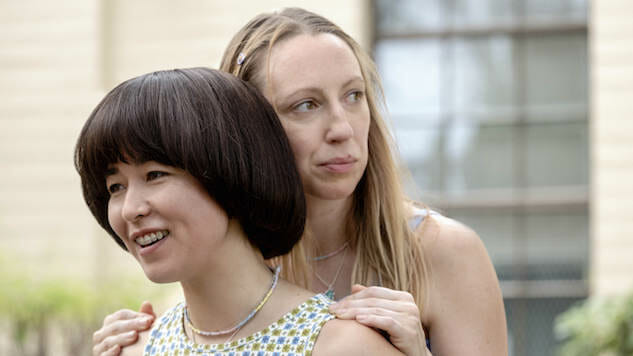 Created by: Maya Erskine, Anna Konkle, Sam Zvibleman
Stars: Maya Erskine, Anna Konkle
Original Network: Hulu
Two young women make a comedy about middle school. It's based on their own experiences, and they name the characters eponymously: Maya (Maya Erskine) and Anna (Anna Konkle). Then they make a really interesting choice, casting their 30-ish selves as the 13-year-old principal characters, and surround themselves with a supporting cast of actual middle schoolers. The result is so excruciatingly awkward it probably out-awkwards actual middle school, which is no small feat. Erskine and Konkle absolutely hurl themselves into the roles, sparing nothing in their quest to anatomize seventh grade in all its disgusting, giddy glory. They're hilarious, and there are moments when you entirely forget they're adults. And then there are moments when that fact sticks out like a sore thumb and those moments are possibly the best, because they evoke the competing impulses of the age—to race into adulthood and to go back to the safety of childhood—with a kind of zany, surreal brilliance. These are young people for whom every single minute seems momentous and defining, and who cannot realize that nothing momentous and defining has yet happened to them. —Amy Glynn
---
14. Reservation Dogs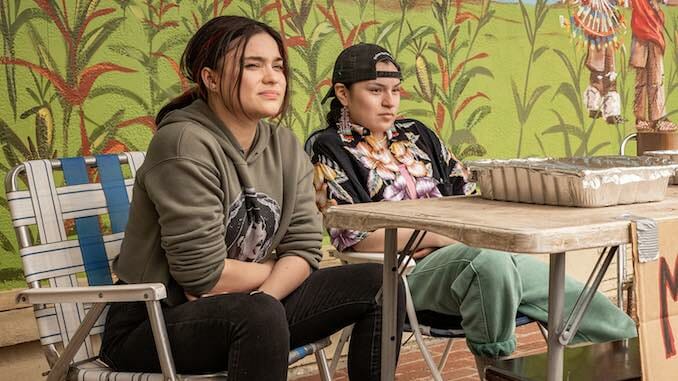 Created by: Sterlin Harjo, Taika Waititi
Stars: Devery Jacobs, D'Pharaoh Woon-A-Tai, Lane Factor, Paulina Alexis
Original Network: FX on Hulu
FX has found its niche in telling close-up, intimate stories extremely well, and Reservation Dogs is no exception. It focuses on four friends—Bear (D'Pharoah Woon-A-Tai), Elora (Devery Jacobs), Willie Jack (Paulina Alexis), and Cheese (Lane Factor)—who accidentally form an unofficial "gang" dubbed the "reservation bandits," because of their penchant for light crime. Their hope is to get enough money to get to California, an ideal that's always just out reach.
The lived-in, slightly surrealist comedy is a low-fi exploration of an Indigenous community in Oklahoma, whose leads shuffle around the "rez" among other misfits and sundries, and stumble into a variety of adventures that range from stealing a chip van to dealing with a snarky and overworked healthcare system. FX has touted Reservation Dogs, created by Sterlin Harjo and Taika Waititi, as revolutionary. In many ways it is; it features an all-Indigenous writers room, for one. But the show makes its boldest statement by not feeling like it's making a statement at all. It's an easy-going show, foul and funny, specific and accessible. It's not about the kids being noble heroes or crime-loving villains; they're just people. But they are also Indigenous people, which does mean something, and is all-too-rare to see on television—especially portrayed in such a wonderfully casual way.
But more than anything, Reservation Dogs is a perfect summer series, one that takes places on languid afternoons and moves at an unhurried pace. The kids make plans, scrounge for food, wander around, get into fights. They don't talk or act like adults, and they're not beaten down by cynicism. They have hopes and dreams, a love for family, an un-ironic embrace of community, and make a lot of silly mistakes. To say there is an innocence or even wholesomeness to Reservation Dogs would not be to quite hit the mark on how casually crass the show can be (it is ultimately a comedy for adults); but like its leads, it has a good heart. The friends are trying their best and hold each other close, even as they rib one another for their choices. It's this balance that the show gets so right; not overly precious nor incredibly vulgar, just truth with an edge. Or as they would say, "Love ya, bitch." —Allison Keene
---
13. Teen Wolf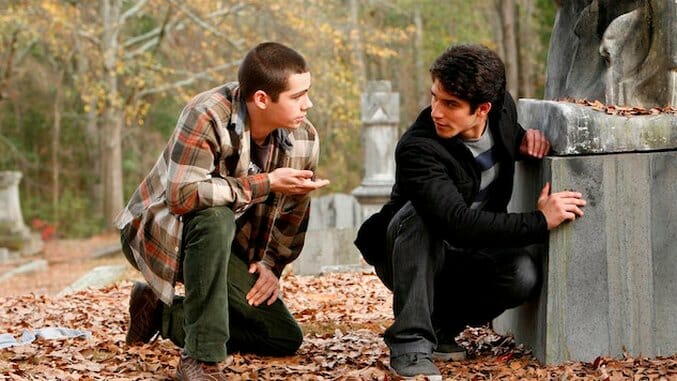 Created by: Jeff Davis
Stars: Tyler Posey, Crystal Reed, Dylan O'Brien, Tyler Hoechlin, Holland Roden, Colton Haynes
Original Network: MTV
Watch on Amazon Prime Watch on Hulu Watch on Paramount+
When MTV announced it was making a series based on the ridiculous 1985 Michael J. Fox comedy of the same name, I was less than excited. It would be like someone suggesting that it was a good idea to make a series based on 1992's execrable Buffy The Vampire Slayer film. Oh, wait… What I mean is, it's hard enough to make a good show out of a good film and for every Friday Night Lights or Fargo, there are a dozen Ferris Bueller or Clueless debacles. But using a bad film as source material? You damned well better tweak the hell out of it. Well, wouldn't you know it? Jeff Davis did just that and has pulled a particularly fearsome wererabbit out of his hat. Teen Wolf is a genuinely terrifying and unapologetically sexy piece of work. (While I'll admit to a teenage crush on Boof from the original film, the series raises the lascivious lupine bar a few dozen notches.) Of course with a series, one runs out of source material rather quickly. But Davis and his team have done their homework and created an intriguing and well thought out world, complete with magic, banshees, were-coyotes and even kitsune, populated by a surprisingly talented group of young actors. Like Sunnydale and Mystic Falls before it, Beacon Hills seems to be a magnet for mystical happenings and things that go "Grrrrr" in the night and thankfully we've got Scott (Tyler Posey), Stiles (Dylan O'Brien) and the rest to at least try and make sense of it all.—Mark Rabinowitz
---
12. Daria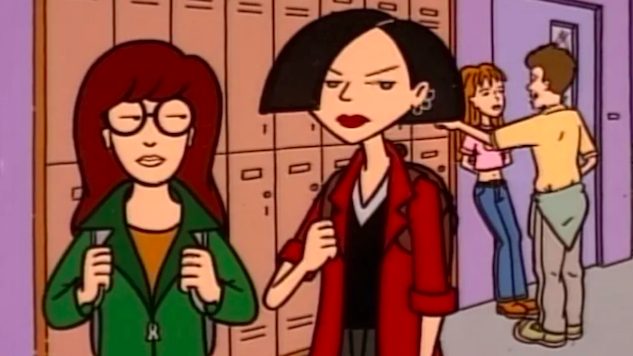 Created by: Glenn Eichler, Susie Lewis Lynn
Stars: Tracy Grandstaff, Wendy Hoopes, Julián Rebolledo, Marc Thompson, Alvaro J. Gonzalez
Original Network: MTV
A perfect distillation of '90s goodness, Daria holds up as an animated series that both understands and lampoons high school life. The whip-smart and misanthropic Daria Morgandorffer was a heroine for a generation whose favorite refrain was "whatever," as she navigated the suburban town of Lawndale, the irritation of her uber-popular sister Quinn, and her clueless work-obsessed parents. She couldn't have done it without the help of her artist friend Jane, though (not to mention her iconic crush on Jane's rockstar brother), or the help of a jaded, cynical view of this "Sick, Sad World" (as one of the show's news programs is called). Daria is the poster child for Gen X and early Gen Y culture, and the series remains a delightful time capsule that still holds many truths. —Allison Keene
---
11. Never Have I Ever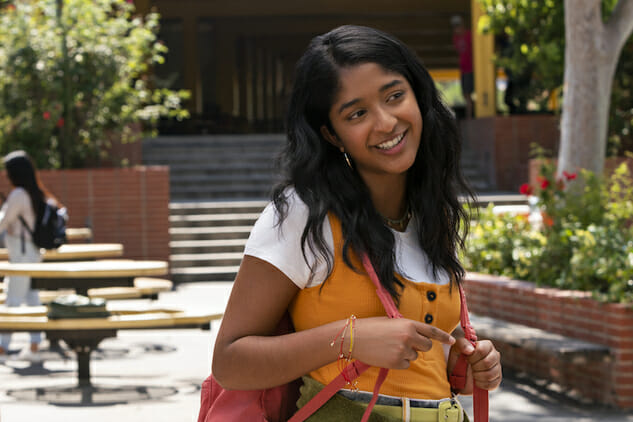 Created by: Mindy Kaling, Lang Fisher
Stars: Maitreyi Ramakrishnan, Poorna Jagannathan, Richa Moorjani, Jaren Lewison, John McEnroe, Darren Barnet
Original Network: Netflix
Being 15 sucks. You're not sure who you are or what you're doing or who you should be doing it with, but you're 100% certain that everyone around you is always laser-focused on every embarrassing mistake that you make. Mindy Kaling's coming-of-age sitcom taps into the painful awkwardness of figuring it all out with the same mix of earnestness, realism and humor as Freaks and Geeks and The Wonder Years, but filtered through a cultural lens not often seen on American TV. Devi Vishwakumar isn't just grappling with typical teenage drama, but is stuck between two cultures that she never quite feels like a full member of: the American life she was born and raised in, and the Indian heritage of her family. Maitreyi Ramakrishnan captures this anxiety and charm beautifully, that weird mix of constant shame and unearned confidence, in what is shockingly her first professional acting role. If you're looking for a teen comedy that reflects the ups and downs of real life and is actually funny, here's your chance. —Garrett Martin
---
10. Friday Night Lights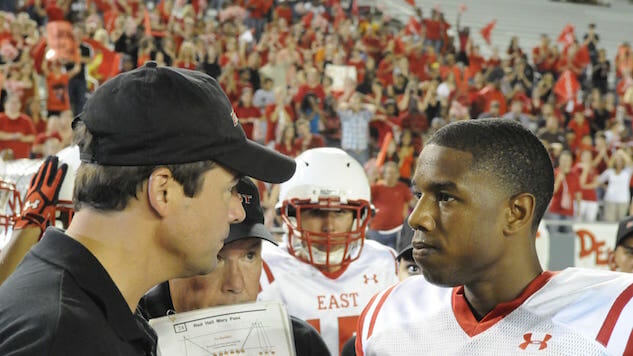 Created by: Peter Berg
Stars: Kyle Chandler, Connie Britton, Taylor Kitsch, Jesse Plemons, Aimee Teegarden, Michael B. Jordan, Jurnee Smollett, Zach Gilford, Adrianne Palicki, Gaius Charles, Scott Porter, Minka Kelly, Matt Lauria
Original Network: NBC
Watch on Netflix Watch on Hulu
Who ever thought football, a sport infamous for its meatheads and brute force, could be the cornerstone of one of television's most delicate, affecting dramas? Heart-rending, infuriating, and rife with shattering setbacks and grand triumphs—Friday Night Lights is all of these, and in those ways it resembles the game around which the tiny town of Dillon, Texas, revolves. "Tender" and "nuanced" aren't words usually applicable to the gridiron, but they fit the bill here, too. Full of heart but hardly saccharine, shot beautifully but hyper-realistically, and featuring a talented cast among which the teenagers and parents are—blessedly—clearly defined, the show manages to convince episode after episode that, yes, football somehow really is life. Clear eyes, full hearts, can't lose. —Rachael Maddux
---
9. The Fosters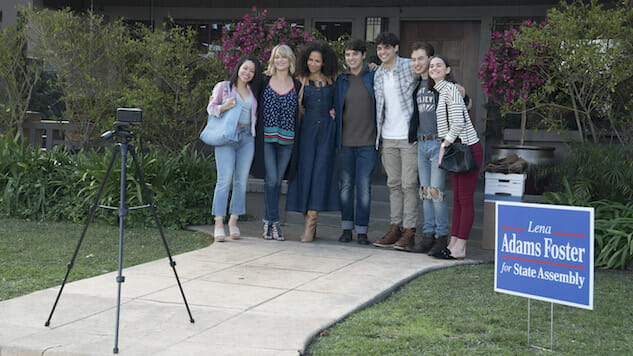 Created by: Bradley Bredeweg, Peter Paige
Stars: Teri Polo, Sherri Saum, Jake T. Austin, Hayden Byerly, David Lambert, Maia Mitchell, Danny Nucci, Cierra Ramirez, Noah Centineo
Original Network: Freeform
Premiering in 2013, The Fosters, about Stef (Teri Polo), her wife, Lena (Sherri Saum), Stef's biological son, Brandon, and the couple's four adopted children—twins Mariana (Cierra Ramirez) and Jesus (Noah Centineo), Jude (Hayden Byerly) and his half-sister, Callie (Maia Mitchell)—checked all the social progressive boxes. Over the years, this show about a gay couple raising ethnically diverse teens took on took on immigration, the foster care system, adoption, abortion, eating disorders, gun control, and LGBTQ rights. (And that's just what I can remember off the top of my head.) When Jude realized he was gay and embarked on several romances, they were treated the same as the show's other teen romances. The series regularly featured transgender characters, one of whom (Aaron, played by Elliot Fletcher) became Callie's boyfriend. The show did all this while always being an entertaining, well-executed family drama that educated viewers without being pedantic. —Amy Amatangelo
---
8. The Wilds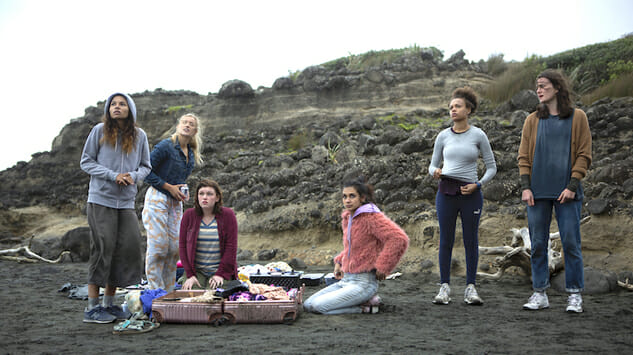 Created by: Sarah Streicher
Stars: Sophia Ali, Shannon Berry, Jenna Clause, Reign Edwards, Mia Healey, Helena Howard, Erana James, Sarah Pidgeon
Original Network: Amazon Prime Video
On paper, The Wilds sounds like a ripoff of Lost, but with teenage girls: after a plane crash, a group of girls land on a mysterious island where they have to not only endure the unknown, but also each other. Like Lost, each episode explores the backstory of one girl, weaving in their pre-crash struggles with identity, heartbreak, abuse, and more with their on-island battle to survive.
The Wilds's plotting makes for a strong thriller that lends itself to an easy binge, and the characters are well-drawn and multilayered. But the true triumph of the show is how it portrays the peaks and valleys of being an adolescent girl—they are angry at the hands they've been dealt, confused about values they've been taught to believe, and determined to reach their goals by any means necessary. They are strong but not impervious; they are catty, they are suspicious, and they are loving.
The Wilds is a show I absolutely wasn't checking for, but after the first episode's surreal beach-funeral-at-dusk acapella rendition of Pink's "Raise Your Glass," you'll be hooked, too. —Radhika Menon
---
7. All American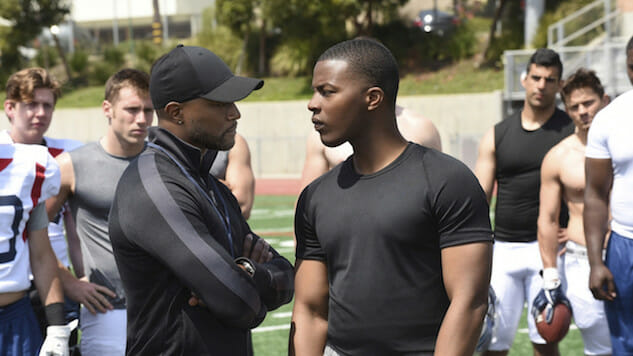 Created by: April Blair
Stars: Daniel Ezra, Taye Diggs, Bre-Z, Greta Onieogou, Samantha Logan, Michael, Evans Behling, Cody Christian, Karimah Westbrook, Monét Mazur, Jalyn Hall, Chelsea Tavares, Da'Vinchi
Original Network: The CW
More or less the Platonic ideal of the American High School Drama, the CW's All American is a bright spot of explicitly diverse near*-realism (*I'm looking at you, all you unreasonably fit twenty-something Adonises) in a still mostly white network sea of superheroes, the supernatural and the comically stylized.
Inspired by the life of professional American football player Spencer Paysinger, All American tells the story of Spencer James (Daniel Ezra), a star football player from South L.A. who's recruited by a coach (Taye Diggs), an expat of the same neighborhood to come play for him in Beverly Hills—a plan which necessitates Spencer moving in with the coach and his family in order to get around the school's hyper-strict zip code requirements. Much of the drama that follows, both in Beverly Hills and back in South L.A., is what you'd expect: The rich kids have expensive pill addictions or are spiraling into depression after being left alone in their mansions for months on end by their oblivious jet-setting parents, while the kids in South L.A. are trapped in a school that is chronically underfunded and over-policed, and are at risk for falling into gang life.
But the compassion and grace with which All American handles all of these problems, matched with the grounded performances each of the young actors puts in, gives the show ample opportunity to transcend primetime melodrama. As the lead, Ezra is excellent, as compelling in tender moments of private vulnerability as he is in athletic feats on the field, but equally arresting are Bre-Z as Spencer's fast-talking, bar-spouting queer best friend Coop, and Samantha Logan as the fragiley sober Olivia Baker, Coach's daughter and the first friend and confidante Spencer makes in Beverly Hills. Throughout the real-time run of its early seasons, All American didn't make much of a splash, but given how immediately it rose to the Top 10 in Netflix's internal ranking system, and how long it held a spot there, even weeks after first being made available, it's clear that teens streaming at home know exactly where the good shit's at—and now you do, too. —Alexis Gunderson
---
6. Pretty Little Liars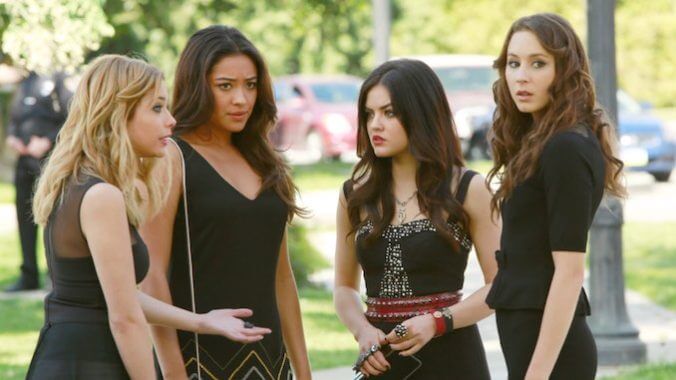 Created by: I. Marlene King
Stars: Troian Bellisario, Ashley Benson, Holly Marie Combs, Lucy Hale, Ian Harding, Shay Mitchell
Original Network: Freeform
Pretty Little Liars, the long-running ABC Family-turned-Freeform series based on the novels of the same name, revolutionized teen TV (in fact, live-tweeting as we know it was made popular by this show). Having jumped the shark at least half-way through its seven-season run, the series has become a cultural touchstone in the same way that Buffy or The O.C. was before it. After queen bee Alison DiLaurentis disappears one night in the well-off town of Rosewood, her friend group (Aria, Spencer, Emily, and Hanna) begin receiving messages from the mysterious, all-knowing tormentor "A," threatening to uncork the secrets they each hold dear. What follows is a mystery box inside of a mystery box as the Liars attempt to uncover A's true identity, leading to numerous reveals and plot-twists—-only some of which actually end up making sense. In spite of its frustrating mysteries and sometimes unsatisfying conclusions, Pretty Little Liars' staying power is a testament to the heartfelt friendship between the Liars, the addictive nature of its format, and the series' ability to take risks throughout its entire run. And now with numerous spin-offs having come and gone (all except Max's stellar Original Sin), Pretty Little Liars has finally gained what Alison had always sought after: "Immortality, my darlings." —Anna Govert
---
5. High School Musical: The Musical: The Series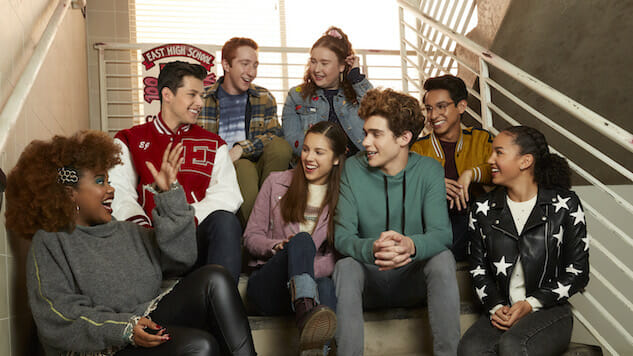 Created by: Tim Federle
Stars: Olivia Rodrigo, Joshua Bassett, Matt Cornett, Sofia Wylie, Larry Saperstein, Julia Lester
Original Network: Disney Channel
What a title to launch one of the flagship series of a new streaming platform with! To crib the rhythm of a waning TikTok trend: Does it flaunt the platform's corporate reach(™)? Yes. Is it unwieldy as hell? YES. Who's ready to crown it a self-aware heavyweight champ? Me! Is that because this Disney+ defining teen series is coming out of the gate so extremely self-aware that it blazes right past the meta event horizon that would incinerate all other attempts at such a vertically integrated creative experiment, rolling instead to a victorious stop in the land of what I am, of this moment, going to be calling post-cringe? Ah! (Translation: Yes.)
High School Musical: The Musical: The Series, which follows the fictional students of the fictional version of the real Salt Lake area high school where the real High School Musical was filmed, as they embark on staging the first production of the fictional High School Musical: The Musical at the real (that is, fictional) East High—if your brain's not broken yet, then I suspect you're already doubled over with how chaotically genius this is.
The corporate behemoth that Disney has become is literally the only operation in town that could produce something as vertically integrated and as a richly and winkingly self-referential as High School Musical: The Musical: The Series. And for all that, it's both fun and fascinating to see the company use its new Disney+ platform to send up its own fairly conservative cable television past. —Alexis Gunderson
---
4. Cruel Summer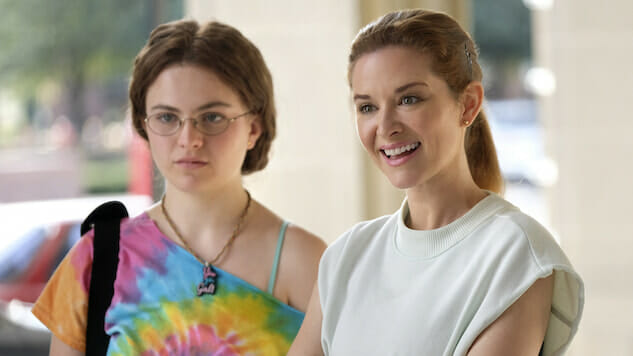 Created by: Bert V. Royal
Stars: Olivia Holt, Chiara Aurelia, Froy Gutierrez, Harley Quinn Smith
Original Network: Freeform
I had to give up taking notes on Cruel Summer, Freeform's 90s-set teen mystery series, about 2,000 words in. That said, the very density that prompted me to get 2,000 words deep in a meticulous kind of madness before changing course is precisely the thing that's likely to turn Cruel Summer into the internet's next big generation-spanning hit. Truly, from its complex, triple-layered timeline to its compellingly intimate POV-flipping narrative structure to its viscerally accurate mid-90s details, Cruel Summer is custom-built to be an object of social media obsession.
In the one corner, you have Aurelia's Jeanette Turner, who at any given moment is a sweetly awkward 15, or a recently popular 16, or a universally despised 17, and who may or may not be guilty of compounding another girl's trauma. In the other corner, you have Holt's Kate Wallis, who at any given moment is a universally beloved 15, or a freshly traumatized 16, or an acidly angry 17. In between them, you have a gulf of not-knowing—a not-knowing that at any given moment might come from one character's inherent duplicity, the natural gaps in another's first-hand knowledge of a situation, or the fundamental unreliability of memory even before intense emotion is involved. There are some truths that are more real for some characters, and less for others; some realities that are more tangible in one moment than they are in the next.
The likelihood that one girl is lying and the other telling the truth hangs over Cruel Summer like a thundercloud, but in giving the audience just one walled-off chunk of each girl's side of the narrative at a time, the possibility that they're both telling a story that's true to them is just as present. In floating the mid-90s media's take on Jeanette and Kate to the top of its story over and over again, Cruel Summer adds an important third perspective on the nature of reality, and all the ways in which it can be warped in the name of "truth." —Alexis Gunderson
---
3. SKAM Austin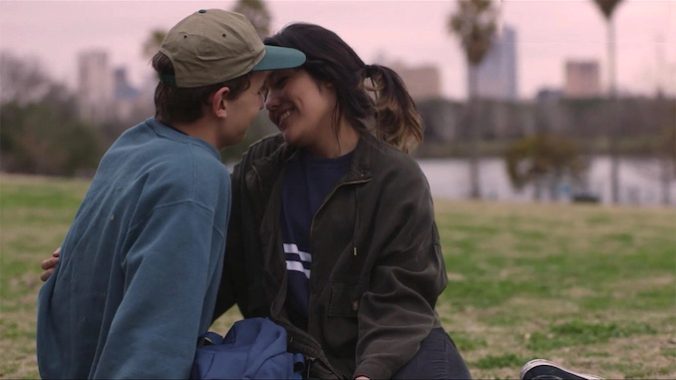 Created by: Julie Andem, Sara Heyward
Stars: Julie Rocha, Till Simon, Kennedy Hermansen, Austin Terry, Shelby Surdam, La'Keisha Slade, Valeria Vera, Aaliyah Muhammad, Pedro Castenada, Giovanni Niubo, Sophia Hopkins
Original Network: Facebook Watch
As heartbreakingly excellent as Sorry for Your Loss is, it isn't inherently a Facebook show—it could, if it had to, find a comfortable home on any number of other networks. The wallop that the equally excellent and differently heartbreaking SKAM Austin packs, on the other hand, derives directly from its Facebook (and Instagram) roots. SKAM Austin, as I noted in my review of this American adaptation of Andem's original Norwegian public television series when it first hit Facebook's digital airwaves in 2018, is less a series than it is an "obsession-inducing transmedia experience" that uses the subtle teen-speak nuances native to both Instagram and Facebook to follow the lives of a cadre of fictional Austin teens in excruciatingly real real-time, clips of their quotidian dramas posting daily as the production team maintains live, interactive accounts belonging to each character for fans to follow in between official "episode" drops. Sure, the plot of Megan and Grace and Kelsey and Jo and Shay and Zoya and Marlon and Daniel and Tyler's overlapping stories might be able to live on in a purely linear form on another platform, but for good or ill, it is impossible to imagine the immersive entirety of the SKAM Austin experience existing anywhere else but within the Facebook ecosystem. Anyway, here's a love letter to Season 2. May an equally beautiful Season 3 (and a more robust American democracy) find us eventually. —Alexis Gunderson
---
2. Buffy the Vampire Slayer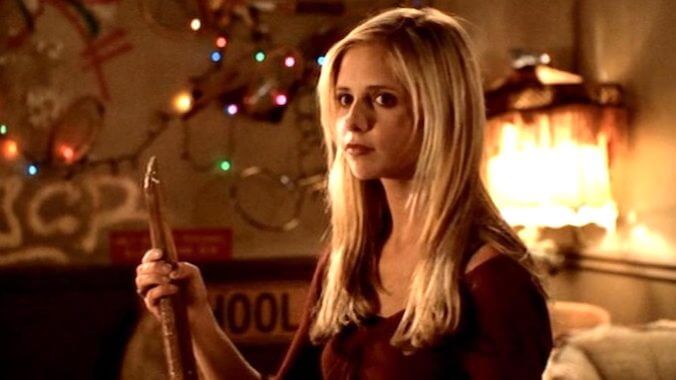 Created by: Joss Whedon
Stars: Sarah Michelle Gellar, Nicholas Brendon, Alyson Hannigan, Charisma Carpenter, David Boreanaz, Seth Green, Marc Blucas, Emma Caulfield, Michelle Trachtenberg, Amber Benson, James Marsters, Anthony Stewart Head
Original Networks: The WB, UPN
Buffy the Vampire Slayer had it all: Romance, drama, tragedy, suspense. The show took the teen-soap formula and elevated it to an art. It was a unique combination of tragic romance, apocalyptic fantasy and the clincher: emotional realism. It also featured the most serious and realistic depiction of human loss ever witnessed on the small screen (in "The Body" dealing with the death of Buffy's mom by natural causes). Humor? The writers understood the campy sheen that must accompany any show named Buffy. They also knew how to use snappy dialogue and uncomfortable situations to full effect. Complex characters? You'd be hard pressed to find another program that had the same range and consistency of character development. Everyone matured (or devolved) at his or her own realistic rate. As some feminist writers have argued, TV had never before seen the complexity of relationships among women that you saw with the likes of Buffy, Willow, Joyce, and Dawn. Plot? The writers employed elaborate multi-episode, multi-season story arcs. People and events of the past always had a way of popping back up, the way they do in real life. Philosophy? Series creator Joss Whedon was all about the meta, the ideas and story behind the story. He succeeded, creating a WB/UPN show that bears closer resemblance to the works of Dostoevsky and Kafka than 90210 or Dawson's Creek. —Tim Regan-Porter
---
1. On My Block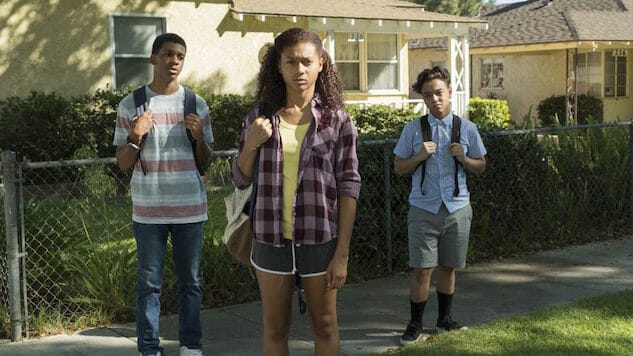 Created by: Lauren Iungerich, Eddie Gonzalez, and Jeremy Haft
Stars: Diego Tinoco, Jason Genao, Jessica Marie Garcia, Ronni Hawk, Sierra Capri, Brett Gray
Original Network: Netflix
Netflix's South Central L.A.-set dramedy On My Block is one big, irreverently cocksure nod to all the (whitest) parts of the modern cultural canon one would least expect to find in a coming-of-age story about brown 14- and 15-year olds just trying to survive daily life on their gang-ruled streets. For the first couple of episodes, the series' slangy allusiveness makes for a story that feels shaggy at best, and structurally unsound at worst, but when the final credits hit, it's clear that not one second of the show's episodes were wasted: Every line was measured out, every background track meticulously calibrated, every initially jarring tonal shift set up precisely for a singular cumulative effect that lands in the season's final moments like a punch to the chest you realize too late you should have seen coming from a mile away. —Alexis Gunderson
---
For all the latest TV news, reviews, lists and features, follow @Paste_TV.