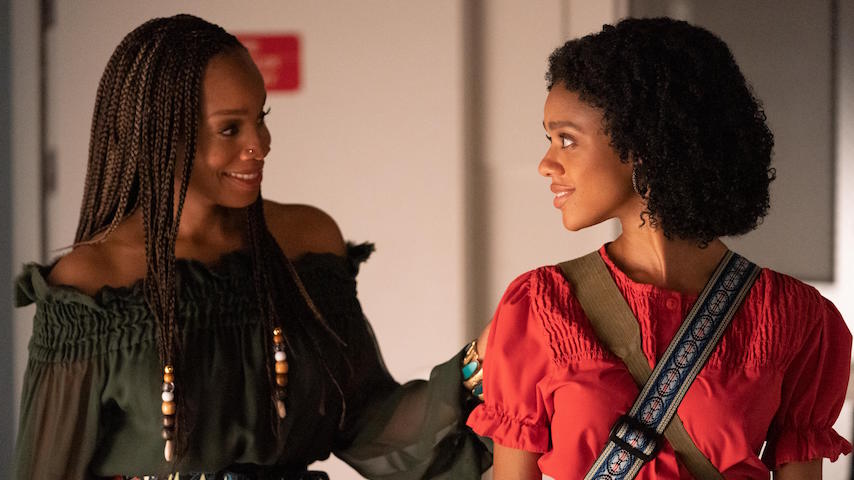 What makes a mother?
Biology? Love? Nature? Nurture?
This is the fraught question that delicately weaves throughout Hulu's Little Fires Everywhere as two mothers—wealthy mother of four Elena Richardson (Reese Witherspoon) and single mom of one Mia Warren (Kerry Washington)—find themselves on the opposite sides of an intense custody battle in 1990s Ohio. Based on Celeste Ng's book by the same name, one of the most devastating threads in this eight-episode series follows Bebe (Lu Huang), Mia's co-worker at a local restaurant and a single mother who is struggling financially, when she makes the heartbreaking decision to leave her newborn baby, May Ling, at a fire station. That baby is then adopted by Elena's affluent friends Linda (Rosemarie DeWitt) and Mark (Geoff Stults). Now, a devastated Bebe wants her daughter back while Linda and Mark, who struggled with infertility for years, fight to keep their adopted child.
The story has unraveled slowly, but this week's sixth episode, "The Uncanny," takes viewers back to when Elena and Mia were young women in their early 20s. Viewers learn the full backstory of Mia's secret and see a very different side to Elena. It's an enlightening and engrossing hour, and a series high in an already stellar drama.
Paste had the chance to talk to former Paste TV Editor and current writer/producer Shannon Houston, who penned this pivotal episode, about why it was so important to show viewers the younger versions of Elena and Mia, and what it all means.

Do not read until you've watched the sixth episode of Little Fires Everywhere.
Paste: If I recall correctly Elena's backstory wasn't in the book?
Shannon Houston: No it wasn't. We had to do the work of inventing her stories. It was definitely challenging, but it was also exciting because I had to start thinking about "who was Elena before these kids showed up and what was her story?" I think where we cracked it is when we started to be honest about the fact that even with all the privileges she had, having four children under the age of five back to back would be insane. And if she had a little less money back then which she did, it would be hard. But the difference is she's not an immigrant and she still has enough money for formula. We tried to sort of parallel to Bebe's flashback of her story. When Bebe was having struggles breastfeeding and when she was having struggles with a new baby. It's very different than what Elena is going through.
Paste: Why was it important to show Elena's backstory?
Houston: There's a lack of control around early motherhood. Certain things are just out of your control. Showing how major life events can change you, in a way where you do things to get control, because of that one time or that one year where you felt completely out of control.
Elena's calendar wasn't always color coded, but then she had a fourth child that she felt very sure she could not take on but she did it anyway. She didn't really do it because she wanted to, she did it because she was supposed to. This is the origin story of the four ounces of wine. This is her reaction to the time she ran away. She went, "I have to get control. I can never lose control again." This also very important to her story throughout the series, which is she's becoming unraveled. It's scary for [her husband] Bill (Joshua Jackson) because he's like, "I saw you unravel once before and it was terrible." And for her she's fighting that unraveling too. And it's Mia that's unraveling her. So Mia doesn't just represent Mia or a black woman or the artist that my daughter is spending time with. Mia also represents that dark space where I lost control and I couldn't get it back. I hope that seeing her all those years ago informs that relationship with Mia not in a way that absolves Elena of anything, but informs it and complicates it a little bit.
Paste:The episode has a lot of sympathy and empathy for Elena's plight, which seems like a very deliberate choice.
Houston: What Elena is going through is hard. I wouldn't take that away from any mother. I think that is a universal truth about motherhood. If you are a woman and you go to nurse your child and there's no milk coming out, there's no amount of money in the world that can get that milk to come out. There's no college. There's no credit card. That's a very real thing. But there's a big difference—Elena runs to the store and loads up on formula and Bebe is 70 cents short for the formula in the third episode and has to make a very difficult choice after that. But breasts filled with milk that are not nursing properly and a screaming baby in your ear and you're trying to be a good mother … there's something universal about that for sure.
Paste It also gives us a lot insight into Elena's fractured relationship with her youngest daughter, Izzy (Megan Stott).
Houston: It tells you the origin story of her relationship with Izzy. We talked in the writers' room a lot about a thing that moms do, which is problematic, is that you look at a child and you remember how they were when they were first born. You go, "Oh this child always gave me a hard time." When Elena looks at Izzy, she remembers everything you are seeing in my episode, she remembers the big mistake that she made, and instead of taking responsibility in any way she's like, "It's Izzy. If Izzy hadn't been so difficult. If Izzy hadn't existed, I would have been back on birth control in no time and at the Plain Dealer." All these partially made up things that's she's attributed to this one child, who was probably not that bad of a kid. But she's built this whole storyline that Izzy has no control over. Even though there's a lot of things I don't like about Elena, I have so much empathy for her and understanding in this scenario.
Paste: Talk about the changes you made in Mia's relationship with her professor Pauline (Anika Noni Rose)? In the book, Mia and Pauline aren't romantically involved.
Houston: For several of us it was our favorite part of the books. The portrait of an artist, the becoming of an artist. We made some big changes as far as her relationship with Pauline. We wrestled with that a little bit, because on the one hand there's something so true and pure and real about those professors who inspired you, who you love, who you didn't have a romantic relationship with. At the same time we were yearning for Mia to have a romantic relationship, because she doesn't have one in the book. We wanted Mia to have this love in her life. We wanted to also sort of compound the heartbreak. It's not just her losing her brother Warren, which is huge, but it's also because of that loss, because of the rejection of her parents, she runs away and by the end of it she also loses Pauline. And there's a connective tissue between all these losses that happen when Mia was pregnant, and Elena's losses that happened when she was pregnant with Izzy, and when she had Izzy.
Paste: This also truly informs Mia's relationship with her daughter Pearl (Lexi Underwood).
Houston: If I'm Mia, my relationship with Pearl always reminds me of Warren and always reminds me of Pauline and always reminds me that my parents rejected me. It doesn't mean that I'm awful to my child because of it, but it sort of explains, I think, the distance that exists between the two of them, and Mia's firm commitment to her art—which is also something that she lost in a way when she decided to keep the baby. The whole point was "I want to be in schools so bad, I want this life so bad that I'm willing to carry a child and be paid for it." That's how much she loved what she was doing at that time and we wanted to honor that love. You would then have an art studio your child is never allowed to go into. You would withhold certain things from her to keep those other things sacred, but you would also make mistakes while doing that.
Paste: I also really appreciated that the series cast young actors—AnnaSophia Robb and Tiffany Boone—to play the younger versions of Mia and Elena.
Houston: We had been back and forth about whether or not we should have younger actors. By casting younger actors we do this thing that I really like. We speak directly to the "uncanny" which is the title of the episode, which is in that speech that Pauline gives. "Uncanny" is something both familiar and unfamiliar. When you're looking at Elena and Mia as Anna Sophia Robb and Tiffany Boone, you are both familiar and unfamiliar. You're comfortable with them and you're uncomfortable with them because they're not quite who they are supposed to be but they kind of are.
Paste: Why do you think Mia is so invested in Bebe's case?
Houston: It's confusing at first—seeing Mia get involved with Bebe's case. But by the time you watch "The Uncanny," you realize that when she sees Bebe, she sees herself. If she can help Bebe, she can "prove" to the world—and more importantly to herself—that she did the right thing when she ran off with the baby. She can prove that Pearl belongs to her biological mother. More than that I think Bebe reminds her of that entire period of time in her life—that intense, haunting, and beautiful past that she had with Pauline and with the New York art scene and with the creation of her Spider Woman. All of these feelings come up, all of which speak to the uncanny, where Mia sees something both familiar and disturbing in Bebe, and all of it drives her to make these intense choices that may or may not be the right choices.
Paste: The other big change is that in the book Mia isn't black.
Houston: There's a really big difference between a white woman working for a white woman in the 90s and a black woman working for a white woman in the 90s. A lot of things that wouldn't have presented themselves as plots or storylines are suddenly there. From the very beginning of the writer's room, I felt strongly about this and was really grateful to have two other black women in the room. There's a softness that Mia has in the book, almost angelic. She has this one big secret, but in everything else she's very maternal, she's very warm. She's loving to all of the Richardson kids, not just Izzy. She has a special bond with Izzy, but she's very gentle with all of them. And I fought so hard against having that kind of character, especially as a black female character. I would have fought hard if it was a white woman, too. I don't like the idea of telling a story where a woman works for a family and she's just caretaking for everybody in that family. Mia is hiding things from everybody but we wanted to complicate that. We needed to complicate that for TV and we needed to complicate that for a black female character, too.
Paste: Do you have a favorite moment from the episode?
Houston: My favorite part of the episode and my favorite part to write is the beginning of the love scene between Mia and Pauline. Pauline trying to guide Mia and mentor her, but also it turns into the admission of love. I love Pauline as a teacher. I really got to think about my favorite professors, and the way that I so badly wanted to impress them, but also that opening of the brain. Somebody saying, "You have a thing. But you're not quite using that thing correctly, but that's okay because that's what school is for. Let me bring that thing out of you." That's why it's not a big leap between mentorship and somebody asking you to see a side of yourself that you haven't quite seen to romantic partner. I love watching Mia come into her own as an artist and be inspired by Pauline and these other artist on the scene. And then use those things not to create a new voice but to bring out that voice that's beating inside of her that she can't quite looks at. That's the line that Pauline says, "You can't not look at it. That thing that you're trying to avoid, that's literally growing inside you right now. You have to find a way to get that into the art otherwise the art is missing something." That's really important for Mia's character, too. When she says to Elena in the pilot, "I prefer to capture people as I see them, not how they want to be seen," she's carrying on that lesson from Pauline which is, "I have to look at what's actually there; I can't just look at the things that make me feel warm and fuzzy." It's a tough lesson, and Mia is still learning it.
Little Fires Everywhere is currently streaming on Hulu. A new episode premieres every Wednesday.
---
Amy Amatangelo, the TV Gal®, is a Boston-based freelance writer, a member of the Television Critics Association and the Assistant TV Editor for Paste. She wasn't allowed to watch much TV as a child and now her parents have to live with this as her career. You can follow her on Twitter (@AmyTVGal).
For all the latest TV news, reviews, lists and features, follow @Paste_TV.