The Disney+ Lizzie McGuire Reboot Remains in Limbo
Photo by Ali Goldstein/Disney
TV
News
Lizzie McGuire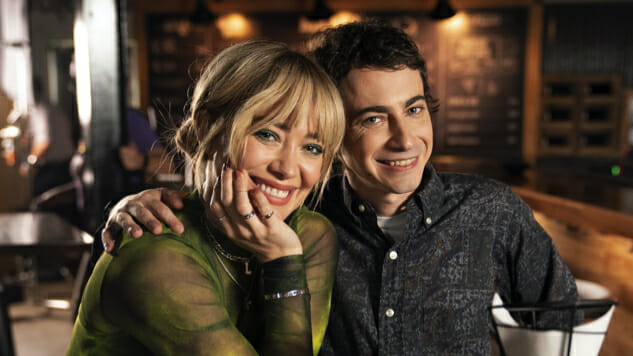 The much-anticipated Lizzie McGuire reboot, with Hillary Duff reprising her role as a grown-up version of the formerly tween protagonist, has been halted after shooting just two episodes.
Variety reported that while the premise of the reboot had always been delving into the now 30-something character's everyday life, after shooting the first couple of episodes, Disney became concerned that the show was exploring topics that wouldn't be "family-friendly" enough.
Original series creator and showrunner of the reboot, Terri Minsky, was fired back in January shortly before Duff returned from her honeymoon in Mozambique to continue shooting the show. A new showrunner has not been appointed, but it is rumored that interviews are still ongoing. Disney denies that the show is being canceled.
"We paused production on Lizzie McGuire a few weeks ago to allow time for some creative re-development," they told Variety. "Our goal is to resume production and to tell an authentic story that connects to the millions who are emotionally invested in the character, and a new generation of viewers too."
However, another spinoff was recently found not "family-friendly" enough to stream on Disney+—the series Love, Simon, based on the film of the same name, was moved to Hulu (with the new title Love, Victor) due to its content (was it too LGBT-centric for the media behemoth, or … what?) While not explicitly stated, it seems that a shift to Hulu might be in the cards for Lizzie McGuire, as well.
"I am so proud of the two episodes we did," Minsky told Variety. "Hilary has a grasp of Lizzie McGuire at 30 that needs to be seen. It's a wonderful thing to watch. I would love the show to exist, but ideally I would love it if it could be given that treatment of going to Hulu and doing the show that we were doing. That's the part where I am completely in the dark. It's important to me that this show was important to people. I felt like I wanted to do a show that was worthy of that kind of devotion."
Lizzie McGuire began initial shooting back in November, with original cast members Adam Lamberg, Hallie Todd, Robert Carradine and Jake Thomas attached to the reboot. The future of the show will, for the meantime, remain uncertain.