You'll Fall for Amazon's Lovely, Lyrical Modern Love
Photo Courtesy of Amazon
TV
Reviews
Modern Love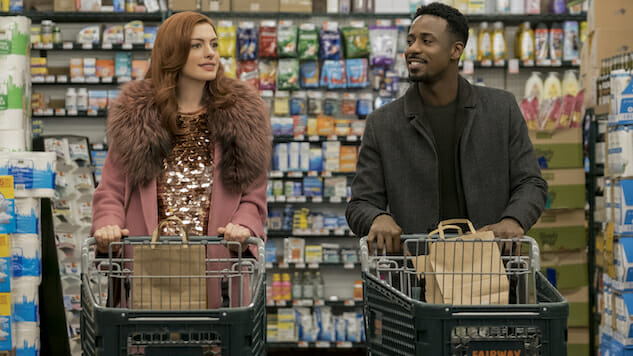 This review was originally published October 1, 2019.
Where can you find Anne Hathaway, Catherine Keener, Tina Fey, John Slattery, Jane Alexander, Dev Patel, and the hot priest from Fleabag?
In Amazon's delightful, surprising, and poignant new eight-episode anthology series Modern Love. Based on the must-read and ever popular New York Times first person column of the same name, each installment stands alone with the vibrant city of New York (with all its positives and negatives) as the throughline. Like the column, the series explores all kinds of love: romantic, parental, platonic, self. It examines, among other things, the tribulations of dating, the struggles of marriage, and the difficulties of raising children.
The "Modern Love" column ranges from 1500 to 1700 words. Getting published is highly competitive and considered a career pinnacle. The column topics are vast. Recent ones include the fallibility of freezing your eggs, the utter devastation of delivering a stillborn baby, and a gay woman dealing with the heartbreak of divorce. It's the brevity of the stories that pull the reader in. At that word count, there's no room for filler or fluff. Every word is precise and with intent.
The episodes, which run from 28 to 34 minutes, follow the same approach. In a TV landscape full of bloated episodes and pointless dialogue, the precise conciseness of Modern Love is nothing short of glorious. There's no room for anything extraneous. The installments have the unique ability to instantly introduce a character to the audience and have viewers feel as if they know them intimately; I've watched some TV shows for years and not felt that way.
Whether its Cristin Milioti as a young woman navigating the New York dating scene under the watchful eye of her doorman (Laurentiu Possa) or a long-married couple (Tina Fey and John Slattery) trying to find a way to connect again, these characters resonate and ring true. The Fey/Slattery installment is written and directed by Sharon Horgan (Catastrophe) making it perhaps the most perfect 28 minutes of television you'll see all year. (Also, Slattery and Fey playing a married couple is like my own personal fan fiction.)
Jane Alexander has mere minutes in the anthology's last episode, "The Race Grows Sweeter Near Its Final Lap," to convey a lifetime of love and loss. When she talks about "young love even for old people," there's no way you won't be crying both tears of joy and sorrow as the first season takes its final lap.
Easily the strongest episode is the third, "Take Me as I Am, Whoever I Am." In it, a stellar Anne Hathaway plays Lexi, a woman with bipolar disorder. The portrayal of Lexi's manic and depressive episodes are incredibly intense; you feel what it must be like to have such high-highs and such low-lows. The seventh episode "Hers Was a World of One," which follows a gay couple (Andrew Scott and Brandon Kyle Goodman) adopting a baby from a homeless woman (Olivia Cooke), weaves parental love with love and respect for those who make decidedly different life choices, all with a graceful humor.
Recent Emmy winner Julia Garner headlines "So He Looked Like a Dad. It Was Just Dinner, Right?" a story of Maddy, a young woman still reeling from the death of her dad when she was 11 and looking for a father figure in all the wrong places. "He smelled like wine, oranges, and dependability," Maddy tells us of the co-worker she refers to as "the genius." Emmy Rossum (Shameless) deftly directs the episode that is heartfelt without ever being creepy. And Rossum's eye for color (check out Garner's red coat against the grey New York backdrop) makes the episode pop.
There are, of course, weaker installments. The fifth outing, "At The Hospital, an Interlude of Clarity," about a man who has to go to the emergency room when he's in the middle of a second date, doesn't offer the same dramatic resonance as the other episodes. But Modern Love is a series where even the weakest episode is still better than much that is currently on TV.
The series is jam-packed with big names, and you could make a game just out of spotting all the celebrities ("oh look! There's Ed Sheeran!") Executive producer John Carney wrote and directed four of the episodes, which provides the anthology with a solid creative direction throughout. "Modern Love" column editor Daniel Jones is also a consulting producer. All involved have created a series that matches the tone of its source material; there's a grace, a sweetness, a delightful vibrancy to these episodes. The "Modern Love" column runs every Sunday, which means there are so many more stories to tell. I can't wait.
Modern Love premieres October 18 on Amazon Prime.
---
Amy Amatangelo, the TV Gal®, is a Boston-based freelance writer, a member of the Television Critics Association and the Assistant TV Editor for Paste. She wasn't allowed to watch much TV as a child and now her parents have to live with this as her career. You can follow her on Twitter (@AmyTVGal).