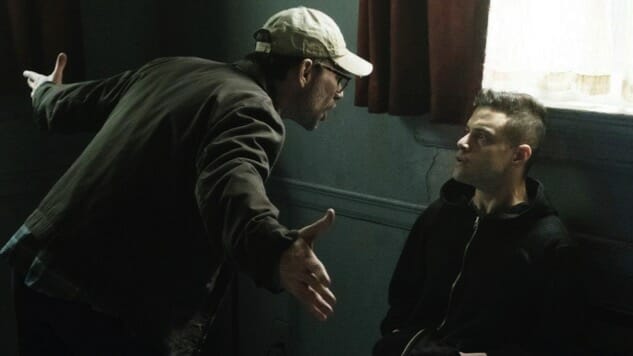 This review contains spoilers from episode five of Mr. Robot Season Two.
In Beijing with the FBI, Jersey girl Dom DiPierro—the frank, awkwardly funny creation of writer/director Sam Esmail and actress Grace Gummer—searches for the bathroom at a formal reception and stumbles upon a corridor of clocks. As time ticks away, the homeowner, Zhang, also known as Whiterose—China's minister of state security and the leader of the mercenary hacker collective known as the Dark Army—explains the obsession by way of Macbeth. "Life's but a walking shadow, a poor player that struts and frets his hour upon the stage and then is heard no more," Zhang says, quoting from the murderous king's last-act soliloquy, though in truth it's the contrast with DiPierro's disarming lack of pretense that generates the interlude's frissons of emotion. Against Zhang's poeticisms, her gasp of wonder at the minister's silken wardrobe, together with her plainspoken confession that she's "never touched something so beautiful," suggests the trim, energetic complexion of the episode as a whole. With "logic-b0mb.hc," Mr. Robot returns to its roots as an artful actioner with intellectual grace notes, and delivers its most compelling hour of the season so far.
With Elliot's plan to hack the FBI now in motion, Esmail turns his attention from creating an atmosphere, to constructing a narrative, and from the opening montage, its split screens of Elliot's face, his fingertips and the impenetrable white-on-black text of his malignant code, "logic-b0mb.hc" benefits from the momentum of high stakes. It's not exactly focused—Mr. Robot still has too many irons in the fire after a series of overstuffed episodes—but it skirts the wheel-spinning of "init_1.asec"; even Joanna Wellick, the enigmatic figure at the center of a stalled subplot, enjoys a chilling moment in the spotlight, singing a lullaby to her newborn child as she pats herself on the back for the higher purpose of a contract killing.
More to the point, the episode witnesses Esmail laying the groundwork for the characters to return to the same orbit. (Better late than never, I suppose.) As Darlene approaches Angela to plant malware in the makeshift FBI office on E Corp's twenty-third floor—"Security's so lax," Dom observes—and Angela discovers that the Bureau knows she was instrumental in the 5/9 hack, there's a growing sense that there's no escaping the consequences of fsociety's revolution, only doubling down on it. Though she's reluctant at first, as Darlene expected, Angela comes around: She repairs her relationship with Elliot, who confesses to visions of his father, and follows a roundabout route to fsociety's new digs, where Darlene commands her underlings with a mixture of strategic coddling and unapologetic force. (The best line in "logic-b0mb.hc" might be her dismissal of a male colleague as he laps up her faint praise: "Do your job and stop acting like such a pussy.")
Zhang's allusion to Macbeth is apt: As with "the Scottish play," Mr. Robot features a man prone to, and shaken by, hallucinations (bloody dagger, dead daddy), so much so that he more or less cedes control to a ruthlessly ambitious family member (Lady Macbeth, Darlene). Similarly, Angela and Dom show themselves to be smooth operators, the former catching her ex trying to elicit her confession, the latter catching the lie about Zhang's (nonexistent) sister. The correspondences with Shakespeare's tragedy are messy, imperfect, but "logic-b0mb.hc," by comparison with the season's earlier episodes, uses the allusion to add weight to the growing tension—not to replace the tension altogether. It's the first episode of the season that I watched wondering what would happen next, not sifting through stray references to find some hidden meaning.
What happens next is, in fact, a series of unnerving surprises, and a cliffhanger that sends Mr. Robot hurtling into its second half with renewed vigor. There's Joanna's startling phone call from Ty—or so she presumes—just outside their apartment. There's Elliot's realization that Ray's running a "black market of evil," and his savage beating at the hands of Ray's henchman, with that gruesome image of the rattail cut from his informant's head. And there's Dom's own encounter with mortality, as if Zhang had prophesied it: The massacre of FBI agents in a Beijing hotel's lobby, the sudden bursts of gunfire filmed from behind a breakfast cart in turbulent, terrifying strokes. It's the sort of twist—abrupt, inexplicable, and unfinished—that sustained Mr. Robot's debut season, and at minimum it sets up next week's episode to explore the awful aftermath. My only reservation is whether Esmail can turn a singularly exciting hour into a pattern, a trend, and what it might add up to in the end. After all, Zhang leaves unspoken the most famous lines from Macbeth's monologue, a conclusion that is a lament, and also a warning. Life, the king concludes, is but "a tale told by an idiot, full of sound and fury, signifying nothing."