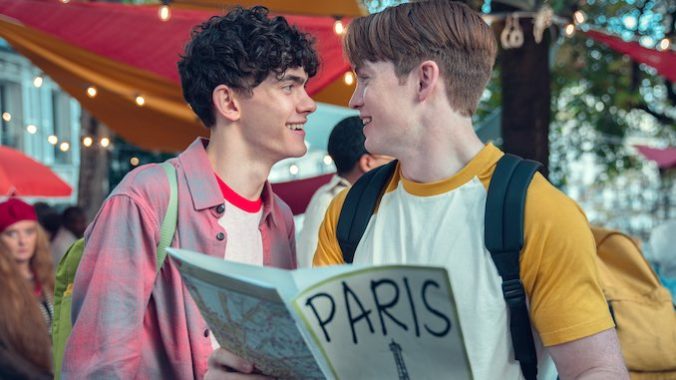 Finding good queer media is hard. Sometimes you're looking for a good fantasy show that happens to star a lesbian lead. Other times, you're looking for high drama featuring gay romance, or a sitcom with trans representation. We know it's hard to fight with streaming services' slim LGBTQ categories, and more difficult to disseminate what exactly is LGBTQ about them from brief descriptors. It's even more challenging to remain unspoiled if you want to know what you're getting into before you dive in.
As such, we've compiled a list of our favorite LGBTQ shows currently on Netflix. Each show here features a queer character in a starring role, most with ongoing storylines throughout the series. There's a little something for everyone, from lighthearted animation to prestige drama, and we did our best to include a selection that represents a wide amount of the queer community. We've also done our best to include why each entry made it on the list without giving away too much—some of these storylines don't arise until well into the series, so we want to keep you as unspoiled as possible.
Honorable Mentions: Warrior Nun, The Legend of Korra, DC's Legends of Tomorrow, Dancing Queen, Trinkets
10. Feel Good
Why It Made The List: Co-creator Mae Martin, who is non-binary and bisexual, is incredible as a fictionalized version of themself.
Summary: Few shows are as emotionally affecting or as funny as Netflix's dark romantic comedy Feel Good. Co-created by Mae Martin and Joe Hampson, the semi-autobiographical show depicts the relationship between a fictionalized version of Mae, a comedian and recovering addict, and George (Charlotte Ritchie), a school teacher who's previously only ever dated men. The series' excellent first season details the couple's meet cute and subsequent romance, and it only gets better in Season 2. With just 12 short episodes, Feel Good wastes no minute of its run time as it tells a beautiful story about love and identity while digging into deeply complex issues related to trauma, addiction, recovery, and sexuality. Although it can be heartbreaking to watch Mae slowly and reluctantly peel back the layers of their pain, the show has no shortage of laughs. It's both subtle and not, never shying away from depictions of queer sex or the long-lasting effects of trauma. The result is a show so good you almost can't believe it exists, let alone that we were blessed with two seasons of it. — Kaitlin Thomas
---
9. Wynonna Earp
Why It Made The List: One word, two women: WayHaught
Summary: Earpers rejoice! Beloved Western romp Wynonna Earp is as horror-filled as it is feminist, with curses, swords, and so much creative swearing that you'd &$! your own &###$! to have a vocabulary as vibrant. Vampires, demons, and the scariest thing of all, childbirth! augment this delightfully queer story of a woman (Melanie Scrofano) that blasts her way through every supernatural creature blastable. If you want Deadwood by way of The Walking Dead (AKA The Walking Deadwood), this is your female-fronted way in. And did I mention it's funny? Oh, it's very funny. —Jacob Oller
---
8. Cardcaptor Sakura
Why It Made The List: Nearly every member of Cardcaptor Sakura is queer in some way, but in particular it gave us one of anime's best gay couples in Sakura's brother Touya and her object of affection Yukito. Sakura's sidekick/stylist Tomoyo is also a lesbian.
Summary: What would the '90s have been like without magical girls? Coupled with 52 magical cards and a cavalcade of frilly outfits, Cardcaptor Sakura gave Sailor Moon a run for her money for most recognizable female anime heroine and further codified the arc of anime's most enduring genre—look no farther than its infectiously catchy opening animation as to why. An adaptation of all female mangaka group, Clamp's series of the same name, the original Cardcaptor Sakura anime captured the hearts of children and adults alike during its Kids' WB run, and thank goodness for that; we might not have popular shows like Steven Universe and She-Ra without it.
Sakura Kinomoto is a normal 10-year-old girl who lives with her professor father and surly older brother Touya. She enjoys roller-skating to school and maintains a crush on her brother's best friend Yukito. Sakura's life is flipped on its head when she finds a deck of cards, called the Clow Cards, tucked away in a book in her basement. The book's guardian, Keroberos, a cute flying lion, charges her with the duties of a Cardcaptor, something of a magician able to use the hidden power of each card to recover them all and anthologize them in the book once again. Sakura soon finds herself embroiled in a race with several rivals vying for the power of the cards and struggles with mysteries surrounding her mother's passing and her relationships, ultimately testing her self-worth and resolve. She's aided by her documentarian best friend Tomoyo, who provides Sakura's iconic wardrobe. Cardcaptor Sakura, while mostly as lighthearted as it is pastel, holds up as a genuine dramedy with saccharine laughs and a lot of humanity. —Austin Jones
---
7. One Day at a Time
Why It Made The List: Isabelle Gomez has received acclaim for her portrayal of Elena, who comes out as a lesbian in the first season.
Summary: With an assist from legendary producer Norman Lear, Mike Royce and Gloria Calderon Kellett's warm-hearted, full-throated update of One Day at a Time, which follows a Cuban American family in Los Angeles, only grew more confident in its second and third seasons. In fact, with its combination of the topical and the timeless, the silly and the sincere, the Netflix's multi-cam sitcom has become the leading engine of the form's revival. Covering everything from LGBTQ rights and immigration to dating and depression, the series is anchored by the two extraordinary women at its center: Rita Moreno and Justina Machado, whose chemistry as mother and daughter find fullest expression in two wrenching late-season entries. If the inseparable pair aren't treasured in the TV canon forever, there should be a steward's inquiry. I promised myself I would savor the third season of One Day at a Time. That I would space out watching the 13 episodes, treasuring each one. I would relish how each precious half-hour was simultaneously timeless and cutting edge. I would marvel at the series' ability to be quietly groundbreaking. I would reflect on how it made Cuban culture at once unique and intimately relatable. Instead, I devoured it. The series is so excellent and so compulsively watchable I couldn't help myself. It's like a paraphrase of that old commercial for Lay's potato chips: "Betcha you can't watch just one." —Amy Amatangelo and Matt Brennan
---
6. She-Ra and the Princesses of Power
Why It Made The List: Adora and Catra is the internet's favorite animated couple. The show is a hallmark of LGBT representation.
Summary: If you, like me, are coming to She-Ra and the Princesses of Power for the first time (and you should; the magical mermaid princess water is lovely here) then whatever number of robots you're expecting to see, be ready for double that. Possibly triple. Really, considering the nature of technology on/in Etheria, it's probably best not to set any bar for how many robots might eventually cross your screen. Let the magic be in the discovery.
If you have even a passing familiarity with Netflix and Dreamworks' thoroughly of-our-time reimagining of the legacy Masters of the Universe property, you might have been expecting me to lead with any number of other facts. Like say the fact that, led by the creative sensibilities of Noelle Stevenson, the graphic novelist behind Nimona and Lumberjanes, the series places both monster girls and the tender tenacity of friendship dead center. Or the fact that, also under Stevenson's watch, the majority of the show's creative staff and cast are female. Or the fact that (again, with Stevenson's deliberate blessing) the new She-Ra is super, super queer. For a kids' show, this is a lot. But there is something so chillingly familiar in it, especially at this moment in history, that it's impossible not to be impressed (and just as impossible not to hope that the tools Adora, Glimmer, Bow and the rest of their friends fight back with as the series continues will be ones we can use in our own lives, back here in the real world. —Alexis Gunderson
---
5. Black Lightning
Why It Made The List: Nafessa Williams, who plays Anissa Pierce, has said her goal is for "Black women as lesbians [to] see themselves on television." She's done exactly that with her standout performance.
Summary: Greg Berlanti's Arrowverse was an undeniable success for The CW—and for the DC universe on screen. But it did not, historically, have a great deal to say about the deeply rooted prejudices of the real world that have conspired to create the violence and terror that shape places like the Glades in Green Arrow's Star City, or that are mirrored in the bigotry metahumans face by "normal" society. Salim Akil and Mara Brock Akil's addition to the fold, Black Lightning, takes that challenge head on, positioning endemic racism and systemic inequity as the central evils a real superhero would find himself (or, in the case of Nafessa Williams' Thunder, herself) up against. It then uses those injustices, and the tensions they cause within not just communities but individual families (Black Lightning, as played by Cress Williams, is father to two superpowered daughters), to tell a compelling, heady story about what it means to do what is right in a world that resembles our own more than any superhero story to date. (Although Freeform's Cloak & Dagger may give the show a run for its money). Plus, its soundtrack? Double platinum. —Alexis Gunderson
---
4. Sex Education
Why It Made The List: Sex Education holds up as a diverse portrayal of teen sexuality. There are many queer characters in the show, in particular Otis's gay best friend Eric, pansexual love interest Ola, and bisexual former bully Adam. That's only a small fraction of the queer cast.
Summary: You're an insecure, bright, sensitive teenage boy (Asa Butterfield) with a wildly uninhibited sex-guru mother (Gillian Anderson), an absentee dad (the epically hilarious James Purefoy), a chronically foot-in-mouth bully-magnet best friend, a limited social life and a clinically interesting fear of your own penis. You have a stealth crush on your school's official Way Too Precocious girl, who's hard up for money. So, naturally, you open a sex clinic for high-school students in an out-of-service school lavatory, right? Of course you do.
Netflix's Sex Education is a decidedly raunchy and thoroughly adorable coming-of-age dramedy. While it's not exactly afraid of well-worn tropes, it also doesn't rely on them to a detrimental degree; and it has Gillian Anderson as a sex therapist, which would be enough for a lot of us even if nothing else about the show worked. Luckily, that isn't the case: A testament to the power of character development, the series is riveting. None of its superbly crafted characters waste a single frame. —Amy Glynn
---
3. Special
Why It Made The List: Special is perhaps the only show to feature a gay disabled lead.
Summary: In terms of visibility, those living with disabilities are among the least seen on modern television. Even more invisible are the disabled living with further marginalized identities. Special, a Netflix original comedy created and starring Ryan O'Connell based on his memoir I'm Special: And Other Lies We Tell Ourselves, concerns a young gay man, Ryan Hayes, living with mild cerebral palsy. His condition is noticeable enough to brand him different from mainstream society, but not severe enough that he's barred entry from certain opportunities—such as an internship for "brilliant, millennial LOLzy satire" site Eggwoke. After growing sick of being told he's "special" for his disability his whole life, he deals with voyeuristic exploitation in the world of click-bait journalism. He's harangued for confessional essays by his self-obsessed boss Olivia (Marla Mindelle) and navigates a budding friendship with his aggressively body positive co-worker Kim (Punam Patel). Though rough around the edges, Special is a one-of-a-kind comedy with edgy, honest humor. —Austin Jones
---
2. Tales of the City
Why It Made The List: Tales of the City is all about queer life in San Francisco. The original series made history with its portrayal of on-screen gay romance, and this sequel starring Eliot Page is no different.
Summary: Netflix's adaptation of (or really, fantasia on) Armistead Maupin's series is a riff that takes its own mysterious direction, but it honors the books' characters, particularly linchpin-landlady Anna Madrigal (Olympia Dukakis) and uptight greenhorn Mary Ann Singleton (Laura Linney). For an update bent on respecting and reflecting contemporary social cues, the vibe is strangely nostalgic, and that's not a criticism. It works.
For those of us who call mythic, precarious San Francisco home, it wonderfully evokes a version of the city where everyone saw self-expression as a kind of Romantic quest, and where people could afford to live where they lived even if they were artists. Not everything in the series feels totally authentic to San Francisco, but the overall sensibility is right: a little constellation of people are bound together not by blood but by common values and a wagon-circling mentality in the face of external forces. There are tensions between the families we come from and the ones we choose, contending with the thornier internal tensions between who we are in our hearts and who we are in the eyes of the rest of the world.
The series' strengths include super solid acting all around; there is great chemistry in group scenes (a men's dinner party takes a striking turn when Charlie Barnett's 28-year-old Ben complains about the older guys' catty and transphobic insults), as well as a deeply felt and interestingly articulated crisis for a young couple trying to stay together in the aftermath of one partner's transition to male. It has a genuinely inclusive and celebratory character as a lovingly composed panoramic photograph of SF queer culture. And, it's a more-than-decent evocation of the thing about San Francisco: its still-unbelievable gravitational pull for people who, in whatever ways, don't conform. —Amy Glynn
---
1. Heartstopper
Why It Made The List: An all-too-rare feel-good queer story.
Summary: From a Tumblr webcomic to a graphic novel to a Netflix show, Alice Oseman's uplifting queer tale has gathered a dedicated fanbase that has only grown with the arrival of the Netflix adaptation. The sweet romance between Charlie (Joe Locke) and Nick (Kit Connor) is wonderfully realized in this heartfelt and earnest teen coming-of-age drama directed by Euros Lyn and written by Oseman. Much of Oseman's original spark carries over into the moving frames that are complemented with a fantastic soundtrack, perfectly detailed production design of teenage bedrooms, and an all-around talented cast.
As Nick and Charlie grow closer and their feelings become impossible to ignore, they have a whole host of supportive friends to confide in. The group includes caring Elle (Yasmin Finney), eccentric Tao (Will Gao), quiet Issac (Tobie Donovan), and two girlfriends: bubbly Darcy (Kizzy Edgell) and thoughtful Tara (Corinna Brown). Heartstopper updates stale cliches of the teen coming-of-age genre to deliver a thoughtful and earnest reflection of youthful self-acceptance, exploring what it is to be part of the LGBTQ+ community today. —Emily Maskell
---
Austin Jones is a writer with eclectic media interests. You can chat with him about horror games, electronic music, Joanna Newsom and '80s-'90s anime on Twitter @belfryfire
For all the latest TV news, reviews, lists and features, follow @Paste_TV.