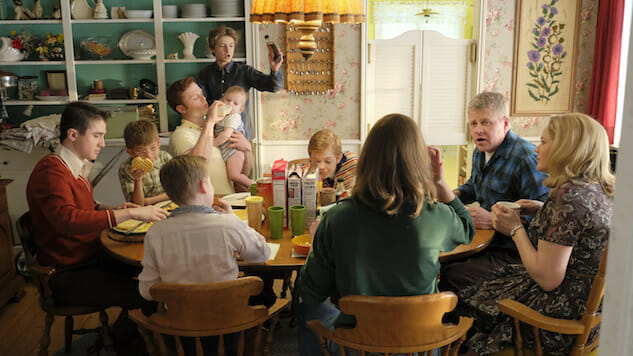 There is so much TV coming your way in October. Like the month's most famous holiday, some will be treats and some will be tricks, and we at Paste will be here to help you sort through it all.
Obviously, we will be covering Mad Men creator Matthew Weiner's new Amazon series, The Romanoffs—although, given the list of things we were told not to talk about, I'm not sure I can even tell you the series exists. We'll be taking a look at The Conners and reporting back on the next twist in this truly bizarre ABC saga. And there's no way we'd miss Kiernan Shipka in Chilling Adventures of Sabrina or Jennifer Garner's return to TV in HBO's Camping. Plus, we'll be reviewing Titans, the new Charmed, the return of Making a Murderer, and so much more.
We've gone through all the rest of the month's new series picked the five you can't miss this October:
1. Us & Them
Executive Producers: David Rosen
Stars: Jason Ritter, Alexis Bledel, Michael Ian Black, Dustin Ybarra, Jane Kaczmarek, and Kerry Kinney-Silver
Premiere Date: October 1 on Crackle

Well, well, well. I have been waiting for Us & Them to premiere since I first watched the Fox screener back in 2013. Based on the British hit Gavin & Stacey, the comedy follows Gavin (Jason Ritter) and Stacey (Alexis Bledel), a long-distance couple who finally meet in real life and must blend their family and friends. I remember really liking the pilot while only being mildly disturbed that Ritter, who had romanced Lauren Graham (once and forever Lorelai Gilmore) on Parenthood, would now be romancing Rory Gilmore. The show had a lot of charm—certainly much more charm than some of the comedies Fox has premiered in the ensuing years (looking at you, The Cool Kids). But for whatever reason, Fox wasn't happy and shelved the series. Now, all seven episodes are streaming on Crackle.
2. Star Wars Resistance
Executive Producer : Dave Filoni
Stars: Christopher Sean, Suzie McGrath, Scott Lawrence, Donald Faison, and Rachel Butera
Premiere Date: October 7 at 10 p.m. on Disney Channel

Resistance, as the saying goes, is futile. The latest entry in the Star Wars canon is set between The Return of the Jedi and The Force Awakens and follows a young pilot named Kazuda Xiono (voiced by Christopher Sean), who in the debut episode is recruited to spy on the First Order. Keep an ear out for Donald Faison, Bobby Moynihan, Elijah Wood and Jim Rash, who all lend their voices to the series. And obviously BB-8 will be there, too.
3. The Haunting of Hill House
Executive Producers: Mike Flanagan
Stars:Michiel Huisman, Carla Gugino, Timothy Hutton, Elizabeth Reaser, and Henry Thomas
Premiere Date: October 12 on Netflix

This is a happy story about five totally well-adjusted siblings who grew up in a famous haunted house and come together again after their sister's suicide. They laugh and reminisce and reconnect. I jest, of course: This 10-episode series is designed to scare the living daylights out of you just in time for Halloween. I had trouble making it through the first horrifying episode, but for those of you who love to be scared, this one is for you.
4. The Kids Are Alright
Executive Producer : Tim Doyle
Stars: Michael Cudlitz, Mary McCormack, Sam Straley, Caleb Foote, Sawyer Barth, Christopher Paul Richards, Jack Gore, Andy Walken and Santino Barnard
Premiere Date: October 16 at 8:30 p.m. on ABC.

This show is, shall we say, in ABC's wheelhouse. A comedy about a loving, busy family? Check. Set in a nostalgic time period of the past? Check. Inspired by the actual upbringing of the series creator? Check. But even though The Kids Are Alright is familiar, it's still a lot of fun. Mary McCormack and Michael Cudlitz star as the parents raising eight (!!) sons in the 1970s. Like The Goldbergs and Fresh Off the Boat, there are plenty of fun nods to the bell bottom decade. Creator Tim Doyle mines his own childhood for laughs and narrates as the now-grown son looking back fondly on his chaotic home.
5. Tell Me a Story
Executive Producer : Kevin Williamson
Stars: James Wolk, Dania Ramirez, Michael Raymond-James, Sam Jaeger, paul Wesley and Kim Catrall
Premiere Date: October 31 on CBS All Access

Kevin Williamson leans into his Scream roots with this anthology series that gives classic fairy tales a modern horror spin. The first season takes on "Little Red Riding Hood," "The Three Little Pigs" and "Hansel and Gretel." The series stars Kim Cattrall (!!), Paul Wesley, Michael Raymond-James, Dania Ramirez and James Wolk. This is Cattrall's first TV series since Sex and the City, and I've been waiting for James Wolk (Zoo) to become a household name since the short-lived FOX series Lonestar, so I'm hoping this series is pretty great, Bob.
---
Amy Amatangelo, the TV Gal®, is a Boston-based freelance writer, a member of the Television Critics Association and the Assistant TV Editor for
Paste
. She wasn't allowed to watch much TV as a child and now her parents have to live with this as her career. You can follow her on Twitter (@AmyTVGal) or her blog .