Classic Car Combat Game Twisted Metal Races Toward Peacock in First Series Trailer
Photos via Peacock
Games
News
Peacock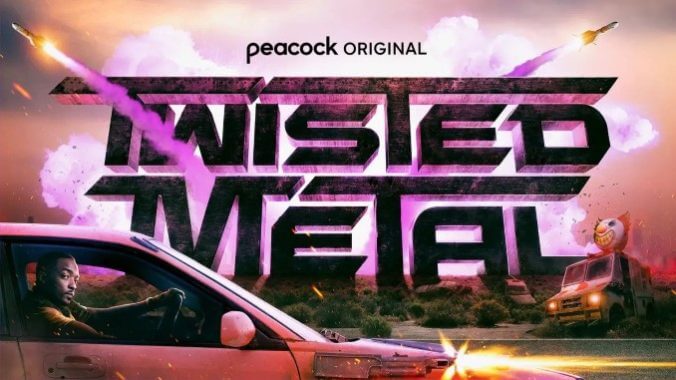 If you owned a PlayStation in the 1990s, then surely you played Twisted Metal at some point. The car combat series felt like one of the most ubiquitous titles for the PlayStation and PlayStation 2 era–everyone seemed to have at least one copy of Twisted Metal 2 in particular, and the game brought a more adult, gritty and darkly humorous edge to the type of player-vs-player vehicular combat previously seen in Mario Kart. One thing there series didn't have was much of an overarching storyline, but that hasn't stopped Peacock from throwing millions of dollars at it, with an impressive (but sort of ludicrous) cast. With a first teaser out today, it's still hard to say exactly what we're getting from Peacock's Twisted Metal, but it looks like a big, colorful series regardless.
Anthony Mackie, MCU mainstay and the upcoming Captain America in 2024's Captain America: New World Order, heads up the top of the Twisted Metal cast as "John Doe," a seeming reference to 2001's Twisted Metal: Black. We have a feeling, though, that any characterization you're expecting has probably been fully reimagined, given the following official synopsis:
In a post-apocalyptic wasteland, John Doe, a talkative milkman with amnesia, is given a mission to traverse the desolate world to deliver a cryptic package in order to stay alive. Alongside the assistance of Quiet, a rash car thief, Doe faces a life-altering opportunity but must confront ruthless marauders in deadly and destructive vehicles to secure a chance at a better future.
"Destructive vehicles" certainly sounds like Twisted Metal, but the cross-country trek feels like a more conventional TV series structure, and we can't be surprised to see the writers go that route. The Twisted Metal games are more like tournament fighters, where all the various drivers are typically competing to be the last one alive, to have a wish granted by the seemingly all-powerful host of the tournament, Calypso. The series, on the other hand, seems to be grounding itself in John Doe's traveling mission, likely allowing him to encounter other drivers on a weekly basis, 'ala the episodic nature of something like Poker Face.
Where this adaptation really gets nuts is in its casting, featuring such names as Stephanie Beatriz as Quiet, Thomas Haden Church as "Agent Stone," Neve Campbell as Raven, and–of all performers–former WWE and current AEW wrestling star Samoa Joe as perennial competitor Sweet Tooth, a driver usually depicted as a clown with a flaming head, driving a killer ice cream truck. Oh, and Will Arnett is providing the voice of Sweet Tooth, because we needed to add at least one more layer of absurdity to the proceedings.
Suffice to say, Twisted Metal both looks and sounds like it could be a hammy delight, or an utter mess. Check out the first teaser below and see for yourself.