Paste's Power Rankings: The 10 Best Shows on TV Right Now
Tuca & Bertie photo via Netflix
TV
Lists
power rankings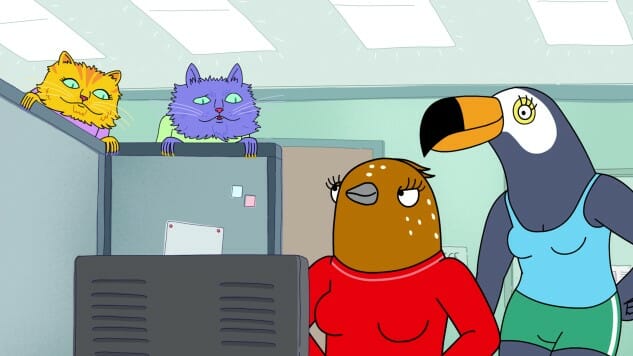 Well, if there's one thing we learned this week, it's that the folks over at Game of Thrones love their coffee as much as we do. So abhorred was this week's episode of the HBO drama that our writers debated if something could be on the power list for being spectacularly bad. In the end, we decided no and Game of Thrones was knocked off the power list for the first time since returning for its final run. But fret not, the ill-placed coffee cup will forever be remembered.
The rules for the power list are simple: Any series on TV qualifies, whether it's a comedy, drama, news program, animated series, variety show or sports event. It can be on a network, basic cable, premium channel, Netflix, Amazon, Hulu, YouTube or whatever you can stream on your smart TV, as long as a new episode was made available the previous week—or, in the case of shows released all at once, it has to have been released within the previous six weeks.
The voting panel is composed of Paste editors and TV writers with a pretty broad range of tastes. We're merciless: a bad episode can knock you right off this list, as much good TV is available right now.
Honorable Mentions:
Fosse/Verdon, Les Misérables, Better Things, The Good Fight, Jane the Virgin and the Game of Thrones coffee cup.
10. Bosch
Network: Amazon Prime Video
Last Week's Ranking: 5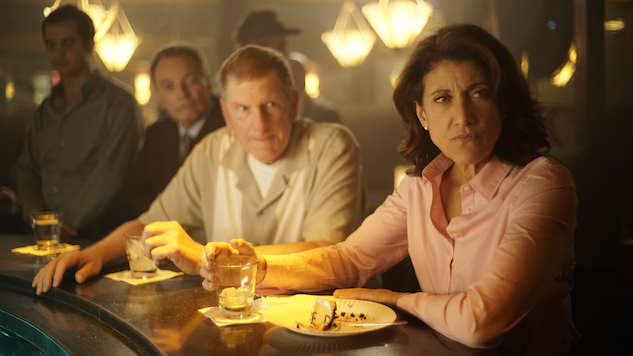 At long last, Bosch is back on the case.
Now officially Prime's longest-running original series, the Los Angeles-set contemporary noir is, in its fifth season, as starkly wrought and subtly brutal as it's ever been. With Harry (Titus Welliver) taking off on a dangerous undercover assignment deep in the desert, Maddie (Madison Lintz) stepping professionally into the ethical shadows tangled up in the legal corners of her dad's world, and the very future of the Hollywood Homicide division possibly up in the air, Season Five sees every character in its sprawling ensemble cast—including our beloved Crate and Barrel—forced to reorient their perspectives more sharply than they have collectively had to in any of the series' first four years, a move which ends up bolstering the storytelling from every angle. Because each season is so doggedly dedicated to the realistic minutiae of one or two long-term cases, to go into much more detail here about what those perspective shifts look like would risk any number of spoilers. Suffice it to say, though, with such a strong foundation to build on, the team behind Bosch felt comfortable raising the stakes significantly for Season Five—and for no one more than for Bosch himself. As Welliver told Paste when we visited the set last year, this season probably has the most action the series has ever seen—but, importantly, none of it's contrived. "It's all linked, and in [a] way that dictates that it's real life-and-death this time. We really pull out all the stops. And with good reason, the audience will be concerned for his welfare."
That said, the series has already been renewed for Season Six. Whatever stakes Bosch sets up next, we can't wait. —Alexis Gunderson (Photo: Amazon Prime Video)
9. The Red Line
Network: CBS
Last Week's Ranking: Honorable Mention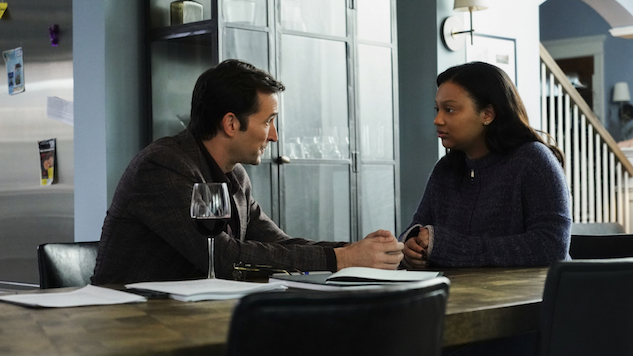 I worry about network TV the way you worry about a friend you grew up with who's going through a hard time. Once the trailblazers of the medium, the broadcast networks are now the equivalent of MySpace in an Instagram-dominated world. So, no matter what, The Red Line is exactly the kind of risk network TV should be taking. And attracting talent like Ava DuVernay is exactly the kind of step network TV should be making to do so. DuVernay and Greg Berlanti are behind this eight-episode series, which is unfolding two episodes at a time over four Sunday nights. Noah Wyle is amazing in the role. He brings depth and nuance to a man who is in deep, deep grief over his husband's untimely death. Maybe you've forgotten, as I have in the years since ER went off the air, how great an actor Wyle is. The Red Line will remind you. The CBS drama is worth taking a ride on.—Amy Amatangelo
8. Saturday Night Live
Network: NBC
Last Week's Ranking: Not ranked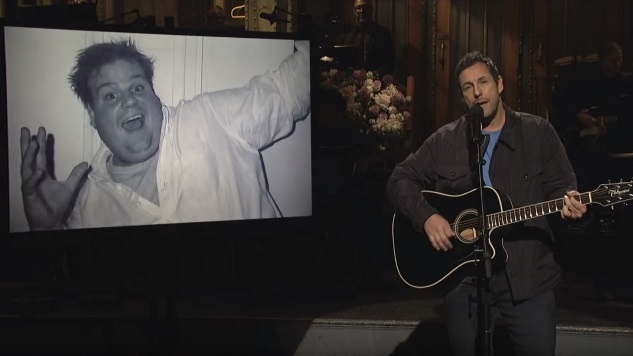 It's been 24 years since Adam Sandler was fired by Saturday Night Live, making his hosting gig on this week's episode a historic occasion. And here's the best part: it was a great episode. From his opening monologue through each of his sketches and the show's surprising closing number, Sandler delivered time after time. His opening monologue dove headfirst into why he hasn't been back on the show in 24 years: hard feelings over being fired. The monologue sets a tone for the rest of the episode, willing to traipse into darkness but never willing to wallow in it. Based solely on the sketches, this was a fun episode of Saturday Night Live by any measure. However, it became a classic episode thanks to the show's brilliant decision to replace the traditional weird last sketch with a Sandler musical performance. Anyone who's seen his last special 100% Fresh on Netflix has had the pleasure to see Sandler perform "Chris Farley Song." On Saturday, everyone else finally got the chance, and it leads to one of the few genuinely emotional moments in the show's history.
I can't watch, hell even hear, this song without sobbing. "Chris Farley Song" is as much a wake as it is a tribute, recalling legitimately beautiful memories of the fallen comedian without ignoring his demons. Sandler sounded on the verge of tears through the song, but while voice cracked he never broke. The episode gave us tastes of nostalgia, silliness, and darkness all while finding time to pay tribute to one of its brightest lights.—Jon-Michael Bond
7. Cobra Kai
Network: You Tube Premium
Last Week's Ranking: 7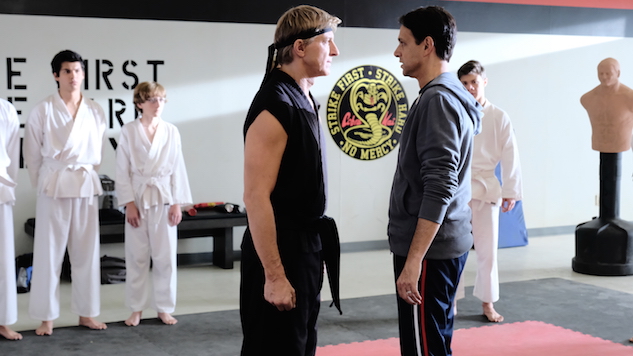 Last year, Cobra Kai, the YouTube Premium series that continues The Karate Kid story, was a delightful surprise. No one, certainly not TV critics, could have predicted that the first season would be so great. What a relief to report that the second season remains a highly entertaining and remarkably nuanced blast. Ralph Macchio and William Zabka are still fantastic as Daniel and Johnny, now grown men with their adolescent rivalry still intact more than three decades later. Against the backdrop of an homage to the 1980s (gotta love those slow-motion action sequences and music montages), Daniel opens the Miyagi-Do as a tribute to his sensei, Mr. Miyagi (the late Pat Morita). Johnny, reunited with his own sensei, Kreese (a still sinister Martin Kove), struggles with how to teach his students honor while living by his creed of no mercy. The season ends on a devastating note, with a hint at a familiar face who might be part of Season Three (please oh please). The young cast is terrific and Macchio, who must have a portrait in the attic aging somewhere, is great. But I must call specific attention to Zabka, who brings such depth to his role—balancing humor and Johnny's great one-liners with the struggles of a man for whom life hasn't worked out the way he planned. If he doesn't get an Emmy nomination this July, it might be time to sweep the leg of the Television Academy. —Amy Amatangelo (Photo: YouTube Premium)
6. The Spanish Princess
Network: Starz
Last Week's Ranking: Ineligible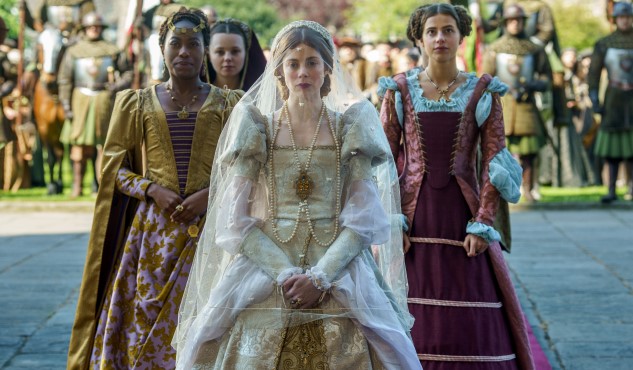 If you love historical fiction, then The Spanish Princess is the show for you. Instead of a typical Tudor story about Henry VIII, after he decides he wants to dump Catherine of Aragon for Anne Boleyn, this show shares Catherine of Aragon's triumph. A story rarely told, The Spanish Princess details how her happy years, which you may not know, were 24 years of marriage before her union was annulled. What makes this story particularly compelling is its intentional choice to use a diverse cast which is also rooted in history. Although some might define the use of people of color in a historical fiction drama as progressive, in this case it is simply accurate. Chances are you have never seen this story of Henry VIII and Catherine of Aragon on screen, and it is well worth the watch.—Keri Lumm (Photo: Starz)
5. Killing Eve
Network: BBC America
Last Week's Ranking: 9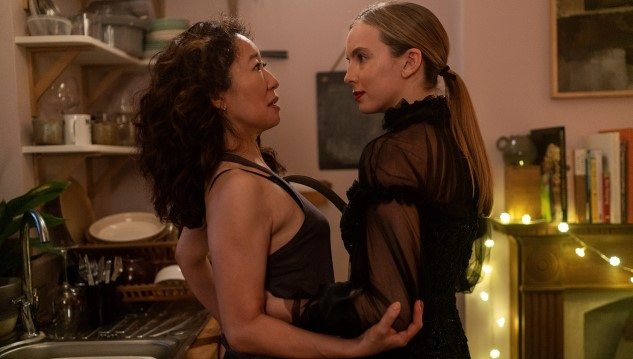 It took a while to get Eve (Sandra Oh) and Villanelle (Jodie Comer) back in the same room, didn't it?. Poor Villanelle's talents are being rather wasted on low-hanging-fruit assassinations (car wash!) and Eve's looking a little listless herself. The "Psychopathy 101" presentation is pretty stinkin' funny— Eve's outrage that the photo used in the contract to Villanelle is unflattering and Villanelle screaming "When are you going to get over that?" when Konstantin makes a quip about her having shot him. Mostly, it's still the two women's expertise in one another, the way their obsession with each other destroys their judgment and the bizarre tone of their attraction to one another. Villanelle's "arsenic" fakeout is stellar, not just for its edgy comedy but for the startlingly genuine willingness in Eve's expression as she swallows it, ("Of course it isn't poison, do you think I am insane?") and the endlessly weird intimacy between them. It was great to have these two women back together again.—Amy Glynn
4. Dead to Me
Network: Netflix
Last Week's Ranking: Ineligible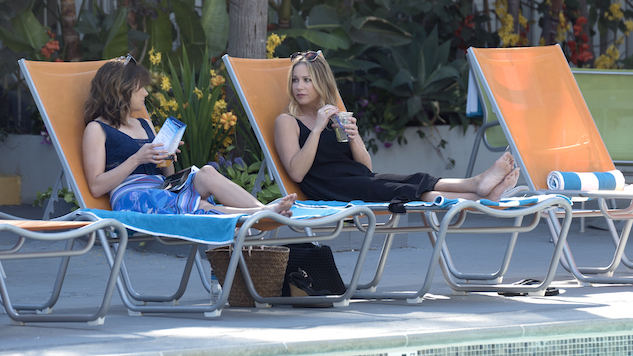 Jen (Christina Applegate) and Judy (Linda Cardellini) meet not so cute at a grief support group. Jen's husband died three months ago in a hit and run accident. Judy's fiancé died eight weeks ago of a heart attack. They develop a friendship over their mutual anguish and their love of Facts of Life (Jen is a Jo, Judy a Tootie). Before long Judy is moving into Jen's guest house and a beautiful friendship is formed. Or is it? Netflix is keen on keeping the pilot's big reveal a secret. I watched it with my husband and didn't even let him know there was a secret and he still guessed it within minutes of the show's opening. But no matter. The series, rooted in terrific performances from Applegate and Cardellini, is a fascinating mix of humor and pathos. The show deftly balances both extremes and pull both off. After watching the second episode, I have no idea what Dead to Me is really up to and that's just the way I like it. —Amy Amatangelo
3. I Think You Should Leave with Tim Robinson
Network: Netflix
Last Week's Ranking: 2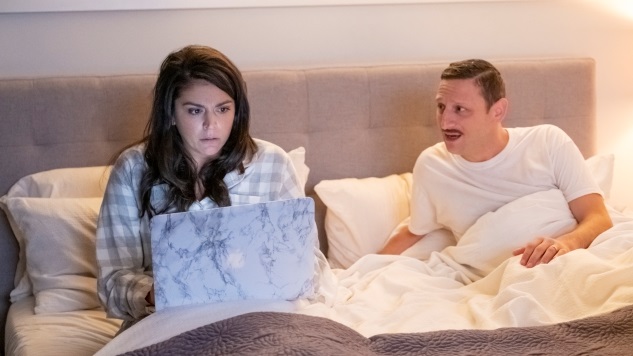 The co-star and co-creator of Comedy Central's dearly missed Detroiters, Saturday Night Live alum Tim Robinson is equally comfortable on either side of the camera—he's a fantastic sketch comedy writer who's just as good of a performer, and who has carved out a unique and immediately recognizable niche in both. And he puts both skills to brilliant use in his new Netflix show, I Think You Should Leave with Tim Robinson.
Robinson is a master of embarrassment. His sketches tend to focus on two types of characters: People who tell small lies that grow larger and more obvious as they refuse to come clean, and people who are too irrational, confused, or stubborn to understand what's happening—or refuse to understand because that would require admitting their own ignorance. This might sound like typical cringe comedy turf, but Robinson keeps it fresh by extending ideas behind all bounds of logic, resulting in characters or situations so utterly absurd that you won't even think of comparing them to such cringe comedy forefathers as Larry David or Ricky Gervais. —Garrett Martin (Photo: Lara Solanki/Netflix)
2. State of the Union
Network: SundanceTV
Last Week's Ranking: Ineligible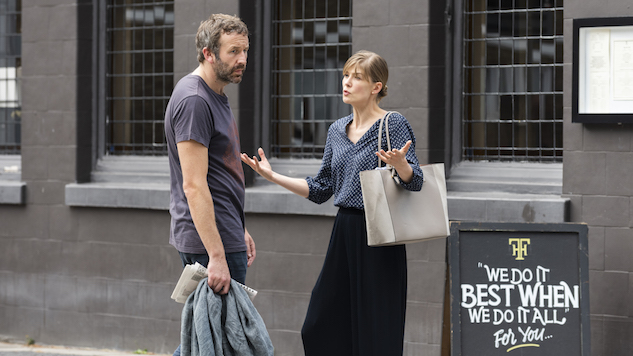 A sharp, realistic, a two-person character study written by Nick Hornby and directed by Stephen Frears, State of the Union consists of 10 episodes that are approximately ten minutes each. You can watch the whole series in less time than it will take you to watch one and a half episodes of Game of Thrones. Louise (Rosamund Pike) and Tom (Chris O'Dowd) meet up in the pub right before going into their weekly marriage therapy sessions. What has happened to their relationship and why they need therapy will be revealed over the course of the ten episodes. It's a painful, honest and often very funny look at what goes into a marriage. —Amy Amatangelo and Amy Glynn
1. Tuca & Bertie
Network: Netflix
Last Week's Ranking: Ineligible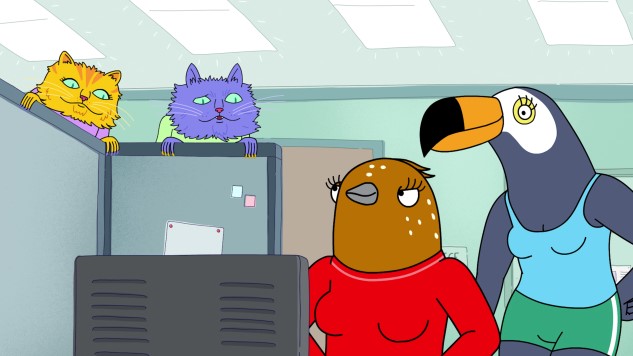 Don't let the similar art fool you: Lisa Hanawalt's Tuca & Bertie doesn't have much else in common with Bojack Horseman. (I mean, that's just the way Hanawalt draws.) Netflix's new cartoon looks at the stresses and joys of being a woman today, from lack of respect in the workplace to balancing romance with friendships, but in an absurd reflection of our real world full of talking humanoid animals. Tiffany Haddish and Ali Wong voice the adventurous toucan and repressed songbird of the title, respectively, and between their great performances and the nuanced writing of Hanawalt and her team, Tuca & Bertie reveals a keen understanding of life without struggling to seem profound. Also it's packed so full of sight gags and background jokes that you'll probably keep your finger on the rewind button the whole time.—Garrett Martin