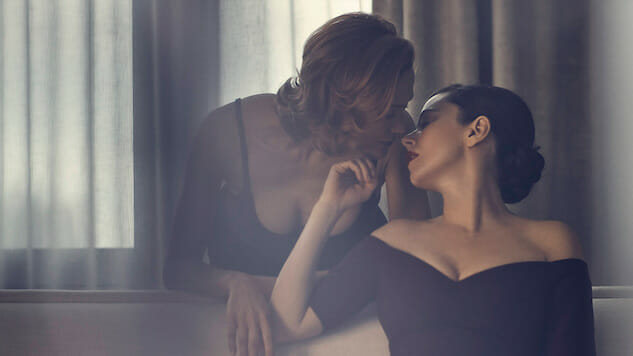 From executive producer Steven Soderbergh comes season two of The Girlfriend Experience, a television show loosely based on his film of the same name. While this show has a similar premise to the film, focusing on "exclusive escorts [GFEs] and their clients," the show has an anthology format that allows it to tell different stories each season. This cycle of The Girlfriend Experience will depict two parallel stories that explore the "the price of intimacy of the high-stakes world of transactional relationships."
Show creators, writers and directors Lodge Kerrigan and Amy Seimetz split the work between two storylines of their own individual creation; Kerrigan's story is a bit of a political thriller, involving the upcoming 2018 U.S. midterm elections: Super PAC director Erica Myles (Anna Friel) and GFE provider Anna Garner (Louisa Krause) fall into a complicated sexual relationship while conspiring to blackmail a powerful fundraiser.
Seimetz's storyline tells the tale of Bria Jones (Carmen Ejogo), a former escort who goes through a Witness Protection Program to escape an abusive relationship. While Jones is instructed to lay low, old habits reemerge as she restarts her work as an escort, endangering herself, her step-daughter and those protecting the two of them.
Today's trailer feels like something out of a paranoid thriller movie, not unlike some work of Soderbergh, or even someone like David Fincher. TV viewers can see the show for themselves when the second season premieres on Sunday, Nov. 5 on Starz. Check out the new trailer above, revisit our talk with Kerrigan and Seimetz about season two right here, and see where The Girlfriend Experience fell on our list of 2016's best new shows here.