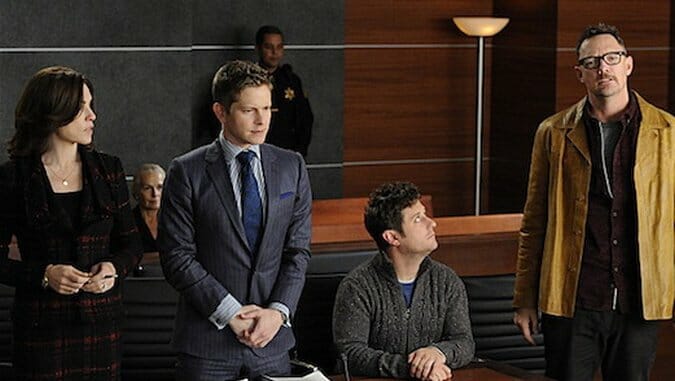 The Good Wife kicked off the new year with a stellar episode that made a hilarious punchline out of a season-long story arc and advanced the Alicia/Will love/hate relationship to new gut-wrenching levels.
The episode picks up with Eli's spit-take over Marilyn's announcement that she's going to name her baby "Peter." Obviously, Eli is apoplectic. Marilyn claims that the she's naming the baby after the father but that the father is not the governor. Naturally, Eli gets Kalinda to investigate. It turns out there's a missing hotel security tape from the night the baby was conceived. Later, Eli gets a call from a Chicago Tribune reporter who wants a comment on a video she has in her possession. Eli assumes the worst and, frankly, I did a little bit, too. As annoying as Marilyn is, the story line works because we still don't completely trust Peter. It was completely within the realm of possibility that Peter Florrick could have been the father.
However, in the episodes final moments, Marilyn introduces Eli to the father of her baby—famous director Peter Bogdanavich. It was a laugh-out-loud moment, and a great bait and switch (maybe the best plot bait and switch ever). Because the reporter didn't show Eli a video of a hotel room tryst but the video of illegal votes being brought into a voting area—a plot point that has been dormant since last season.
The Good Wife has always ripped from the headlines, but this week's case was a barely concealed nod to a dust-up Glee had last year when the show used Jonathan Coulton's version of "Baby Got Back" without crediting Coulton. On The Good Wife, a show called Drama Camp has used Rowby (Matthew Lillard) and Marshall's (Christopher Fitzgerald) version of Rebel Kane's (Charles Malik Whitfield) hit rap song "Thicky Trick" without crediting them. When the show's creator is called to the stand, the comparisons to Glee creator Ryan Murphy have got to be intentional.
But the case was really another opportunity to pit Will and Alicia up against each other in court. Will unsettles Alicia with his constant interruptions during her questioning of a witness. Alicia in turn changes into the outfit Will took off her the first time they slept together. Yeah, there's no way these two aren't hooking up again before the fifth season concludes.
Meanwhile, back at Lockhart Gardner, sorry LG, Will wants to expand to Los Angles, and Diane thinks the firm is growing too fast. Damian tries to help Will cook the partner votes. (David Lee conveniently has a flat tire during one crucial vote.) Diane agrees to no longer stand in Will's way, but I know Diane and she doesn't give up that easily. Will she once again leave the firm? I've long thought it would be very interesting to have her at Florrick Agos…
Other thoughts on "Goliath and David":
—"Thicky Trick" is the perfect example of an annoyingly infectious song. I can't stop humming it. The Good Wife cast made a video to the song. The cast clearly has as much fun making the show as we have watching it.
—How many famous Peter's did the show approach before landing on Peter Bogdanavich? Were Peter Dinklage or Peter Jackson ever in contention?
—Now that Marilyn has served her purpose—to distract the viewer—I wonder if she'll even be on the show anymore. My guess is that next week we'll hear she's run off with Bogdanavich.
—Fresh off a great performance in The Bridge, this was another fantastic guest role for Matthew Lillard.
—I'm so in love with the show right now that I'm choosing to ignore the whole Kalinda/Damian nonsense.