ABC's Post-Oscars Debut Whiskey Cavalier Is the Ideal Vehicle for Scott Foley's Charm Offensive
Photo: ABC/Larry D. Horricks
TV
Reviews
Whiskey Cavalier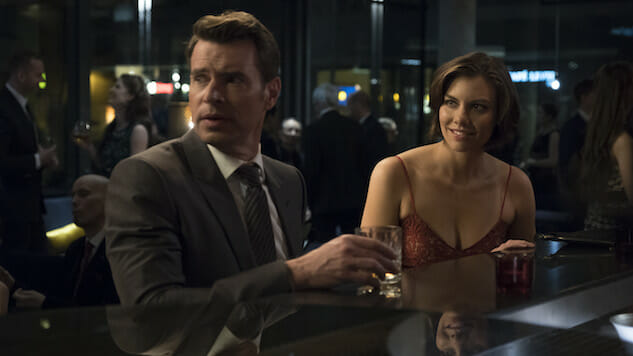 I've always been #TeamBen.
When one of the greatest TV love triangles was created on Felicity, I never even considered Scott Foley's sincere, sweet Noel. Bad(ish) boys may not be much fun in real life, but they are the way to go on TV.
Since the iconic WB drama ended in 2002, Foley has become a bona fide TV star, forging a career that blends his earnestness with a devil-may-care twinkle. He broke our hearts as Henry Burton on Grey's Anatomy and was simultaneously terrifying and charming on Scandal. He even proved he has a sense of humor about himself by appearing in Insecure's show-within-a-show Due North.
ABC's Whiskey Cavalier, which gets a sneak preview after the Oscars Sunday night, uses Foley's appeal to the fullest effect. Foley is Will Chase (code name Whiskey Cavalier), an FBI agent still nursing a broken heart (and listening to "Total Eclipse of the Heart" on a continuous loop) when he's paired up with CIA operative Frankie Trowbridge (Lauren Cohan). Together, they're sent on covert operations to save the world with a rag-tag joint task force that includes expert computer hacker Edgar Standish (Tyler James Williams) , deft psychologist Susan Sampson (Ana Ortiz), exasperated CIA analyst Jai Datta (Vir Das) and team leader Ray Prince (Josh Hopkins at his smarmiest).
Their first mission is to stop a weaponized Ebola virus from getting loose. Their second is to get a shipping tycoon's list of criminal clients. Foley is, for lack of a better word, a hoot. He's able to pull off silly lines like "I have my feelings. My feelings don't have me." He does, as one character puts it, have "this whole Captain America thing going on." But his sincerity is offset by his self-deprecating charm. Will's Achilles heel is that he empathizes too much with other people—something that can really get him into trouble, especially in the second episode, when Foley is reunited with his Scandal co-star Bellamy Young.
I don't watch The Walking Dead, so I'm not as familiar with Cohan's work, but here she has crackling chemistry with Foley. If Will is too much in touch with his feelings, Frankie keeps hers at bay, never wanting to let anyone in. We've seen this dynamic before, of course, but that doesn't make it any less entertaining. Their back-and-forth banter is the heart of the series.
The supporting cast adds to the fun. It's great to see Williams all grown up from Everybody Hates Chris. His Edgar is a master deceiver. "The enthusiasm with which you are able to lie is at an almost sociopathic level," Susan tells him.
The dialogue is breezy and amusing. When he's chastised about dating a much younger woman, Will replies "Gigi wasn't half my age. She was going to be 30… at some point." The result is an extra-lite Alias in which the team is sent on a mission each week, but given the dramedy's carefree nature you're never really worried that any of the key players are in danger, despite the explosions and gunfire. And so far the mythology of the show is straightforward.
It's no surprise, given the series' clever, sly dialogue, that Bill Lawrence, the man behind Scrubs and Cougar Town is an executive producer. If Scrubs was a comedy that knew how to do drama really well, Whiskey Cavalier has the potential to be a drama that does comedy really well. If you looked up the term "dramedy," you would find Whiskey Cavalier.
Whiskey Cavalier truly is the kind of show network TV is made for. It's fun and fluffy, a proper escape. It's not going to create thought-provoking discussions à la Russian Doll, nor is it going have you stressed out watching. The danger, of course, is that there's not enough there to keep people returning each week.
But it's an amusing diversion, and in the world we live in, that's kind of nice.
Whiskey Cavalier premieres Sunday after the Oscars on ABC, before moving to its regular time slot on Wednesdays at 10 p.m.
---
Amy Amatangelo, the TV Gal®, is a Boston-based freelance writer, a member of the Television Critics Association and the Assistant TV Editor for
Paste
. She wasn't allowed to watch much TV as a child and now her parents have to live with this as her career. You can follow her on Twitter (@AmyTVGal) or her blog .