Asuka Went from Force of Nature to Typical Heel at Takeover
Photo courtesy of WWE.com
Wrestling
Features
Asuka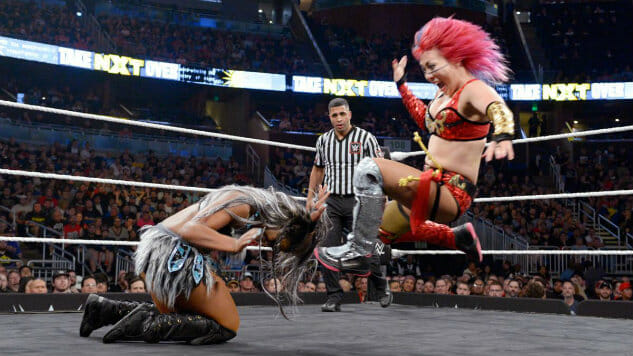 Since debuting in NXT, Asuka has been one of the most popular wrestlers on the brand, with a devil's smile hiding a cyclone of wicked kicks, waiting to be unleashed on the very ripe division that was raided after the start of the Women's Revolution. At NXT Takeover: Orlando, on the anniversary of submitting Bayley for the title, she faced one of her greatest opponents to date. Someone who, as the commentators said, could truly go toe-to-toe with the champion: Ember Moon. The match was good, well-paced, with the two women displaying a remarkable chemistry, and a playful attitude at the beginning in an entertaining competition between two of the best wrestlers in NXT.
The match is a must-see, of course, perhaps marred only by its ending: After the two women beat each other senseless, Asuka seemingly saw the end coming, and resorted to some classic heel maneuvers, using the referee to save herself and prevent Moon from hitting her signature move, the deadly Eclipse.
Something about that sequence felt wrong. What fans saw with Asuka after her arrival was something akin to a tornado, blowing through anyone foolish enough to face her, leaving a line of disappointed would-be queens in her wake. Other than the person from which she captured the belt, most of the opponents that the Empress of Tomorrow conquered were traditional heels. But this never changed how she approached them. Asuka took on all comers. Whether it was legends like Mickie James, or a fatal four-way match against everyone in the locker room who pissed her off, she was a powerful force that could win through brutality, skill and determination. Asuka just knew she was better than everyone else, beating each challenger handily. Her time in the ring meant that someone else's time was coming short. She had been presented as a force of nature, a destroyer, unruly and violent, even comparing herself to the sun. But on Saturday, Asuka had to use an unorthodox tactic, showing weakness in the beast. Applying typical face-heel characteristics to Asuka makes her easier to categorize, a mere mortal.
You could argue that it was a defining moment for her, establishing a heel persona after subtle hints in her promos and post-match actions. But while those instances felt like a confident Asuka—still the force of nature—her tactics Saturday made her look like all the others we've seen before her, defined by the face-heel dynamic. It's a new character flaw for someone who looked nigh unbeatable and without weakness, an unnerving change from the sheer storm that battles unhindered by petty motivations. She can still fight anyone, anytime, but now, we're not so confident she can't be beaten.
---
Stephen Wilds is a freelance author with a flair for retro videogames, old cartoons, and bad movies. He has written for Playboy, Unwinnable and others.