I Hate Wrestling Nazis: White Supremacy and Indie Wrestling
Photo courtesy of Getty Images
Wrestling
Features
Indies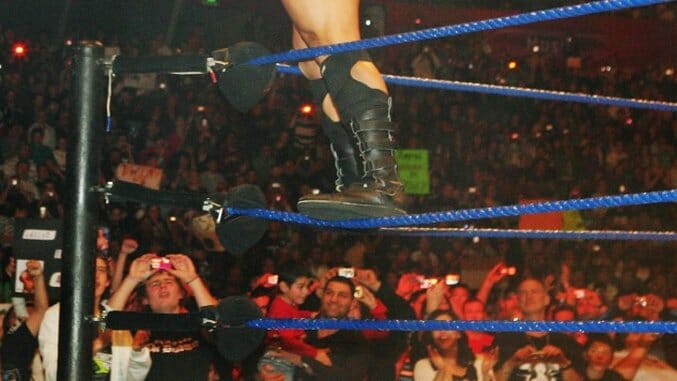 Trigger warning: racism, sexual assault
The title of the e-mail read "You Won't Believe Who's Coming to WWN," and boy, did WWN's booker, Gabe Sapolsky, deliver. As I scanned the list of talent, one name stood out as a surprise, but probably not the way Sapolsky intended: Shlak. It's not entirely out of character for Saplosky to book a wrestler primarily known for death match wrestling. The real stunner is WWN touching someone with Shlak's history with a ten foot pole, let alone booking him on one of their shows.
While his past has only recently come to light in wrestling circles (in February, an anonymous Twitter account with the handle @wordsbig80s tweeted extensively about Shlak's past), Shlak is notorious to those well versed in the Philadelphia punk scene as someone with a history of troubling behavior, from his participation in viciously misogynistic bands like Call the Paramedics to his long-standing association with the Atlantic City Skinheads. The initial revelation in February didn't seem to diminish Shlak's career trajectory, as he's been making a name for himself with consistent bookings in Game Changer Wrestling, Combat Zone Wrestling, and a number of other indie promotions. However, when Shlak's history was brought to the attention of Sapolsky, Shlak was quickly and quietly pulled from the show. When Paste asked Sapolsky about the booking, he stated that Shlak was "no longer on the shows," with no additional comment.
It's a move straight out of the playbook of an embarrassed child caught doing the wrong thing. If the child never acknowledges the mistake, perhaps the adults won't notice! Perhaps we won't notice that WWN booked a wrestler who once sold a hoodie with the song title "It's Not Rape, It's Surprise Sex" printed on the back, a wrestler who was photographed Sieg Heiling the camera with a known member of the Atlantic City Skins. Perhaps we won't notice that WWN booked a wrestler about whom Google helpfully offers "shlak nazi" as an auto-complete.
The lack of simple vetting by indie companies isn't an isolated issue. Pull up Cagematch, and take a look at all the companies that booked Teddy Hart while he was under investigation for multiple sexual assault charges. If you need a more recent example, consider all the bookings Adam Rose was able to schedule after his arrest for domestic assault. Consider the quiet way Powerbomb.tv dropped Trauma II from their upcoming Breaking the Barrier event, after I asked them about the rape/kidnapping charges listed in his Wikipedia page.
All of these companies had a chance to take a public stand against racism and abuse, and they chose to stay silent. Instead of proclaiming Style Battle to be a space where fans and wrestlers could feel safe, Sapolsky's silence seems to indicate that this problem is only resolved in this particular instance. What happens the next time he gets a trusted recommendation for an unfamiliar wrestler? What happens with the next wrestler with a bit of a buzz that Powerbomb.tv throws their weight behind? Was the issue that these wrestlers raised the ire of fans, not that they were racists, or abusive?
Silence is damning, but there are always worse options. After the allegations towards Shlak came to light, Colette Arrand, a fellow Paste contributor, noticed individuals pledging their support for the "nazi wrestler" in her Twitter mentions. After some research, she found they ran a self-described "Fascist Wrestling Podcast," and that you could buy merchandise for this podcast on Pro Wrestling Tees. Their description on their Pro Wrestling Tees store included the infamous "14 words." How could a company that stringently demands a certain amount of social media followers for every store in their application process have missed such an obvious racist calling card?
We don't know.
One Hour Tees, the parent company of Pro Wrestling Tees, pulled the podcast's store, and issued a rambling justification that implied they have zero oversight of their website's contents, despite having an application process for all of their stores. It'd be easier to believe this was a simple oversight issue if One Hour Tees didn't have an extensive history profiting from thoughtless t-shirts. There was the "#backslidesmatter" t-shirt printed under their Barber Shop Window imprint. There was the "the charges were dropped" Adam Rose t-shirt. Most recently, they offered a "Ringrats" t-shirt in the style of the Rugrats logo. They're a company more than comfortable with profiting from casual racism and misogyny.
Yesterday it was brought to our attention that a podcast on our website was promoting white supremacy on the bio.. pic.twitter.com/JckONA9n9I

— OneHourTees (@OneHourTees) June 3, 2017
It'd be nice to believe this was an issue One Hour Tees was seriously committed to resolving, but they offered no motion towards a solution on their end. Instead, the published apology asks fans to be their quality control, asking that viewers notify them of any offensive content. There was no acknowledgment that, as the host of the web store, they most likely profited from the sales of t-shirts for a proudly fascist podcast. Instead, One Hour Tees blocked many of the Twitter users who attempted to alert them of the store. Again, it seems like the complaints were the issue, not the racists.
Since this is all happening on the internet, there's been a suggestion that these podcasters are just "heel fans," flirting with the taboo of white nationalism. It's immaterial. [And a cursory listen to a few episodes of their podcast revealed they regularly talk about white nationalism and promote neo-Nazi ideals.—Ed.] Tolerance of ironic racism breeds tolerance for more vicious iterations. The individual actors here are evidence, symptoms of a larger problem. These instances are not individual brush fires, and need to stop being addressed as such. Wrestling companies need to institute a level of oversight for the individuals they allow to represent them. There should be no reason to be concerned about financially supporting a white supremacist or an abuser when attending a wrestling show or purchasing a t-shirt. We should expect better.
---
Ed Blair is a writer and zinester currently writing out of Chicago. They run the Holy Demon Army Zine Distro, and can be found regularly contributing to the Atomic Elbow, No Friends, and Entropy. You can find them on twitter at @ourcityburning.