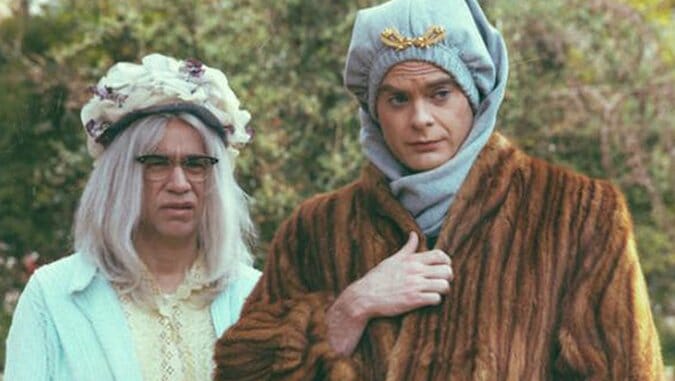 Ahead of its season premiere on Aug. 20, IFC has renewed its original comedy Documentary Now! from Fred Armisen, Bill Hader and Seth Meyers, for two additional seasons. This is the first time the comedy network has picked up additional season of a series prior to its network debut. IFC also added a seventh episode to Season 1, up from the initial order of six episodes, which premieres at 10 PM.
"This two-season renewal ahead of the show's initial debut is a huge nod to the creative and comedic genius of Fred, Bill and Seth," said Jennifer Caserta, IFC's president. "We're immensely proud of what they've created alongside Rhys, and thrilled with the buzz and critical acclaim the show is already receiving."
All you documentary-mongers, you won't want to miss the series. Documentary Now! parodies the world's best documentaries. Starring Armisen and Hader, each episode is shot in a different style of documentary film making and honors some of the most important stories that never actually happened—because why not? The series pays homage to everyone from the Maysles to Errol Morris, to a behind-the-scenes look at the world's first documentary, and much more. The finale episode, titled "Gentle & Soft: The Story of the Blue Jean Committee," chronicles a Chicago soft rock band's rise to fame with their hit album Catalina Breeze (obviously), which will now air as a two-part episode.
The one and only Helen Mirren serves as host of the series, providing the documentaries with the gravitas they so rightly deserve. The show also features appearances by Jack Black, John Slattery, iconic music manager Irving Azoff and SNL's Aidy Bryant, Mike O'Brien, Paula Pell and Time Robinson.
Watch the trailer above, and don't miss the season premiere of Documentary Now! on Aug. 20 at 10 PM.