Watch the Trailer for Hari Kondabolu's New Comedy Special Vacation Baby
Screenshot via YouTube
Comedy
News
Hari Kondabolu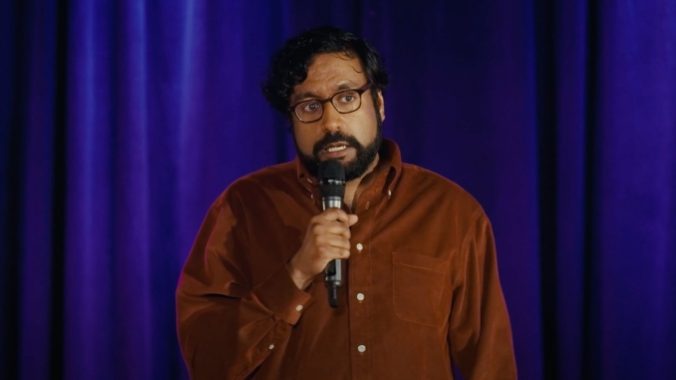 It's been about five years since the release of Hari Kondabolu's widely praised Netflix special Warn Your Relatives. We here at Paste were certainly fans, with contributor Graham Techler giving it an enviable nine out of ten and praising the hour as "a searingly confident statement from an extremely, proudly political comedian."
While Kondabolu's been quite active in the years since—he's a regular panelist on Wait! Wait! Don't Tell Me!, hosts the Netflix cooking show Snack vs. Chef, and appeared in the prematurely canceled South Side—we're excited to see him return to the stage with a whole new set exploring both the political and personal. Kondabolu's upcoming special Vacation Baby is due out on YouTube on April 18, and the album version will be available the same day on audio platforms via 800 Pound Gorilla, with bonus tracks self-released on Bandcamp.
Vacation Baby was recorded at The Bell House in Brooklyn just after Roe v. Wade was overturned, a fact that the native New Yorker naturally brings up. Kondabolu also discusses becoming a parent amidst the pandemic, anti-Asian racism, Steph Curry, and ghosting AOC (a story I'm truly intrigued by). 
Watch the trailer for Vacation Baby below, in which he explains the meaning of the special's title. The documentarian behind The Problem with Apu (2017) is also taking his comedy on the road this spring and summer, touring across the country. Dates and tickets can be found here.