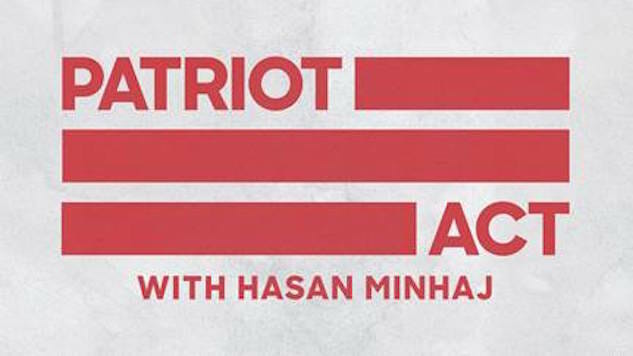 The Daily Show's Hasan Minhaj is getting his own weekly Netflix gig.
The show was hinted at earlier this year, but on Thursday Netflix officially confirmed its name and debut date: Patriot Act with Hasan Minhaj will premiere on Sunday, Oct. 28, with the comedian signed on as executive producer as well. Netflix has ordered a whopping 32 episodes of the series, taking Patriot Act pretty far into 2019. Looks like the whip-smart comedian isn't going anywhere for awhile.
Netflix shared a short teaser for the show, which will feature Minhaj's weekly comedic takes on everything from politics to culture:
Follow us. @hasanminhaj is used to it. pic.twitter.com/H8Oke1R7kw

— Patriot Act with Hasan Minhaj (@patriotact) August 9, 2018
According to a press release, "Minhaj's weekly comedy show will explore the modern cultural and political landscape with depth and sincerity. Each week, Minhaj will bring his unique comedic voice and storytelling skill to investigate the larger trends shaping our fragmented world." Minhaj certainly has experience in that regard—his 2017 stand-up special (also on Netflix), Homecoming King uses his storytelling chops to offer sharp commentary on the current state of affairs. Homecoming King landed on Paste's list of the best stand-up specials of last year, and it's still one of our favorites available on the streaming platform.
Minhaj first gained fame as a correspondent on Jon Stewart's The Daily Show, and he was also in the spotlight when he hosted last year's White House Correspondents' Dinner. He's kicking off a 16-city tour starting Aug. 11, dates for which you can find here.
Read our review of Minhaj's genius Homecoming King here.