78 of the Best Porters (Under 8% ABV), Blind-Tasted and Ranked
Photos by Annie Black and Hailey Ahn
Drink
Lists
Best Porters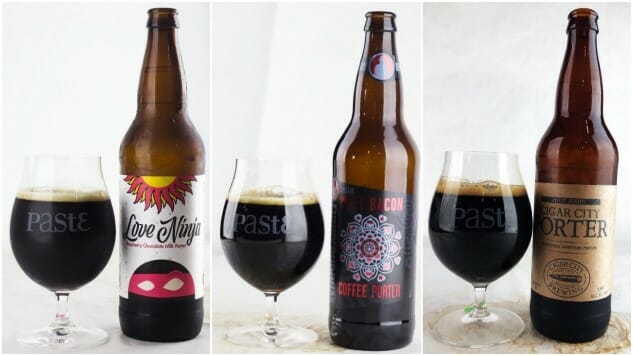 This list is part of a Paste series of bottom shelf liquor and craft beer style tastings. Click here to view all entries in the series.
There are few beer styles with deeper roots in the American craft beer movement than porter. Present from the very beginning of this country's beer renaissance—Anchor has been producing Anchor Porter since 1972, if you can believe that—it has been a bellwether of its times. In its earlier days, porter reflected the English beer style of its inspiration. As time passed, it was Americanized in the way of so many other styles—made bigger, bolder and hoppier, blurring the already nebulous distinction between "robust porter" and "American stout." Like stout, it too was flavored and imperialized. But still, those classic porters hung around as well.
To many, porter (along with brown ale) was a first style used to dip a toe into the foreboding waters of "dark beer," only to find a new world of delightful flavor. It's the reason why porter became so widespread and commonplace, especially in the insular world of the Great American Brewpub. If you visited an American brewpub from 1995 to 2010, it feels almost certain that there was a porter on tap at the time, and probably one that was simply labeled as "porter."
Today though, porter has become a bit more complicated. Although it's a style still used by many breweries to offer a session-strength dark beer (and avoid confusion, if they already have an imperial stout, as most do), it's also been treated as a canvas for experimenting with adjuncts and flavorings. As the number of breweries in this country continues to increase, flying past 6,000 in 2017, the race to find and exploit ever "nichier" niches becomes increasingly paramount. Or in other words, not every brewery can just produce a simple "porter," or none of them would have the market share to succeed.
And thus, a bunch of porter sub-styles have emerged, often after one beer becomes popular and spurs on dozens of imitators. Take "coconut porter," for instance—industry wide, there's a fascination with this combination. Likewise with "peanut butter porter," which can be found at numerous breweries in specific cities such as Huntsville, Alabama, where it's something of a local fixture. And of course there are so many more: Hoppy porters, coffee porters, vanilla porters, chocolate porters, barrel-aged porters, etc, etc. More than 45 years after Anchor introduced their porter, there are more versions of this style available than ever.
So let's get tasting, shall we?
---
A Note on Beer Acquisition
As in most of our blind tastings at Paste, the vast majority of these porters were sent directly to the office by the breweries that choose to participate, with additional beers acquired by us via locally available purchases and the occasional trade. We always do our best to reach out to breweries we're aware of that make exemplary versions of particular styles, but things always do slip through the cracks. We apologize for a few significant omissions that we couldn't acquire, either due to seasonality or market shortages. There will never be a "perfect" tasting lineup, much as we continue to try.
---
Rules and Procedure
– This is a tasting of porters under 8% ABV, largely determined by how the breweries chose to label their products. All beers had to be labeled as "porter," but no baltic porters were accepted—this style is traditionally a lager rather than an ale, with many examples stronger than 8% ABV. When in doubt, we simply allow a brewery's marketing to define a beer's style, and expect them to stick to the designation they've chosen.
– All types of adjuncts and flavorings were allowed. The porters could even be barrel-aged, as long as they were under 8% ABV. Porters stronger than this were included in our blind imperial stout tastings.
– There was a limit of two entries per brewery. The beers were separated into daily blind tastings that approximated a sample size of the entire field.
– Tasters included professional beer writers, brewery owners, brewmasters and beer reps. Awesome, Paste-branded glassware is from Spiegelau.
– Beers were judged completely blind by how enjoyable they were as individual experiences and given scores of 1-100, which were then averaged. Entries were judged by how much we enjoyed them for whatever reason, not by how well they fit any kind of preconceived style guidelines. As such, this is not a BJCP-style tasting.
---
The Field: Porters #78-26
Most of the porters here in The Field were perfectly serviceable, although in general, this is a style that drew some lower average scores. Some of them were simply not assertive enough to rise above the pack in a field that is increasingly dominated by adjunct beers. Others were just bad examples of adjunct-laden porter, sickeningly sweet or overwhelmingly flavored. Those entries were certainly proof that you can't just dump a bunch of artificial flavoring into a standard porter and bottle the result.
As always, the beers below are simply listed in alphabetical order, and as a result they are not ranked. I repeat: These beers are not ranked.
Asheville Brewing Co. Ninja Porter
Atlantic Brewing Co. Coal Porter
Back East Brewing Co. Porter
Banded Oak Brewing Co. Porter
Big Alice Brewing Co. Sleep Now in the Fire
Bonfire Brewing Tentpole
Boulder Beer Co. Shake Chocolate Porter
Braxton Brewing Co. Blown Gasket
Breckenridge Brewery Vanilla Porter
Breckenridge Brewery Nitro Vanilla Porter
Central Standard Brewing Keef Richards
Central Waters Brewing Co. Mudpuppy Porter
Cobblehaus Brewing Co. 5 O'Clock
Common Roots Brewing Co. Shadow Figures
COOP Ale Works Gran Sport Porter
Crux Fermentation Project PCT Porter
Dogfish Head Straight Forward Porter
Drake's Black Robusto Porter
DuClaw Brewing Co. Sweet Baby Java
Elevation Beer Co. Little Mo'
Foothills Brewing Co. People's Porter
Fremont Brewing Co. Proletariat Porter
Funky Buddha Brewery Last Snow
Great Lakes Brewing Co. Edmund Fitzgerald
Green Man Brewery Porter
Henniker Brewing Co. Working Man's Porter
Highland Brewing Co. Oatmeal Porter
Hoppin' Frog Infusion A – Coffee Porter
Ill Mannered Brewing Co. Big Donkey Porter
Indeed Brewing Co. Stir Crazy Porter
Little Machine Beer The Gaffer
NoDa Brewing Co. Coco Loco
O'Connor Brewing Co. Winter Pecan Porter
Odell Cutthroat Porter
Perrin Brewing Co. Blonde Porter
Proof Brewing Co. Hello Dolly Ghost Totem
Quest Brewing Co. Smoking Mirror Porter
Reformation Brewery Stark Porter
Rhinegeist Brewery Panther
Rogue Mocha Porter
San Tan Brewing Co. Sex Panther
Second Self Beer Co. Mole Porter
Sly Fox Co. Mudlust Coffee Porter
Southern Brewing Co. Midnight Train
Speakeasy Ales & Lagers Payback Porter
Station 26 Brewing Co. Cherrywood Smoked Porter
Starr Hill Brewery 2 Tone
Swamp Head Brewery Smoke Signal
Track 7 Brewing Burnt Fog Smoked Porter
The Unknown Brewing Co. Tele-Porter
Wasatch Polygamy Porter
Wasatch Nitro Polygamy Porter
Widmer Brothers Steel Bridge Porter
Next: Porters #25-1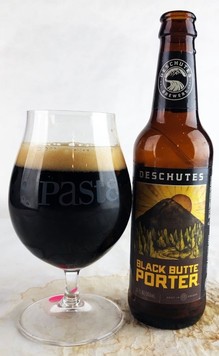 25. Deschutes Brewing Co. Black Butte Porter
City: Bend, OR
ABV: 5.2%
The verdict: Deschutes has been making Black Butte as one of the style-defining examples of American porter for going on three decades, which is an eternity in this market. It's a beer that still holds up well, although it's a bit harder to stand out when placed on a table next to beers infused with coffee or peanut butter. Black Butte is on the subtle side, with lightly roasty flavors and a pronounced fruitiness—hints of dark fruit and even a touch of banana, which is unexpected. Easy drinking, and with a lingering, nutty maltiness, it's a very approachable porter that isn't as firmly roasty or big in terms of body as some of the other classic American examples, such as Founders. This is a porter that emphasizes drinkability and ease of enjoyment, and there's nothing wrong with that.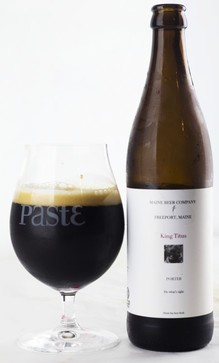 24. Maine Beer Co. King Titus
City: Freeport, ME
ABV: 7.5%
The verdict: Several blind tastings of stouts under 8% ABV have shown us to be big fans of Maine's excellent American stout Mean Old Tom, so we were fairly excited to try its philosophical brother, King Titus. What we found here was a beer that is thinner in terms of mouthfeel and very easy drinking, despite being on the higher end of the allowable ABV limit at 7.5%. Roasted nuttiness is prominent, chased by subtle cocoa and a bit of bitter char. Overall, this is a pretty dry porter that hides its ABV very well, drinking like one of the 4-5% ABV entries. It's not quite as memorable a showstopper as Mean Old Tom, but still a very dependable, tasty beer.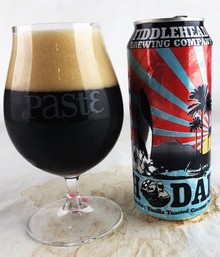 23. Fiddlehead Brewing Co. Hodad Porter
City: Shelburne, VT
ABV: 5.5%
The verdict: Good god, there were a lot of coconut porters in this tasting, and I mean a lot of them. There might have been as many coconut porters as there were coffee porters, no exaggeration. And here's the thing about coconut—it tends to be divisive. Some people love coconut-infused dessert beers, and some of them don't. Some of the ones we tried were simply overwhelmingly, or patently artificial-seeming. The best were of course the porters that managed to marry an undeniable coconut influence with a superior base beer in a way that simply made sense, which is what you have here. Big coconut on the nose gives way to a very creamy, almost "milky" texture, with lots of vanilla and hints of milk chocolate. Hodad is a bit less sweet than some of the other coconut porters, which works nicely here, and it falls near the mid-point (or a bit past it) in terms of coconut assertiveness. It's a cult beer in Vermont, and we can see why—but you obviously better be a coconut appreciator to get the most from it.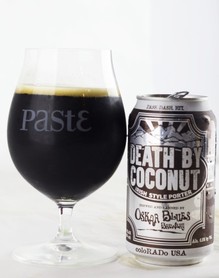 22. Oskar Blues Death by Coconut
City: Longmont, CO
ABV: 6.5%
The verdict: Oh, and speaking of "coconut appreciators," here's one of the biggest coconut bombs of them all in this category—the only beer to pack in more coconut per square inch was Funky Buddha's well-loved Last Snow, but it was just too much for us. Death by Coconut, in contrast, is truly decadent, but it falls (just barely) on the right side of the spectrum, despite one taster's sheet labeling it as "SPF 40." From another sheet: "Big candy bar nose, with huge coconut and vanilla flavors. Desserty, but nicely smooth, silky texture." You certainly can't accuse it of false advertising; it is exactly what it claims to be. Still, it might be the kind of beer that is easier to split with someone else than consume all on its own.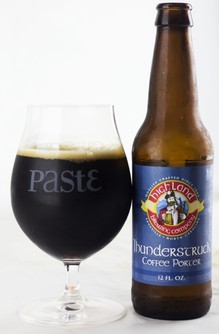 21. Highland Brewing Co. Thunderstruck Coffee Porter
City: Asheville, NC
ABV: 5.9%
The verdict: There was certainly no shortage of coffee porters in this tasting, which is to be expected—there's no easier way to enhance or differentiate a stout or porter than with a basic coffee addition, and this has been an industry-wide truism for going on 10 years now. The coffee character of Thunderstruck strikes us as one of the more "spicy" profiles of this tasting, with a herbaceous and peppery quality that is fairly distinctive. There are touches of residual sweetness, but it's still pretty dry and balanced overall. All over this is just plain solid, with a slightly different coffee character than most. Who doesn't like coffee porter?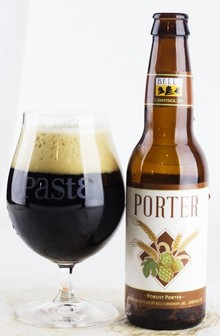 20. Bell's Porter
City: Kalamazoo, MI
ABV: 5.6%
The verdict: A midwestern classic for decades, Bell's Porter is certainly responsible for introducing a lot of people to the style in Michigan, Wisconsin and Illinois. It's always been an obvious comparison to counterpoint this beer with Founders Porter, just up the interstate, but in reality they're fairly different beers. Bell's Porter has always been the milder and more English-inspired of the two, without the latter's predominant roast/bittersweet character. Here, things are a bit more subtle—nutty malt, with light cocoa and a prominent red fruity note as well, almost raspberry-like. That red fruitiness pairs well with a faint whiff of smoke to make a porter that serves as a classic bridge between English and American styles.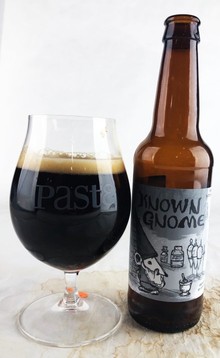 19. Off Color Brewing Known Gnome
City: Chicago, IL
ABV: 6.7%
The verdict: Chicago's Off Color is a brewery known for its interest in experimenting with unorthodox flavors and ingredients, which here results in a porter dosed with licorice root and quassia bark. This isn't to say the beer comes off as gimmicky—if anything, those special additions are quite subtle. They impart an exotic spice note—one of the tasting sheets jokingly calls it "Dr. Pepper spice"—that blends well with an assertive, roasty porter. This is a very malty, nutty beer that feels on the burlier side of the porter spectrum, with roasted chestnut/light coffee roast, and more than a little dark chocolate as well. All in all, it's a very successful, nicely restrained experiment with unexpected ingredients for the style.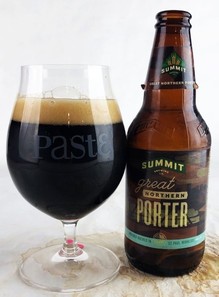 18. Summit Great Northern Porter
City: Saint Paul, MN
ABV: 5.6%
The verdict: Summit is one of those breweries that flies under the radar, but they bring their A-game to these blind tastings more often than not. They're masters of classical beer styles, and so you'd likely expect a solid porter that can stand up to Saint Paul winters (and springs, for that matter). That's exactly what you get—Great Northern is a balanced delight that emphasizes both malt and hops. Lightly roasty/coffee-tinged and quite dry, it drinks easily, but a subtle bitterness is also present from a notable charge of floral/piney hops. That actually makes it somewhat more distinctive, because porter has become a style where many of the entries forgo a noticeable hop presence at all. It's a blueprint of pleasant subtleties, which isn't too surprising for a beer that has apparently been around for more than 30 years. This success is driven by balance rather than ostentatious flavors.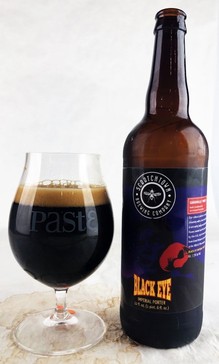 17. Scratchtown Brewing Co. Black Eye
City: Ord, NE
ABV: 7.5%
The verdict: This "imperial porter" isn't always under 8% ABV, but we happened to catch one bottling of it that was. Bold, roasty and up-front with its flavors, it certainly feels like one of the bigger standard porters on the table. The roast presence is fairly intense, bordering on "burnt," with secondary notes of molasses and piney/minty hops. There's a degree of bitterness here as well, which feels more roast-derived to me than hop-derived. It's a good porter that stretches the boundaries between "porter" and a stronger American stout. It's labeled as "imperial porter," but let's be real—that ain't no definable beer style. Still, working within the parameters of this tasting, it's a memorable beer.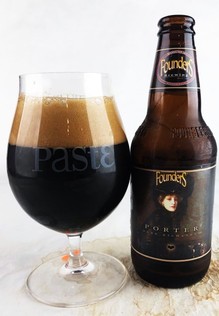 16. Founders Porter
City: Grand Rapids, MI
ABV: 6.5%
The verdict: An unassailable classic of the genre, this beer was actually #1 the last time we blind-tasted porters back in 2015. This time, it had the misfortune of being sampled on what was likely the strongest overall day of tasting, which likely moved its rank down just a tad. Still, it's a near-perfect example of American robust porter—to quote one score sheet, "Smooth, roasty and balanced, but predominantly dry. Strong black coffee roast, bittersweet chocolate and hints of residual sweetness on repeated visits." It's an exquisitely well balanced beer that makes clean roastiness into its signature, followed by hints of hoppiness; very much an example of how American brewers took the style of porter and made it their own.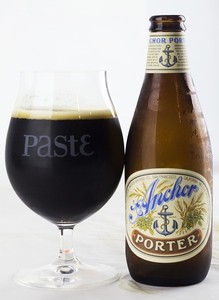 15. Anchor Porter
City: San Francisco, CA
ABV: 5.6%
The verdict: It's kind of ironic that when you put the "original" American porter on a table with a bunch of other American-made porters, it comes across as perhaps the least "porter-y" by today's definition. This obviously speaks to how the style has evolved since 1972, to the point that you'd be likely to misidentify this beer as another style in a purely blind tasting. It presents almost like a Belgian dark ale, with prominent flavors of red fruit and dried fruitiness—plums, figs, etc—chased by subtle spiciness, like grains of paradise. When it was revealed that we were drinking Anchor Porter, tasters realized how that actually sort of made sense—the profile here actually isn't that far away from the dried fruit and spice-tinged base that usually makes up Anchor Christmas. Regardless, this porter hails from a time before the style possessed such a focus on roastiness, and it has preserved a (really quite pleasant) snapshot of what that looked like almost half a century ago. We have to assume that after such a long time, this one isn't about to go anywhere.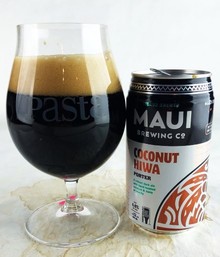 14. Maui Brewing Co. Coconut Hiwa Porter
City: Kihei, Maui, Hawaii
ABV: 6%
The verdict: I honestly can't say who was the first to combine "coconut" and "porter," but many of the early examples do seem to hail from Hawaii, for obvious reasons, and this one likely predates most of the others. Maui's take on the style is significantly more balanced than most, with modest (but unmistakable) coconut flavors that blend well with milk chocolate/cocoa impressions. From one score sheet: "Approachable coconut flavors without being too sweet." From another: "Easygoing but also multifaceted for a coconut porter." In truth, this isn't really a complicated beer, but it is a very well executed one. If you love coconut, but you don't want to feel like you're drinking a liquefied Mounds bar in terms of sugar content, this beer is a great middle ground.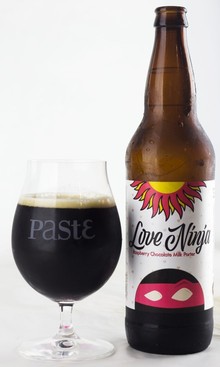 13. Asheville Brewing Co. Love Ninja
City: Asheville, NC
ABV: 5.6%
The verdict: ABC's standard Ninja Porter was a solid entry in this tasting that finished just outside the ranked portion, but the addition of raspberry, chocolate and lactose was more than enough to put a "solid" beer over the top into "delicious" territory. It's impressive how much genuine raspberry flavor the brewers manage to wring out of the fruit here, while simultaneously keeping this beer decidedly on the dry side for a porter with both fruit and milk sugars. Also very nice is the solid backbone of roast/char that works as an excellent counterweight to the raspberry. Everything here works, and it's delivered in a way that is significantly more sophisticated than it really had to be. A lot of breweries would have just made a syrupy, fruit-juicy mess with this concept—ABC did not.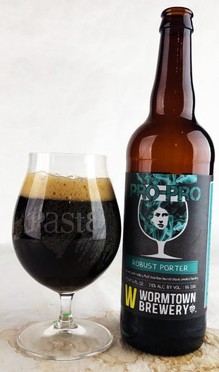 12. Wormtown Brewery Pro-Pro Robust Porter
City: Worcester, MA
ABV: 7.8%
The verdict: There is no flavor in the craft beer canon more difficult to use in a subtle way than smoke, and that was painfully obvious in this tasting. We tasted many smoked beers that were just overwhelmingly dominated by smoky/burnt flavors, but on the other side of the spectrum we have this entry from Wormtown. This one is actually genuinely subtle, to the point where you could actually miss the smoked component, derived from "bourbon barrel stave smoked barley." Rather, it just sort of intensifies the roast character of this burly porter, which was pushing the boundaries of our 8% ABV limit. From one score sheet: "Sweet and slightly syrupy, milk chocolate and very dark, roasty coffee." The light impressions of smoke seem to weld themselves to that coffee character, which gives this beer a distinctly "French roast" kind of vibe. Cheers to Wormtown for their judicious use of that ingredient.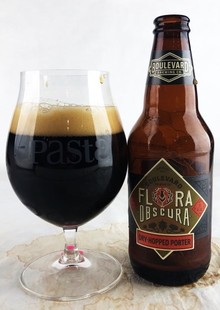 11. Boulevard Brewing Co. Flora Obscura
City: Kansas City, MO
ABV: 5.8%
The verdict: There were a handful of hoppy porters in this tasting, but this is the only one that seriously raises the question of "how hoppy can a porter possibly be before it becomes a black IPA?" As it turns out, the answer is very. This beer is an unabashed hop bomb on the nose, with massive impressions of pine, grass and sweet candied orange, made all the bigger by the unexpected nature of running into them during the middle of a blind porter tasting. The hops derive a little bit of bitterness, and although the roasty porter profile underneath tries to keep up, this beer is nowhere near balanced—not that this is a bad thing, in this case. Rather, this is a beer for a very specific subset of the dark beer drinkers; the ones who are saying "I do enjoy porter, but I sure wish I could drink an IPA at the same time." And if that is your wish, Flora Obscura has you more than covered.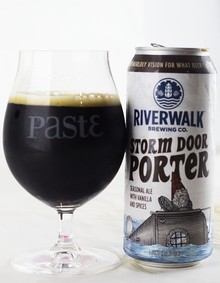 10. Riverwalk Brewing Storm Door Porter
City: Newburyport, MA
ABV: 6.3%
The verdict: As already mentioned when writing about Wormtown's Pro-Pro, several of the most pleasant surprises of this tasting were adjunct porters where the additions were unusually subtle. In this popular beer from Newburyport's Riverwalk Brewing, those additions are vanilla bean and cinnamon, but both are far more subtle in presentation than is typical—this is no churro beer. Rather, the drinker's attention is drawn to solid roastiness, a slightly smoky profile of char and dark chocolate. Only then do you get little hints of spice and the richness of vanilla, although this is also significantly drier than most porters or stouts with a vanilla addition in them. I can't help but think that you might actually be disappointed if you picked up this can because it said "cinnamon and vanilla" on it, deeming it to not have enough of either, but in a blind setting it just adds nice layers of complexity. Don't expect a gimmick here; just expect an excellent porter.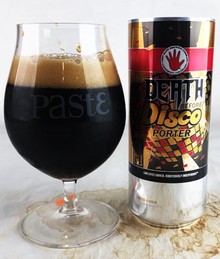 9. Left Hand Death Before Disco
City: Longmont, CO
ABV: 6.0%
The verdict: Interestingly, Left Hand shipped us this brand new porter brand rather than their classic year-round Blackjack Porter, but after tasting it we can see why they felt good about its chances. This is a great robust porter that sets itself apart in one way in particular that so many other great beers do, which is texturally. Creamy and velvety smooth, it actually feels fairly similar on the palate to Left Hand's classic flagship milk stout—probably not surprising that these guys know how to achieve that kind of texture. Solid roastiness is rounded out by touches of herbal hops and lots of bittersweet chocolate. As it warms, we get a little bit more residual sweetness, making for a very balanced final product. Not sure what this has to do with disco, exactly, but rock-solid American porter anyway.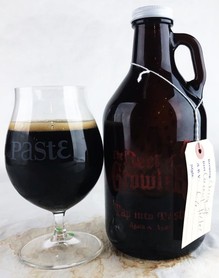 8. Cherry Street Brewing Cooperative Coconut Porter
City: Cumming, GA
ABV: 6%
The verdict: Of all the states in this tasting, it was Paste's home state of Georgia that surprised us the most when it came to porters, managing to land three in the top 10—something we wouldn't have predicted beforehand. The brewers at Cherry Street offered up this crowd-pleasing coconut porter, which fits somewhere in the middle of the coconut assertiveness spectrum—less than Oskar Blues or Funky Buddha, but more than Maui. It's also a little bit sweeter and richer than Fiddlehead's Hodad, which was sampled on the same day. What you have here is a nutty, milk chocolatey porter with moderate residual sweetness, backed up by plenty of toasty coconut in good balance. It's rich, but still approachable enough that you could probably have more than one. All in all, this is very close to the platonic ideal for coconut porters.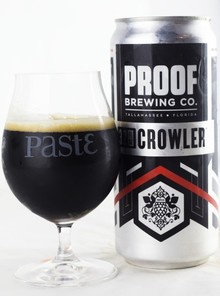 7. Proof Brewing Co. Ghost Totem
City: Tallahassee, FL
ABV: 6.5%
The verdict: Robust indeed is this particularly stout-y porter from Tallahassee's Proof, a brewery that just keeps on showing up in these top 10's with impressive regularity. Big and assertive from the get-go, this porter brings a classical profile of bittersweet dark chocolate and firm roastiness, complemented by slightly herbal hops. There's a good variety of cocoa-y notes here, running the gamut from the nutty quality of cacao nibs to the intense, subtly bitter nature of baker's chocolate. Full bodied and creamy, this beer is almost less "porter" and more miniaturized Russian imperial stout … not that there's anything wrong with that.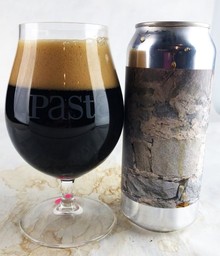 6. Wrecking Bar Brewpub Sow Your Wild Oatmeal Porter
City: Atlanta, GA
ABV: 6.5%
The verdict: We don't always have a submission from Atlanta's Wrecking Bar Brewpub, but when we do, they tend to excel. This year-round porter is one that has flown under the radar in Paste's local beer scene, but it really shouldn't—it has always been exemplary. On the nose it's roasty, with a good balance of medium roast coffee, cocoa powder and something akin to roasted peanuts. On the palate it reveals a little bit of piney hoppiness to complement the above flavors, along with a silky texture, which tends to be the way to our hearts. It's simply a near perfect expression of American robust porter.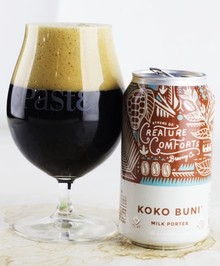 5. Creature Comforts Koko Buni
City: Athens, GA
ABV: 6.8%
The verdict: Creature Comforts managed to produce the #1 entry in the "coconut porter" wing of this tasting, so kudos to them for that. Their take on the style has not only coconut but cacao nibs and coffee, which adds some much-needed depth. Intensity of coconut flavors is nicely around the midpoint of the various coconut beers we sampled, toasty and rich, nicely complemented by nutty cocoa. The coffee is actually on the subtle side; it's not a beer that necessarily screams "coffee" on the nose, but you can find it if you're looking. Moderately sweet, it's on the desserty spectrum without being defined by residual sugar—but enough for one taster's score sheet to use the word "luxurious" in describing it. Koko Buni is certainly a treat for the coconut lovers who also enjoy a balanced porter.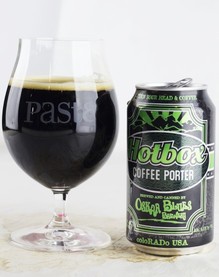 4. Oskar Blues Hotbox Coffee Porter
City: Longmont, CO
ABV: 6.5%
The verdict: For those of you keeping score at home, this placement makes Oskar Blues the only brewery to land two different porters in the top 25—there's a feather in your cap, Oskar brewers. This coffee porter isn't very complicated, but it's the utter definition of approachable. Its sweetly aromatic coffee nose is ridiculously inviting; it just begs you to come take a sip. Moderate residual sweetness plays well with medium-strength roast and plenty of coffee assertiveness, while revealing subtle notes of mocha and dark fruit. All in all, it's probably one of the "easiest to enjoy" beers of this entire tasting—it's hard for us to imagine who wouldn't like this.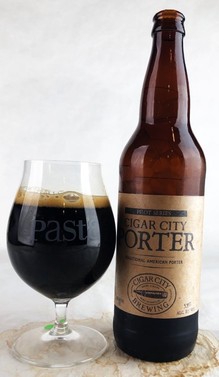 3. Cigar City Porter
City: Tampa, FL
ABV: 5.5%
The verdict: We can't really say this is a beer we expected to receive, given that before this tasting, we'd never heard of Cigar City producing a porter! Rather, this beer is actually a tasting room exclusive for Cigar City, but they must have known that it would kill in a blind tasting, given that they chose to bottle it up and send it our way. And a wise decision that was—this beer is a wonderful crowd-pleasing porter, featuring notes of light roast coffee and milk/semi-sweet chocolate, all at once. Packing enough residual sweetness to enliven those coffee and cocoa impressions, it's a well-balanced expression of classic American porter with just a touch more richness than usual. As one score sheet says, "crowd-pleaser, perfectly balanced malt profile." It's a shame that this beer has been reserved for the tasting room crowd only! As it stands, it's our highest-rated non-adjunct porter.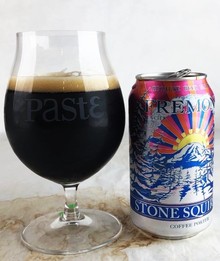 2. Fremont Brewing Co. Stone Squirrel
City: Seattle, WA
ABV: 5.4%
The verdict: If it's a dark beer style, the folks at Fremont simply will not be denied. Their dominance and consistency in these blind tastings would earn them an obvious first-ballot appointment to the Paste Beer Hall of Fame, if such a thing existed—and maybe it should? But I digress—this is just a wonderful coffee porter, and we can't rightly say we're surprised by the source. Stone Squirrel is very much a coffee showcase—to quote one score sheet, "Lovely coffee nose, very rich, awesome coffee flavors. Lighter of body, lots of cold brew coffee character and some caramel sweetness." It drinks very, very easily despite being so bursting with coffee character, but has just enough complexity (in the form of some toffee-like maltiness) to not seem like exclusively a coffee-based gimmick. Regardless, though, this is a 20 oz pint type of porter.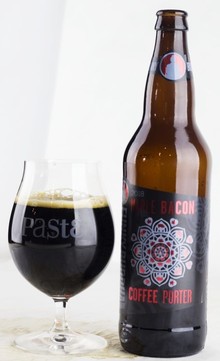 1. Funky Buddha Maple Bacon Coffee Porter
City: Oakland Park, FL
ABV: 6.4%
The verdict: Okay, this is not a 20 oz pint type of porter—rather, this is one that you should probably be splitting with at least a couple of friends. Where other porters in the top 10 such as Cigar City or Wrecking Bar are wonderful expressions of classical American robust porter, this beer is just an explosion of crazy, modern flavors. And expectedly so—this is what Funky Buddha does. For better or worse, this is FB's jam. When their flavored beers go wrong, they can sometimes be undrinkable. But when they're good, they can be great. Transcendent. When they're on their game, nobody does the "big, rich, massively flavorful" thing better, with the possible exception of the (also Floridian) guys at J. Wakefield.
Enter the Maple Bacon Coffee Porter, one of the brewery's most popular yearly releases. This is a great case of truth in advertising—this beer tastes like everything you see on the label, and then some. Coffee is most prominent; rich, sweet and intense. Maple follows up after that, combining with the doughier aspects of the malt profile to evoke an undeniable image of syrup-covered waffles. "Bacon" is wisely the most subtle of the three, but it manifests in the form of a thread of savory smokiness running through the whole affair. This is unabashedly dessert beer, of course—big, decadent and nowhere near "sophisticated"—but god damn, is it satisfying. It's a beer that checks so many boxes and cravings, all at once. It's something you might expect to hate based on the label, but grudgingly have to admit is awesome. You also might not want to drink an entire glass, but on a per-ounce basis, this beer is ridiculously delicious.
Also: If you ever get a chance to try the barrel-aged variant, Morning Wood … by all means, take that chance. And please send us some.
---
Jim Vorel is a Paste staff writer and resident craft beer guru. You can follow him on Twitter for much more drink writing.