A Tour Through the Strange, Exotic World of Seedlip's "Non-Alcoholic Spirits"
Photos via Seedlip
Drink
Features
cocktails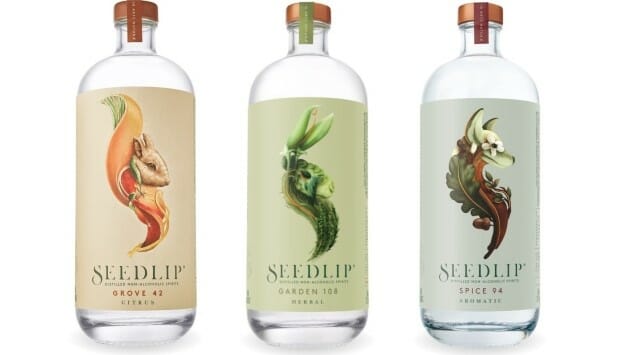 It can be tough to drink moderately, if you become at all invested in the world of cocktail culture. Although the popularity of lower-ABV mixed, stirred and shaken drinks is on the rise—the so-called "suppressors" of the cocktail world—the standards and classics of the cocktail genre still tend to hit hard, becoming very limiting to anyone who is trying to watch their alcohol intake. That 5 oz. coupe glass you just ordered as your opening round at the cocktail bar? It might very well contain two (or even more) standard drinks worth of alcohol. That might be your daily limit, or then some.
This is something that has become all-too-clear to me as a beer and spirits writer over the course of the last few years. When drinking beer, even potent craft beer styles, it's far easier to control your intake with careful selections and volumes of liquid. At many bars or taprooms, you can always grab a half-pour (or even 4 oz. taster) of that imperial stout, if you're really craving it. But cocktails are different. Because they're already smaller volumes, you can't exactly order half-pours or small versions of them. It's not like bartenders have time to be cutting recipes in half, either. And even if they did, a 2 oz. cocktail is inherently unsatisfying, because as soon as you've tasted it, it's gone.
It's natural, then, to look toward non-alcoholic drinks to fill in some of the gap. Some non-drinkers turn toward these products looking to experience the complexity of cocktails without ever having to actually imbibe—teetotalers who no longer want to be left out of the fun. Others, like myself? We just want to drink stuff that tastes good and stimulates our palates, whether it has alcohol in it or not. Finding delicious, complex, non-alcoholic alternatives to add to the rotation can allow someone like myself to not feel like they're missing out, when I make the decision to cut back on my alcohol intake.
Enter: Seedlip, a London-based company that specializes in the creation of "distilled, non-alcoholic spirits." Available in a variety of flavors, Seedlip products are essentially water that has been infused with different botanical, spiced or herbal flavor profiles via distillation. The end result are potent, flavorful tinctures that are ready to stand in for base spirits in a variety of classic and novel, non-alcoholic cocktail creations.
Curious about the potential applications, I reached out to Seedlip, who generous provided samples of the whole lineup. I then put all three varieties—Grove, Garden and Spice—through their paces, with fascinating results. Here's a breakdown of each.
Note: At $36 per 23.7 oz. bottle, these Seedlip spirits are by no means cheap, but if you think of them as replacements for base spirits, it's basically like buying a bottle of whiskey or gin from the mid-shelf. I don't usually comment on design, but in this case I do want to note that these bottles are all inherently beautiful. Whoever designed these labels did a superlative job.
---
Seedlip Grove 42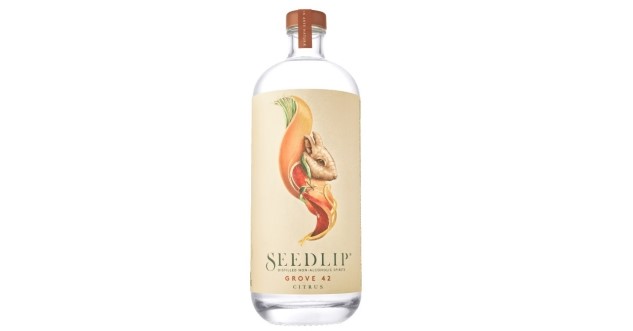 Of the three Seedlip varieties, this might be the most immediately approachable, given that it's the one building itself around citrus fruits. Seedlip describes Grove thusly:
A sophisticated, warm citrus blend using three varieties of Mediterranean orange, lemon peel, ginger and lemongrass distillates with the cool prickle of Japanese Sansho peppercorn.
As with each Seedlip product, I sampled Grove in a variety of ways.
Grove on its own
Tasted on its own, Grove's dominant impressions are citrus peel, bitter pith and especially floral notes. There's a rose petal character to it, and a rosemary herbaceousness, which makes "perfumey" seem like the most accurate word overall. It's dry, with just a hint of sweetness, and a little bit of ruby red grapefruit, chased by bitterness. Overall, you would indeed use the term "citrus," but probably not anything like "juicy." Certainly, it would seem extremely dry to anyone who has been crushing 16 oz. cans of hazy IPA on the regular.
Grove and Soda
In the (admittedly gorgeous) booklet shipped with each bottle of Seedlip products, it suggests what I will treat as a "signature mixed drink" for each variety. For Grove, it's Grove and club soda, so we went ahead and mixed one up. The results reminded me faintly of the grapefruit seltzer I'm often drinking these days, with hints of rose petals and grass. It's a refreshing drink, but a very subtle one. I'd go out on a limb to say that the flavors here will be TOO subtle for a lot of drinkers who want something more assertive and strongly flavored. Certainly, a little bit of simple syrup helps, and this became a common theme with some of the Seedlip cocktails. The company seems to be relying on the consumers having fairly sensitive and refined palates, which will work for some people but disappoint others.
Blossom cocktail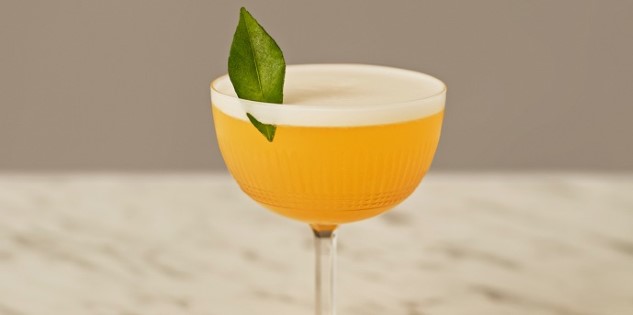 Seedlip has a spectacularly diverse and expansive collection of cocktails on its website, which my girlfriend and I dug into testing with gusto. For the Grove, we sampled a Blossom, which is a mix of Grove, lemon juice, blood orange juice (we used blood orange San Pellegrino) and simple syrup. If that sounds like a very light, breezy and agreeable drink to you, then you would be right. It's a delicious melange of fruit impressions: Blood orange adds richness and sweetness, lemon gives tartness and the Grove adds floral complexity. The level of sweetness is dialed in nicely to create a drink that practically anyone would like. This would be the ideal, non-alcoholic starter to a cocktail party, and we may very well use it for that purpose in the future.
---
Seedlip Garden 108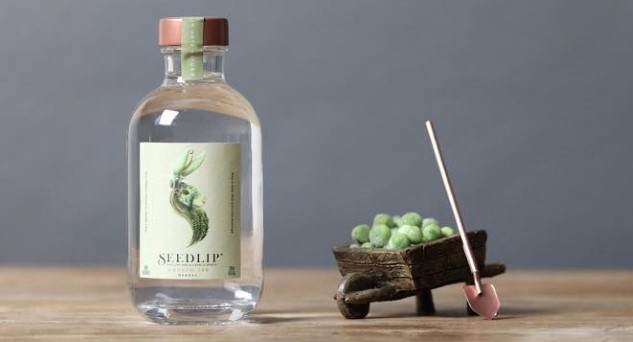 If Grove's one-word descriptor is "citrus," then Garden's one-word sobriquet is "herbal." The company gives it the following description:
A herbal and floral blend of hand-picked peas and homegrown hay with traditional plant distillates in celebration of the English countryside. Best served with tonic for an adult and sophisticated alternative.
As with Grove, we sampled Garden in a number of ways.
Garden on its own
This one was a pleasant surprise. I was thinking that Garden would probably be my least favorite of these three Seedlip products, but it may actually be the most pleasant (though unusual) to taste on its own. Freshly cut grass, mint and cucumber can be found on the nose, but on the palate I'm amazed by how genuinely it does taste like bright green, ultra-fresh English peas. Slightly sweeter than expected, and combining green and earthy notes, it's a fascinating profile. I have a pet peeve of judges on Food Network cooking shows falling back on the word "fresh" to give generic compliments to dishes they can't otherwise describe, but Garden is an exception to this rule of mine. "Fresh" truly is the best word to describe it.
Garden and tonic
Seedlip suggests simply blending Garden and tonic water, which proves to be a combination that makes perfect sense. Unlike the Grove and soda, the tonic provides ample sweetness to balance out the dry base spirit. Lightly bitter, with impressions of grass, hay and peas, it's an easygoing drink that is still complex enough to get by.
With that said, would it be good with a little bit of gin thrown in as well? Sure! And so I added a little bit, and the juniper and spice notes added another nice layer of complexity. That's the thing about Seedlip—these products might be intended to replace base spirits, but there's nothing to say you can't use them in conjunction with spirits as well.
Teatime Cooler
This cocktail from the Seedlip website calls for Garden, iced green tea and rhubarb syrup, built over ice. We didn't exactly have rhubarb on hand, but it was no trouble to whip up some quick lemon simple syrup instead, which is what we did. The result was zippy and a bit more tart than intended, thanks to the lemon, with medium-strength green tea character that was nicely complemented by the similar flavor profile of the Garden. These two (green tea and Garden) are a natural pairing with much in common, leading to a drink that has a good balance of sweet, tart and green impressions.
---
Seedlip Spice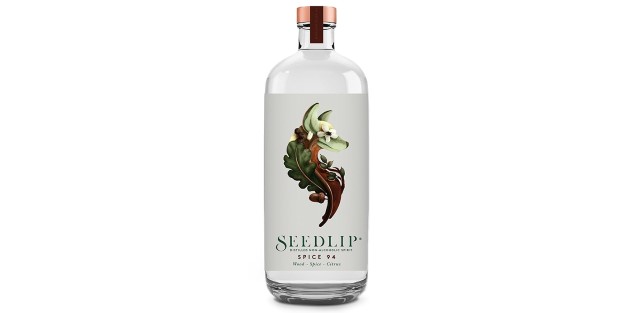 The third and final Seedlip product is Spice, which is likely the most "cocktail-esque" of the group. A combination of spice notes (duh) draw comparison to common cocktail ingredients such as allspice/pimento dram. Seedlip describes it thusly:
An aromatic and complex blend of allspice berry, cardamom, bark and citrus peel distillates. Best served with ginger ale for an adult and sophisticated alternative.
Once again, we sampled Spice in a variety of cocktails—four different ways, actually.
Spice on its own
Tasted on its own, Spice was a little unusual. This is clearly intended to be a mixer and not a cordial, but I was curious how each bottle would present when tasted alone. It smells spicy and pungent, with obvious notes of clove and cardamom (which is similar on the nose to cinnamon, if you've never smelled it). It's slightly bitter, and although it's not bone dry, it's also definitely not sweet. On the back end, a tingling in the throat feels almost like Sichuan peppercorn. As we would find out, Spice sort of needs a canvas to work against, in order to really come alive.
Spice and ginger ale
The Seedlip folks were wise to pack a small bottle of high-quality (Fever Tree) ginger ale along with this sample, and pairing it with Spice seems like an obvious combination. In practice, though, combining a spiced spirit with a carbonated, spiced mixer doesn't necessarily do a lot to enhance the latter. It's warm and spice-forward, yes, but much of the flavor is still being driven by the ginger ale. Aside from some impressions of cardamom and slightly herbal notes, it's hard to tell where the Seedlip is affecting the overall flavor profile. Ultimately, we found that Spice was most interesting when mixed in with other non-spicy ingredients.
Hedge Your Bets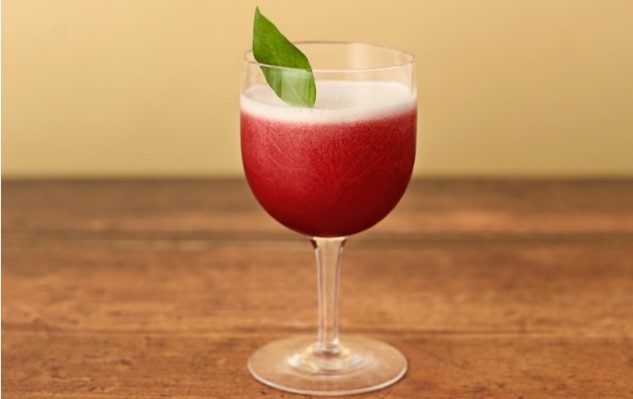 This beautiful-looking cocktail calls for Spice, lemon juice, grapefruit juice and two bar spoons of "seasonal preserves" of your choice, shaken and strained into a coupe. Looking to replicate something like the lovely color of the photo, I chose some black raspberry preserves. The initial results were not quite right—too tart and bracing from all the lemon and grapefruit, which also enhanced the drink's bitterness. An addition of simple syrup improved things greatly, bringing out a cocktail where the intense aromatics of Spice really could shine on the nose, reminding one somewhat of Angostura/aromatic bitters. The preserves, meanwhile, are fairly subtle, adding a little bit of their dark-fruit jamminess, but also a tannic bitterness and drying quality to the finish. Overall, this ended up being the most sophisticated of all the Seedlip cocktails we sampled—the closest thing to something you'd be served in a cocktail bar.
Espresso Martino
I love coffee-flavored everything, so there was no way I was going to pass up the coffee-infused Spice cocktail. This one is extremely simple—just Spice, cold brew extract and simple syrup, shaken and strained—but the results are appreciably complex. Again, the Spices comes through in ample fashion on the nose, with an unmistakable cardamom character that will inevitably remind you of Turkish coffee. The 1/1 ratio between Spice and cold brew extract likewise modifies the texture to an extent that makes it clear you're not drinking straight coffee. It's a distinctive result.
---
Conclusion
All in all, I enjoyed tasting my way through these, and was frequently surprised by various aspects of the Seedlip lineup. These are undoubtedly products for a niche audience, and they're priced as such, but I do believe there's a market out there who will find them invaluable. The key is that you can't expect them to do too much. Spice is not whiskey; nor is Garden gin—they're each their own, strange, unique thing. But if you're serious about the non-alcoholic cocktail lifestyle (or just curious about new drinks you can build), they represent a way to experiment in a whole new field.
---
Jim Vorel is a Paste staff writer and resident alcohol geek. You can follow him on Twitter for more drink writing.