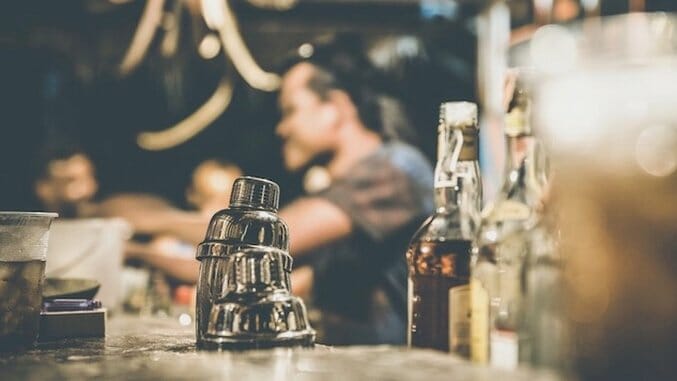 The word "speakeasy" was once a definitive term used to describe a secret bar built in barns, old warehouses and deserted apartment buildings during Prohibition. Built out of necessity, since drinking alcohol in public was banned and punished by law, these bars were an integral part of life in the early 1920's. Now, however, the term is thrown around as loosely as "artisanal" or "craft" and is slapped on just about any bar with a vintage vibe (think tufted chairs and $15 gin drinks). Nevertheless, if you're in search of a true secret bar – one you have to venture down dark alleyways and down seedy staircases to find, avoid those "speakeasies" and hit up one of these. Exclusive, reserved and totally entrancing, these bars take you back to the 1920's instantly, with dingy lighting, furniture that screams "Grandma's attic" and drinks inspired by the times of Bonnie and Clyde. All the same, be warned – with exclusivity comes price, so come willing to drop a bunch on hand batched moonshine. 
Violet Hour – Chicago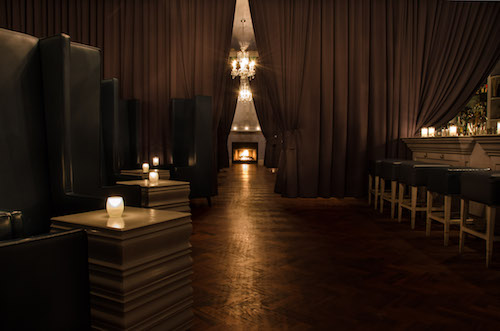 Joni Kat Anderson
At home in Chicago's most hipster neighborhood – Wicker Park – the Violet Hour's claim to fame isn't the location (which is nondescriptly hidden across from Big Star in a windowless, graffiti clad building), it's the cocktail program, which has received a coveted James Beard award. Boasting just a single light bulb designating its entrance, the interior is one of the most inspiring parts of the Violet Hour puzzle – with three separate salons, a large marble bar, high-backed leather chairs and crystal chandeliers. The cocktail choices change with the seasons, with quirky sips like the Humblebrag (made with English rum, Vermouth and St. Germaine) and Rogues, Ruffians, Rapscallions and Rangers (made with Encanto pisco, Vermouth and hellfire bitters) gracing the menu this spring. However, classics like the Old Fashioned are always on the menu, and can even be served in a large format.
---
Fig. 19 – NYC
Once a private clubhouse for the owners of the kitschy nightclub-meets-dance-disco Home Sweet Home (below the trendy Lodge Gallery in New York's Lower East Side), Fig. 19 is now open to anyone with the patience to find it. Like their dance club, you have to enter through the gallery and then walk through an unmarked door. Simply outfitted with soft-leather tufted couches and backless stools, the dark bar (which is illuminated with just a few flickering candles and beaded chandeliers that are clearly more for show), features an evolving cocktail list that feels like it belongs in Midnight in Paris (fun fact – they even have a drink with that exact namesake). The menu changes frequently, but you can expect the drinks to have ingredients like whipped egg whites, elderflower liquor and plenty of bitters.
---
Ipswitch – San Francisco
Ipswitch is one of those bars that takes their exclusivity up a notch. You won't find a light bulb, a weird alleyway or a staircase leading to this bar; instead, you enter through a trap door in the floor of Bourbon and Branch. Named after the speakeasy bar that once held the same location during actual Prohibition, Ipswitch is one of San Francisco's hardest bars to get into. In fact, the only way you can experience the charms of it is with a group reservation at B&B and a hope that the owners put you in the prized room. The bragging rights that come with sipping an Old Fashioned in a bar that was an ACTUAL speakeasy make it worth it enough to try to get in, while the unique cocktail offerings (everything from Rye Whiskey on the rocks to specialty distilled gin and tonics) are the total cherry on top.
---
Safe House – Milwaukee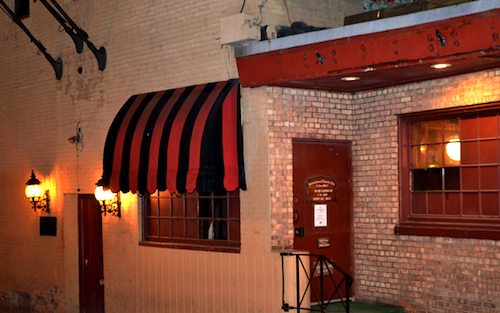 Half speakeasy and half restaurant, Safe House takes their whole "spy" theme very seriously. Not only do you need a password just to enter, you have to search for the building itself since it's hidden away in a very unassuming alleyway. Once you do get in, you're escorted to the bar/dining area by a dark clothed "spy." If you don't know the password, you're put through a grueling set of humiliating tests that are broadcast on the TVs inside so the lucky patrons can watch your attempts. The décor is very James Bond (there's even an actual KGB jail cell), and each of the rooms boast Bond-themed artwork. The cocktail menu is laden with kitschy (albeit delicious) libations, like the Penultimate (a mix of strawberry vodka and amaretto cream) or the Moore's S'more. Food wise, you'd be remiss not to nosh on the giant hamburger made with local Wisconsin beef.
---
Eleanor's – Atlanta
Named after Eleanor Seale, the matriarch and purveyor of the popular bistro pub Muss & Turners, the well-appointed Eleanor's bar is a trip to get to. First, you have to wander through the restaurant and through what looks like a walk-in freezer door and down a dark and ominous passageway. Once inside, though, the elegance is hard to miss – with dark leather wraparound benches, wood paneled walls and small tea lights on each of the tables. Blending Atlanta's passion for beer, the cocktails are all very brew centric, like the Brass Monkey, which blends Atlántico Rum with Victory Golden Monkey, a triple Belgian IPA. The food menu changes about as consistently as the drink menu, but favorites include the smoked duck flatbread.
---
Noble Experiment – San Diego
Unless you're in the know (or tipped your waiter at the restaurant Neighborhood very well), you'd have no clue Noble Experiment even exists. Hidden behind a door flanked by used kegs, this secret speakeasy serves up some of the city's most elevated cocktails. Lined with soft, white leather tufted benches and decorated with a wall of skulls (literally), the vibe is 1920s meets heavy metal. The drink menu isn't extensive, but it's good – especially when you opt for the Dealers Choice. The bartenders will simply whip up whatever suits their fancy with just a few suggestions from you (like your spirit choice and whether you like floral, fruity or spicy notes).
---
Blind Barber – LA & NYC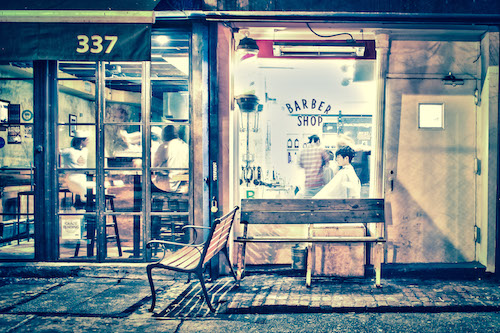 Jeremy Aiken
Discreetly hidden behind a barber shop (hence the name), Blind Barber is one of NYC and LA's quirkiest bars. The hair salon – which is outfitted with worn metal plaques and old vintage posters – is one of the city's coolest places to get a shave and a cut, so it only makes sense the backroom bar is one of the best places to get a drink. As a bonus for paying upwards of $40 for a cut and $30 for a shave, you'll get an expertly mixed cocktail as you get spiffed up. They serve up any and all kinds of drinks, from classic dirty martinis made with gin to Mezcal margaritas. Just be careful as you're sipping your libation when the barber has a straight edge razor to your neck. The only thing that doesn't go with a $12 cocktail is a trip to the ER.
---
PX – Alexandria, VA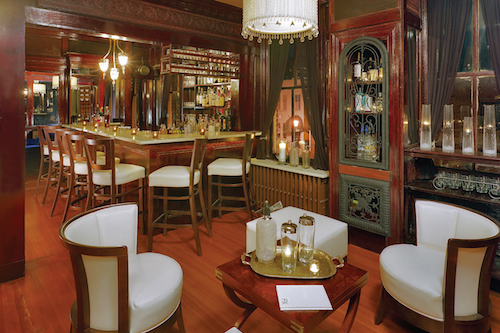 Bar PX is best described as a time capsule – a lounge where the gentlemen still wear suit jackets, the women don classical dresses or silk blouses and the cocktails are served with a side of smoking dry ice. Located right down the street from Eamonns, the bar is outfitted with just a single blue light to indicate when it's open and accepting new patrons. If the light's on (and you're dressed to impress), you can enter. If it's off or you're not wearing something applicable, you won't get in. Once in, though, the '20s vibe abounds with antique white armchairs, velour topped side tables and rich wooden paneling. Cocktail wise you can't go wrong with anything suggested by head bartender Todd Thrasher, especially the champagne mojitos or any of his cocktails splashed with dry ice or fire.
---
Annex – Chicago, IL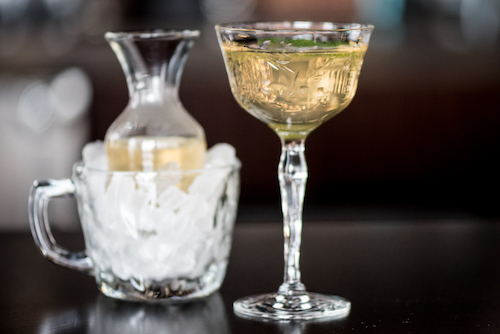 Located discreetly next to popular Chicago bar and restaurant GreenRiver, Annex boasts a dark and mysterious ambiance that's part speakeasy, part old-school men's club. Situated on the 18th floor of the Northwestern Memorial Hospital building, there's a small, very discreet sign near the host stand that simply reads "Annex." Once inside, you'll find a dimly lit room with an exclusive cocktail list that's a little sultry and seasonal. The drink choices change constantly, but you'll find a few that stay on the menu consistently under the "Greatest Hits." Favorites include the Disc Jokey, which is made with London Dry Gin, Curacao, coconut, lemon and Galangal curry leaf and the Imperial Marrakech, a unique blend of Idaho Potato Vodka, ginger, honey, za'atar, cinnamon, carrot and thyme. Ingredient driven, the cocktails are also listed under themes, like spice (offering sips made with exotic spices), flowers (giving the spotlight opt ingredients like prickly ash) and roots, which feature carrots and potatoes.  
---
Laundry Room – Las Vegas, NV
A former laundry room for the El Cortez Hotel across the street, the aptly named Laundry Room boasts just 27 seats and sits inside the walls of the airy and artful Commonwealth bar. Along with very strict rules (like no phones, texting or PDA), you need to text a secret number in order to gain access. The kicker? They won't let just anyone in, so the key to entry comes with schmoozing the bartenders at Commonwealth (and tipping pretty heartily). However, if you make the cut and get inside the dimly lit room outfitted with exposed brick and 1920's artwork, you'll be rewarded with some pretty snazzy cocktails that are inspired entirely by the Golden era. Although it's fun to order off the ever-changing menu, the bartenders are seriously talented here, so the best libations are the ones they create for you based on your preferences.
---