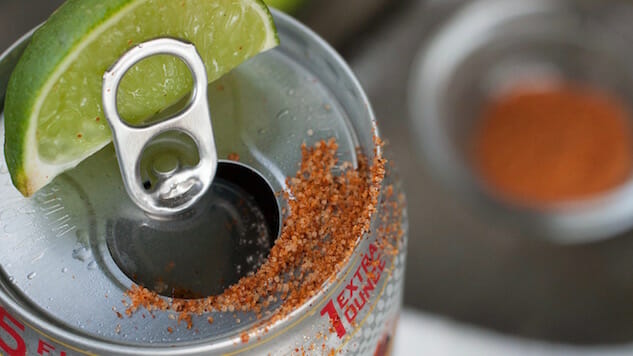 The thought of adding salt to a beer might seem like a gimmick, but, in Mexico, they've been enjoying a salty drink called a Michelada since the early 1900s. This drink consists of beer, lime juice as well as various spices, sauces and other ingredients in a salt-lined glass (similar to a margarita). Now, if that seems more like a bloody Mary than a beer, maybe a Chelada is more your speed. Much less elaborate, this drink starts with a beer base with the addition of salt and lime juice. So there's a precedent for adding salt to beer, a proud tradition, even, so don't think the we're crazy when we say "beer salt" is a thing. It might even be a thing you'd enjoy.
Enter Twang, makers of "the world's first premium beer salt," in citrusy flavors that are reminiscent of those Cheladas and Micheladas that are popular south of the border.
Twang's roots go all the way back to 1986. "Twang's founder, Roger Treviño Sr., was inspired by the established Latino tradition of adding citrus and salt to beer, and we've been producing a line of beer salt ever since," says Elysia Treviño-Gonzales, Twang's COO.
He tapped into his Latino culture with a goal to create an easy, fun way to customize drinks. "You'll find citrus-flavored salts primarily in Latin America," says Patrick X. Treviño, Twang's VP of Marketing and Business Development, who adds that mixing a squeeze of lime and a dash of salt to a beer is a long-standing tradition with Mexican beers. "We quickly learned that not only does this taste great with Mexican imports, but that all domestic lagers and many wheat beers are elevated with a sprinkle of Twang Beer Salt."
How To Properly Salt Your Beer
The first step is choosing the right beer. You probably wouldn't enjoy a salted porter or stout or even an IPA. A pale ale might work, but it's best to stick with lagers and wheat beers. It might even be interesting to try beer salt with a light sour, since the profile of a Gose hinges on that salty element. Just add a dash or two (depending on how salty you like it) to the top of your beer, or line the rim of the glass or can. Continue to add more dashes as you wish.
Ease into the trend with some simple table salt, then look to Twang for bolder flavors of salt designed to spice up your favorite drink. Choose from Lemon-lime, Lime, Hot Lime, Orange (our pick for that wheat beer) and Michelada Especial, which is the latest addition to the line.