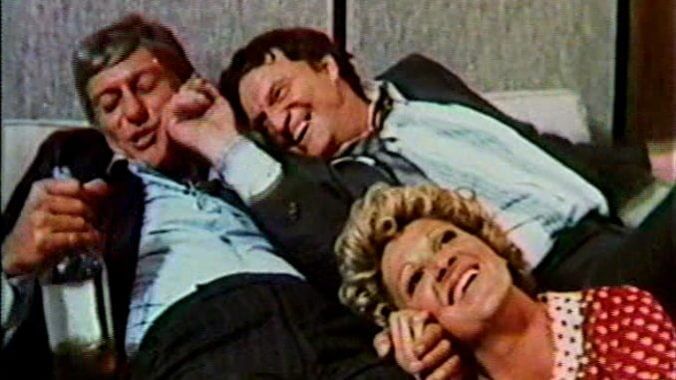 From 1969 to 1975, ABC put out weekly films. They functioned as TV pilots, testing grounds for up-and-coming filmmakers, and places for new and old stars to shine. Every month, Chloe Walker revisits one of these movies. This is Movie of the Week (of the Month).
Of all the unexpected things a viewer might find as they journey through the various editions of the ABC Movie of the Week, the sight of Dick Van Dyke vomiting blood might just be the most shocking.
During the 1960s, The Dick Van Dyke Show, Mary Poppins and Chitty Chitty Bang Bang had cemented his status as lovable icon: Always smiling, bursting with energy, liable to bust out a pratfall or a dance routine at the drop of a hat.
Van Dyke's decade ended with The Comic, a dark comedy that allowed him to take a shot at a distinctly unlovable character: A silent film star felled by his mountainous ego. Though his performance is almost disturbingly good, it was too little-seen to have any effect on his upbeat persona. Broadcast directly into people's homes, however, just as the show that made his name had been, 1974's The Morning After had a bigger impact.
There's not a lot of plot, and what there is follows a predictable path. When we meet Charlie (Van Dyke), an underappreciated ghostwriter for a celebrity businessman, he's already gotten through a spell of drinking trouble. Much to the concern of his wife Fran (Lynn Carlin), Charlie starts slipping back into old ways, still claiming that he's capable of handling the odd drink now and then.
But we know how this story goes. Embarrassments accrue. He shows up at work reeking of booze. There's the aforementioned vomiting incident. He starts shoving Fran when she tries confronting him. However much he's wracked with horror and shame at the things that he does, he keeps doing them anyway. He agrees to try treatment options, but when it comes down to putting the work in, he always finds excuses. Recovery seems hopelessly far from his grasp.
When a Movie of the Week tackled a heavy subject, it rarely escaped PSA territory—and indeed, the very reason Van Dyke was approached for the project was to show that even someone who projected such uncomplicated affability could struggle with alcoholism. The thing was, Van Dyke had been battling alcoholism; just two years earlier, he'd received in-patient treatment at a facility in Arizona. Recognizing the truth of Richard Matheson's screenplay from his first-hand experience, he enthusiastically signed on, deciding in the process to reveal his private struggle to the public (though both the news and the film had been out for months by the time it aired, his thoughtful and probing interview with Dick Cavett is worth watching).
His casting carried with it a broad "See? Even regular guys can be alcoholics!" message, but achieved a far deeper honesty than anyone had anticipated. As he lies and wheedles and fumes and laments, Van Dyke is continuously searing. The film approaches his predicament from a place of sympathy, yet it's not afraid to show the ugliness alcoholism brings out in Charlie; the cruel snarling at his teenage daughter after she dares to ask him for a lift, his viciousness towards Fran when she tries to get between him and a bottle. It's never easy to watch domestic violence on screen, but there's an extra level of horror involved when Dick Van Dyke is the perpetrator. The coldness that envelops the face known for its sunshiny smile is genuinely upsetting; the temporary returns to lucidity and the self-loathing despair they bring, wrenching.
While there's the odd jarring element (chiefly a textual overreliance on the Beatles song "Yesterday" that verges on the hysterical), The Morning After is striking for how drainingly real it all feels. Though he was best known for his work in sci-fi and horror, having written many of the best episodes of The Twilight Zone and a slew of great Hammer movies, screenwriter Richard Matheson does an excellent job working in unusually grounded territory—the film was considered so accurate in its portrayal of alcoholism it was often shown in medical schools. Matheson's screenplay understands the cyclical nature of the disease, the way the relapse-apologize-recover-relapse cycle takes such an exhausting toll on both alcoholics and the people who love them. Charlie's every apparent step forward is laced with dread—like Fran, we know that the fall is imminent, and it's not going to be pretty. There's no cushioning to The Morning After, and no comforting resolutions. Although that makes for a grueling watch, there's something bracing about the movie's refusal to embrace easy answers or unconvincingly happy endings.
The MOTW was warmly received upon its airing, with Van Dyke's barnstorming performance unsurprisingly coming away with the highest praise (he was nominated for a Primetime Emmy, but lost out to our old friend Hal Holbrook). The revelation that he had impressive dramatic acting chops won him surprising new offers—including Gregory Peck's part in The Omen, which he later regretted turning down—yet there weren't many more serious roles on the horizon for him. At the end of the decade, The Runner Stumbles saw him as a repressed priest on trial for the murder of Kathleen Quinlan's nun; it's a sporadically interesting film with a first-rate supporting cast (Beau Bridges, Maureen Stapleton, Ray Bolger), but its failure to set box offices alight was hardly surprising. And that was largely it for Dick Van Dyke: Dramatic Actor until another TV movie, 2003's The Gin Game, reunited him with old pal Mary Tyler Moore for a penetrating exploration of aging and loneliness. Nevertheless, no role has even come close to defining his later years as much as his amiable sleuth Dr. Mark Sloan on the long-running cozy crime show Diagnosis: Murder.
While The Morning After didn't fundamentally alter the trajectory of his career, as with Bing Crosby's turn as a murderous small-town doctor in earlier MOTW Dr. Cook's Garden, it allowed a long-established talent the invaluable chance to try something new, and to excel. Somehow, once you've seen Dick Van Dyke drink himself into oblivion, those sparkling song-and-dance routines that made him a household name seem even more magical.
---
Chloe Walker is a writer based in the UK. You can read her work at Culturefly, the BFI, Podcast Review, and Paste.