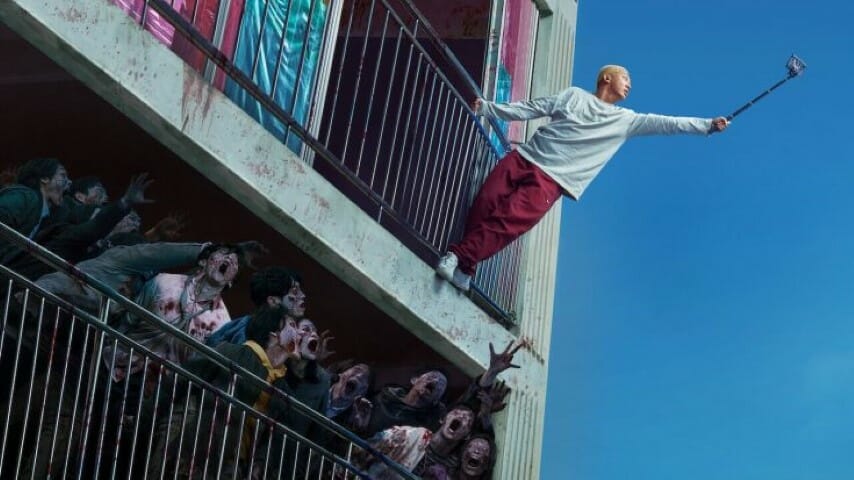 With the programming slate at major streamers constantly in flux, you never know what films will be available at any given time—even the undead won't stay in one place! When we previously edited this list of zombie content available on Netflix, the service could boast quite a few properties that are no longer around, from 1980s gore classic Re-Animator to modern gems like Pontypool, Train to Busan and Australia's quirky Wyrmwood: Road of the Dead. Sadly, those are all gone now, but they've been replaced by a few suitable features and TV series, which range from Netflix originals (Army of the Dead), to influential TV series (The Walking Dead), to foreign flicks and series of note (#Alive, Kingdom, All of Us Are Dead).
Here are the best zombie movies and shows on Netflix:
---
All of Us Are Dead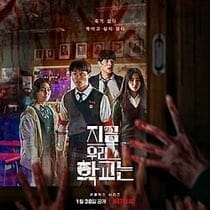 Netflix Release Date: Jan. 28, 2022
Created by: Joo Dong-geun, Chun Sung-il
Stars: Park Ji-hoo, Yoon Chan-young, Cho Yi-hyun, Park Solomon
Rating: TV-MA
This is not the first time Netflix has brought high-schoolers and zombies together; that'd be the under-rated, short-lived Daybreak. But the new South Korean coming-of-age apocalyptic series All of Us Are Dead makes the school battleground zero for our protagonists when a biology teacher creates a virus that turns their fellow students into the undead. Following hot on Squid Game's heels, it also managed to parlay the U.S.A.'s growing fascination with South Korean culture into some serious viewership numbers. —Josh Jackson
---
Daybreak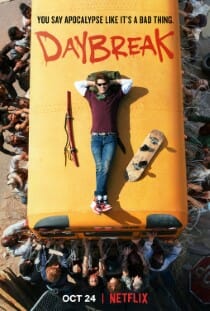 Created by: Brad Peyton, Aron Eli Coleite
Stars:: Colin Ford, Alyvia Alyn Lind, Sophie Simnett, Austin Crute, Cody Kearsley, Jeanté Godlock, Gregory Kasyan, Krysta Rodriguez, Matthew Broderick
Original Network: Netflix
Watching Netflix's new teen post-apocalypse comedy Daybreak, which stars Supernatural's Colin Ford as a C-student skating his way through a post-apocalyptic, zombie-infested Glendale, CA, is like shrugging on a colored-glass suit of ronin samurai armor that someone—possibly Ferris Bueller himself the most basic of teen movie magic to fashion, from the kaleidoscope of Twain's old saw, that there's no such thing as a new idea, just new ways of putting the same old shiny pieces together.
Look: If what you want out of your next teen/Apocalypse binge are new ideas, Daybreak isn't going to do the trick. Josh Wheeler (Ford) isn't a surprising choice for reluctant teen hero. Sam (Simnett) is not a surprising choice for damsel in (possible) distress. Ex-jock Wesley Fists (Crute) and Anjelica the preteen nightmare (Lind) aren't surprising choices for ragtag heroic sidekicks. (See again: Last month's The Last Kids on Earth adaptation.) Bloodthirsty jock vikings, homesteading 4-Hers, viciously misandrist Cheermazons and an über-woke principal this close to completely cracking: none are clever Apocalyptic takes on classic high school chestnuts.
That said, for all that Daybreak wears its dozens upon dozens of teen/genre movie tropes on its Mad Max: Fury Road sleeves, it's still super watchable. More than that, once the first episode ("Josh vs. the Apocalypse, Pt. 1") dispenses with both the most necessary pre- and post-apocalyptic exposition and the most blatant John Hughes clichés—yes, Josh's biology teacher does drone "Wheeler?… Wheeler?… Wheeler???" as he turns to break through the wall while she's calling attendance; no, thank YOU for asking—it does what any self-aware kaleidoscope of old ideas should do and uses its gross of references to subvert some key expectations in compelling ways. —Alexis Gunderson
---
iZombie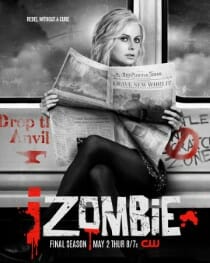 Created by: Rob Thomas, Diane Ruggiero-Wright
Stars: Rose McIver, Malcolm Goodwin, Rahul Kohli, Robert Buckley, David Anders, Aly Michalka, Robert Knepper
Original Network: The CW
Buffy the Vampire Slayer meets Veronica Mars is the best way to describe this delightful drama. iZombie, from Mars creator Rob Thomas, draws on the strengths of both of these iconic series while carving a distinct path for itself. Liv Moore (Rose McIver) was a promising medical student until one bad night of partying turned her into a zombie. Now she works in the morgue solving murders on the side, all while keeping the true nature of her condition from her loved ones (she's not that pale because she uses sunscreen, people). As the second season progressed more were let in on Liv's secret, and she assembled a Scooby gang of her very own, while struggling to protect those that she loves. Much of the show's success stems from its great sense of humor—witness all the delectable ways Liv serves up brains. But the ghoulish and voracious zombies offer real frights and Steven Weber's nefarious CEO Vaughn Du Clark is truly terrifying. However it's the show's overarching premise—that any of us could find ourselves among the undead trying to control our most basic instincts while our normal life remains just out of our grasp—that will keep you up at night. —Amy Amatangelo
---
Kingdom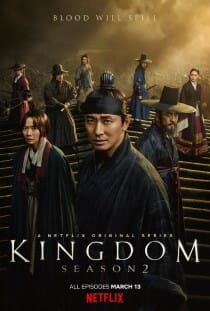 Created by: Kim Eun-hee, Kim Seong-hun
Stars: Ju Ji-hoon, Ryu Seung-ryong, Bae Doo-nam, Kim Sung-kyu
Original Network: Netflix
American (or even just Western) zombies are almost always the driving point of the narrative—representing big nasty threats like national anxiety about disease, nuclear war, capitalism, the collapse of society, and racism—often limiting the genre's possibilities and focusing their plots largely on external forces. By contrast, in Kingdom (transported to South Korea's Joseon period) these stories become more interested in how existing structures (and the normal people living inside them) handle the threat, and how coping makes them better equipped for the inevitable return to normal. Western zombie shows allow their audiences to appreciate how society adapts to these monstrous allegories, forming the factional city-states of The Walking Dead (Alexandria, Hilltop, Woodbury) or the religious zeal of Santa Clarita Diet's Anne Garcia (Natalie Morales); Korean zombies rage in a society that ultimately stays the same. The latter's evils are amplified and exposed by the zombies, but the infected undead also catalyze a satisfying hero's journey in the midst of misguided magistrates, fear-based isolationism, and class warfare. —Jacob Oller
---
The Last Kids on Earth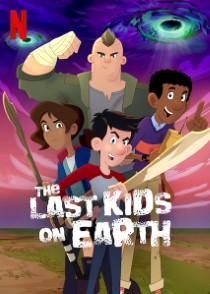 Created by: Max Brallier, Matthew Berkowitz
Stars: Nick Wolfhard, Charles Demers, Montserrat Hernandez, Garland Whitt
Original Network: Netflix
The Last Kids on Earth: 67 minutes of broad, (mostly) anodyne end-of-days action comedy featuring Nick Wolfhard, Charles Demers, Garland Whitt and Montse Hernandez as Jack, Dirk, Quint and June, seemingly the last humans left standing in their boring town of Wakefield after a slime-green vortex opens in the sky above the planet and spits out both giganto monsters and a fast-acting zombie virus that almost instantaneously takes out Wakefield's entire population. Jack, an orphan whose latest foster family skips town the moment they see the vortex appear (abandoning him to the questionable safety of his foster brother's lightly fortified treehouse), spends the first 40-odd days of the monster apocalypse fending for himself, playing videogames, and binging junk food. That is, whenever he's not lounging around the yard vlogging his apocalypse story or fighting his way past monsters and zombies in the streets just to procure the basic necessities for survival. He is a pretty resilient kid, inventing his own book of "feats" to compete as a post-apocalyptic hero to make his situation not feel so dire, but he does have two things keeping him going: The fact that he and his best friend, Quint, made a plan to find each other again after they split up to hide on Day 1, and the fact that he saw his longtime crush, June, escape into the relative safety of the school before the zombies could get her, making her a potential damsel Jack could perform a post-apocalyptic feat to save. —Alexis Gunderson
---
Santa Clarita Diet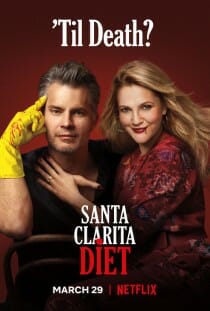 Created by: Victor Fresco
Stars: Drew Barrymore, Timothy Olyphant, Liv Hewson, Skyler Gisondo
Original Network: Netflix
Netflix's horror-comedy follows normal couple Sheila (Drew Barrymore) and Joel (Timothy Olyphant), a real estate duo attempting to raise their daughter Abby (Liv Hewson) right. The neighborhood is good, problems are at a minimum, and the middle-class living is all the American Dream promised. Until Sheila hacks up a mysterious orb and starts hungering for human flesh, that is. Freckly neighbor kid Eric (Skyler Gisondo) has been roped into the scheme, too. Together, they put the "dead" in "deadpan." Sheila's fundead chipperness recalls Crazy Ex-Girlfriend's method of surrounding its dark, psychologically or physically-upsetting narrative turns with hyper-sunny aesthetics, saturating each shot with catalogue color even when the gore flies. It's as if the traffic-discussing members of the Saturday Night Live skit "The Californians" were in a Saw movie. —Jacob Oller
---
Army of the Dead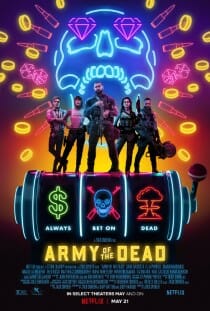 Year: 2021
Director: Zack Snyder
Stars: Dave Bautista, Ella Purnell, Omari Hardwick, Matthias Schweighofer, Nora Arnezeder, Tig Notaro, Ana de la Reguera
Rating: R
Runtime: 148 minutes
Zack Snyder's Army of the Dead is an oft-frustrating, occasionally entertaining, would-be zombie epic blockbuster, but one that frequently concerns itself more with the trappings of setting up future installments in a burgeoning new cinematic universe than making the most of its bloated runtime. The film does manage to deliver some truly gnarly zombie action and gore, particularly in its extremely Snyder-y opening credits sequence, which sees some of the stickiest and most bombastic zombie violence put on screen in recent memory. But Snyder's inability to reign in his compulsions to tinker in strange visual ways, most notably via an obsession with shallow focus and obnoxious rack focus throughout Army of the Dead, becomes problematically distracting from what is otherwise supposed to be a high-octane Aliens ripoff. Army of the Dead might have been really fun if it was made by the same Zack Snyder who remade Dawn of the Dead years ago, but this one plays to many of his worst impulses. —Jim Vorel
---
The Walking Dead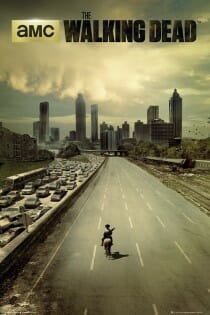 Created by: Frank Darabont
Stars: Andrew Lincoln, Jon Bernthal, Sarah Wayne Callies, Laurie Holden
Original Network: AMC
I remember excitedly watching the Frank Darabont-directed premiere of The Walking Dead on Halloween of 2010, thinking, "This is so cool, but it'll never be popular. An hour-long zombie drama? No one's going to watch that but me!" Well, obviously I couldn't have been more wrong. Flying in the face of expectations, The Walking Dead somehow became cable's highest-rated show, even besting Sunday Night Football on occasion. Stop for a moment and consider the implications: We live in a country that has become so geeky, on average, that an hour-long zombie drama is capable of getting more viewership than Sunday Night Football. In terms of quality, the quest of the Grimes Gang to survive has been up and down, but the production values have always been impeccable. Although the story has occasionally bogged down in places or been stretched too thin, the show always seems to rebound with a moment of incredible pathos, even for iconic villains such as David Morrissey's Governor. Whether you like recent seasons with Jeffrey Dean Morgan's Negan or not, the show's success to date has already been massive for the marketability of horror on the small screen. —Jim Vorel
---
#Alive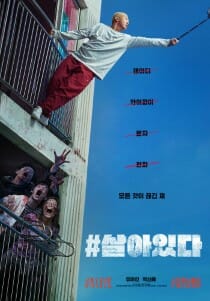 Year: 2020
Director: Cho Il-hyung
Stars: Yoo Ah-in, Park Shin-hye
Rating: NR
Runtime: 99 minutes
Fans of zombie cinema were hotly anticipating at least one South Korean zombie feature this year: Peninsula, the sequel to the much-loved Train to Busan was heavily hyped, but ultimately fell far short of the original. Thankfully, though, there was another Korean zombie flick waiting in the wings to step into its place, in the form of the significantly more successful (if modest) #Alive. Fans of the original World War Z novel will certainly find this story familiar, as it's suspiciously similar to one of that book's better-loved passages, about a young gamer/hacker in Japan who is so deeply engrossed in the web, he fails to notice the world descending into a zombie apocalypse around him, before finally being forced to unplug and go on the run. Here, the same basic premise is simply transplanted to South Korea, where the introverted protagonist must rappel down the side of his apartment building to avoid the prowling dead, while also looking for other survivors hiding among the carnage. It's a much tighter, more neatly executed story than the disappointing excesses of Peninsula, perfect for pandemic-era viewing. —Jim Vorel
---
Ravenous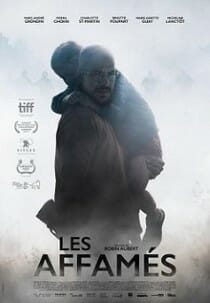 Year: 2017
Director: Robin Aubert
Stars: Marc-André Grondin, Monia Chokri, Brigitte Poupart, Luc Proulx, Charlotte St-Martin
Rating: NR
Runtime: 96 minutes
Genre geeks didn't seem to take a lot of notice of Ravenous, beyond its Best Canadian Film award at the Toronto International Film Festival—perhaps the result of an "indie zombie drama" subgenre that seems to have run its course through films such as The Battery, and perhaps because it's performed in French rather than English. Regardless, this is a competently crafted little drama thriller for the zombie completist, full of excellent performances from no-name actors and an intriguing take on the results of zombification. The infected here at times seem like your standard Romero ghouls, but they're also a bit more: lost souls who have hung onto some kind of strange, rudimentary culture all their own. These aspects of the zombie plague are always hinted at, never extrapolated, but it enhances the profound feelings of loss and sadness present in Ravenous. —Jim Vorel
---
Cargo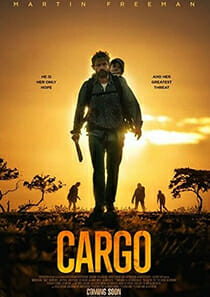 Year: 2018
Directors: Yolanda Ramke, Ben Howling
Stars: Martin Freeman, Simone Landers, Anthony Hayes, David Gulpilil, Susie Porter, Caren Pistorius
Rating: NR
Runtime: 105 minutes
We've had enough takes on worldwide zombie apocalypses to last undead enthusiasts long through, well, a worldwide zombie apocalypse. Of those takes, few are inspired, a few more are watchable though workmanlike and most are dreck, whether in TV or movie form. Cargo, a collaborative directing effort between Yolanda Ramke and Ben Howling, falls somewhere in between "inspired" and "workmanlike," which is to say it's well worth seeking out on Netflix if you've a powerful need to watch twitching, walking corpses menace a family trying to survive while isolated in Australia's Outback. Martin Freeman plays Andy, stubborn husband to his wife, Kay (Susie Porter), and loving dad to their daughter, Rosie; he's piloting a houseboat to safer shores, or that's the hope. Then Kay takes a zombie bite, forcing a change of plans and setting them down the path to ruin and tragedy. For a certain kind of horror purist, Cargo denies the expectations of the genre. It's not an especially scary movie. It is, however, a moody, atmospheric movie, replacing scares with a nearly overwhelming sense of sadness. If that's not enough for you, then at least be sated by the excellent FX work. Here, zombies present as victims of debilitating illness: A waxen, carious fluid seeps from their eyes and mouths, which is suitably nauseating in the stead of workaday splatter. All the same, Cargo is never half as stomach-churning as it is simply devastating. —Andy Crump
---
Jim Vorel is a Paste's staff writer, and his DVD plan from Netflix remains firmly intact. You can follow him on Twitter. for more film content.