Seth Rogen and Billy Eichner to Play Pumbaa and Timon in Lion King
Photos by Jason Kempin/Getty, Mike Windle/Getty
Movies
News
The Lion King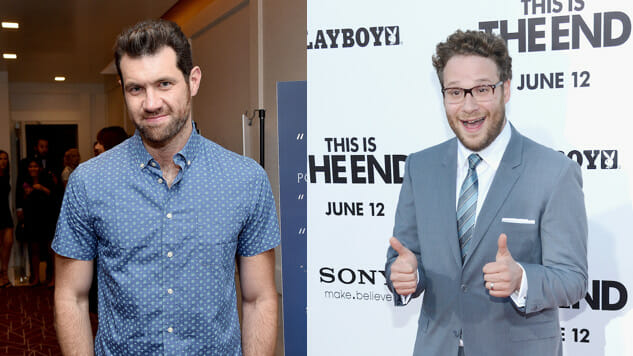 Comedic actors Seth Rogen and Billy Eichner have been tapped to voice two very memorable Lion King characters in Jon Favreau's forthcoming live-action remake of the beloved Disney film, according to The Wrap. Rogen will voice the warthog Pumbaa and Eichner will voice the meerkat Timon—the charismatic duo known for the catchy song and dance number "Hakuna Matata," which, as we all know, means "no worries."
Though the film is still in preproduction in Los Angeles, the cast is already seriously star-studded. We've got the hot, young Donald Glover (Atlanta) playing the main character of Simba, and James Earl Jones as Mufasa (Jones, not coincidentally, also voiced Mufasa in 1994's original animated Disney film). There have also been rumblings that Disney is eyeing Beyonce to come onboard as Nala, Simba's friend and eventual love interest.
Lion King isn't due out until June 19, 2019, but we're all well-aware that we'll be treated to quite the slew of live-action Disney remakes over the next decade. Beauty and the Beast broke records last month, and the hype around the forthcoming live-action Mulan is already soaring. Favreau is no stranger to Disney remakes—he's already done The Jungle Book and is currently working on The Jungle Book 2. Considering how many people consider The Lion King to be their favorite Disney movie, he's got quite a lot riding on this one. With the addition of stars like Rogen and Eichner, it looks like Favreau and Disney are well-aware that they need the best cast they can get.
Watch below to re-experience Pumbaa and Timon's greatest moment.