Lucy Dacus Is a Historian of the Future
The 22-year-old songwriter on finding the poignant silences in the cacophony surrounding her breakout sophomore album.
Photos: Adrian Spinelli
Music
Features
lucy dacus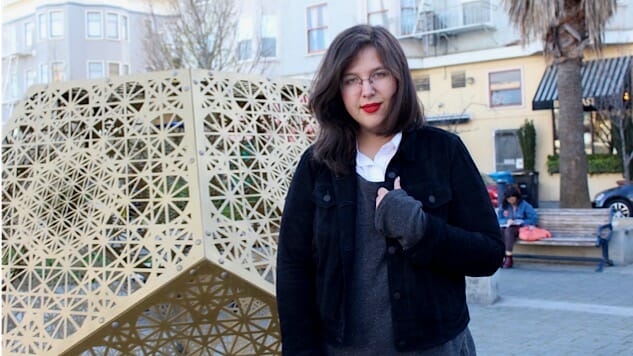 Lucy Dacus's phone is broken. She's just travelled across half the country, playing five different cities in the past five nights, and it's hard to fathom how one makes it through a day on a long road trip without their digital ball and chain these days, let alone communicate at all during a nationwide tour. Before this week—when her phone was still working—Dacus and her band played an eye-popping 17 sets in less than a week at Austin's SXSW music festival. But on this sunny and chilly San Francisco afternoon, the 22-year old Richmond, Va., singer-songwriter doesn't wear stress anywhere in her disposition. In a few hours, she'll play a show for a sixth straight night, and no broken phone can faze her.
"It's difficult," Dacus admits gesturing toward an imaginary phone. "But it's also kind of nice to be like, 'Oh sorry, I can't come to the phone. I'm just… where I'm at right now. I can't exit the real world to enter this.'"
There's a state of zen to everything about Dacus as we arrive at a coffee shop in the Hayes Valley neighborhood. She orders a drink called "London Fog" without knowing what it is, because she likes that it's named after a city. When she finds out that it's Earl Grey tea and steamed milk, she smiles, tilts her head and nods in further approval, as if she were meant to be drinking it at this very moment.
A long and hectic, albeit fruitful, year is just getting going for Dacus, following the March 2 release of what is decidedly her breakthrough LP, Historian, on Matador Records. Where her first LP, No Burden (a DIY endeavor on Egg Hunt Records later re-released by Matador in 2016) showcased Dacus's talent for embedding meditative lyrics inside approachable rock songs, Historian is a major artistic stride that has garnered widespread praise and plenty of attention. Deservedly so, as it's one of this year's best early records and Dacus has now established herself as one of the finest emerging songwriters. The album is filled with masterful lyrical poetry and expansive arrangements that appeal to just about anyone yearning to feel connected with what they're listening to.
Historian will take Dacus, guitarist Jacob Blizard, drummer Ricardo Lagomarsino and bassist Sadie Powers to Europe following a six week U.S. tour and then back to the States before hitting the summer festival circuit and beyond. By the time 2018 comes to a close, Dacus says the band will have been on tour for close to eight months out of the year, and she couldn't be more ready for it all.
"I started the year on a silent retreat with friends," she says. "We didn't talk. I'd listen to music and didn't look at my phone. We rented an AirBnB in Floyd, Va.…the middle of nowhere, basically. Eight of us just reading, writing, sitting, staring. I'm gonna petition it to be a trend with my friends, every first week of January. It's so rejuvenating to start the year with aspiring to nothingness. A good bout of nothingness is healthy."
With a hint of devious joy, she admits that they broke silence a couple of times ("'cause there was a hot tub…and we went to the Floyd Country Store Jamboree, and danced together to bluegrass bands,"), but the experience was a hard reset for Dacus, a calm before the storm. She says the clean-slate feeling it yielded made her want to work on the album's release and put her in the mindset necessary for the amount of touring, press and everything in between that she's currently undertaking. Eager, even.
"What age will people stop telling me I'm an old soul or wiser than my years? When I was 13, I thought people were belittling my intelligence, but now I take it as a compliment. I'm actually starting to go gray, which I'm psyched about… Silver hair? Are you kidding me? It's like this medal for being old."
"It was really clear that this is what's next. First this no man's land for my mind and then I knew the next thing was music. So I got to take deep breaths and get ready for that. I don't feel too frazzled. Everything feels like it's where it should be and that I'm where I should be."
Dacus, who will turn 23 in May, punctuates sentences like the lyrics of her songs. "There's more to life than this, but I'm happy that it's taking over everything right now," she says of her music. Likewise, those songs are relatable existentialist ruminations. On "Night Shift," she sings: "In five years I hope the songs feel like covers, dedicated to new lovers." The song opens with a guitar gentle enough to paint this picture before the strings slowly unfurl into an ecstatic fuzz from Dacus and Blizard, with an inventive melody sonically binding these poles together.
Later, the upbeat kick-to-snare drum combo and spirited bass line on "Next of Kin" lay a canvas for another harmonic interpolation of guitars from Dacus's silky Gretsch White Falcon and Blizard's assertive Strat. The band plays with different rhythm routes into the song's core lyrics, and none resonate harder than when Dacus punctuates with: "I used to be so deep inside my head, now I'm too far out of my skin." They're the kinds of words that make sense of an elusive feeling and could end up in cross-stitch embroidery frames on the bedroom walls of daydreaming fans.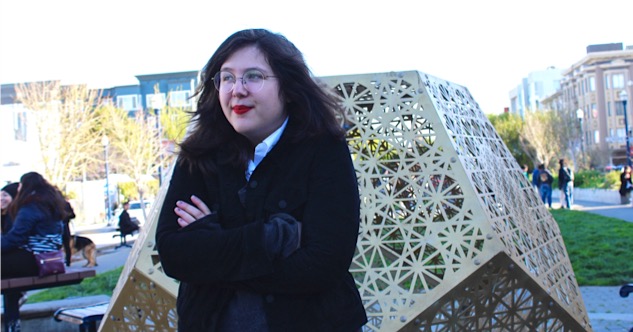 Lucy Dacus in San Francisco last month.
The age of said fans seems to be all over the map. Dacus jokes about being told that her label was unsure how to cater her music to certain demographics, and she relishes in that notion. "Bring em all in. I care about all of those people," she says with a huge grin. At her final Austin show, the crowd at Cheer Up Charlie's appeared to range from 12 to 60. A young couple embraced as visible tears, extracted from the sheer emotion of the music, streamed down their faces; in the front of the stage, teens and their parents swayed in unison. Hers is the type of music college kids play for their parents when they're home for the holidays and everyone's happy. But while there's wisdom in her songs, Dacus stops short of calling herself an old soul—even if so many folks seem to be doing so.
"What's interesting to me is, when will that stop? Like, what age will people stop telling me I'm an old soul or wiser than my years?" she asks. "When I was 13, I thought people were belittling my intelligence, but now I take it as a compliment. I'm actually starting to go gray, which I'm psyched about. It's great… I've been wanting to go gray since I was 5. Silver hair? Are you kidding me? It's like this medal for being old."
She ponders whether this perception of her and other young artists making meaningful music comes from people being more willing to interact with youthful wisdom—that perhaps audiences imagine her words come from a place of innocence. And it's especially intriguing to hear Dacus speak about this on the day of the worldwide March For Our Lives rallies, when children of all ages peacefully marched and advocated for more stringent gun-control laws.
Read: The 100 Best Indie-Folk Albums of All Time
It calls to mind a lyric on "Yours and Mine," the album's twangy Southern midpoint, where Dacus sings, "This ain't my home anymore." She explains that it's a reference to what she felt while watching events that transpired following the Baltimore protests of 2015 in response to the death of Freddie Gray and that city's struggle with police brutality. She was in Europe and television coverage of looting, destruction and violence back home left her feeling confused and afraid of what awaited her when she returned to the U.S. But it also made her want to be present and involved.
"It was the first moment in my own political history in my life, when I felt old enough or like I had enough agency to show up on my own," she says. "I couldn't go home until a week afterward, but I tried to be as present as I can after that point. It's really worthwhile to show up, be present, whether it's marching, with aid…with your money. Showing up with your money is really important. You can do that online. You don't even have to get out of bed."
These days, Dacus raises money for charities at the merch table during shows. In the past, she'd research local charities at every tour stop, looking for the ones that made a "noticeable impact" in their cities. She'd even go as far as to look up financial reports to vet their legitimacy, focusing on services for low-income children and the environment. She says the donations at individual shows can range from $10 to $300. On the current tour, she's chosen a charity called Art180, an art therapy-based organization from Richmond that, according to its website, provides services for youth in "challenging circumstances." Dacus explains that this extends to incarcerated youth and that "their impact is so noticeable." She adds, "I hope it matters to people."
Perhaps she is a bit wise beyond her years. It's rare to speak to an indie artist who not only has altruistic ambitions, but is acting on them every day in different cities and using that platform to spark conversations. It's something that was instilled in her from a very early age. "I'm adopted, so my parents raised me with this innate, 'Your life could've looked totally different. Be grateful for what is,"' she says. "My mom is also adopted. There are so many ways that the world could've worked so that we never knew each other. So that cultivated a lot of thankfulness as a kid and I'm always really aware of how people can do little things to change the course of other people's lives."
Sometimes we try so hard to pinpoint what it is about an artist's songs that makes everyone gravitate to them, but when words and emotions packed into music are real, audiences can feel it. When an artist's life story is uncommon yet uplifting, it inspires us and people are finding something special in Dacus's distinct perspective. For the better part of this year, she'll be touring the world with her band and playing the evocative music she's written on Historian that tells her story. Maybe it's your story, too. That's one reason these songs will never feel tired for her.
"It's like re-reading a book that you love," she says. "You know what's gonna happen next. But you love it and it's still meaningful to you. I'm re-reading the same book that I wrote every night."