Hotel, Motel, Neil Hamburger
Gregg Turkington and collaborator Erik Paparozzi discuss Neil Hamburger's star-studded album Seasonal Depression Suite.
Comedy
Features
Neil Hamburger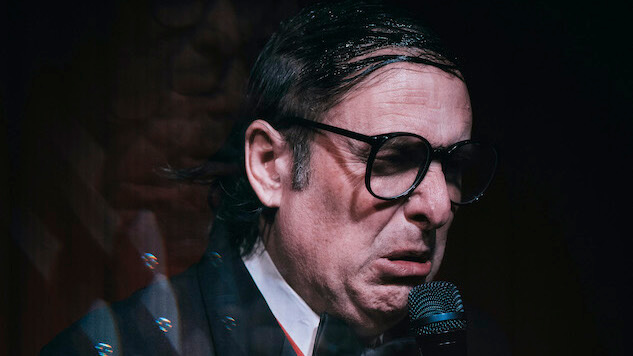 Gregg Turkington has taken his character Neil Hamburger to all kinds of places over the past three decades. In that time, the phlegmatic comedian has appeared on stages all around the world as well as in films (Entertainment, Tenacious D in the Pick of Destiny) and on TV (Tim & Eric Awesome Show Great Job!). But since 2008, Hamburger has been popping up more frequently in recording studios. It was that year that Turkington took the next logical step for a fading lounge act when he recorded Neil Hamburger Sings Country Winners, an album of discomforting tunes delivered in the character's signature nasally whine. More musical LPs followed, including 2014's First of Dismay and 2019's Still Dwelling, the latter of which saw Hamburger torturing the melodies of classic pop songs like "Homeward Bound" and "World Without Love."
That album was also the first major collaboration between Turkington and musician Erik Paparozzi. The two met through mutual friends a few years earlier, bonding over their love of dollar bin easy listening records and the Beatles. Soon Paparozzi began appearing on stage with Hamburger, backing the comic up as he sang some songs. Unbeknownst to Turkington, Paparozzi took some of the bare bones live recordings and fleshed them out with additional instrumentation and eventually creating the Still Dwelling album.
As they continued to work together and hang out, the pair slowly developed Seasonal Depression Suite, a concept album in the mode of Frank Sinatra's devastating 1970 LP Watertown or Bobbie Gentry's Patchwork that takes place in a roadside motel during the holiday season. Each track takes listeners from room to room to hear the inner thoughts and outer monologues of the folks within. To help bring this idea home, Turkington and Paparozzi dipped into their contact list to bring in a variety of guests to help sing these songs. The guest list is wide-ranging with appearances by Alan Bishop of Sun City Girls; granddaughter of Frank Sinatra (and Paparozzi's former wife) A.J. Lambert; former Bow Wow Wow vocalist Annabella Lwin and Crowded House leader Neil Finn. It's an appropriately eclectic array of voices that befits an album that skips from lush country to '70s sleaze to piano bar torch song.
In separate conversations, Turkington and Paparozzi spoke with Paste about the creation of this unique album and the many people who lent their talents to it. The interviews have been edited and condensed for clarity.
Paste: As with most of the Neil Hamburger work you've released over the years, Seasonal Depression Suite is based around a central theme. Is that where a project like this begins where you come up with a concept first and work out from there?
Gregg Turkington: You know, this one was odd because it kind of created itself. It was almost like, as it was happening, we were just following along, seeing what the hell was going to happen. I don't think I've ever had anything happen quite like this. It was that way for Erik, too, writing the music. We were writing things so quickly. The work after that was basically trying to respect these ideas that popped in so easily, and then trying to make the best out of them.
Erik Paparozzi: From a musical standpoint, I wasn't thinking of anything. The notion of a Neil Hamburger holiday album came up. We had a chuckle about that and saw the obvious potential in just slapping Neil Hamburger in a Santa outfit on the cover and doing "Jingle Bells." I'm sure that would have been popular in its own way. Gregg, very wisely, thought, "I think we can do something more with this concept."
GT: Erik thought, "Let's do it with originals and have it be kind of a bummer Christmas." We wrote a couple of songs like, and because they both had a certain hotel-type setting, it was like, "Fuck the Christmas album. Let's have this be more specific about Christmas during a lockdown in a chain hotel." Once it got more specific like that, everything started falling into place. At some point, we had four or five songs done and Erik said, "This could really open up if we started bringing in other vocalists and treated it more as a story or a musical. Once we did that, then it really kicked in what we were doing.
Were you modeling this after certain albums? When I listened to it, I heard touches of the early Scott Walker solo albums or Frank Sinatra's Watertown.
GT: Watertown is always on our minds. In this case, because we'd done the last one very lo-fi and very cheap, Erik thought, "Why don't we move on and go into a bit of a later era for more of a Sinatra / She Shot Me Down kind of vibe." You don't want to repeat the same thing so we decided to go into a real studio and record things properly.
EP: Our vague references were holiday albums, maybe some Burt Bacharach elements. I can't say that I had anything in mind. That is one of the beautiful aspects of this album. It felt like we were completely free to make it up as we went along with a framework that was being built as we were doing it.
As Gregg said, Neil is not the only vocalist on this album. You brought in some folks that Gregg has worked with in the past like Alan Bishop and Bonnie Prince Billy, but how easy or difficult was it to get someone like Neil Finn or the granddaughter of Frank Sinatra in to participate in this project?
GT: A lot of the people that we brought in were people that we were friends with and it was completely obvious when the song was written, "This is for this person." In the case of Annabella, we wrote the song specifically for her — to present to her in the hope that she would do it. She's one of my all-time favorite vocalists ever. I've worked with her on a couple of things, but that's the thing that gave me goosebumps when she came in and it actually became real.
EP: It turns out Neil Finn is a huge Neil Hamburger fan. Once Gregg and I decided this had legs, I happened to be on tour with Cat Power and Crowded House in Australia with a day off in Melbourne. Gregg has very deep roots there including one of the folks that played on three of the songs, Danny Heifetz from Mr. Bungle. When the rest of Cat Power and Crowded House went on to the next town, I stayed behind on the day off and worked on three songs. When I rejoined the tour, Neil Finn and I were chatting and he said, "We missed you yesterday. Where were you?" "Oh, I'm producing an album for this kind of cult figure performance artist / comedian / singer from America named Neil Hamburger." He's like, "I love Neil Hamburger!" I had many more shows to do with them before I felt comfortable enough to walk up to him and say, "Can I send you a song in a non-stalking way and see if you'd have any interest in singing on it." And he followed through on it.
GT: It absolutely blows my mind to hear that voice on my record. I can't even fathom that this happened, but there it is. When you get people like Neil Finn and Will Oldham who are just absolute top of the heap songwriters and they're singing your song, I mean, it's too much.
EP: I had this concept that "Sleeping For Free" would be a duet. And in my fantasy world the other voice was Phoebe Snow. Phoebe is no longer with us, but she's actually someone that I got to know. My ex, A.J. who ended up singing on it, she and I were friends with Phoebe. That was kind of a weird full circle thing that A.J. ended up singing on it. We had some other amazing female singers in mind and we didn't have a direct line to them. So Gregg suggested A.J. and she was absolutely perfect. She hit it out of the park.
And the album is even more of a family affair for you Erik as your daughter sings the song "Cats and Dogs" on here too.
EP: She was pretty excited. Miranda and Gregg have their own funny little friendship, which actually played into the writing of this album. We were sitting around one night, and we had on Sgt. Pepper's Lonely Hearts Club Band, the Bee Gees / Peter Frampton thing. I was just a spectator listening to the two of them riff about how awful it was. I felt like they had their own little comedy team going there. From that night is where we got the idea to have a finale, this third act that comes out of nowhere that involves robots. Our tribute / parody of how musicals can just go off the rails in the third act.
GT: Miranda is just amazing. She's one of those people that can play any instrument and doesn't think of herself as a singer. But when we wrote a song that seemed like it would work for a kid, I said, "Would you ask Miranda if she would sing this?" I knew she had the musical chops. She just came in and nailed it.
Gregg, was it better for you in some way to not be the lone vocalist on this album, as you have been in the past?
GT: It really was because it just opened things up and probably makes for a less off-putting record. Neil Hamburger's vocals are in the tradition of Burt Lahr and Ray Bolger and these vaudeville guys. Even people like Jerry Lewis. This era where these entertainers would sing and tell jokes, tap dance and act and whatever. The fact that their vocal stylings were maybe a little erratic by certain standards didn't matter because it's a personality vocal. Then you have all the celebrity vocal records that came out in the '60s and '70s that really follow that through. That's what we're doing here.
This isn't a novelty record, and I don't think the last one was either. But people have a hard time not just writing off any sort of music that comedians would do. They're always fine with any sort of comedic intent that a serious singer might bring. I don't know why that is. But I do think it helps open things up and some of the songs were more suited for these other people. As we were writing it, it actually helped with writing because then we're writing for other characters and other people. It becomes less monotonous.
This is your fourth album with Neil Hamburger as vocalist. Was this something you had in mind from the beginning as you were developing this character?
GT: Not, but nothing really was in my mind when I started doing it. It's always been something that is in the moment. You're doing what seems appropriate with the character. There wasn't a grand plan. That's true of On Cinema, too. People ask about the big scope, and it's like, "No, we get together and we figure out what should come next." Something like the movie Entertainment was also not on my mind. None of this was, but it all makes sense in the moment. Also, I like to have the records be different from one another. So when we branched out into music, that was fun, but even the musical records are pretty different from each other.
So you don't have a sense then of where you'd like to take the character? You're waiting to see what comes along?
GT: It's just what feels right. I definitely have an instinct about what's wrong, and hopefully the instinct about what's right is actually a good instinct. There's definitely things that people suggest where immediately, it's, "No, that's never happening." It's funny because after we finished this record, we had the opportunity to work with a couple of people that we wanted to work with, but the record was done. "Well, let's just go in and record a couple more songs." And they could not be more different than this record we just completed. Already something else is happening and not even anything that was specifically planned. It's just what is feeling right at that moment.