The 15 Greatest NPR Tiny Desk Concerts
Over 800 artists have played a set behind Bob Boilen's desk since 2008. Here are our 15 favorites.
Photo via NPR/YouTube
Music
Lists
NPR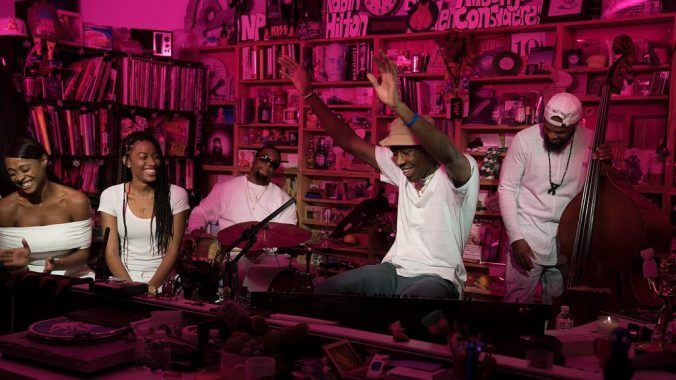 Yesterday, news broke that Bob Boilen, the creator of NPR's All Songs Considered and the Tiny Desk Concert series, will be leaving the radio broadcast network after a 35-year tenure. Few people have had such a monumental impact on the music industry, and we are sure that wherever Boilen goes next will be touched with just as much magic. In 15 years, there have been over 800 Tiny Desk Concerts, including performances from folks like The National, Usher, Hozier, Taylor Swift, Death Cab For Cutie, Dua Lipa and countless others who have changed the landscape of pop and rock music for the greater.
Between the Tiny Desk series and our own Paste sessions, it's hard to understate just how important intimate, stripped-down moments have become in the landscape of entertainment over the last 20 years. To celebrate the ways in which Bob Boilen has changed the infrastructure of this industry and music criticism for the better, we are looking at the 15 greatest NPR Tiny Desk Concerts—from Cat Stevens to Wu-Tang Clan to The Cranberries.
15. H.E.R. (2018)
Gabriella Sarmiento Wilson—aka H.E.R.—remains one of the most important voices of her time. With five Grammy Award victories by the age of 25, she's cemented herself as a tour de force in the music industry. When she came to the NPR offices in 2018 with only a handful of EPs to her name, H.E.R. blew the roof off the whole joint. She played four tracks—"Going," "Feel A Way," "Hard Place" and "Focus"—and turned the whole room into megafans, if they weren't already massively hip to her genius prior. Watch on YouTube.
14. Leon Bridges (2015)
Before Leon Bridges was a massive, massive star, he was a Texas-via-Georgia kid singing soul tracks that came delivered straight from the 1960s. He was still raw, dropping absolute stunners on his debut album Coming Home. He brought that retro energy to the Tiny Desk space in 2015, performing "Coming Home," "Smooth Sailin'," "Twistin' & Groovin'" and "River." Unafraid of pulling out all of his hits, Bridges took the office by storm and delivered some of the most entrancing, devastating vocal runs caught on video. It's easy to see flickers of Sam Cooke embedded deep within Bridges' musical DNA—and he exudes a familiar performative styling, as he evokes joy and spirituality through the instrument of his own voice. It's a cathartic, unforgettable 18 minutes of magic. Watch on YouTube.
13. Noname (2017)
Chicago poet Noname's Tiny Desk performance from six years ago remains one of my favorites—and, perhaps, my own biases have been ignited once again because she just dropped one of the best hip-hop albums of the year this summer. But Noname brings unparalleled Black joy to the NPR offices, delivering brilliant renditions of "Diddy Bop" and "Yesterday." But what sticks out the most about her set is the medley she plays in the middle, merging tracks like "Reality Check," "Casket Pretty" and "Bye Bye Baby" into one breathtaking sequence of soulful affection. Noname's vocal perforamnce here is splendid and unforgettable, as is her command of language. Few wordsmiths are doing it like her today; few were doing it like her in 2017, too. Watch on YouTube.
12. Sharon Jones & The Dap-Kings (2015)
Recorded less than a year before Sharon Jones' passing, when she and her legendary Dap-Kings backing band graced the Tiny Desk space, they delivered one of the most moving and soulful 13-minute performances this century. The concert took place near the winter holiday season, so Jones and her crew played tracks like "Silent Night," "8 Days of Hanukkah" and "Big Bulbs," catering to an audience as wide and diverse as the group of musicians singing before them. Of course, it is Jones who is the star of the show, as she makes Bob Boilen's office cubicle sound as big as an entire jazz club. Though they were celebrating the release of their album It's a Holiday Soul Party, the performance quickly became so, so much more than that. What a gift to have Jones' voice—maybe the most underrated of her time—and genius immortalized in the NPR space forever. Watch on YouTube.
11. Wu-Tang Clan (2018)
With a setlist attributed to just "Wu Classics," RZA, Inspectah Deck, Masta Killa, U-God, Cappadonna and Raekwon and company trade verses as they fly through a catalog medley of "Triumph," "Glaciers of Ice," "Winter Warz," "You Don't Want to Dance" and, of course, "Protect Ya Neck." The crew was celebrating 25 years of 36 Chambers, and few performances have ever commanded such a legendary bravado. It's a group of "superfriends" having nothing but fun while they sling bars together on a weekday morning. It's a time capsule for oldheads and a treasure trove for novices. It's not every day that the greatest rap group ever plays a Tiny Desk concert but, like the song goes: "Wu-Tang ain't nothing to fuck with." Watch on YouTube.
10. Blue Man Group (2016)
The top comment on Blue Man Group's Tiny Desk video goes like this: "I actually have no memory of life before the blue man group, they've just always been, time has no effect on blue men." And I'd say they are right. If there has been at least one definitive, enduring piece of culture that has spanned my entire existence on this planet, it has been the Blue Man Group. Thank God NPR brought these three weirdos to Bob Boilen's desk; we're all better off because of it. Across three songs, the band showcases that they are not just a spectacle—they are bonafide musical geniuses with a knack for unorthodox construction and whimsical, joyous audience interactions. Watching Blue Man Group play is the definition of finding your "maximum inner peace." Watch on YouTube.
9. Maggie Rogers (2017)
Maggie Rogers is magic and so is her Tiny Desk performance from 2017. Everyone knows the story about her going viral as a music student because Pharrell thought her demo of "Alaska" was perfect. But her trip to the NPR offices proved rather quickly that she is magnetic in every facet of her artistry. She performed "On + Off" and "Dog Years" before concluding with the song that turned her into a star. What transpires in these 14 minutes is otherworldly, devastating and warm—as Rogers lets her vocals tell a million stories beyond the liminal space of her stripped down acoustic arrangements. If you weren't all in on her prior to this moment, you sure as hell were when the last notes of "Alaska" rang out. Watch on YouTube.
8. Yusuf/Cat Stevens (2014)
I know this performance was particularly special for Bob Boilen, as it's one of the few Tiny Desk performances that features him giving an intro. Before Cat Stevens began playing "I Was Raised in Babylon," Boilen explained how he bought a guitar in 1971 and learned to play "Father and Son." You can see just how important that track is to the All Songs Considered originator—so it's especially moving when Stevens elects to conclude his set with a performance of it. I think many of us have a connection with "Father and Son," and I'd argue that it's one of the most important and beautiful single songs ever sung in the NPR offices. Stevens sounds as brilliant here as he did in 1970. It's a marvelous moment to share with everyone around you, or in the comfort of your own solitude. Watch on YouTube.
7. Anderson .Paak & The Free Nationals (2016)
Before Mac Miller came along in 2018, Anderson .Paak's 2016 Tiny Desk performance was the one that everybody knew and loved—and for good reason. This was long before .Paak became one-half of Silk Sonic, when he was still a crooner drummer unleashing his glorious, soulful rasp atop snare-heavy percussion. He'd just put out Malibu and brought tunes like "Come Down," "Put Me Thru" and "Suede" to the NPR offices. But, for me, it's his rendition of "Heart Don't Stand A Chance" that endures as the highlight of .Paak's set. He's one of a select few artists who can claim to have a Tiny Desk concert with over 100-million views, and he earned every damn one of them—and I probably account for 25% of that alone. Watch on YouTube.
6. Tyler, The Creator (2017)
Seeing Tyler, The Creator go from getting banned in different countries to playing one of the most rewarding and memorable Tiny Desk concerts of all time was quite a journey six years ago. But the California rapper absolutely blew everyone away—employees, viewers and all. He holds the distinction of being the first night performance in the series' history, and that is a great feat all on its own. Tyler had his crew stop by early and rig it with some perfect bisexual lighting, and he later arrived with a stripped-down band that helped bring songs like "Boredom," "See You Again" and "Glitter" to life in soft, delicate ways. Known for his raucous energy, being witness to Tyler stepping into such a low-key circumstance and delivering one of the greatest acoustic rap sets ever is a life highlight that will never go unnoticed. Watch on YouTube.
5. Juvenile (2023)
The only 2023 performance on this list, Juvenile coming to the NPR offices this past summer was nuts. How incredible it must have been to have seen the Louisiana rapper doing his thing up close. It was a 28-minute (!) set of nothing but finesse and joy. He brought DJ Mannie Fresh with him and the way they trade hype with each other is bonkers delightful. Even Jon Baptiste flew in all the way from London to be a part of the backing band. For a half-hour, Washington, D.C, would have been renamed New Orleans, as Juvenile played 10 tracks—including an encore of "Back That Azz Up." The Tiny Desk series has ushered in some of the best and brightest and boldest sets from musicians from every angle of this industry—and, yet, sometimes the formula only calls for a star to come by and unleash a mirage of his greatest and most beloved tracks. It's not every day you get to hear "Back That Azz Up" in a public radio headquarters—so you might as well make sure you get to hear it twice. Watch on YouTube.
4. IDLES (2019)
IDLES are an acquired taste, there's no doubt about it. If you're not into heavy, in-your-face punk rock, you might not find yourself totally enthralled with their Tiny Desk performance. But, if noise, is your thing, then you likely already fuck with their 13-minute set. The quintet had put out Joy as an Act of Resistance a year prior, but Bob Boilen aimed to get them behind his desk after catching one of their explosive gigs at SXSW in March 2019. They came by and brought their cathartic raptures, including "Never Fight A Man With A Perm," "Mercedes Marxist" and "I'm Scum," along with their roaring, infectious brutality. Vocalist Joe Talbot makes an office cubicle sound like a mud pit, as he slides and contorts around his bandmates' hardcore tones and arrangements. To see a band like IDLES conquer a Tiny Desk performance is ecstasy like no other. Watch on YouTube.
3. Chance the Rapper (2017)
When Chance the Rapper took to the NPR studios in 2017, he hadn't yet made The Big Day and watched his career plummet. He had released Coloring Book a year prior and won a Grammy for Best Rap Album in the process, cementing his stardom. His Tiny Desk performance was beautiful and freewheeling—as Chance opened with "Juke Jam" sans Justin Bieber and Towkio. The way he delivers those opening lines—"We used to roll at the rink, I used to talk way too much, you used to know everything"—in a confident, charming rasp still feels particularly entrancing six years later. In true writer fashion, Chance wrote a poem called "The Other Side" on the ride from his hotel to the NPR offices and debuted it live behind Bob Boilen's desk. But his finale song, a cover of Stevie Wonder's "They Won't Go When I Go," is one of the most moving single performances in the history of Tiny Desk's existence. A 12-minute set like this makes it easier to remember just how unbelievably talented and great Chance the Rapper can be; what heights he has yet to soar towards. Watch on YouTube.
2. The Cranberries (2012)
Artists who grace the Tiny Desk space often do so when they are in the midst of promoting their most recent (or a forthcoming) record—but The Cranberries couldn't swing by Washington D.C. without playing two of their biggest hits, "Linger" and "Zombie." They had just put out Roses, their (at the time) first project together in 11 years. To no one's surprise, the late Dolores O'Riordan steals the spotlight with her singing—which sounded then like it hadn't changed one bit since 1993. It's hard to quantify just how moving the performance of "Linger" is, even in 2023. After O'Riordan left us in 2018, the way her voice filled the entire NPR office space only swelled. Those 20 minutes that The Cranberries spent crooning and showcasing their jangle-pop perfection has gone largely unparalleled in the 11 years that have passed since. Watch on YouTube.
1. Mac Miller (2018)
It was never going to go any other way. While Dua Lipa's 2020 Tiny Desk At-Home performance now holds the most views on NPR's channel, that accolade—for over two years—belonged to Mac Miller. The Pittsburgh MC was celebrating the upcoming release of his fifth studio album, Swimming, and he offered some unflinching, unmatchable joy as he careened through renditions of "Small Worlds" and "What's the Use?"—the latter of which featured some absolutely delicious basslines from Thundercat. But the whole focus of the show wilts beneath the power and heaviness of Miller performing "2009," his breathtaking, reflective magnum opus. A month later, Miller would pass away and leave a most dope-sized hole in the fabric of music's—especially hip-hop's—DNA. At least once a week, I catch a TikTok of someone's young child being obsessed with Miller's Tiny Desk concert. The gravity and perfection of these 17 minutes knows no bounds—as Miller exudes a charisma and command that anyone at any age can find hope and beauty deep within. Watch on YouTube.