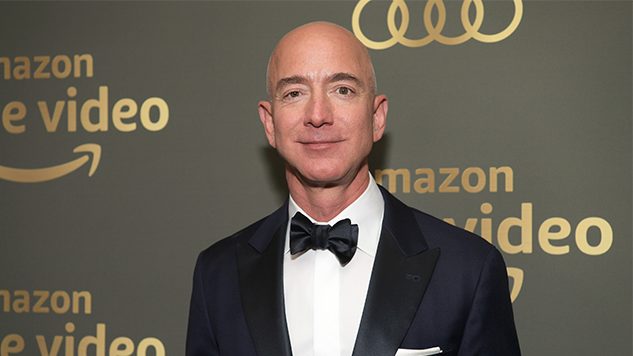 In the latest edition of "our world is a weird godawful mess," Amazon CEO Jeff Bezos published a blog post on Medium accusing American Media, Inc., owner of the National Enquirer, of extortion and blackmail. It's a complicated web of intrigue and rich, awful men, so we've attempted to spell it out as plainly as possible below.
The Key Players
—Jeff Bezos, Amazon CEO and generally terrible capitalist. His marriage recently broke up over an affair he had with Lauren Sanchez, with their private messages published in the Enquirer.
—Gavin de Becker, head of Bezos' investigative team looking into how the CEO's private texts wound up in the Enquirer.
—Michael Sanchez, Lauren's brother who has become a central focus of Bezos' probe, as per The Daily Beast. He has both personal and professional ties to Trump associates, including Roger Stone.
—David Pecker, CEO of American Media, Inc. Pecker has numerous ties to Donald Trump, even paying off one of the president's mistresses in the final weeks of the 2016 campaign.
—Dylan Howard, AMI's Chief Content Officer. Allegedly sent emails describing the sexual photos taken and received by Bezos to blackmail/extort the CEO.
—Jon Fine, AMI's Deputy General Counsel. Sent more emails with stipulations of the terms Bezos, et al. needed to abide by for the photos to remain unpublished.
—Martin Singer, de Becker's legal counsel. Reportedly received said emails.
The Story
Bezos alleged in his blog post that AMI had it out for him ever since The Daily Beast piece first pointed to political factors underpinning the disclosure of the CEO's texts:
Several days ago, an AMI leader advised us that Mr. Pecker is "apoplectic" about our investigation. For reasons still to be better understood, the Saudi angle seems to hit a particularly sensitive nerve.
AMI has ties to Saudi Arabia, predominately in connection with Trump, as well. Back to Bezos:
A few days after hearing about Mr. Pecker's apoplexy, we were approached, verbally at first, with an offer. They said they had more of my text messages and photos that they would publish if we didn't stop our investigation.
My lawyers argued that AMI has no right to publish photos since any person holds the copyright to their own photos, and since the photos in themselves don't add anything newsworthy.
AMI's claim of newsworthiness is that the photos are necessary to show Amazon shareholders that my business judgment is terrible.
Here, Bezos took a moment to brag about Amazon and his business acumen in order to defend himself. Blech. We have to admit, though, that he does have a point in saying his sexy pics and business sense are not at all connected. These were messages sent between two consenting adults. Yes, he was having an extramarital affair, which is morally repugnant. But that doesn't mean he's not doing a fabulous job exploiting Amazon workers' labor. And—let's remember—we all know our damn president had an affair while his wife was pregnant.
Bezos quoted the email allegedly sent by Dylan Howard to Martin Singer. The correspondence listed the images they planned to use against the CEO if he did not cooperate:
In addition to the "below the belt selfie—otherwise colloquially known as a 'd*ck pick'"—The Enquirer obtained a further nine images. These include:
· Mr. Bezos face selfie at what appears to be a business meeting.
· Ms. Sanchez response—a photograph of her smoking a cigar in what appears to be a simulated oral sex scene.
· A shirtless Mr. Bezos holding his phone in his left hand—while wearing his wedding ring. He's wearing either tight black cargo pants or shorts—and his semi-erect manhood is penetrating the zipper of said garment.
· A full-length body selfie of Mr. Bezos wearing just a pair of tight black boxer-briefs or trunks, with his phone in his left hand—while wearing his wedding ring.
· A selfie of Mr. Bezos fully clothed.
· A full-length scantily clad body shot with short trunks.
· A naked selfie in a bathroom—while wearing his wedding ring. Mr. Bezos is wearing nothing but a white towel—and the top of his pubic region can be seen.
· Ms. Sanchez wearing a plunging red neckline dress revealing her cleavage and a glimpse of her nether region.
Dibs on "semi-erect manhood" as a new band name. Also, thanks a lot, Howard, for making us inadvertently picture Bezos in the nude (*shudder*).
The Amazon CEO wrote that he felt motivated to stand up to AMI after the emails. He claims that "numerous" people have told their investigative team that they received and gave into blackmail threats from AMI. Ronan Farrow, who has reported on AMI's practice of buying stories in order to bury them (known as "catch and kill"), tweeted Thursday that he has received such threats.
I and at least one other prominent journalist involved in breaking stories about the National Enquirer's arrangement with Trump fielded similar "stop digging or we'll ruin you" blackmail efforts from AMI. (I did not engage as I don't cut deals with subjects of ongoing reporting.) https://t.co/kHQdWIkVjV

— Ronan Farrow (@RonanFarrow) February 8, 2019
As for Bezos, Jon Fine threatened that AMI would go public with the photos unless Bezos and Gavin de Becker followed a number of different terms, including stating publicly that they "have no knowledge or basis for suggesting that AMI's coverage was politically motivated or influenced by political forces" (which the Amazon CEO says is a falsehood).
Clearly, Bezos is not yielding to AMI's demands, so for all we know, it's only a matter of time until those photos surface. For their part, AMI responded with a statement on Friday, as CNBC reports.
The spokesperson said that the company "acted lawfully" in regards to the Bezos story. However, they added, "Nonetheless, in light of the nature of the allegations published by Mr. Bezos, the Board has convened and determined that it should promptly and thoroughly investigate the claims."