Sonic Blocks, the Modular Speaker System, Could Be the Future of Audio Setups
Tech
Features
Speakers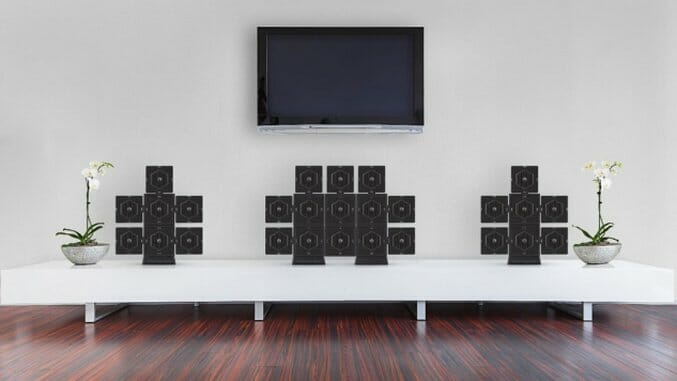 Many speaker systems are similar. Whether it's a hefty unit that's placed next to your monitor or TV, or a more trim setup to provide smaller rooms with music, you know roughly what to expect from a speaker. Sonic Blocks is a different kind of speaker system. It's modular, meaning it's flexible, customizable and looks nothing like your existing setup.
Working like a Tetris style speaker system, you can attach Sonic Blocks together in a series of different arrangements. Want to line up speakers flat against the wall, then swap them out and place them in a block formation? That's possible with Sonic Blocks.
Originally conceived by Jordan Wilker, the wireless speaker setup has turned into a family operation. Jordan found himself frustrated with having to settle with the "status quo" in the consumer electronics market. Sharing an office with his father, Scott Wilker, the pair found themselves unable to settle on how things should sound. Jordan preferred booming low-end bass, while Scott favored a full range.
Spotting a gap in the market, Jordan found himself asking his father, "why can't I customize or personalize my speakers, and why do we need to buy something new to keep up with technology?", leading to the conception of Sonic Blocks.
"Jordan grew up with me as an inventor and was always comfortable sharing his honest feedback on my inventions," Scott says. "He was always fascinated by the process and the pivots involved with ideation. Now he is living it, and understanding just how difficult it is to take an idea from concept through fruition."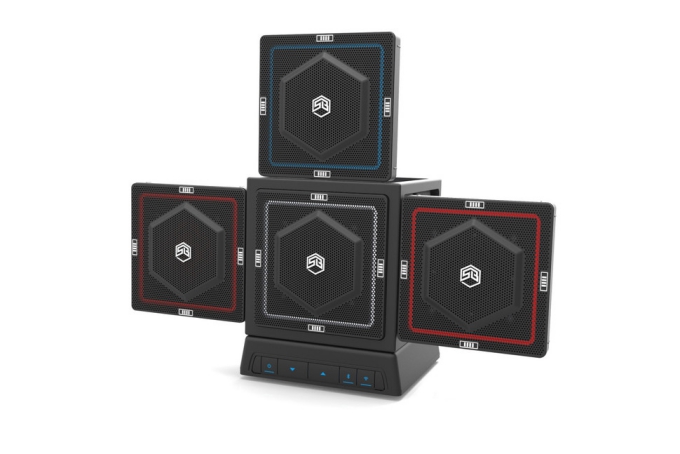 Going from a great idea to implementing it certainly had its challenges. Not least because a modular interface is so different to what's already out there and defies conventional expectations.
"The consumer electronic industry today essentially relies upon planned obsolescence for continued growth, and consumers pay the price. We created the hardware to be both updatable and upgradeable," Scott says.
Flexibility isn't just the case with the physical look for Sonic Blocks, but also when it comes to future proofing. The speaker setup is intended to be updatable, so that it's possible to add additional physical input/output ports as and when needed. It already supports Bluetooth and Wi-Fi, amongst others, but when the time comes for a new form of connectivity, Sonic Blocks can embrace that too.
"We've designed Sonic Blocks so that we can integrate new technologies and platforms into the existing brain, add a new modular component, or swap out the existing brain for a new one, without the need to replace the entire system."
By providing such a customizable configuration, users can mix and match speakers and woofers, ensuring they can "create the sound that appeals most to them." Its fully articulating arms enhance that, allowing users to direct more sound in a specific direction.
Scott explained that there's no limit to how many blocks can be attached, although additional brains or power packs are needed when stacking many Sonic Blocks together. Again though, this means it's a speaker system that can grow as your listening needs develop. It'll still be just as effective in a new house, as it is a small apartment.
Such an unique way of doing things comes with its own set of obstacles.
"The biggest challenge was identifying and putting together a great team in the various disciplines that we needed," Scott points out. "We started with our industrial designer to give our concept some structure and a possible design. We refined the structure with our mechanical engineers and tested the output with our 3D printing partners.
"Our Electrical Engineers create our boards and layouts and we start to piece everything together, identify every issue, refine, and start all over together," he says.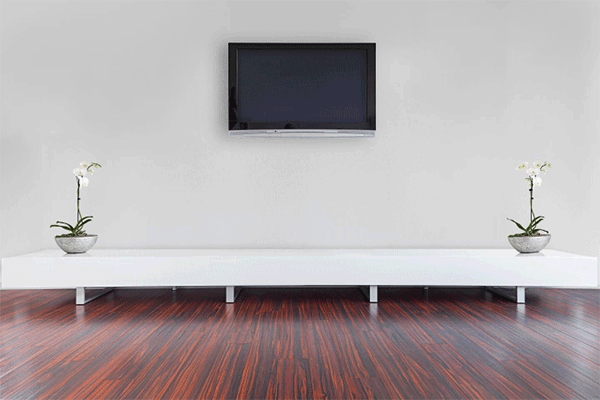 There's also the matter of this being a family affair. That meant many breakthrough moments came from discussions around the dinner table, rather than the conference room.
"We feed off each other's energy and creativity," Scott says. No one in the family feared judgement when voicing their opinions and ideas. As Scott points out, "there are no bruised egos when the response to someone's musings are looks of confusion or laughter because that is the typical response," ensuring the creative process was never stilted.
Besides being a more rewarding way of doing things, it meant there was time for fun and some playful methods of resolving a problem. "We also tend to solve disagreements with NERF gun wars and the occasional food fight rather than serious negotiations…We get to have a lot of fun together," Scott says.
Recently launched on IndieGoGo, Sonic Blocks is performing well, but currently has a ways to go to reach it's $50,000 goal.
Keenly priced, you can currently purchase a starter bundle for $199 with free shipping to U.S. and Canada. The bundle gives buyers all the essentials needed to get started. A larger "double stack" bundle which includes additional bass drivers, tweeter drivers, exoskeleton housing and full range drivers can be bought for $429. The concept is potentially revolutionary concept, given its flexible approach and one of the most interesting ideas to come from the audio sector in years. You've got until September 1 to back it.