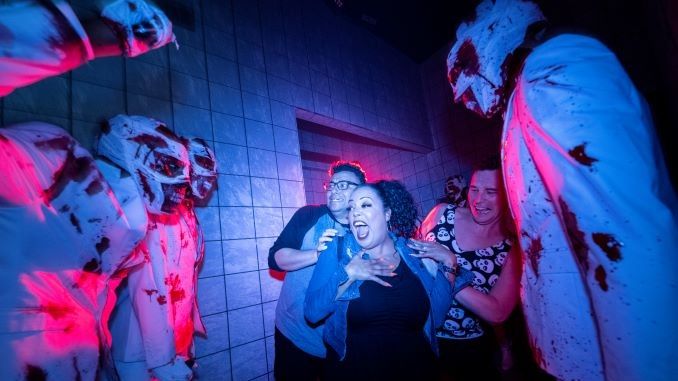 Universal Orlando has revealed this year's dates for Halloween Horror Nights, our favorite seasonal theme park event of the year, and it's shaping up to be the biggest one yet. The horror-fest will frighten guests for 44 nights this year, a new record, starting on Sept. 1 and running through Oct. 31. Expect 10 haunted houses (including one based on the SYFY series Chucky), five scare zones, and more horror-themed live entertainment throughout the Fall.
If you've never been to Halloween Horror Nights, you can expect way more than college kids and local actors screaming at you through rubber masks. This is some professional-grade work here, with movie-quality costuming and makeup bringing these nightmares to life. The haunted houses are elaborate indoor mazes that combine physical sets, live actors, lighting, music, and special effects to bring popular horror movies or Universal's own original creations to life, whereas the scare zones are outdoor areas plagued with scare actors, creepy sets, and immersive storytelling. I'm pretty sure I say this every single year, but I was never a big fan of haunted houses or horror as a genre until Halloween Horror Nights showed me how fun and memorable they can be.
Even if you don't like horror, you might love Halloween Horror Nights if you're into theme park design. Last year's best house, Dead Man's Pier: Winter's Wake, is one of the most beautiful places I've ever seen in a theme park. It was a sad, gorgeous, impressionistic nightmare set in a fading New England fishing town, less interested in jump scares than in representing the pain and grief of a disappeared sailor's widow. As I wrote last year, it was a tragedy for it to go away at the end of the season, and hopefully it (or something like it) will take up permanent residence in the Halloween Horror Nights attraction Universal is building in Las Vegas. Last season was a fantastic year for Halloween Horror Nights, and hopefully 2023 can reach those same heights.
Here are this year's dates; tickets are on sale now at Universal's website.
Halloween Horror Nights 2023 Dates:
Sept. 1-3, 6-10, 13-17, 20-24, 27-30
Oct. 1, 4-8, 11-15, 18-22, 25-29, 31.