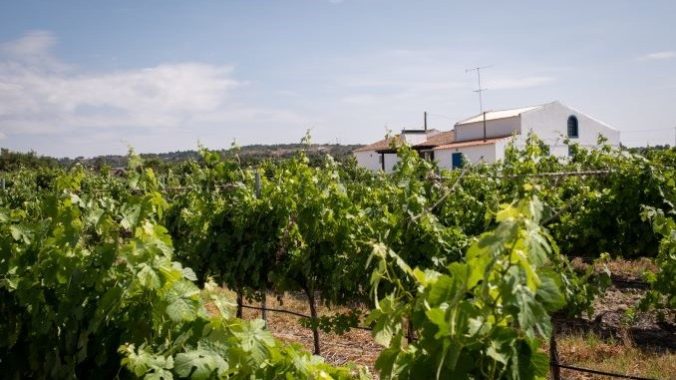 The influx of American travelers to Portugal is well-documented, and visitors are smitten with this country for good reason. Between the gorgeous scenery and sunny weather, the lower cost of living and accessible visa programs, it's quickly become a hotspot for expats relocating due to pandemic spikes of remote work. But like most destinations that rapidly rise in popularity, there's a whole lot more to see than just the obvious touristy spots in Lisbon. Expanding beyond the capital city itself is essential to get a real sense of the country, and the best way to do that is venture off into one of the many wine regions packed into this tiny European country. 
Long recognized for sweeter, alcohol-forward fortified wines like Port and Madeira, the prevalence of Portuguese table wine is incredibly strong here, too—it just hasn't been heavily marketed and exported to the rest of the world like the wines of France, Spain and Italy. A small but mighty wine import company, Nossa Imports, is looking to change that dynamic. Founders Stephen and Dale Ott fell in love with Portuguese wines during their own travels, and decided to partner with local expert, Pedro Caixado, owner of Nova Wine Bar, to bring these unsung varietals to America. 
And it's no small feat, either—there are over 250 native Portuguese grape varieties that have remained mostly insular, and a traditional method of "field blending" yields wines that are a combination of up to four or more grapes, which can be indecipherable to newcomers. That's exactly where Nossa comes in. "When we were founding this company, we wanted to know more about the global wine story," Dale Ott said. "And because the story of Portugal is an integral part, we wanted to make that more accessible to people. Portugal, in particular, has four millennia of winemaking history—it beats out France and Spain by over a thousand years."
One of the winemakers in Nossa's portfolio, Hugo Campos, is using methods that date back almost to the beginning of those four millennia, and checking out his wines is an easy day trip from Lisbon. Travel about an hour east of Lisbon by car and you'll arrive in Évora, an ancient Roman city, and the capital of the region, right near Campos' unassuming setup at Quinta da Confeiteira. Using traditional Roman clay pots called talhas to ferment his wines, Campos has established himself as one of the premier vintners in Alentejo, an ancient wine region in southern Portugal that's going through a renaissance. Campos is a partial owner and winemaker for the Quinta da Confeiteira label, runs his own label, Oxalá, and collaborates on a third wine project with a few friends called Ciclo.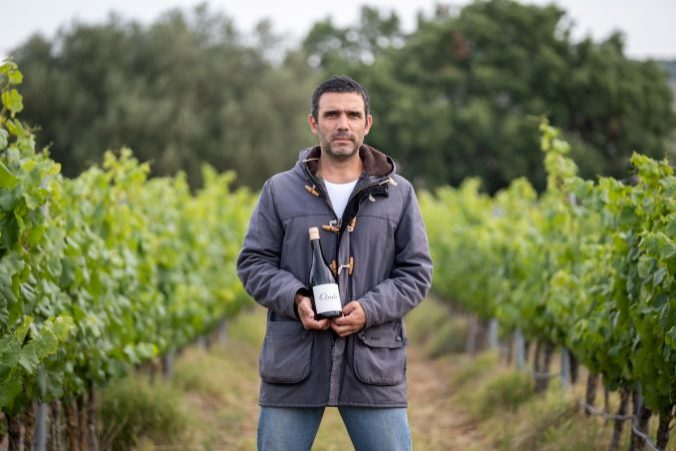 For Campos—who got into wine later in life after enduring an all-too-familiar cycle of corporate burnout and layoffs—the process of making wine has been about stripping everything back and letting the soil of the place speak for itself. "I made a career in the world of wines by downsizing," he explained. "I started working with the biggest national producers, and went down the ladder until I found the essence of Alentejo: Low-intervention wines, made using ancestral drinking methods that wander between shared histories and cultures. When people visit me at Quinta da Confeiteira, I want them to take a deep breath and feel the soil and sounds of the region." 
The ancient clay vessels Campos uses for fermenting wine are kept in a nondescript garage, which is currently a construction zone as a new roof is in the works, and there isn't much in the way of shiny tasting rooms and modern hospitality, at least not yet. Then again, that's part of the draw—especially for wine aficionados who are eager to get out of the touristy zones and explore wine in a country that's still mostly unknown to the American wine palate. One of Campos' wines, in particular, stands above the rest: Oxalá's Calcário Reserva Branco, a lovely white field blend that balances minerality, creaminess and acid for a perfect summer's day glass that has enough structure to hold up in winter months, too. 
Nossa and The Otts aren't the only ones who have noticed the contemporary wine scene developing in the greater Alentejo region and Évora. Sommelier and self-professed "wine geek" Adam Lovell recently relocated there six months ago after living in Lisbon for the last two years. Originally from Auckland, New Zealand, Lovell first moved to Spain in 2016, then later to Portugal in a quest to keep exploring wines of the Iberian peninsula. "There's this mystique to the wine scene here, no one on the outside is able to make heads or tails of it," Lovell said. "They're working with indigenous grapes and local styles that are super ancient, and they seem to work only within these bounds. I wanted to know more for that reason." 
Lovell has been working in the world of wine since about age of 15, first in restaurants and bars around Auckland, and then holding down every role from cellar hand to vineyard worker to export manager as his career progressed. Most recently, he's been the sommelier for a Lisbon restaurant, Sem, and though he's still working as a consultant on the wine list there, he moved out of the city to Évora to focus on the wine scene developing here. Lovell also pivoted in order to work on his own wine project, Bomb Vinho, a mix of content creation, events, subscription boxes, and even guided wine tours in the region. Which is to say, if visiting Campos' garage on your own feels too intimidating for now, Lovell can bridge the gap, as well as organize other visits in the area.
"I love the rustic authenticity of this place," he said. "The Romans were once here making wine, and in a lot of ways you can still feel that. There's a lot of places in Europe where wine is big business, and the focus is on big profits, so it's refreshing to be around people here who see it as a handmade, artisanal product and who focus on doing the best they can with small batches. In order to expand this region, it's just about bringing more focus to the smaller producers who are making these unique wines."
Arguably, the wines Campos is making fall directly into that category. A tasting at Quinta da Confeiteira amounts to sitting around a small picnic table outside the modest house where he and the workers live during harvest, with the wine, a little goat cheese, some cured meats, and fresh bread. There's no pretension here, no tasting notes to consult or overly branded glasses and tchotchkes to buy. This intentionally simple experience of sitting, drinking wine and having conversation is exactly the way Campos wants it to be: "The Alentejo that I intend to convey in a glass of wine is exactly this—a conversation between me and whoever tastes it."
Learn more about Nossa Imports here.