The Second Season of Fleabag Will Make You a Believer
Photos via Amazon Prime Video
TV
Features
Fleabag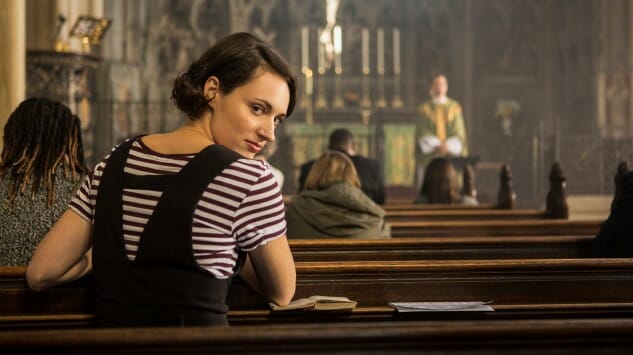 I'm not quite sure how I was allowed to watch The Thornbirds.
The miniseries, about an Australian priest (Richard Chamberlain) and his decades long love affair with his parishioner Meggie (Rachel Ward), aired on ABC in March of 1983. Besides the scandalous nature of the production, there's one thing I know for certain—I was far too young to have watched it and there's no way my parents, who probably wished I would watch Sesame Street until I was in college, would have let me. Did I get to see a priest consummate his long simmering carnal desires because of a lax babysitter? Did I catch the miniseries in reruns when I was older? I honestly can't remember. But let me tell you this. The Thornbirds made an impression.
So when it becomes clear that the second, long-awaited season of Fleabag is going to focus on the titular character (Phoebe Waller-Bridge) and her friendship with the local priest (Andrew Scott), I was deeply concerned that my favorite show was going to become a harlequin romance. Especially when Fleabag begins by telling us "This is a love story." Had, I wondered, Fleabag gone all Thornbirds on us?
Thankfully it most definitely has not and shame on me for ever doubting series creator Waller-Bridge. In our world, we haven't seen Fleabag since the show's triumphant debut in 2016. In her world, it has been a little over a year (or specifically 371 days, 19 hours and 26 minutes) since we last saw Fleabag. In the ensuing months, her father (Bill Paterson) has become engaged to her positively dreadful godmother (Olivia Colman) and her sister Claire (Sian Clifford) is still not speaking to her because she believes Fleabag tried to kiss her gross husband Martin (Brett Gelman).
The comedy, which unfolds in six delightfully perfect installments, remains as sharp and as witty as ever. One of my favorite exchanges happens in the premiere, which finds someone asking the godmother if her purse is fur. "Yes but it's okay because it had a stroke," Colman deadpans with such perfection that I paused my screener to applaud. Colman, or Oscar winner Olivia Colman as she should forever be referred to now, is so terrific and hilarious in this role. Her insults to her soon-to-be stepdaughters are both quick lacerations or long simmering gags (check out her portrait of Fleabag and her sister). The godmother collects people like souvenirs and introduces them by their defining (in her mind) trait—surrogate, bisexual, lesbian, deaf, etc.
Our heroine, still reeling from the death of her best friend and her culpability in what happened, is still struggling. "I want someone to tell me how to live my life because I think I've been doing it wrong," she wails in the fourth episode. But living your life is difficult when you have a sister who blames you for all her problems ("We're not friends. We are sisters. Get your own friends," Claire tells her) and a father who gives you a therapy session as a birthday gift (which leads to a delightful cameo from Fiona Shaw). Martin is insidious, a mean drunk who never misses an opportunity to cut her down. "Either way she got her spotlight," he sneers when an engagement dinner goes disastrously wrong. "I'm not a bad guy. I just have a bad personality," he tries to explain. No one can do sleazy as well as Gelman. His mere appearance on the screen makes my skin crawl.
Fleabag cuts to the core of the female experience. Whether it's Fleabag rightly explaining that how your hair looks can be the difference between a good day and a bad day or guest star Kristen Scott-Thomas, whose character receives a women in business award in the third episode only to rightly decry it as the "fucking children's tables of awards," explaining menopause as "it's horrendous and then it's magnificent."
Over these six episodes there are, among other things, miscarriages, a return of an iconic object from the first season, and an obsessed stepson whose mantra is "Where's Claire?" The series succeeds because it never has disdain for its characters and their tragic dysfunction. It never mocks them. It merely lays them bare for everyone to see. Martin's stifling cruelty. Claire's overwhelming unhappiness. Their dad's desperation not to be lonely. The godmother's narcissism as a cover for her acute insecurity.
I don't want to say too much about the relationship between Fleabag and the priest because the way it unfolds is so perfect and surprising and, in the end, redeeming. But I will say that Scott, who wears a priest's robe very well, creates a priest that is fully realized. A real person who swears and makes mistakes but is still devoted to his faith. Their love story is one of salvation.
Waller-Bridge has said this is the second and final season of the show. There will be no more. But that is okay because we are left at the end with a message of hope and that the idea that life, no matter how difficult, is worth living.
The second season of Fleabag premieres May 17 on Amazon Prime.