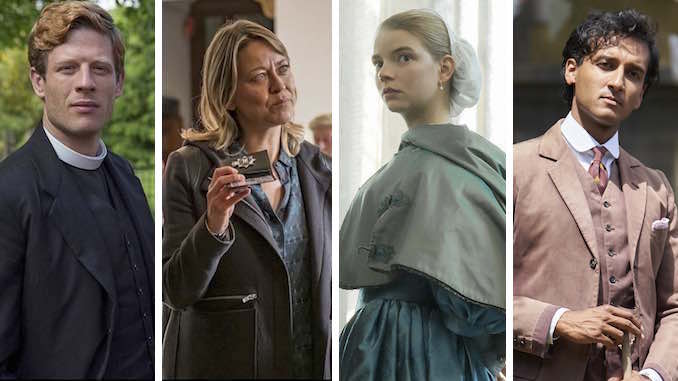 When most of us think of PBS series, our minds go to what is actually under the Masterpiece banner. Yes, PBS has given us many treasures over the last 50 (yes, 50! years!) like Frontline, NOVA, Sesame Street, The Joy of Painting and Arthur, but it's also full of great UK period pieces and crime series. Those have, over the years, mostly been part of Masterpiece Theater, Masterpiece Classic, Masterpiece Mystery, and Masterpiece Contemporary. Thankfully, now, it's just Masterpiece.
But like so much in the streaming world, just because we once saw these shows on PBS doesn't mean you can find them there today (RIP forever the OG Anne of Green Gables miniseries). However, there are two routes you can take to watch the bulk of the best that Masterpiece has to offer.
Route 1) If you are an Amazon Prime subscriber, there are a lot of great series already included in your Prime Membership. You can also choose to pay for the PBS Masterpiece add-on via Amazon Prime (additional $5.99/month), which gives you another host of great options. And/or, you can choose to pay for the Britbox add-on (additional $6.99/month) for access to still another great list of BBC shows.
Route 2) If all of that sounds too pricey or complicated, you can instead download the PBS Passport app. The content here is free if you are a current PBS donor (at $60/year or $5/month levels, typically, though levels vary by location). It gives you an expanded version of what you currently see on PBS, including full seasons of your favorite shows before they have aired weekly. It's also a good mix of what you can find on Amazon/Britbox/Masterpiece services below (Passport links are found throughout this list), and includes Sherlock, which is not included with those other services.
You can also watch current Masterpiece programming for free via PBS.org!
Of note: Many of these series also hop around Netflix, Hulu, and other streaming sites—so keep your eyes peeled! Some of those alternate viewing destinations are included below.
No matter what route you choose, you can rest assured that everything featured on PBS Masterpiece is good. It's excellent family entertainment that's saucier than Disney but more restrained than late-night basic cable (although Sanditon and Indian Summers makes one question that). And keep in mind, all of this has aired on TV for free, and it's only the start! If you aren't already supporting your local PBS station, why not? What public broadcasting has provided in terms of educational and entertainment content over this last half-century is absolutely astonishing. If you can, give.
Below are 30 of our favorite PBS Masterpiece selections, ranked from great to absolutely must-watch.
Honorable Mention (not currently streaming on the aforementioned services, but may be found elsewhere): House of Cards (1990), Wives and Daughters, Jeeves and Wooster, Birdsong, Northanger Abbey

30. The Paradise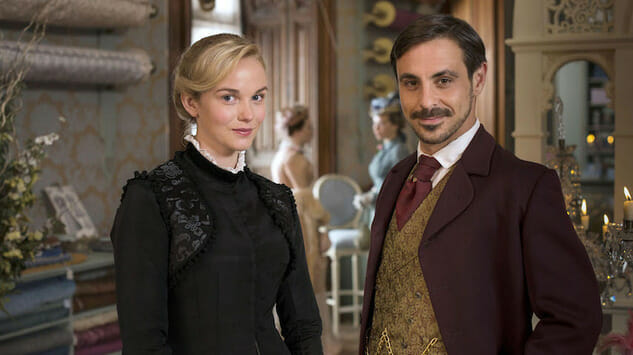 Created by: Bill Gallagher
Stars: Joanna Vanderham, Peter Wight, Emun Elliott, Matthew McNulty, David Hayman, Sarah Lancashire, Sonya Cassidy
Watch on Amazon PrimeWatch on Britbox
Describing The Paradise as Downton Abbey in a department store might be a shade oversimplifying, but that's often what this "veddy proper," occasionally beguiling melodrama about the rich and the help calls to mind. Easily paired with the similarly themed, slightly later-set Jeremy Piven-starring series Mr. Selfridge, this story of a small-town girl who moves to London for a coveted retail job is definitely worth a look. There's even a Piven lookalike (Emun Elliott) as the titular store's too-suave owner. At its center is young Denise (Joanna Vanderham), The Paradise's new shop girl and the eyes to the many dramas—a shocking discovery in ladies wear!—behind the immaculately merchandised scenes. Gorgeous to look at and with a sumptuous score to match, the series is Victorian-era consumer porn. —Amanda Schurr
---
29. The Miniaturist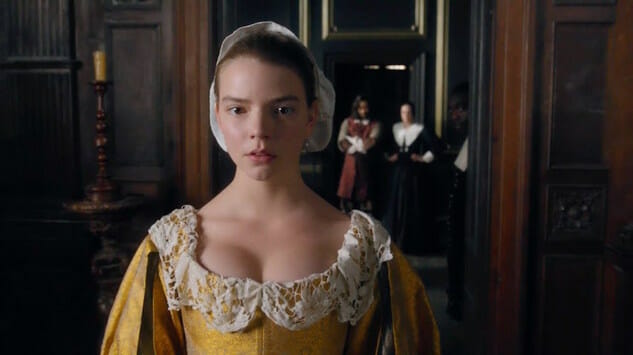 Created by: John Brownlow
Stars: Anya Taylor-Joy, Romola Garai, Alex Hassell, Hayley Squires, Paapa Essiedu
Watch on Amazon via Masterpiece
The Miniaturist is not a horror series, but it is certainly spooky and not without a few jump scares that augment its dramatic reveals. Taking place in 17th-century Amsterdam (which is painted in muted, Vermeer-esque tones), we follow the plight of young Nella Oortman (Anya Taylor-Joy) who is more or less sold to a charming, wealthy, and roguish man who doesn't seem to have much interest in her. His pious sister doesn't either, and after feeling trapped in their oddly sparse Amsterdam house, she's gifted a dollhouse that is a replica of the one in which she lives. Furnished by a miniaturist, every new piece that Nella is given seems to predict some new tragedy within the house, which is full of secrets—not all of which find a satisfying ending. Though it could have used more time in which to spin its intriguing tale, the uniqueness of the setting and storyline, especially given its elements of gothic drama and unexpected humor (not to mention the immensity of Taylor-Joy's talent), make it both a surprising and worthy watch. —Allison Keene
---
28. The Bletchley Circle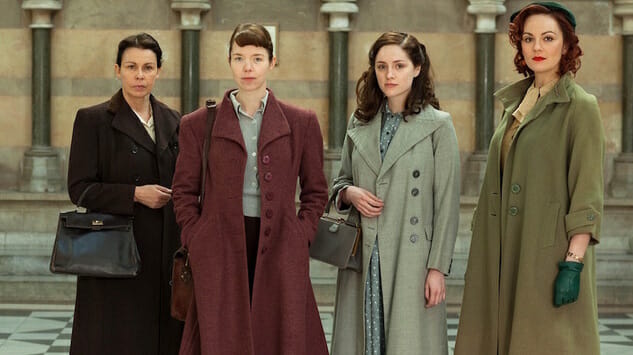 Created by: Guy Burt
Stars: Anna Maxwell Martin, Rachael Stirling, Sophie Rundle, Julie Graham, Hattie Morahan
Watch on Freevee (With Ads)Watch on Peacock
Murder mysteries and the BBC go together like tea and crumpets (see also: Ripper Street, George Gently, Hinterland, this list). What sets this drama apart are the four women at the center of the puzzle, a quartet of former code breakers from the same WWII think tank as that in The Imitation Game (granted, these characters are fictional). Susan, Lucy, Millie and Jean reunite a decade later, in 1952, to track a serial killer. As they decipher the clues and patterns, the ladies must juggle their sleuthing efforts with their newly civilian lives—to avoid suspicion, de facto leader Susan (Anna Maxwell Martin) and co. tell their husbands they're in a book club. Early women's lib-meets-whodunit in this intriguing ensemble drama, which contrasts the murder investigations with post-war gender roles. —Amanda Schurr
---
27. Sanditon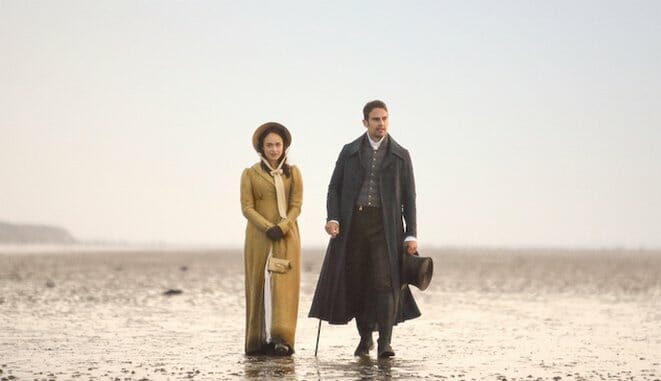 Created by: Andrew Davies
Stars: Rose Williams, Theo James, Anne Reid, Kris Marshall, Jack Fox
Watch on Amazon via MasterpieceWatch on PBS Passport
Jane Austen wrote novels with romantic happily-ever-afters that she herself never even experienced. But Sanditon, a book with no ending, was given life as a PBS miniseries. Starring heartthrob Theo James as Sidney Parker and the beautiful Rose Williams as Charlotte Heyward, fans of Austen get to see Andrew Davies' perception of how things end. While the cast and setting is thoroughly lovely, there is definite creative license taken to what Austen fans will expect. After all, it is hard to imagine the virginal Austen writing explicit sex scenes that pepper this new work. The miniseries is perfect for those who love the flavor of Jane Austin but want an unexpected storyline with a touch of the erotic. —Keri Lumm
---
26. Miss Scarlet and The Duke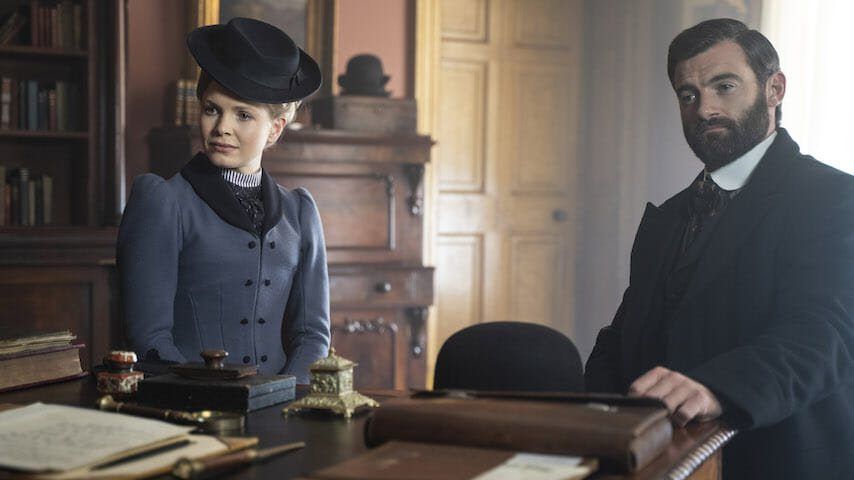 Created by: Rachael New
Stars: Kate Phillips, Stuart Martin
If there is only one absolute truth in this world it is this: We will never tire of watching a brilliant detective outwit everyone around them to solve a mystery (murder-themed or otherwise). That goes double if said person hails from abroad, has great clothing/coats, and lives outside the modern era. So it is no surprise we can't get enough of Miss Scarlet and The Duke, Masterpiece's drama about the talented but underestimated first female detective in Victorian London (Kate Phillips's Eliza Scarlet) as she tries to make a name for herself in a male-dominated world. When you add in Eliza's professional partnership and slow-burn romance with her childhood friend-turned-detective inspector at Scotland Yard (Stuart Martin's William "The Duke" Wellington), you have a winning series that checks multiple boxes. —Kaitlin Thomas
---
25. Hotel Portofino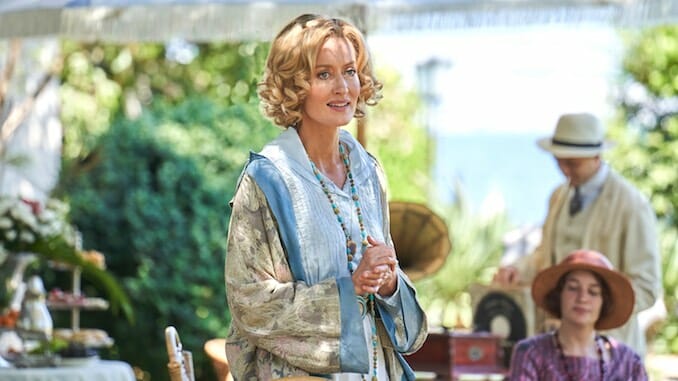 Created by: Matt Baker
Stars: Natascha McElhone, Oliver Dench, Olivia Morris, Louisa Binder, Anna Chancellor, Assad Zaman
Watch on PBS.orgWatch on Amazon via Masterpiece
Though not exactly a 1920s White Lotus, Britbox series Hotel Portofino (hitting U.S. shores via PBS Masterpiece) is nevertheless an absorbing tale of wealthy, demanding hotel guests who arrive at a picturesque locale and end up learning a little something about themselves before they leave. There's no murder here, but there are demanding mothers, marriages in peril, jealous paramours, and low-level celebrities (not to mention a Count). What more could you want?
Hotel Portofino, with its gorgeous setting and charming cast, is a suitably soothing watch despite the fact that its 1920s setting also means that vile, violent fascism is on the rise in Italy. Still, these various aspects of Portofino largely work in tandem to create an absorbing drama that is full of familiar beats (everyone has a secret, and money problems, and wants to marry for love), but is nevertheless highly satisfying. It's the kind of series that invites you to relax and spend some quality time basking in its well-coiffed drama—I simply wish we didn't have to check out so soon. —Allison Keene
---
24. Unforgotten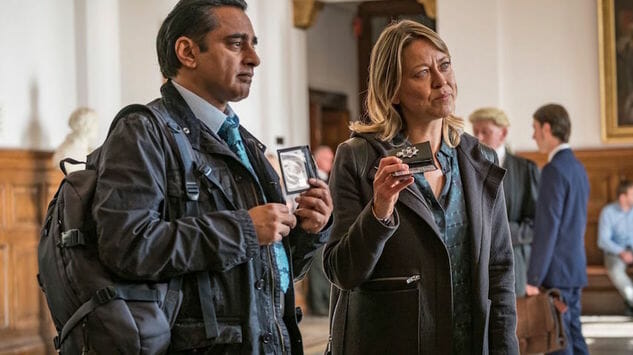 Created by: Chris Lang
Stars: Nicola Walker, Sanjeev Bhaskar
Watch on Amazon PrimeWatch on PBS Passport
In the compelling modern crime series Unforgotten, DCI Cassie Stuart (an always-excellent and recently ubiquitous Nicola Walker) and DI Sunny Khan (Sanjeev Bhaskar) doggedly pursue cold case murders and disappearances. Viewers get to see both sides throughout each season's case: the detective work and the personal lives of those connected to it—one of whom is ultimately the perpetrator. One of the interesting things about Unforgotten's perspective is that it largely deals with people who are middle aged or even elderly. Though their lives have seemingly moved on from these past crimes (and current partners or children may have no idea about it), scratch the surface and you'll find the pain and angst over these tragedies still simmering underneath. Unforgotten is less of a crime thriller and more a cerebral whodunnit, investigating the emotional lives of those defined by these old wounds. It can be very quiet, but once it has its hooks in you, you won't be able to stop bingeing each of its three, six-episode seasons (with another on the way). —Allison Keene
---
23. The Forsyte Saga (2002)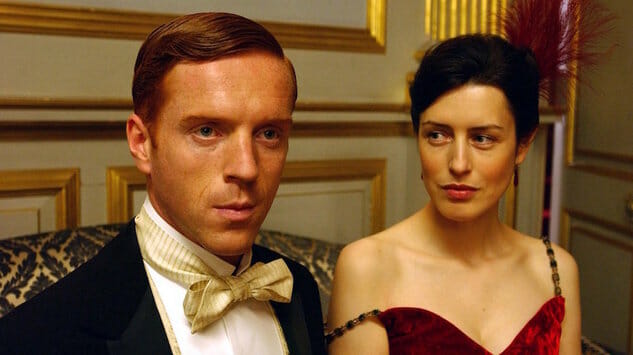 Created by: John Galsworthy, Stephen Mallatratt
Stars: Damian Lewis, Rupert Graves, Gina McKee, Corin Redgrave, Ioan Gruffudd
Watch on Amazon via Masterpiece
Before Downton Abbey, there was The Forsyte Saga. Chronicling the lives of three generations of a wealthy family from the late 1800s through early 1900s, The Forsyte Saga is based on the John Galsworthy trilogy of the same name. It is, in some ways, a British version of Dynasty. The 2002 version is fantastically dramatic and heartbreaking, full of schemers and dreamers and a grandly charming cast as it spins its dizzying tale of romance and woe. Lushly produced, it should not be mistaken for high art so much as engrossing melodrama. While it may drag a little as it goes, including the repetition of a number of relationship quandaries, not enough can be said about Damian Lewis' lead performance as the jealous, difficult Soames. If series about the scandals and foibles of the uppercrust appeal to you, you cannot go wrong with Forsyte. —Allison Keene
---
22. Grantchester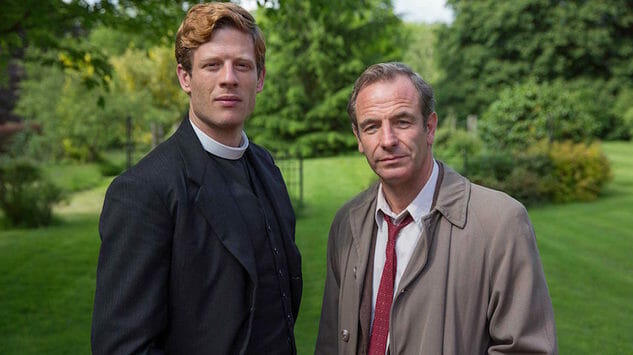 Created by: Daisy Coulam
Stars: James Norton, Robson Green, Tom Brittney, Morven Christie, Tessa Peake-Jones
Watch on Amazon PrimeWatch on PBS Passport
There are two things the UK is really great at producing: vicars and murder mysteries. So it holds that Grantchester—a story about a murder mystery-solving vicar—would itself be grand. Taking place in the 1950s in the village of Cambridgeshire, the setup is familiar: there's a young, handsome vicar who has an intuitive way with people, and a gruff, hardboiled detective with whom he improbably becomes friends. The two solve Cases of the Week as vicar Sidney listens to jazz, questions his faith, and tries to stop being in love with his childhood friend Amanda, since they cannot marry. Detective Geordie Keating meanwhile is a no-nonsense WWII veteran with a heart of gold and his own domestic issues, both of which give some extra dimension to the show's procedural aspects. Grantchester is often thoughtful, sweetly compelling, and lightly thrilling—it also includes cozy period details and a dog named Dickens. What more could you want? —Allison Keene
---
21. Prime Suspect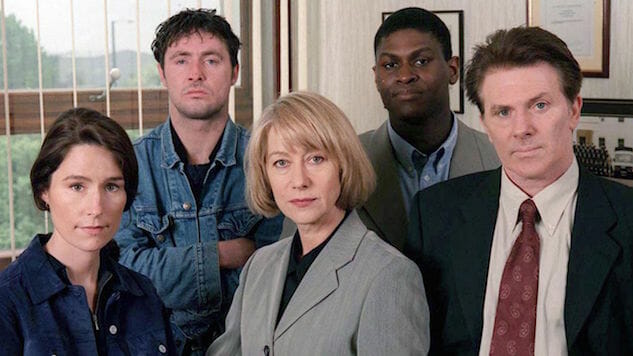 Created by: Sally Head
Stars:Helen Mirren, Tom Bell, Karen Tomlin, Peter Capaldi
ITV's long-running crime drama, which follows Detective Chief Inspector Jane Tennison (Helen Mirren) as she pursues her quarries and confronts the Metropolitan Police Service's rampant sexism, possesses the skeleton key to the antiheroes of TV's most recent "Golden Age": a slight, perceptive, ambitious, alcoholic British woman. Over the course of seven seasons, spanning 25 years in all, Mirren found in Tennison the resignation—and the rage—that faces any uncompromising figure in this compromised world. And yet she etched in our memories a uniquely compelling, damaged character, one to whom every detective to appear on TV since bears no small debt. To put it another way: In Prime Suspect, Mirren delivers one of the most brilliant, influential performances in the history of the medium. Full stop. —Matt Brennan
---
20. Les Misérables
Created by: Andrew Davies
Stars: Dominic West, David Oyelowo, Lily Collins, Adeel Akhtar, Johnny Flynn, Henry Lloyd-Hughes
Watch on Amazon via MasterpieceWatch on PBS Passport
Written by Victor Hugo and published in 1862, Les Misérables is known as one of the great novels of the 19th century. And as the title implies, it's all about misery, of a sort that's difficult for most of us to imagine. This 2018 retelling of the novel—which many people familiar with the story through the stage musical and its screen adaptations may not have actually read—is brought to you by Masterpiece, and it lives up to the name. There have been many prior versions of the tale, and most of them condense it to two or three hours. The beauty of turning Les Misérables into a (non-musical) miniseries is that we get a long view of the characters, finding new sides to well-known figures—Lily Collins' Fantine, Dominic West's Jean Valjean, David Oyelowo's Javert—and finding depth in those, like Olivia Colman's Madame Thénardier, who often come across as one-note. This Les Misérables may be the best one yet. —Keri Lumm
---
19. Wallander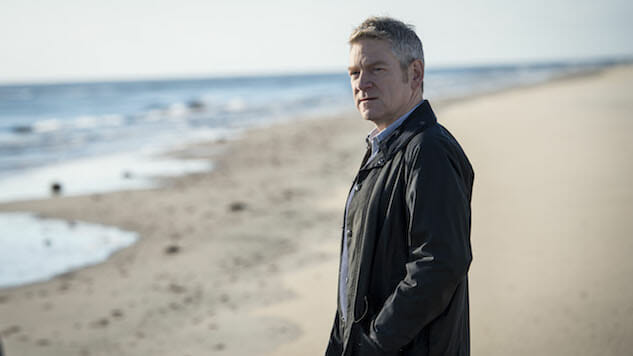 Created by: Richard Cottan, Peter Harness, Richard McBrien
Stars: Kenneth Branagh, Sarah Smart, Tom Hiddlestone, Ricahrd McCabe, David Warner, Saskia Reeves
Kenneth Branagh is marvelous in this moody procedural based on the novels of Henning Mankell, and the original Swedish film adaptations. A police officer on southern Sweden's picturesque coast, Branagh's Kurt Wallander must solve a run of freakish crimes. He's also up to his grizzled scruff in the throes of an existential tailspin, which makes, say, the image of a 15-year-old girl seeing him, panicking, and setting herself on fire an even tougher trauma to process. Branagh gives an aptly measured, introspective performance, a man who observes everything, but can't make sense of anything anymore, the very least of which is himself. Wallander is a study in visual contrasts: saturated color schemes, dramatic plays of shadows and light, extreme changes in focus. It's an artful complement to the detective's largely internal struggle, which also includes issues with his adult daughter and Alzheimer's-afflicted dad (David Warner, exceptional as ever). —Amanda Schurr
---
18. Endeavour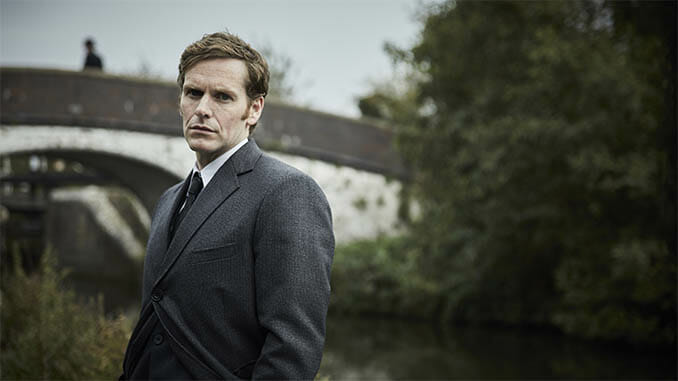 Created by: Russell Lewis
Stars: Shaun Evans, Roger Allam, Anton Lesser, Sean Rigby, Sara Vickers, James Bradshaw, Abigail Thaw, Jack Laskey
Watch on Amazon PrimeWatch on PBS Passport
Sequels and prequels are notoriously difficult to pull off, which is why the success and strength of Endeavour should not be overlooked. The show stars Shaun Evans as the younger version of the titular detective from the beloved and long-running show Inspector Morse (itself based on a series of novels by Colin Dexter). An engrossing mystery drama—now with as many episodes as its parent series—the show follows the early career of Endeavour Morse as he solves murders around 1960s Oxford and establishes himself as a detective with a keen ability to unravel even the most complex mystery. Episodes clock in at around 90 minutes apiece, and with compelling ongoing character arcs for Morse, his partner Fred Thursday (Roger Allam), and at times even Thursday's daughter Joan (Sara Vickers), the show is the perfect balance of crime procedural and serialized drama. —Kaitlin Thomas
---
17. Call the Midwife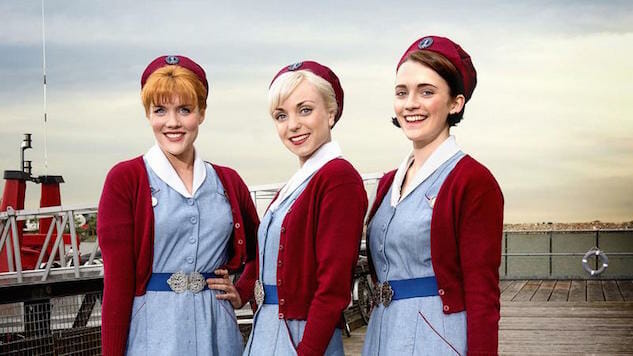 Created by: Heidi Thomas
Stars: Vanessa Redgrave, Bryony Hannah, Helen George, Jenny Agutter, Pam Ferris, Laura Main, Judy Parfiti
"Midwifery is the very stuff of life," proves this incredibly moving, often provocative series, based on the memoirs of British nurse Jennifer Worth. Set in 1950s London—read: pre-choice, not pro-choice—Call the Midwife focuses on the nurses and nuns who work at a convent in the East End. Vanessa Redgrave narrates the experiences of Jenny Lee (Jessica Raine), a privileged young woman who must quickly adapt to life in an impoverished district, where medical resources are precious and newborns are plentiful. Wonderfully meticulous in period detail, the ensemble drama brims with joy and compassion while maintaining a bracingly unromantic grip on pregnancy and parenthood. Disease, labor complications and tragedies like miscarriage, stillbirth and Sudden Infant Death Syndrome are common—along with domestic violence, rape and unwanted pregnancy—yet the show warms as many hearts as it breaks. Call it feminist, call it what you will, Call the Midwife is brave television. —Amanda Schurr
---
16. Last Tango in Halifax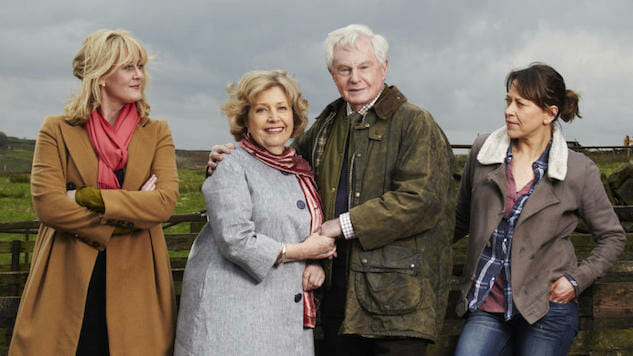 Created by: Sally Wainwright
Stars: Derek Jacobi, Anne Reid, Sarah Lancashire, Nicola Walker
On the surface, Last Tango in Halifax looks like a sweet but slight story of two British widowers who knew each other in childhood and who find each other again to rekindle a lost love. But the series is truly an engrossing ensemble drama with a witty and charming sense of humor, as it tells the sprawling story of a now-blended Yorkshire family and their many personal conflicts (and reconciliations). Sally Wainwright's series can take soapy twists and turns, but it's always anchored by outstanding performances from the four leads and a cozy sense of home (home meaning either the posh side of the family or the farmer side, depending). Last Tango in Halifax is an easy and comforting binge-watch. —Allison Keene
---
15. Poirot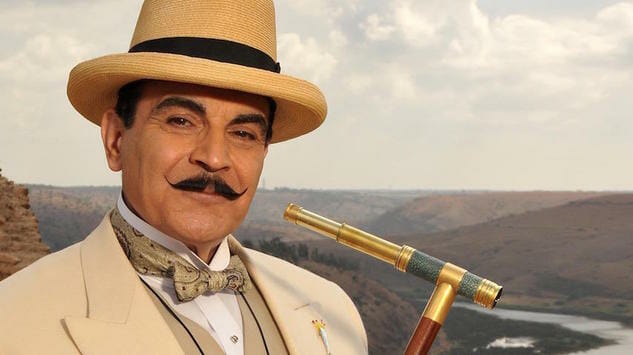 Created by: Clive Exton
Stars: David Suchet, Hugh Fraser, Philip Jackson, Pauline Moran
A tour of BBC programming would be incomplete without some Agatha Christie. Fortunately for us, this is an ace adaptation, helmed by David Suchet's masterful performance. As the Belgian super sleuth, Suchet—whose waxed 'stache and effete affectations Johnny Depp seems to have co-opted in Mortdecai—exudes effortless elegance and dry humor amid the mysteries, each Christie story played out during the course of an episode. There's something to be said for a complete, stand-alone tale, yet viewed collectively, Suchet's thorough ownership of the dapper detective—all 25 years of it—is all the more impressive, so immersed is he in Christie's world. His Poirot is a comprehensive character study, and a terrifically fun one at that. (Check out the 2013 documentary Being Poirot for more about the actor's career-defining role.) —Amanda Schurr
---
14. Downton Abbey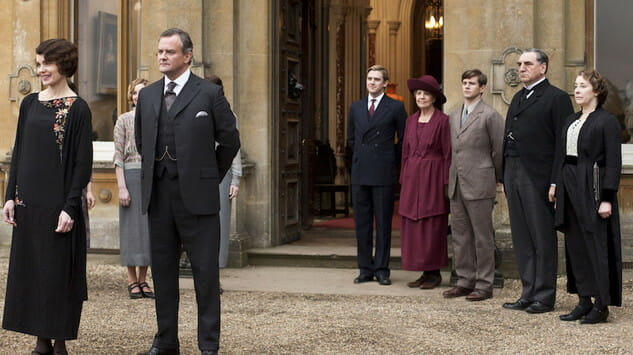 Created by: Julian Fellowes
Stars: Hugh Bonneville, Jim Carter, Elizabeth McGovern, Maggie Smith, Laura Carmichael, Brendan Coyle, Michelle Dockery, Joanne Froggatt
Watch on PeacockWatch on Amazon PrimeWatch on PBS PassportWatch on Britbox
The lush, swirling period piece Downton Abbey is never short on drama or general strife. The ensemble series is extraordinarily well-acted (as evidenced by Maggie Smith, Hugh Bonneville, Michelle Dockery, Joanne Froggatt, Jim Carter and Brendan Coyle all receiving Emmy nominations), and there's perhaps no easier way to describe some of the plot twists than fucking nuts, a term we strongly feel the saucy Dowager Countess would approve of. Amnesia? Yup. Temporary paralysis? Got it. Murder conviction? Oh, big-time. In less capable hands, these stories would've likely flown off the rails and veered into the completely ridiculous, but the talented cast of Downton Abbey manage to always handle it with aplomb. As the seasons progressed, many more tragedies would befall the Crawley family, making for some of most compelling television in recent memory, and all capped off with one of TV's most satisfying finales (and then, another hugely satisfying movie). —Bonnie Stiernberg
---
13. Little Women (2017)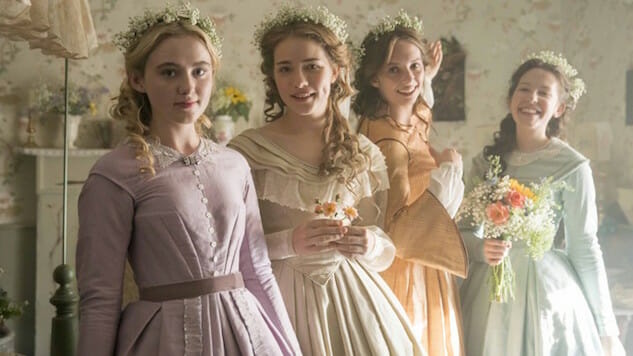 Created by: Heidi Thomas
Stars: Emily Watson, Maya Hawke, Willa Fitzgerald, Katheryn Newton, Annes Elwy, Jonah Hauer-King, Angela Lansbury
Though it had the misfortune to air a little too close to Greta Gerwig's adored film version to get noticed, don't sleep on the BBC/PBS Little Women miniseries. Featuring four young stars on the rise as the unforgettable March girls, Emily Watson as their mother, Marmee, and the 92-year-old Angela Lansbury in an astoundingly good turn as Aunt March, Little Women—adapted by Heidi Thomas (Call the Midwife) and directed by Vanessa Caswill—has all the makings of a new beloved viewing tradition. The three-part miniseries is is a fitting tribute to the novel's central themes: love, kinship, and the bravery of women, and is as bright, clever, and emotional and any excellent adaptation should be (it's also one of the only adaptations that makes Amy less hateful and where Jo rejecting Laurie makes real emotional sense). A delightful if overlooked take on a classic, the women here may be little, but they are also strong, brilliant, and full of heart. —Keri Lumm and Allison Keene
---
12. Wolf Hall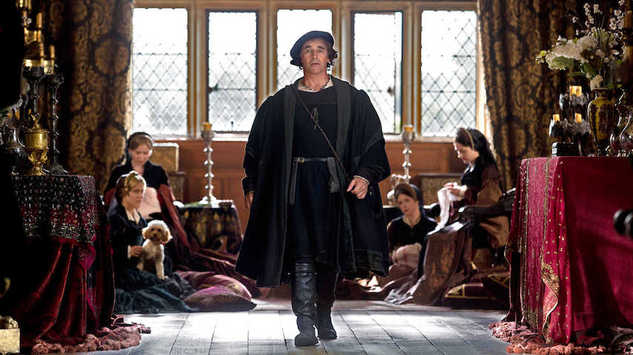 Created by: Peter Straughan
Stars: Mark Rylance, Damian Lewis, Claire Foy, Bernard Hill, Anton Lesser, Mark Gatiss
Watch on Amazon via Masterpiece
Based on the best-selling historical novel series by Hilary Mantel, Wolf Hall stars Mark Rylance (everyone's favorite award-winning, poetry-spouting thespian) as Thomas Cromwell, the lawyer and statesman who ended up rising through the ranks (via a combination of sheer intelligence and Machiavellian manipulation) to become the right-hand man of King Henry VIII. Fans of sumptuous costume dramas will find plenty to love in the series' lavish production design, while those seeking the images of esteemed European actors bouncing off each other will also have a lot to savor. Wolf Hall's primary strength, however, lies in depicting the fascinating machinations of 16th century politics, the importance of religious freedom and reform, and how a few choice whispers can so drastically influence the progression of history. —Mark Rozeman and Allison Keene
---
11. Brideshead Revisited (1981)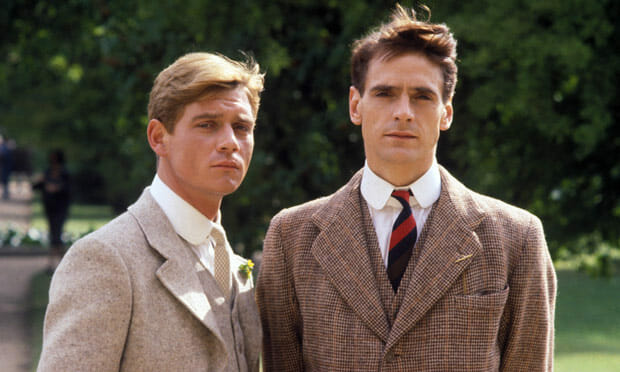 Created by: Derek Granger
Stars: Jeremy Irons, Anthony Andrews
Watch on Freevee (with ads)
Watch on Amazon via Britbox
It was almost 40 years ago when the BBC miniseries Brideshead Revisited captivated audiences with its portrayal of early 20th century British aristocracy and Catholic guilt. The 11-hour series earned an Emmy for the late Laurence Olivier and catapulted Jeremy Irons into a successful, Oscar-winning career. Based on the popular novel by Evelyn Waugh, when middle-class freshman and aspiring artist Charles (Irons) arrives to Oxford, he is befriended by the rich, spoiled party boy Sebastian (Anthony Andrews) who soon falls in love with Charles and introduces him to his severely dysfunctional upper-class family living in the grand estate of Brideshead. As their relationship grows so does Charles' infatuation with Sebastian's sister Julia (Diana Quick). But the real struggle comes from the siblings' mother (Phoebe Nicholls) who is determined to guide her children into their proper places as Catholic royalty, much to the dismay of atheist Charles. A beautifully engrossing soap opera filled with a higher caste of desperate souls, Brideshead is always worth revisiting. —Tim Basham
---
10. Bleak House (2005)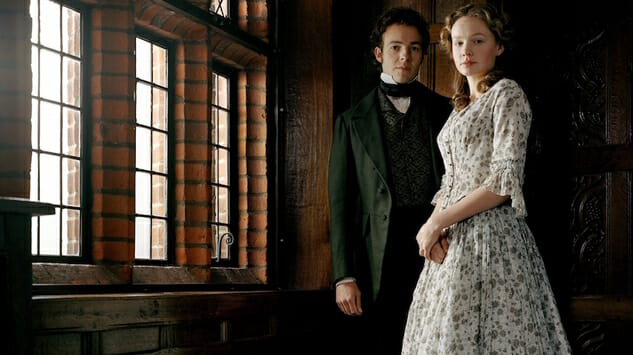 Created by: Andrew Davies
Stars: Denis Lawson, Anna Maxwell Martin, Patrick Kennedy, Carey Mulligan, Gillian Anderson, Charles Dance, Alun Armstrong, Timothy West, Burn Gorman
In the mid-aughts, the BBC decided to adapt (once again) a host of lesser-known works by Charles Dickens, starting with Bleak House. And this version, written by Andrew Davies, is an absolute banger. Led by an excellent cast (including, rather iconically, Gillian Anderson), this battle of wills (both literal and figurative) is long enough to be able to include the full measure of Dickens' strange side characters and dizzying plot strands, all of which connect in one way or another and in fantastically satisfying ways. It's also a story where Dickens' naming conventions are perhaps at an all-time high—Lady Dedlock, Mr. Jarndyce, Miss Flight, Snagsby, William Guppy, Krook, etc—and the adaptation leans into its strangeness. It's a mesmerizing viewing experience, with a perfectly gothic Victorian aesthetic that creaks with sly humor. Do not miss! —Allison Keene
---
9. Howards End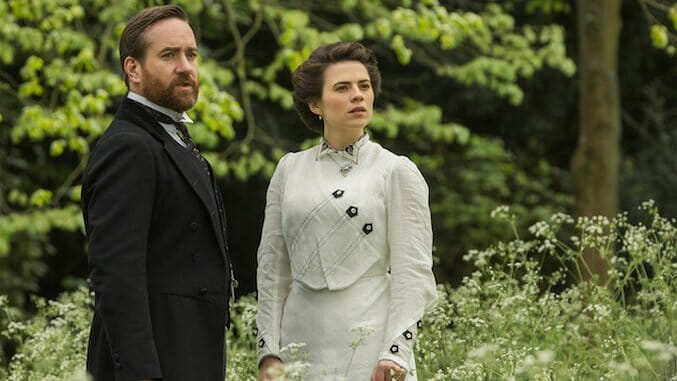 Created by: Kenneth Lonergan
Stars: Hayley Atwell, Matthew Macfadyen, Philippa Coulthard, Alex Lawther, Tracey Ullman, Julia Ormond
Watch on Amazon PrimeWatch on PBS PassportWatch on Starz
The gorgeous four-part miniseries adaptation of E.M. Forester's masterful Howards End stars Hayley Atwell as Margaret Schlegel, the older sister (and de facto matriarch) of a progressive and independent family living in early 20th century London. Margaret and her siblings are on the forefront of changing social mores, sometimes controversially so, and it defines her relationship with an older, wealthy widower, Henry Wilcox (Matthew Macfadyen), whose conservative values clash with hers. The story feels timely for a variety of reasons, although the genuine curiosity and politeness with which these issues are broached can seem lamentably foreign. The series, stunningly directed by Hettie MacDonald and wonderfully adapted by Kenneth Lonergan, is in many ways an atypical and refreshing period piece. Anchored by outstanding performances, the series shines in its quiet moments of personal fortitude and in confronting one's own biases in endlessly intriguing ways. It is truly a must-watch. —Allison Keene
---
8. Poldark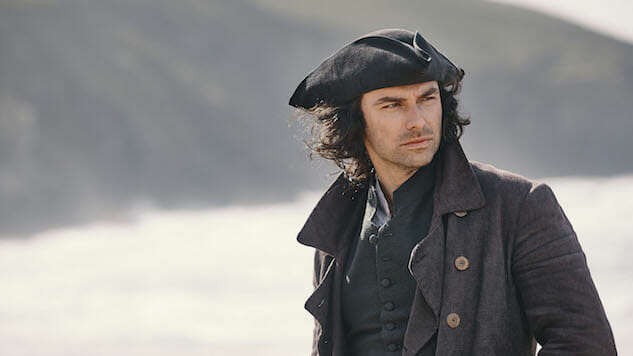 Created by: Debbie Horsfield
Stars: Aidan Turner, Eleanor Tomlinson, Ruby Bentall. Beatie Edney, Jack Farthing, Heida Reed, Kyle Soller, Richard Harrington, Phil Davis, Warren Clarke
Watch on Amazon PrimeWatch on PBS Passport
Lovers of sweeping, romantic sagas will delight at this Masterpiece presentation, which takes viewers back to the late 1700s following the American Revolutionary War. Ross Poldark, an officer in the British army, returns home to his family estates in Cornwall to discover that not only was he presumed dead, but his father has died, the woman he loves is marrying his cousin, and he has a mountain of debts and no obvious way to raise the funds. Based on the series of 12 novels by Winston Graham, Poldark stars Aidan Turner in the title role. As the heroic Poldark, he vows to set things right even as the odds seem insurmountable. And he doesn't want to succeed out of some sense of upper-class pride, but for the people of Cornwall who have fallen on hard times.—Paulette Cohn
---
7. All Creatures Great and Small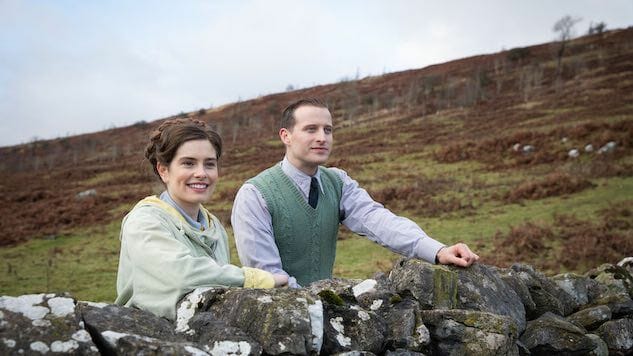 Created by: Ben Vanstone
Stars: Nicholas Ralph, Samuel West, Anna Madeley, Callum Woodhouse, Rachel Shenton
As has been written about many times in this space, book-to-television adaptations can be a tricky beast to wrangle. But I can joyously report that the same warmth, humor, and gentle stories that fill my own well-worn copies (and much-played audiobooks) of James Herriot's autobiographical novels come through beautifully in this new television version of All Creatures Great and Small. Throughout the show, we follow daily life in the 1930s at Skeldale House, a veterinary practice that young James (Nicholas Ralph) joins as he graduates from school. Run by a good-hearted but difficult-to-please taskmaster, Siegfried Farnon (Samuel West)—who has fired every other assistant he has ever had—James must prove himself not only to his new boss, but also to the local farmers suspicious of newcomers and more modern methods of treatment.
Spiritually reminiscent of some of the best series on Masterpiece, All Creatures Great and Small is the sort of show that is built upon a tender kindness. It is never saccharine, but wears its wholesomeness on its sleeve as we travel across the Yorkshire dales and experience the ups and downs of rural life. The show doesn't shy away from difficult decisions James and the others must make, and one episode in particular is absolutely heartbreaking. But the series is always balanced by a plucky confidence in its storytelling and its tone, which ultimately keeps things light and cozy. This tenderly drawn slice of life champions honor, character, and the care of animals. It's a wonderful treat and a balm for the soul. —Allison Keene
---
6. Victoria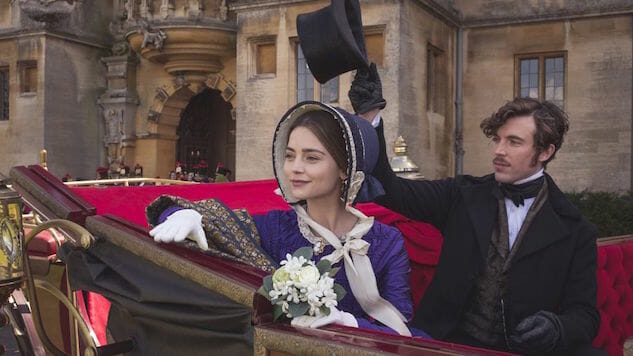 Created by: Daisy Goodwin
Stars: Jenna Coleman, Tom Hughes, Nell Hudson, David Oakes, Rufus Sewell
Watch on Amazon PrimeWatch on PBS Passport
Examining the early years of Queen Victoria's reign, Victoria has never gotten the same attention as its splashy cousin, The Crown. And yet, the series share many similarities. Both feature young women being pushed very suddenly into a royal role they had not been expecting, facing difficulties living under constant public scrutiny, and fighting to command respect from men who do no think them up to the task. Among the politics there are also two beautiful love stories at the center of Victoria; a chaste one between the young queen and her first Prime Minister, "Lord M" (as she calls him), and the other between Victoria and her future husband Albert. Both are unique in their own ways, especially in how the show allows Victoria and Albert to settle into both domestic bliss and the natural scuffles all couples face (augmented, of course, by their positions). The show truly blossoms in its second season, and continues from there to be an emotional and surprisingly cozy portrayal of the royal household, the people it employs, and a nation Victoria and Albert seek to modernize. Gorgeously costumed and compellingly crafted, Victoria is a wonderful series to fully immerse yourself in—one that will (for many Americans, at least) have you constantly on Wikipedia to learn more about the historical events it portrays. —Allison Keene
---
5. Little Dorrit (2008)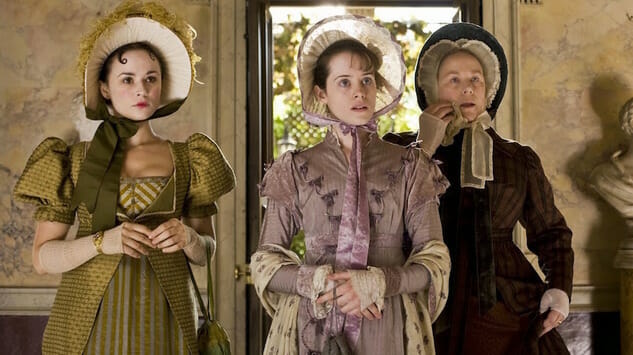 Created by: Andrew Davies
Stars: Claire Foy, Matthew Macfadyen, Tom Courtenay, Andy Serkis, Eddie Marsan, Arthur Darvill
Watch on Amazon Prime with Britbox
Most people discovered the exceptional talent of Claire Foy while watching The Crown, but those who watched the 2008 miniseries Little Dorrit (part of the BBC's well-received run of adapting some lesser-known Dickens works by Andrew Davies) had an early heads-up. Like any grand Dickensian tale, Little Dorrit is a deeply emotional story full of labyrinthine twists. In the style of Bleak House which came before it, this miniseries has the time and space to explore all of Dickens many side characters and subplots, but the beating heart of the series is Foy's Amy Dorrit. Gentle but determined, she works tirelessly to care for her father in debtors' prison. There is a lovely, simmering romantic storyline here as well in the form of Matthew Macfadyen's Arthur Clennam, as well as a wonderfully bizarre performance from Andy Serkis. The dizzying, cacophonous ending is a bit rushed given all that comes before it, but Little Dorrit is ultimately one of the most sweeping and engrossing miniseries of our age, too oft forgotten but well worth your time. —Allison Keene
---
4. The Durrells in Corfu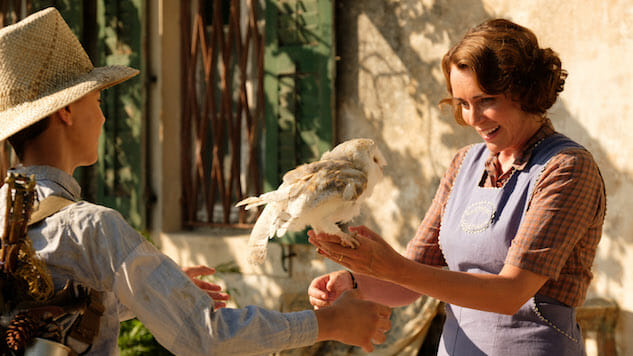 Created by: Simon Nye
Stars: Keeley Hawes, Milo Parker, Josh O'Connor, Daisy Waterstone, Callum Woodhouse, Alexis Georgoulis, Yorgos Karamihos
Watch on Amazon PrimeWatch on PBS Passport
One of TV's brightest gems has one of the strangest names, which means that the series may have passed you by. But it's never too late to catch up! The Durrells in Corfu just completed its fourth and final season in the U.S., where we say goodbye to this English family living in Greece in the 1930s, just before the dawn of a new war. It sounds very posh, but in fact Louisa Durrell (the exceptionally charming Keeley Hawes) moved her four children from England after the death of her husband because they were struggling financially. Life is (or was, at this time) cheap in Corfu, where the family takes up residence in a wonderfully ramshackle and remote house right on the water—which also lacks electricity or other modern conveniences. The series is loosely based on the real story of the Durrells in a trilogy written by Louisa's youngest son Gerry (portrayed in the series by Milo Parker). Like all good TV families, their interactions are full of love, bickering, and insults.
But the less known about the gentle twists the final season takes the better. Suffice it to say that the family continue to have their adventures, but the feeling of things winding down is acute in these last episodes. For those returning to the series, you will be greeted with all of the easy-going, low-key, and whimsical touchstones that have made the show so good over the years. And if you are just now considering catching up, you are in for a treat. (Durrells has a total of 26 episodes, which is not an insurmountable number even in Peak TV!) And you will be the one urging people to get past the strange names of the title (which will no longer be strange to you) and give this wonderful show a chance. It is a soothing, deeply engaging alternative to the sound of fury of so many current dramas. There's nothing supernatural or world-ending, there's no excessive violence or gruesome horror. It's just a quirky little family in an unfamiliar place who bring with them a heaping amount of laughter and joy. And in doing so, Durrells has made itself an essential watch.—Allison Keene
---
3. Everything Lucy Worsley Does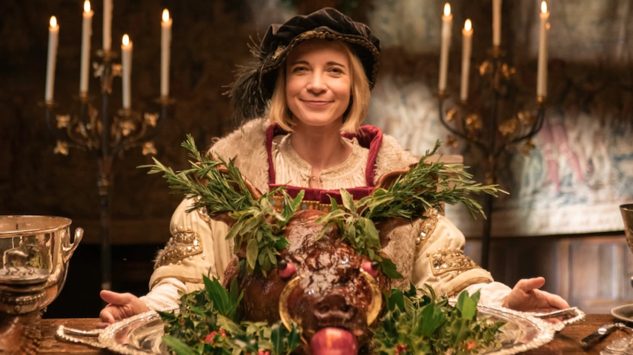 Watch on Amazon via MasterpieceWatch on PBS Passport
Maybe not technically PBS Masterpiece, but it fits the aesthetic. Look, if Lucy Worsley wants to tell you something about history, probably focused around the Tudor, Regency, or Victorian eras, you listen ok? If you have never experienced a Lucy Worsley history documentary well, get ready for full immersion (and eventually, obsession). The impossibly charming host is not just a walking encyclopedia, she brings an incredible amount of enthusiasm to these programs that might have otherwise been a snooze fest. Worsley usually dresses up in accurate period wear and includes herself as an observer in the reenactments of English life from centuries ago, paying homage to those whose working conditions were beyond horrid, never holding back in describing gory details. But more than anything, you feel like you're being let it on the secrets your school books never shared with you. Worsley's intimate knowledge of the niche subject matter of each of her documentaries will leave you full of trivia facts, yes, but her illuminating the lives of women in particular during these eras gives essential context into how our own modern customs were formed. Accessible for history buffs and casual viewers alike, whenever you see her name attached to a series you must press play. —Allison Keene
---
2. Cranford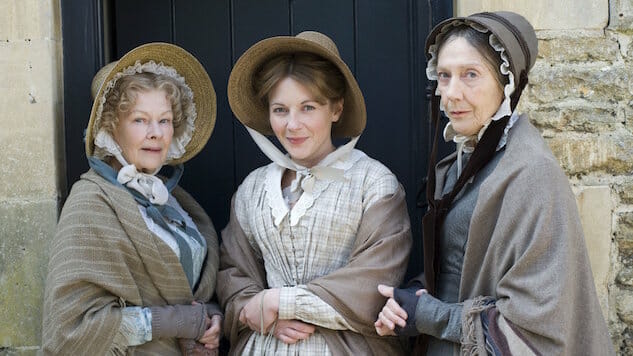 Created by: Sue Birtwistle, Susie Conklin
Stars: Eileen Atkins, Judi Dench, Simon Woods, Michael Gambon, Lisa Dillon, Claudie Blakley
Based on three charming novels by Elizabeth Gaskell, Cranford is a gentle, humorous, and warm-hearted chronicle of life in rural England in the 1840s. With a primary focus on the town's single and widowed middle class women, the miniseries is filled not only with cozy settings and unforgettable characters (played by some of England's best actors), but also provides a variety of romantic subplots and the quiet intrigues that bring a dash of spice to daily life. A lovely, simmering humor is felt throughout, which helps soften some of its occasional sorrow. Overall, Cranford is a timeless, comforting, joyful watch for the whole family. —Allison Keene
---
1. Pride and Prejudice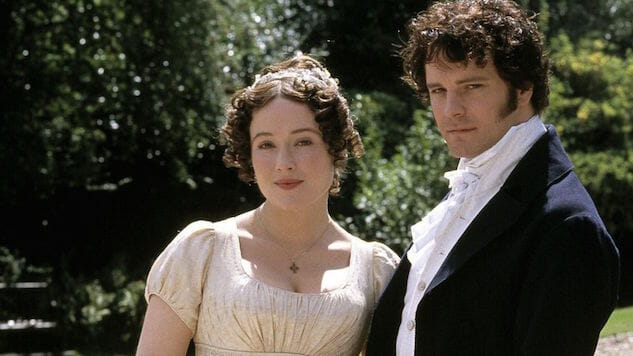 Created by: Simon Langton
Stars: Colin Firth, Jennifer Ehle, Susannah Harker,Julia Sawalha
Horse riders make their way through a 16mm-colored countryside, Colin Firth makes his way into a lake, and Austen makes her way onto TV in what remains the definitive adaptation of Austen's work for the screen (the breathtaking opening three minutes of Joe Wright's 2005 film adaptation aside). The music bounces from scene to scene with curlicue youthfulness. The acting prods the lines around it with sly good cheer. Through it all, the spirit of the adaptation by Andrew Davies can be found in his describing it so: "Let's have Elizabeth on a hillside seeing these two tasty blokes galloping along, and something about them makes her skip down the hill." And, for the implicit back and forth that inspires (let alone what follows), we follow, too. —Evan Fleischer
---
For all the latest TV news, reviews, lists and features, follow @Paste_TV.