Paste's Power Rankings: The 10 Best Shows on TV Right Now
O Canada!
Photo Courtesy of Getty Images
TV
Lists
Power List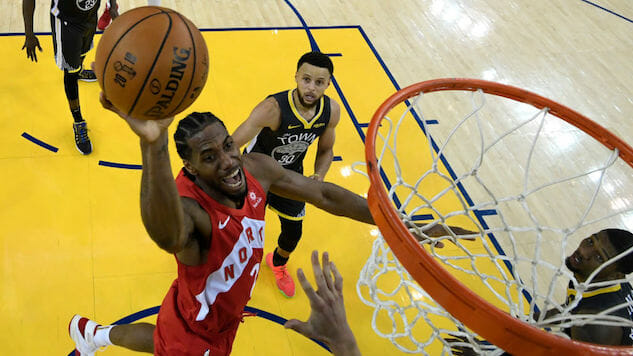 We know the ladies of Gilead have been through a lot but they need to step it up if they want to remain on the Power List. A lackluster and repetitive third season has booted The Handmaid's Tale right off our list. In its place are a bevy of new and returning series and two touchstone cultural moments as summer continues to heat up.
The rules for the Power List are simple: Any series on TV qualifies, whether it's a comedy, drama, news program, animated series, variety show or sports event. It can be on a network, basic cable, premium channel, Netflix, Amazon, Hulu, YouTube or whatever you can stream on your smart TV, as long as a new episode was made available the previous week—or, in the case of shows released all at once, it has to have been released within the previous six weeks.
The voting panel is composed of Paste editors and TV writers with a pretty broad range of tastes. We're merciless: a bad episode can knock you right off this list. So much good TV is available right now. Let's dive in to this week's picks:
Honorable Mentions: Pose, The Handmaid's Tale, Black Mirror, Gentleman Jack, Younger and Los Espookys.
10. The Bold Type
Network: Freeform
Last Week's Ranking: Not Ranked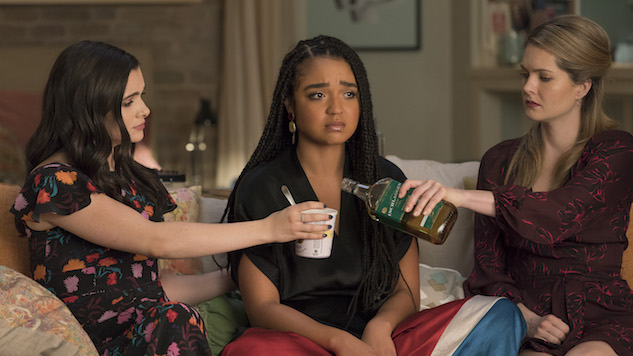 Freeform's delightful series ended its third season with a shocking plot twist. Jane (Katie Stevens), Sutton (Meghann Fahy) and Kat (Aisha Dee) arrive at Scarlet only to find that the offices are being packed up. Is it because Jaqueline (Melora Hardin) took on the fashion establishment and decided to do an issue featuring real women instead of glammed up 14-year-old models made to look like adults? Most likely yes but we will have to wait until 2020 (!!) to find out. The series that celebrates women, their accomplishments and their friendships in every episode spent the third season tackling difficult subjects ranging from body image to racial profiling to industry supported hostile work environment. I can't wait to see what bold choices they make next.—Amy Amatangelo
9. The Spanish Princess
Network: Starz
Last Week's Ranking: 7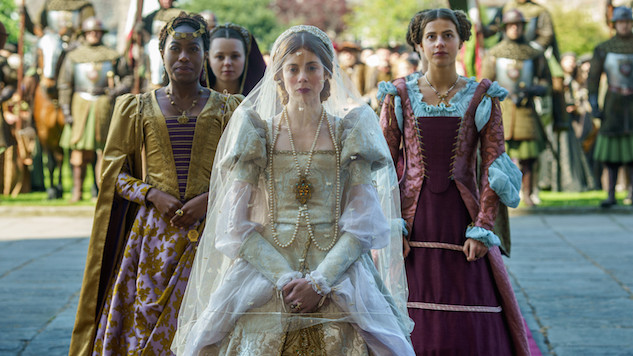 If you love historical fiction, then The Spanish Princess is the show for you. Instead of a typical Tudor story about Henry VIII, after he decides he wants to dump Catherine of Aragon for Anne Boleyn, this show shares Catherine of Aragon's triumph. A story rarely told, The Spanish Princess details her happy years which, you may not know, were 24 years of marriage before her union was annulled. What makes this story particularly compelling is its intentional choice to use a diverse cast which is also rooted in history. While some might define the use of people of color in a historical fiction drama progressive, it is simply accurate. Chances are you have never seen this story of Henry VIII and Catherine of Aragon on screen, and it is well worth the watch.—Keri Lumm
8. Baskets
Network:
Last Week's Ranking: Not Eligible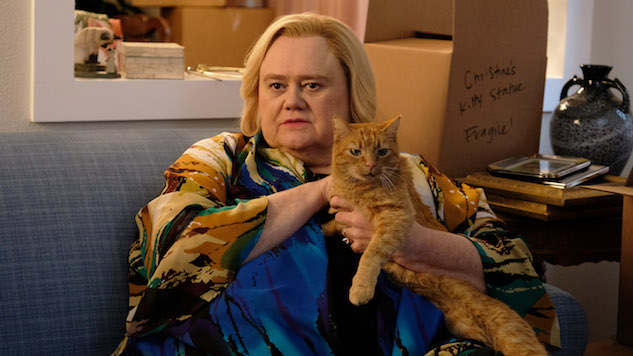 Baskets has always been both strange and funny, embracing a now rarely-seen physical comedy when it came to Chip's (Zach Galifianakis) failures. But as it's progressed, the series has leaned in to its sweeter side to its benefit. The change has also come as the series has moved away from the shadow of Louis CK, in the wake of his scandal, and become entirely co-creator Jonathan Krisel's show. Krisel also directs the series, which overlays a beautiful, distinctive, and indie film-like filter to the story of what is essentially an ordinary Bakersfield family. But nothing about Baskets is ordinary, most especially its most earnest character, Chip's mother Christine, played by Louie Anderson. Anderson has brought such a gentle, recognizable persona to Christine in the most genuine terms.
One of the difficult things about watching Baskets has been seeing Chip continue to fail over and over again, but now, Season Four feels like it's finally Chip's time to shine. Galifianakis does a really excellent job, too, of balancing Chip's missteps with both humor and the awareness that he's often a jerk. Ultimately though, the series remains one of TV's sweetest comedic gems. —Allison Keene
7. Perpetual Grace, LTD
Network: Epix
Last Week's Ranking: Not Ranked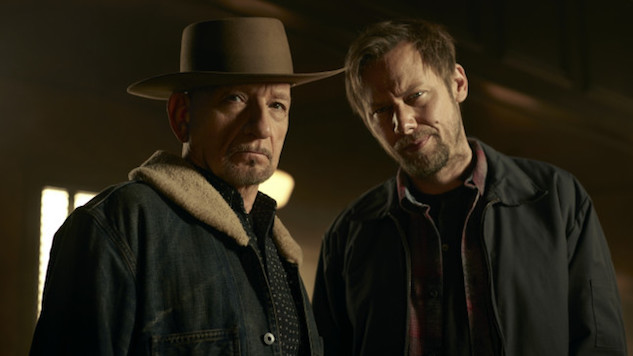 Creators Steve Conrad and Bruce Terris have crafted a visually distinct world full of moral quandaries, exploring the fluctuating nature of what defines a person's character. That exists alongside darkly comedic scenes like Sir Ben Kingsley calmly telling the guard at a Mexican prison that he is "the pale horse of death," just before being loaded into an ice cream truck for transportation to a Super Max facility.
The series builds out its own world in a vaguely modern southwest setting, where James (Jimmi Simpson) gets embroiled in a scheme to rob a couple running a scam church. Their son, Paul Allen Brown (Damon Herriman), repeats several times that "they're just two old people," but Byron (Kingsley) and Lillian (Jacki Weaver) are forces to be reckoned with—starting with the fact that James has to get hooked on methadone first to go through their detox as part of the heist. "That's intense," he says thoughtfully. Perpetual Grace has a weird, wry humor to it, but even more importantly it's rooted in exceptional character work.
It's a fascinating journey to begin, with no sense yet of how things might resolve, if they ever do. There's no hurry to get there, though—spending time in this strange world is full of curiosities will likely keep us perpetually sustained. —Allison Keene
6. Good Omens
Network: Amazon Prime
Last Week's Ranking: 3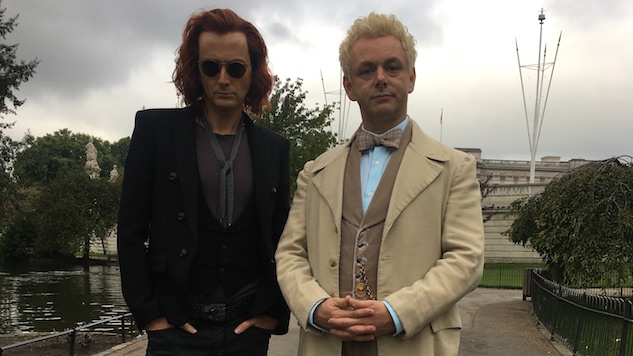 Neil Gaiman's passionate fans can safely dive into this adaptation of Good Omens; since the author served as showrunner and handle the script himself, his vision comes through very much intact. The six-part series follows the angel Aziraphale (Michael Sheen) and the demon Crowley (David Tennant) as they team up to avert the apocalypse. It has sensibilities that recall the work of Terry Gilliam and the films of Powell and Pressburger. It's funny, eccentric (sometimes downright hammy) and quite poignant, and it's got a totally delightful script and a mostly amazing cast, including Frances McDormand as the voice of God and Benedict Cumberbatch as the voice of Satan. But for all its virtues the standout feature of Good Omens is the incredible chemistry between Tennant and Sheen, who make sparks fly every time they appear onscreen together. Happily for us, that's most of the show. —Amy Glynn
5. Fleabag
Network: Amazon Prime
Last Week: 5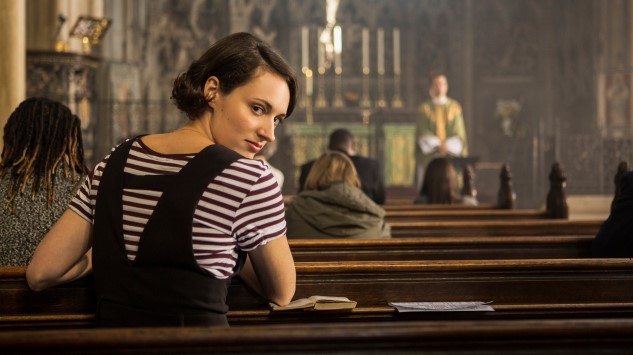 In its long awaited second season, Fleabag, which unfolds in six delightfully perfect installments, remains as sharp and as witty as ever. Our heroine, still reeling from the death of her best friend and her culpability in what happened, is still struggling. "I want someone to tell me how to live my life because I think I've been doing it wrong," she wails in the fourth episode. But living your life is difficult when you have a sister who blames you for all her problems ("We're not friends. We are sisters. Get your own friends," Claire tells her) and a father who gives you a therapy session as a birthday gift (which leads to a delightful cameo from Fiona Shaw). Fleabag cuts to the core of the female experience. Whether it's Fleabag rightly explaining that how your hair looks can be the difference between a good day and a bad day or guest star Kristen Scott-Thomas, whose character receives a women in business award in the third episode, only to rightly decry it as the "fucking children's tables of awards," explaining menopause as "it's horrendous and then it's magnificent."
Over these six episodes there are, among other things, miscarriages, a return of an iconic object from the first season, and an obsessed stepson whose mantra is "Where's Claire?" The series succeeds because it never has distain for its characters and their tragic dysfunction. It never mocks them. It merely lays them bare for everyone to see. Martin's stifling cruelty. Claire's overwhelming unhappiness. Their dad's desperation not to be lonely. The godmother's narcissism as a cover for her acute insecurity. I don't want to say too much about the relationship between Fleabag and the priest because the way it unfolds is so perfect and surprising and, in the end, redeeming. But I will say that Andrew Scott, who wears a priest's robe very well, creates a priest that is fully realized, as a real person who swears and makes mistakes but is still devoted to his faith. Their love story is one of salvation.—Amy Amatangelo
4. Big Little Lies
Network: HBO
Last Week's Ranking: 2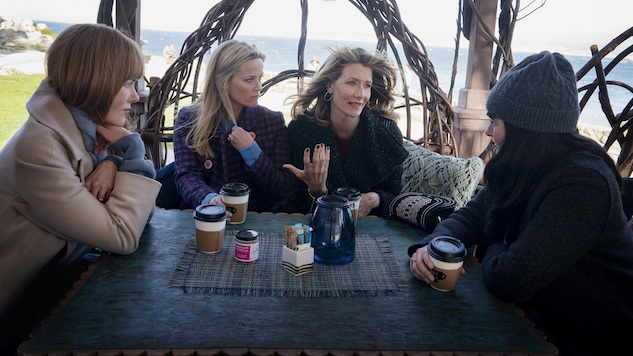 Season Two of the HBO series, written by David E. Kelly and author Liane Moriarty and directed by Andrea Arnold, picks up about a year after the Emmy-winning first season as it investigates the fallout from both Perry's (Alexander Skarsgard) death and the lie the women shared about its circumstances. Though Arnold follows the dreamy, fractured visual style that director Jean-Marc Vallée established in the first season, the tone is very different this time around. Season Two is about consequences, and though the series doesn't lose its edge or satirical style (particularly when it comes to Renata), it's far more meditative and melancholic than before.
Big Little Lies is at its best when it's primarily a character exploration, and the caliber of its cast cannot be overstated. Though the series always has been a strange blend of trauma and satire, Season Two leans into the former much more so than the latter, focusing (perhaps rightly) far more on the dynamic Celeste (Nicole Kidman) and Madeline (Reese Witherspoon) and their interior lives. If the first season was about the women coming together, then so far this is about them falling away. That's not an unnatural result given their shared trauma and the lie that will surely come out, but it does leave the narrative feeling unbalanced and fractured.
While it may lack some of the bite and urgency of its first season thus far, Big Little Lies is still an absolutely gorgeous series with a lot to unpack in terms of its complex women, the legacy of abuse, the makeshift families we form, and protecting one's friends. There are several conversations in these early episodes about people who "want," and women who "want" in particular. Each of the Monterey Five want for different things, but in this moment—in their lives that are full of convoluted lies and devastating consequences—most of all they want to know who they really are.—Allison Keene
3. When They See Us
Network: Netflix
Last Week's Ranking: 1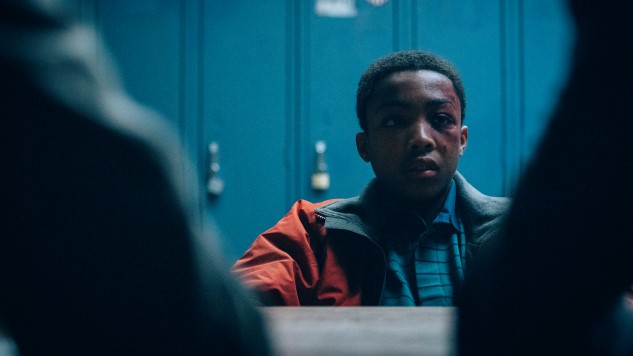 Antron McCray. Kevin Richardson. Yusef Salaam. Raymond Santana. Korey Wise.
I will admit that up until When They See Us, Ava DuVernay's searing four-part miniseries, I knew these men as only the "Central Park Five." That they were, to me, first the perpetrators of a horrific crime and later exonerated victims of a racist and rigged legal system. But you cannot look away from When They See Us or shelter yourself from the blinding truth. The harrowing episodes will leave you devastated yet in awe of how McCray, Richardson, Salaam, Santana and Wise came out on the other side of what happened to them to lead happy, productive lives today. The story itself is overwhelmingly powerful. But there are several key decisions DuVernay makes that turns When They See Us into one of the year's, if not the decade's, best programs. One is the casting of five relatively unknown actors to play the boys. The "Central Park Five" were 14-16 years old in 1989 and Marquis Rodriguez, Ethan Herisse, Jharrel Jerome, Asante Blackk and Caleel Harris not only look young but portray the absolutely vulnerability and fear that their real-life counterparts must have felt. The devastating fourth episode is a tour-de-force performance for Jerome, the only actor to play both the younger and older version of his character. In this traumatic hour, Jerome is nothing short of phenomenal. When They See Us is exceedingly difficult to watch; it cut me to my very core. When you see it, I'm sure it will do the same to you.—Amy Amatangelo
2. Jon Stewart Lambasts Congress
Network: C-SPAN
Last Week's Ranking: Not Eligible
With apologies to Trevor Noah, Comedy Central continuing to air The Daily Show is a cold comfort for TV viewers that still miss Jon Stewart's particular brand of even-headed, smart-and-smarmy rage. A relatable and indignant anger seethes from him during his best moments, giving his light jokes and easy-going explanations of broad political and economic topics a little more bite. Stewart left The Daily Show in 2015 and his brief returns to TV have been sporadic bursts of bittersweet joy. When he took a mostly-empty Congress to task on Tuesday over its health care services for 9/11 first responders, it was both heartbreaking and cathartic. Few speak truth to power like Stewart, especially when he cares so deeply about a topic. The nine-minute speech is a moving reminder of Stewart's game-changing time as a host—one so good that he can even make the static microphone and cameras of Congress work in his favor. —Jacob Oller
1. NBA Playoff Finals, Raptors vs. Warriors, Game 6
Network: ABC
Last Week's Ranking: Not Eligible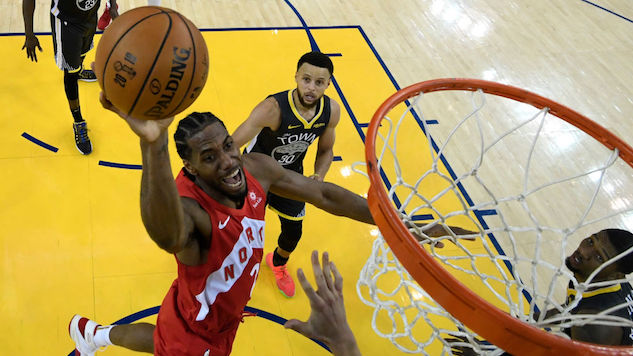 As a newer fan to the NBA fold, it wasn't always easy this playoff season to know how atypical—and thus, exciting—any given Round 1 upset was (never count out Pop), how iconic any given buzzer-beater (Dame and Kawhi, ice cold), how unprecedented any piling on of overtime (Night Twitter's rarely been so alive). Still, by the time the Finals rolled around, and the ruthlessly architected Toronto Raptors took an early, decisive lead over the All Star-loaded contemporary juggernauts that are the Golden State Warriors, even I could tell an epic story was unfolding. Add in the injuries that took down so many of the Warriors key players (rest up, KD! rest up, Klay!), the spectacle of Game 6 being the final game the Warriors would play in Oracle Arena, and the fact that Canada has never won a title despite pioneering the sport, man—that was some good, wholesome, adrenaline-filled television. Better news still? The historic 2018-2019 NBA season may finally be over, but the 2019 WNBA season is just heating up. May a summer of wholesome basketball television bless us all.—Alexis Gunderson